How to stream the Oculus Connect 5 keynote
It's time to see what the Oculus folks have been up to.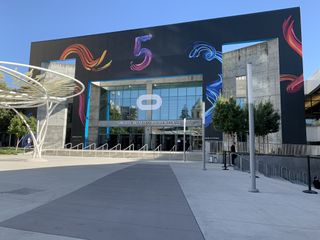 For the past five years, Oculus has taken a few days each year for developers to come together and learn more about the next phase of VR. It's a good opportunity for Oculus to share its best practices, and of course unveil some new products for everyone to get excited about. Last year we learned quite a bit about the ultra-portable Oculus Go, and this year it looks like we're going to hear a lot more about the totally wireless Oculus Santa Cruz prototype we've seen in development over the last couple of years.
The best way to enjoy these announcements is to catch the live stream for yourself, and the best ways to do that are through Facebook or your Oculus headset.
Watch the Oculus Connect 5 Livestream on Facebook
Oculus is a Facebook company, after all, so it's no surprise the top place to enjoy the conference on the web is through Facebook. The stream is expected to start at 10 am PT / 1 pm ET right here.
After the two-hour keynote, Facebook is likely to followup with commentary and ways to watch some of the developer sessions.
Watch the Oculus Connect 5 Livestream through Oculus
If you have an Oculus-made headset with access to the Oculus Venues app, you'll be able to watch the Oculus Connect 5 keynote right in VR. Oculus Venues will have a special channel dedicated to the live stream, so just select that when it becomes available just before 10 am PT / 1 pm ET and you'll be good to go!
Get the Windows Central Newsletter
All the latest news, reviews, and guides for Windows and Xbox diehards.
Russell is a tech nerd who chases the best of everything, from phones to game consoles to laptops and everything glowing or beeping. He's the Managing Editor of gaming content for Mobile Nations and can be found contributing to all of the Mobile Nations sites. Reach out on Twitter!