How to Survive: Storm Warning Edition unleashing zombies on Xbox One this Halloween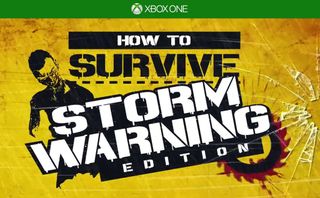 This week sees the release of a very scary game for Xbox One and Xbox 360: The Evil Within. But October is the month of scares, so more horror-themed games are called for. It looks like we'll be getting a couple of those closer to Halloween. The lighthearted Costume Quest 2 is due out near the end of the month (possibly on the 31st), and now 505 Games' How to Survive: Storm Warning Edition for Xbox One has a firm Halloween release date.
How to Survive is an action-RPG set on a zombie-infested island. Besides including a ton of DLC previously released on PC, the new How to Survive also boasts 2-player local and online co-op for optimal zombie killing. In celebration of the game's spooky release date, 505 Games has just released a new teaser trailer that highlights a variety of zombie kills. Keep reading to check out our impressions and the very short trailer.
Preparing to survive
Like State of Decay (which comes to Xbox One next year), How to Survive originated as an XBLA game (opens in new tab). This one launched in October of last year, right around the time that everyone was gearing up for the new console launches. As such, it flew under a lot of gamers' radars, including mine. That's a shame, because it actually looks really fun.
You play as one of three survivors who have become stranded on a zombie-infested island. Like the average person, they have little idea of how to handle the situation on their own. Luckily, an eccentric survival nut has created a "How to Survive" guide for just such an emergency. You'll hunt down the pages of the guide, which contains useful (and funny) words of advice.
How to Survive takes place from an overhead view and controls like a twin-stick shooter. But it's still a survival game like State of Decay. Your character has three basic needs: food, water, and sleep that must be met in order to stay alive and kicking. You'll have to hunt animals for food, gather water from wells, and find safe places to rest as you navigate the island's perils.
Besides exploring, foraging, and zombie killing, you'll also have to complete RPG-style quests for fellow survivors. Completing these quests, as well as fighting enemies and crafting unique objects, gains EXP for your character. Use it to purchase upgrades for a skill tree, personalizing your character while gaining useful benefits like a reduced need for sleep.
Best of all, How to Survive has that one major element that State of Decay (as far as we know) lacks: cooperative multiplayer! Two players can team up on one system or online in order to face the zombie island together. Since each character has his or her own strengths and abilities, you'll be able to complement your partner and hopefully keep each other safe.
Riding the eye of the storm
The Xbox One version of How to Survive naturally includes a few improvements over last year's release. Most obviously, it adds a whopping six DLC packs that were previously released on PC.
To go into a little more detail about the Storm Warning Edition improvements, this new version will include 7 islands to explore (three more than the original), four game modes (Story, Challenges, Free Roaming, and Survival), three difficulty levels (one more than the original), 17 types of zombies and 12 types of animals to hunt, new changing weather conditions, and 35 Achievements.
How to Survive won't be the scariest game in town this month, but it does have a great zombie theme and lots of fun gore that make it perfect for the season. How to Survive: Storm Warning Edition comes to Xbox One, Playstation 4, and PC on October 31. It will cost $19.99.
Windows Central Newsletter
Get the best of Windows Central in your inbox, every day!
Paul Acevedo is the Games Editor at Windows Central. A lifelong gamer, he has written about videogames for over 15 years and reviewed over 350 games for our site. Follow him on Twitter @PaulRAcevedo. Don't hate. Appreciate!
Upset that I paid for the 360 version then really didn't play it much because I got my XBO. Wished they'd give a discount to second time buyers, but I'll still probably buy it anyway. It seemed like a fun coop game but damn was it hard.

Yeah, lets hope for a discount. It happened with Minecraft so fingers crossed.

I bought it on PC today and I just LOVE this game. I can't imagine I didn't buy it earlier. It's really good game.

Did I miss the price? Cant see it.

We're waiting on price confirmation from 505 Games. Will update if they provide the information.

Okay, it will cost $19.99. Updated the story. ~ ~

Cheers Paul. Hope you get a copy of Sunset Overdrive before release. Can't wait to see that. Just one more thing, I noticed that like for like prices are lower on Playstation Plus. Anyone else noticed that?

This game looks really cool, my type of game but I have had enough scares for a lifetime, just saw GoT season 4 episode 8 for the first time and I don't think I want to see blood and gore anymore :(
P.S: It's the episode in which the mountain presses into Oberyn's eyes and pushes then deep into his head, and then keeps on pushing until oberyn's head explodes.
So more blood and gore? definitely a no-no for me until at least a little while. :P
The game in the article looks cool enough but I'd rather not watch any trailers,still looks pretty neat though! :D

Btw, the images remind me of Day Z which is the only game I loved enough to even watch streams on twitch about,(even though I have never played the game xD ). The concept of this game looks similar to Day Z, no?

Definitely kinda similar to Day Z but way more arcadey. I don't really think it will be all that gorey considering the view is zoomed out so far.

You seriously should watch PT on youtube if you don't have a PS4
it's a playable teaser for the next silent hill game and it's free !
http://gfycat.com/DefensiveFearlessAndalusianhorse
this can sum it up !

This game has bad reviews on all platforms how is it still alive

Is this xboxcentral, or becoming one?

We've covered Xbox One games for over a year. Also, we announced a few weeks ago that we'll be changing the site's name to more of a general Windows name soon.

Please separate stories of WP from XBOX. I don't have an XBOX, I just want news of apps and updates for my 1020.

Don't like then don't read and don't comment, why is that so hard for you? I rather have one place with all information I need than browsing here and there, especially when viewing on the phone, it makes thing easier and simpler, if title not suit my taste, just scroll or swipe down, that simple.

Minecraft for wp is out. i guess

What what what? I think everyone is ignoring the most important information in this article, there will be a costume quest 2. SHUT UP AND TAKE MY MONEY!