How to change your goal for steps with the Microsoft Band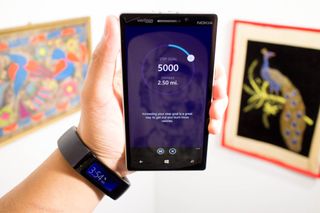 The Microsoft Band tracks your steps automatically. You can see this number from the main tile. Keep pressing the action button until you see the shoe icon. You can use the number of steps to measure the progress against your goals. By default, the Microsoft Band sets the goal at 5,000 steps. We'll show you how to change (increase) that goal. Watch our how-to video.
Open the Microsoft Health app on your phone, and on the Home screen, tap Steps
You can see the goal percentage below the graph. Tap the pencil icon.
Slide the white touch-point around the circle. The selected number of steps will display with the estimated distance underneath.
That's it! After setting your goal, tap the confirm button at the bottom.
To give you a better idea of what number of steps to set as your goal, take a look at your history. I noticed I was hitting close to 9,000 steps per day, so that encourages me to set a goal of 10,000 steps.
You should be aware that we've recently found some weird bugs with the steps data on the Microsoft Health app for Windows Phone. It's possible that your steps may be under-reported. Hopefully, Microsoft knows about these issues and releases an update soon.
Viewing your steps
You can view your steps history from the Microsoft Health app on your phone.
From the app's home screen, tap Steps.
Swipe to view day and week charts.
The data of your previous steps are shown below the graph. Scroll down and select from your history to see how you have performed previously.
Tapping the day chart cycles between steps and heart rate.
Are you going to change the default goal of 5,000 steps on your Microsoft Band? What are you aiming for? Let us know in the comments!
Windows Central Newsletter
Get the best of Windows Central in your inbox, every day!
On a similarly related note, have we had any word on when the health app is going to support other bands like jawbone? Getting sick of jawbone telling us their own app is "coming soon". Seems the health app is pretty much on par with what I use the jawbone up app for.

Don't have one... Won't get it soon.

Well.. These tips would be nice if they were for sell and ppl could try them.

You can also change the calorie goal the same way. Mine are set at 9000 & 3000.

I have a problem where everytime I ride my bike I get about 500 steps per mile that I ride. It is really annoying. I use my bike to travel around town for everything. Everytime I been biking, I start a workout. I am just wondering if I am getting calories added for my workout (from heartrate) and also from the phantom steps I am getting. You would think a workout mode would disable step counting. As your hands bounce up and down for anything, even weight lifting and lunges. Anyone else find this problem? I walk almost no steps every day. I bike door to door for everything. I would be shocked if I break 1000 legit steps per day, but my band says I get 8000 to 140000 per day.

I changed it to 10000, then changed it back #FML

I used to have 10,000 goal and hardly reach it. So I made it 7,000 and now I'm having 3-4 goal hits in a week. I will increase it again next time, when I reach at least 5 - 6 goal hits in a week.

Just booted mine up!! Very nice... :D

I wish they would disable the step counter when in sleep mode. I woke up with 60 steps. Wtf?

I have never seen that. Mine is at 0 every morning.

Do you get up to go to the restroom in the middle of the night? Or any other extra activity in bed, that will throw it off. I am just saying, it could be responding to that.

I was hitting 5000+ steps walking the dogs in the morning. So stepcount didn't mean much. i can now adjust the step and calerie levels to match my lifestyle.