How to edit or create custom text replies on the Microsoft Band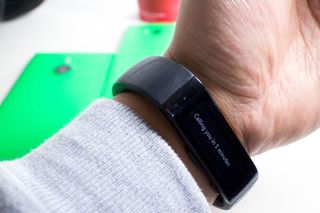 The Microsoft Band lets you see who's calling without taking your phone out of your pocket. It can also let you respond quickly with preset messages. By default, the Microsoft Band has three messages, but you can add one more or edit all of them. Want to know how? We'll show you in our hands-on video.
When a call comes in, you'll get a notification and vibration on your Microsoft Band. The caller's name is displayed if it exists in your contact list. If you're busy and can't take a call, this is how you can reply:
When a call appears on your Microsoft Band, swipe left, and tap Reply.
Swipe left to scroll through your available text replies.
Tap the reply you want to text to your caller to send it.
Here's how to modify the replies:
Open the Microsoft Health app on your phone.
Tap the band icon, and then tap Manage Tiles.
Tap Calls, and then tap edit.
You can keep the three built-in replies or replace them with your own. You can also add a fourth one.
Tap Accept when you're done
That's it! Messages you send from your Microsoft Band will also appear in your phone's messaging app just as if you had sent it from your phone. Of course, you can also choose not to reply to the phone calls. You can dismiss the calls directly from the Microsoft Band, too. When you receive a call, swipe left and tap Dismiss.
It's interesting to point out that iPhone users are not able to send text replies with their Microsoft Band. Going to the Calls tile with the Microsoft Health app on iOS does not show the same options found on the Windows Phone version.
Do you think you'll be using this nifty feature on the Microsoft Band? Let us know in the comments!
Get the Windows Central Newsletter
All the latest news, reviews, and guides for Windows and Xbox diehards.
That seems like a faster way to reply!

I'll text them saying"I don't have a Microsoft band, so stop texting me."

I like this. If I actually wanted to type a conversation, I'd use my phone instead. Unless of course Cortana somehow can pick up the discourse and suggest appropriately. Like if someone says hi. You can respond "Hi. I'll call you in about soon, just in the middle of training".

Cortana tell caller Im driving...

I'd like this more if there was a third option that said "Cortana" and initiated the ability to fully respond via Cortana integration rather than simple auto-responses. Sure, I could just trigger Cortana by long-action press, but make it a little more sophisticated.

I would still love to see how WhatsApp or such programs use the band..

DBM: Fighting Tread Millhouse, 20m13s, 9m47s remain. ❤: 120

Wow I thought you were able to use voice to send any message you want from the band. 4 preset messages only? I knew there was a reason I wasn't interested in this.

But that involves talking. If I'm in a meeting or otherwise occupied that isn't an option. A preset reply that take 3 discrete taps is.

Already have. This is why this is an important product. Others may do other thing and perhaps better, but this will force all manufacturers to step up. Developers as well.

if i can have one now in china, i will be so happy

I envision the limits of what you can do with your Band will show when you are on a non-Microsoft device. My guess is the same thing will happen with Cortana when it's launched on other platforms. You'll only get the best service when on Windows Phone ;) I think it's brilliant! (opinion btw)

Sounds like the deal you will get for MS products and not running on their devices. It's a marketing strategy. You get the people accustom to something, but you only get the essentials, to get the advanced features you have to have the whole kit :). At least that is what I hope they do

Cortana will automatically reply to the caller (audio not text) "Hi I am Cortana, the personal assistant of (____). he/she is busy at the moment. He/she will call you back in 5 minutes" --:)

The WP phone app also has a list of four pre-set reply SMS messages. Are the two sets of replies synced? (Truth in advertising: I tried on Band at the local MS store. When the display model had a scuffed screen, I decided to wait for Band 2, (hopefully) with a scratch-resistant screen.)

I use this on my phone a lot but would like to have this for messaging app as well. There is no pretext library in the messaging app. I would also like to have messaging app merged with phone app.