How to use Reading View on the Windows 10 'Project Spartan' browser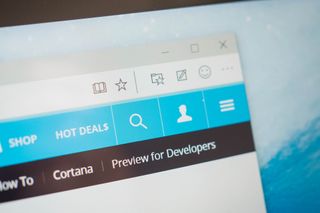 We've been playing with Project Spartan that was introduced in Windows 10 Technical Preview build 10049 and we think one feature that many people are going to like is Reading View. It takes away all the distractions like ads and fancy CSS styling to show you the important content. Keep in mind that Project Spartan is still a work in progress; so expect many changes to come before the final release. In this post, we show you how to use Reading View in the new browser.
To enable Reading View, tap or click its icon on the top right corner. It looks like an open book. The page then transforms into a very simple format that has less distractions. No sidebars, ads, comments, or other fancy CSS styling.
If you don't like the default styling for Reading View, you have some options to change it. Tap or click the three dots on the top right corner and select Settings. Project Spartan has four Reading View styles: default, medium, light, and dark. This is currently related to the background color of the page. We prefer the look of the Medium setting, but let us know which one you like better. You can also change the font size in the settings. You have four options: small, medium, large, and extra large.
One thing we'd like to be added in Reading View is the ability to change the font. We made sure to send our feedback and you can absolutely do the same if you have other suggestions. This is possible by tapping the smiley face at the top right corner, which opens the Feedback and reporting panel.
If you haven't seen it yet, make sure to check out our hands-on video of Project Spartan. How do you feel about Reading View? Do you think you'll be using it frequently? Sound off in the comments.
Few seconds late to comment on this news and to be the first one to comment

You're life is a failure! :-D of course that's a joke, it's not really that important.

Google just released android apps support for pc and mac. W10 is too late !

And if it's as horrible as it has been running them on a Chromebook there's nothing to see here.

W10 is too late Microsoft. Close up shop and go home, Android apps are going to replace desktop Office, PhotoShop, Lightroom, AutoCAD, and the tens of thousand of other productivity tools that companies and creators have been using--and are used to--for years and years. Last one out, get the lights.

You realize that you can run Chrome browser on Windows 10 and run all Chrome Apps and will be able to run those Android apps as well, right?

A good feature. Have it on my WP phone and, if I recall, on the IE 11 Windows 8.1 app too.

Off topic-- but I found a really good looking concept for windowsphone on a uservoice take a look and get this noticed. It really is great give it some votes https://windowsphone.uservoice.com/forums/101801-feature-suggestions/suggestions/7438894-beautiful-stand-out-os-design-concept

The first thing in win 10 impressed me a lot is spartan..

Cortana for me + Hey Cortana is a killing feature

I thought the most impressive thing in 10 was being able to windowize Metro/universal apps. Even the settings app now can be windowized.

Where's w10 for phones????

Help! I installed Windows 10 but I can't find Project Spartan. Only IE

Lol then. You need the latest build, which is 10049

You need to get "fast" updates. Go to WIndows Update and click 'Advanced' to find the option to enable this.

I'm running Windows 10, was taken to the page in IE telling me to click on the Project Spartan app on the task bar... only there isn't one. Searched for it and didn't come up as being on my PC... :P Any advice?

And the first thing I did was turn on the reading view to read this article. Wow looks beautiful and clear. Original website has a lot going on, thus this feature is most welcome.

I really like it, lets hope they implement Cortana to read selected text.

Never thought of that, that would be cool.

Is it stable enough now to put windows 10 on my daily PC?? Was maybe gonna try it on a tablet and save the PC till its 100%...thoughts??

I would never put it on a machine that you have to have. Now if you have enough disk space, you could dual boot. Here is a How To... http://www.howtogeek.com/197647/how-to-dual-boot-windows-10-with-windows...

This should have been available in IE 11 but oh well..

Must-have feature....Project Spartan shaping up to be a fully equipped browser

I use this on WP everyday, it's the best for reading and saves battery on amoled screens :D

Still waiting for Project Spartan to be released in Sweden

I have reading view on my Windows phone already. It really nice.

Wow...what a difference this makes in removing all the clutter. Really liking this feature.

Why is everyone acting like this is a brilliant new feature when IE 11 on both Windows 8.1 and Windows Phone 8.1 already has this available? Not trying to downplay it, genuinely curious. Ever since they first unveiled it as a "new" feature, I've been confused.

I missed when safari for windows went away. I really liked the reader view. I'm happy to see we will have it native now.

Firefox 38 just got reading mode and list feature.

what time release the win10 for phone preview?

If it stays at the top of the screen, it is a downgradedor touch interfaces,

I like the way Spartan looks, but i wish i could change the grey color as i want

Am I missing something? This is already in Modern IE on Win 8.1...
Windows Central Newsletter
Thank you for signing up to Windows Central. You will receive a verification email shortly.
There was a problem. Please refresh the page and try again.