How to record, delete, and share Xbox game video clips
The Xbox One has the ability to take screenshots and video clips of gameplay footage. You can save the clips to a PC for more in-depth editing, or share them directly to Xbox Live and other social networks.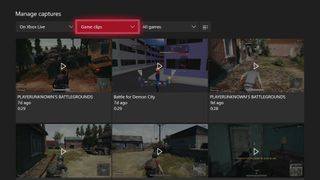 Here's how to take and manage game clips on your Xbox console!
Set up capture options
The first thing you should do is configure the resolution and default recording lengths of your game DVR. Here's how to do that.
Press the Xbox button on your controller to open the guide menu.
Move the joystick to the right until you get to the cogwheel, and press the A button to open "Settings."
Move the left joystick down to Preferences and then select Broadcast & Capture using the A button.
Here, you can configure your short clip duration, automatic uploads, game clip resolution, and even set up an external HDD for game capture (which grants extra recording length, head here for more info on that).
Once you are done, get gaming and get ready to take some clips!
How to take a short clip of recent gameplay footage Xbox One
First, you will need to be inside a game. You can't take screenshots of the dashboard or other apps, such as YouTube or Netflix. You can take video captures of your entire console, but you'll need a capture card like the Elgato HD 60 (opens in new tab). Here goes:
When you're in a game and want to record a short clip of recent gameplay, press the Xbox button on your controller to open the guide menu.
From the menu, press the X button on your controller to take a short clip of recent gameplay footage.
Your game clip will now be saved to your console!
How to take a longer clip of recent gameplay footage on Xbox One
You can also configure the Xbox One to take longer clips, or even record persistently for up to an hour to an external HDD (here's how to do that). If you're recording direct to the Xbox One, though, you'll have some time limits depending on the resolution you're capturing. For example, if you have an Xbox One X set up to capture footage at 4K, you'll only be able to record up to 2 minute clips, unless you set up an external HDD for game capture.
To record longer clips, press the Xbox button on your controller to open the guide menu when inside a game.
Press the View button (to the bottom left of the Xbox button) to open additional capture options.
Press the A button on a highlighted option to either start a recording, capture a screenshot, or capture the entire DVR buffer directly.
How to share clips on Xbox One
Once you have taken your game clip, there are a number of ways you can get share it. The Xbox One comes with a few gigabytes of free cloud storage just for keeping Xbox Game DVR captures and screenshots, but you can also export it either to your PC, or to your personal OneDrive cloud storage for safekeeping or editing with external software. Xbox Live clips and screenshots will upload automatically to the cloud, until your storage is full.
Here are a few ways to share and manage clips on your console.
Saving and sharing your clips via your Xbox
Press the Xbox button on your controller to open the guide menu.
Press the View button (to the bottom left of the Xbox button) to open "Capture options."
Navigate down using the left joystick to Manage captures and press the A button. (This will open the Manage captures menu.)
Find a capture you want to upload to OneDrive, and select it with the A button. (This will open the screenshot in full.)
Select the Share icon with the A button.
From here, you can share the clip to the following locations:

Your Xbox Live activity feed, which friends can see (depending on your privacy settings).
A private message.
To an Xbox Club you're a member of.
A Twitter link.
To OneDrive.
If you are signed in to your Microsoft Account on a PC or via OneDrive.com, you will be able to find the clip under OneDrive\Videos\Xbox Game DVR.
Deleting a clip from your Xbox One
Press the Xbox button on your controller to open the guide menu.
Press the Home button using A on your controller.
Open the guide menu again, and hit the View button (to the bottom left of the Xbox button) to open "Recent captures."
Navigate to a recent clip, and select it with the A button.
From here, you can select delete to remove it from your console, from Xbox Live, or both.
If you can't find your clip, navigate to See all at the bottom. (This will open the Manage captures menu.)
Find a capture you want to delete, and select it with the A button. (This will open the capture in full.)
Select the trash can icon with the A button to remove it.
You can also delete multiple captures at a time by selecting the checkbox icon shown below.
Using this method, simply select multiple clips for deletion navigating using the joystick and putting ticks under "Select" using the A button.
Once you have selected all the clips you want to remove, hit delete.
Save, delete, or share Xbox clips via a Windows 10 PC
If you're using a Windows 10 PC signed in with the same account as your Xbox Live, you can access and download your screenshots quickly and easily using the pre-installed Xbox app. Here's how:
Press the Start Menu and type "Xbox."
Click to open the Xbox app.
If you haven't used it before, you'll be prompted to sign in using your Microsoft Account. After you open it up, it should look something like this, with a hamburger menu on the left side.
Open the hamburger menu in the op left corner with a mouse click.
Select Game DVR.
Click on On Xbox Live to see your captures saved to the internet.
Select a preferred clip from the download list, and hit Download to save it, delete to remove it, or share to share it.
You can then click on On this PC to see the clips and screenshots you have downloaded, and hit Open folder to find the file. By default, files save to C:\Users\UserName\Videos\Captures.
How to easily download your Xbox screenshots or clips from the web or a phone
If you have already shared your clips or screenshots publicly on Xbox Live, you can access your clips easily using XboxDVR.com on a web browser on your desktop or mobile phone.
Open the website here.
Enter your Gamertag in the large box at the top, there's no need to make an account.
Find your clips or screenshots on the next screen, with easy access for viewing or downloading.
Other notes
If you have a 4K Xbox One X you can lower the resolution of captures using this method. Sometimes it might be worth lowering the resolution if you plan to share the clips and screenshots on social media, particularly Twitter, since it doesn't support 4K.
You can check the upload status of clips from the Manage clips page by selecting Upload Status from the filter. If you have issues finding your recently uploaded captures, it might still be in the upload queue.
The Xbox One doesn't have an infinite amount of cloud storage and can fill up quickly, particularly if you're recording at 4K. So be sure to store and manage clips frequently.
When not in a game, you can access and manage clips directly from the Xbox guide menu, by hitting the Xbox button on your controller, and then pressing the View key to see recent captures.
More Xbox help
For more tips and guides for Xbox One, take a look at the links below. If you have any questions, drop them in the comments!
Update September 5, 2018: We've updated this article to add information on how to get your Xbox clips on the web!
Windows Central Newsletter
Get the best of Windows Central in in your inbox, every day!
Jez Corden a Managing Editor at Windows Central, focusing primarily on all things Xbox and gaming. Jez is known for breaking exclusive news and analysis as relates to the Microsoft ecosystem while being powered by caffeine. Follow on Twitter @JezCorden and listen to his Xbox Two podcast, all about, you guessed it, Xbox!
Yes thank you. I have not tried this feature yet, but when I do I will use this guide. ಠ益ಠ

Great article and video! Kind of funny how soccer is still boring as heck in a video game.

No wonder USA lost today.

it's soccer or football or both, so stop being be ridiculous like if you knew everything.
I am not even from US and my country's first sport it is SOCCER and yeah I call it soccer when I say it in English, sometimes I call it "Football soccer" and that's still correct. why? because it's the same.
Only because YOU call it football it doesn't mean you are right. so again, stop being ridiculous and stop telling someone something like if he/she was wrong and like if you knew everything.

It ain't soccer, its FOOTBALL.

Dude st** its both! Everyone knows that.

SHUT UP FOOTBALL IS AMAZING!

"Xbox Snap Game DVR". *facepalm* They could have just made it "Xbox record last 30" or "Xbox record last 15". Microsoft NEVER gets it right!

Or since its annoying to yell at my Kinect when people are sleeping in the house, and there are xboxes without Kinects now, a way of doing this from the controller.

You never play with me Mark.

You have FIFA?? Lets play

He didn't mean the Xbox game ;)

I wanna play. Add CitrusMocha!

Mark: "That's what she said"

Great article but everytime you wrote "say out loud" I laughed my ass off.

The recording feature of the Xbox One is super handy, use it all the time for all the great goals I score on FIFA. ;)

Yes, I've recorded a few clips, but I'm disappointed how it works. The way I understood it when first announced was the console was always recording, and over writing in the process older game play. So when you say xbox record that, I thought that it would save the last 5 minutes of game play instead of the next 30 seconds. Guess it makes sense since a constant recording would introduce significant wear and tear to the hard drive. But still, it's a bit disappointing. But anyway, thanks for the info on how the game dvr ap really works, I'll have to try that now.

When you say "Xbox, record that" it saves the LAST thirty seconds of gameplay. So you usually say that after an epic moment or epic fail. The DVR function in Upload Studio is capable of 5 minutes of recording.

Recording should really be longer. I've just started using my twitch archived broadcast to upload to YouTube. Xbox really needs to improve on this area.

Another option is to stream to Twitch. Just have Twitch archive the streams and then you can record for as long as you want.

Why u at it can you add a how to make $14 million a year video. Thanks

Just make long Lets Play videos of popular games and scream the entire time, don't forget to talk about rape as well. A lot.

it never worked with me.... i must have contacted ms support more than 10 times but maybe its xbox fitness thingy ?

So when I hop in a time machine to visit my 2004 self, it'll go like this: 2004 zhris: Wow, what's the future like in 10 years? Do we have flying cars and no disease? 2014 zhris: No, but some guy on the internet is a millionaire from recording himself playing video games. 2004 zhris: : |

They really want OneDrive to succeed with this, you can't fault them for making that the only default option. However, to expand the Xbox brand, they unfortunately need to open it up to competitors. Opening the Xbox brand opens the Microsoft brand, opens the OneDrive brand. Same story why iPhone gets Microsoft apps ahead of us. YouTube, along with other providers, will come in time.

You can upload to YouTube from Xbox One console as well. OneDrive is perfect because you can upload the file wherever you want from there. Having other options is a bit redundant. Everybody that has Xbox account have Onedrive as well.

Open YouTube scroll up to upload

Pity you can't record commentary as you play though.

That's where Twitch comes in :)

If you want to record longer than 5 minutes, make a Twitch account, and change the settings so that broadcasts are saved. After you are done streaming, you can edit clips at Twitch's website, and finally upload those clips straight to YouTube.

I should also mention that YouTube had a 10 minute limit for new accounts last time I checked. Might still be there.

I would be interested in videoing more could you possibly email me at LHDfifagaming@gmail.com as I'm finding that 5 mins is just not long enoguh

Can you just have picture in picture available while you play without recording? I have an Elgato and would rather just record my gameplay/sound through that. I just hate synching up PiP and don't necessarily have the RAM at this time for a flawless recording to have them both going on at once. Argh ><

I am interested in making longer youtube videos of my game clips... please email me with any helpful info. Cmweaver2004@yahoo.com

It's correctly spelt futbol not football

Yep!!! I wanna be the next fingymabob!!!

H​i there, i know i am commenting on something from over a year ago but i have only just come across your post. I have watched your video and read the comments which were helpful. I have also tried using twitch but for some reason it keeps failing upon sign in, i am putting all the right details in but just keeps playing up! I would like to know of other ways to make longer videos to upload to Youtube if possible, if u could email me on how to do this, i would be most grateful. Thank you Natalie nataliejcole@outlook.com

When I recorded a clip offline, then went back online, it did not show up. Anyone know how to get them back?
Windows Central Newsletter
Thank you for signing up to Windows Central. You will receive a verification email shortly.
There was a problem. Please refresh the page and try again.