How to send drawings on Skype for Windows Phone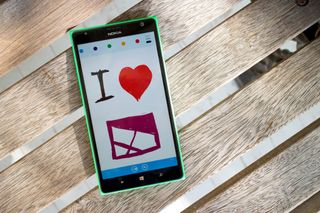 On Monday, Skype added drawings to their Windows Phone app. You can draw on empty canvas, add scribbles to a photo, or even add markers on a map. There were other updates too, including sign-in improvements, HD screen support, and faster resume time, but drawings stand out. Not sure how to do it with the new update? Don't worry. We'll show you in this video.
In conversation view, tap the plus sign on the left.
Tap 'select drawing'
Start drawing!
Tap the 3 dots on the lower right corner if you want to add a photo or a map.
You can select a photo from your camera roll, or take a new one with the camera. You can also swipe and pinch to zoom to adjust the map.
That's it! Scribble away!
When drawing, there are three different sizes for your brush. Tapping the brushes on the top right corner cycles through the different sizes. There are ten colors to choose from as well.
Once you're happy with your drawing, just tap send. Recipients with Skype apps that don't support drawings will display a message instead of your beautiful artwork. It says:
What's interesting is that this drawing feature has been made available for Microsoft's own Windows Phone platform ahead of iOS and Android. They haven't mentioned yet if or when they'll get this feature in the future. Remember when Microsoft gave more features to iOS and Android users for Skype Qik?
Skype is a free download from the Windows Phone Store. Have you tried drawing with the new update for Windows Phone? Try it out if you haven't yet and let us know how you like it.
Windows Central Newsletter
Get the best of Windows Central in your inbox, every day!
Loving the feature!!! Best Skype update ever! ♡.♡

Where's the group calling feature?

Yeah like Google hangout, that would be a great add to Skype.

Addition*
Not grammar nazi, just kindly and indirectly upgrading your knowledge. Have a nice day.

Not a grammar Nazi, just your average otherkin douching the interwebs.


to be frank grup calling is better to be done on a pc. its more comfortable always on a pc or tablets.

I love when android people have these messages saying your phone dosent support picture drawing bwhahahaha

Microsoft wants us to feel good for a little while until the next major Android release is pushed. Then we will be back to griping again for months ;)

How about transparent tile support? Still waiting for this before I pin it on my startscreen again.

I think the blue looks beautiful "as it is"

This should be added to text messages. I mean it's just a simple art studio and the messaging app (whether Skype or built in) is sending an image.

Galaxy Note type device incoming?

First video staring by #mark guim saying "WindowsCentral" for very first time and MS app..awesome!!

bottom of the video it still has WPCental.com :D

That'll change soon! New video intro animation coming too.

I don't think you need Skype to support drawing on the other end. It has to support picture viewing.

Thanks! We know all team are working on it ;)

Great update. I really love it :D

Indeed loving this feature

I know very well that how to install and uninstall this app everytime

Not seeing the point of this feature. Seriously.

I'm with you buddy. there are way more important features to work on than this. and I know Daniel is going to run to Skype's defense about how Skype wasn't built for the platform in the first place. But isn't that one of the perks of acquiring a company? The rate at which skype is developed on windows phone is appalling, how many years since the acquisition and its android and iphone version are so much better with more features than its in-house WP version. If it's that hard, then build it from scratch (like they did when transitioning from WP7 to WP8) Its almost the end of 2014, by now I expect Skype to have been a major competitor to Google Hangout but its not and thats just sad. Step your game up Microsoft. geez!

Its pathetic really. My Palm Pre3 has better skype integration, and it has not been updated since 2011.

To be honest, I think (or at least I'm trying to convince myself) that the reason they haven't fixed the Windows Phone app is because they're working on making the RT app mobile-friendly, at which point they'll just replace the WP8 app with it and then development of both will escalate. That makes the most sense to do now, and could explain why progress is so slow.

Needs more, but good start.

What's up with all the negativity? We get it first on WP we complain, ifv this appear earlier on other OS we also complain. Jeez. Lighten up, don't have to use it you know.

would be nice if they also update skype for other os.too bad we cant share the joy with other os

WP platform got some love before IOS/android.

skype is working fine now just need more interface tweaks so that it becomes more compatible

I just miss group calling feature.. Don't mind drawing much interesting.

Function is grey and not clickable on a Nokia Lumia 925 WP 8.1?

I confirm the same problem on my 925.

Same here. Also same thing on a lumia 820. Can't send drawings or pictures. What gives!?

when are they going to fix snapchat :(

So since upgrading I've been able to use this feature with all but one contact. The option is there to Share Drawing, but it's grayed out and I can't select it. Oddly enough, I also can't use the Share Photo option either. Anyone have any idea what could be wrong or causing this for this one contact??

Does that one contact happen to be a "Messenger" contact? e.g. listed with that status in your contact list?

Well look at that... you're absolutely right; they are listed as "Messenger". Thanks! Thing is, I know for a fact they are using the Skype app (it's my sister... I know she has it installed and is on 8.1) and not the old Messenger/chat hub. How do I get around this so that she's not a Messenger contact? Is the problem on my side, or hers?

And I've been drawing since I updated Skype. Hahaha

I wish I could use voice to compose messages on skype just like I do with SMS. Or be able to give a Cortana command like: "Skype, message Bob: I'll meet you at 10"...

Wow, Skype + Drawing = Skyping! Nice update.

All unnecessary options and apps are coming on windows phone. Really important apps are never showing up

Things which are not useful for you might be handy for someone else. It is completely on ones need; they are not mad to bring in such features without any demand.

There is app called Fresh Paint on windows store. Draw edit attach and send on any social apps

I miss having the contact list on the dial-up screen like IOS does.