How to send voice messages on the Xbox One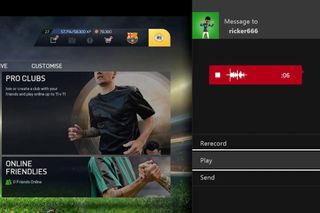 If you're on the Xbox One preview program, you are now able to send voice messages in the messages app. This feature should be able to everyone else very soon. You can quickly and easily record audio to send to your friends or others through the snapped messages app. It's really easy. Watch our how-to video to see it in action.
Double tap the Xbox button on your controller.
Choose Snap an app and select Messages
Click New message
Select a friend (or more) to send a message to.
The keyboard shows up to let you type a message, but you can back out by pressing the B button on your controller.
Click the new microphone option.
Hit Start recording to create your message and hit Stop when you're done.
You can listen to your recording, re-record, or send.
That's it!
It's great to see the audio waveform of your recording. It's a visual guide to let you know if you're too loud or if the microphone isn't working.
Voice messaging isn't the only new feature coming to the Xbox One April system update. It also includes game hub links, more detailed achievement notifications, dedicated servers for party chat, and improvements to the What's On area. What's On will also be expanded to Canada and the UK. You can read all about the system update for more details.
It's worth pointing out that right now it seems that you need to be on the preview build to open the voice messages. On our consoles on the regular public build, we're not able to open them yet.
If you're not on the Xbox One Preview Program yet, you can ask for invites below. The Windows Central community is usually very helpful with that. If you have friends that are already in the program, they can invite you by using the Invite friends page in the Xbox Preview Dashboard app.
Update: Some comments have asked about using the Kinect sensor for sending a voice message: Yes, the system does support this function, although you need to enable Kinect-for-chat in settings first!
What do you think of the new voice messaging feature? Will you be using it more frequently than typing with the onscreen keyboard? Let us know in the comments!
Windows Central Newsletter
Get the best of Windows Central in in your inbox, every day!
Can my friend that's not in the preview hear my message? I'm at work, so can't try it out yet.

It worked as far as sending to someone on 360. I think One owners need the preview.

Can you record via Kinect too or just microphone?

Kinect works great. Used it last night.

Awesome! Thanks for letting me know

Anyone want to send me an invite to the preview? GT=Silentsolution thanks in advance

I'll shoot you an invite after work.

Do send me one too please :3 GT: AdrienSalvatore

Hey, can I get one also? Jaemo X

I expected that voice messages would have an easy voice command... what a funny logic Microsoft has, so many steps.

Anyone wanna hook a brotha up with an invite? Please? (:
GT: Mike OnThe Mike
On topic, its good to hear voice messages are back. If it integrates with Smartglass, even better

Ditto! GT: thals1192 Waiting for Media Player to be better integrated. Sucks being required to have it pinned and being required to play a game in letterbox mode. I also have to keep playing with the volume between apps for tracks.

I'll see what I can do after work.

Whats on section is still not there here in canada or its only available on English?

It's working for me. Guessing it is English only

Could someone help me out and send me an invite? GT is Grooseland. I'd really appreciate it!

If anyone wants an invite, add me and send me a message. My Gt is: cjshonky

Can someone send me a invite my gamer tag is NickNick707

Check the Xbox section of the forums, there is a thread for adding.

Could someone please send me an invite too? :D GT: Anubis99
Thanks

Would someone be so kind and send me an invite please? My gamer tag is azzatey.
Thanks in advance.

How does it look on the receiving end? How does the recipient listen to it? Honestly, I didn't miss voice messages much since they've been gone. It seems much easier to deal with text messages, since you can glance at them quickly without diverting your listening attention to the sound clip. Plus, if someone doesn't speak clearly or with an unfamiliar accent, it can be hard to understand. And, since I've been using SmartGlass for messaging more often lately, it's even easier to use text. So I'm actually a little disappointed to have voice messages back.

No to mention there are sore losers out there on xbl

How can I add voice messages to my Xbox??

You have to download the new update, either by waiting for them to offically release it, or by being part of the preview program.

Hi all, I'd be most grateful for anyone willing to send me a Preview invite. My gamer tag is Pyrelyne. Thanks so much!

If only it could all be done on the app

Would be nice if I could actually play games on this hunk-a-junk(#AMD CPUs still suck)

I've heard they are no longer accepting new people into the program or if they do it will be a long wait.

Got my accept message last night, was invited back in December. So wait was about 4 months

Can someone send me an invite

Could someone please send me an invite for the preview
GT - mekerite

How can I get invited to the Xbox one preview. GT- Superhawk35

Can anyone send me an invite gt is slaterlight

My gamertag is Canterrain. If you follow me, I'll invite you (at least as long as I can). Feel free to unfollow after the invite.

Please send me an invite someone....MAgicWaffles123 Thank you, thank you, thank you.

Please.....an invite......My Kingdom for an invite....

Is the preview program invite worldwide or region restricted? I am in India If not can someone graciously send me an invite? Millions of thanks!

Oops Forgot gamer tag. Sarang Date

Someone please invite me. Gt: Solidsnake jv

Could somebody please invite me to the Preview Program for Xbox One? My gamer tag is UncleFester1970. Thanks for the help.

Anybody have any preview program Xbox one invites? Gamertag: ThePaulMac

Anyone kind enough to hit me up with an invite? Gamer tag: KeRmItWiThAgUn

Hey all - could someone send me an invite? I am not feeling the love - already on Mobile and Win 10 tech preview and would like to test and provide input about Xbox preview. Thanks in advance, KG

can somebody plese send me an invite to the preview my GT is SoftSpokenTY

Can someone send me an invite pls? Gt: King x Bruh

Can someone please send me an invite please. Gamertag: AnimalLemur059 Really will appreciate it.

Would anyone please send me an invite? I would really appreciate it! My GT is "DynamiteBigB 97". <there is a space between B and 97.

Hey, whenever you're not busy, do you think you can send my gamertag an invite to the preview? I am more than anxious to try to send voice message.

Hi could someone please invite me? Thanks GT:Buckerooster

If anyone still reads the comments for this post can I get an invite to the program gt tman7499

Can someone Shoot me an invite GT:GainfulEnd1 Thanks

can anyone hookme up with a xbox one preview on kvjoshi ... thats my gamertag
Windows Central Newsletter
Thank you for signing up to Windows Central. You will receive a verification email shortly.
There was a problem. Please refresh the page and try again.