How to send voice messages on the Xbox One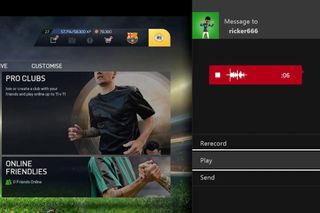 If you're on the Xbox One preview program, you are now able to send voice messages in the messages app. This feature should be able to everyone else very soon. You can quickly and easily record audio to send to your friends or others through the snapped messages app. It's really easy. Watch our how-to video to see it in action.
Double tap the Xbox button on your controller.
Choose Snap an app and select Messages
Click New message
Select a friend (or more) to send a message to.
The keyboard shows up to let you type a message, but you can back out by pressing the B button on your controller.
Click the new microphone option.
Hit Start recording to create your message and hit Stop when you're done.
You can listen to your recording, re-record, or send.
That's it!
It's great to see the audio waveform of your recording. It's a visual guide to let you know if you're too loud or if the microphone isn't working.
Voice messaging isn't the only new feature coming to the Xbox One April system update. It also includes game hub links, more detailed achievement notifications, dedicated servers for party chat, and improvements to the What's On area. What's On will also be expanded to Canada and the UK. You can read all about the system update for more details.
It's worth pointing out that right now it seems that you need to be on the preview build to open the voice messages. On our consoles on the regular public build, we're not able to open them yet.
If you're not on the Xbox One Preview Program yet, you can ask for invites below. The Windows Central community is usually very helpful with that. If you have friends that are already in the program, they can invite you by using the Invite friends page in the Xbox Preview Dashboard app.
Update: Some comments have asked about using the Kinect sensor for sending a voice message: Yes, the system does support this function, although you need to enable Kinect-for-chat in settings first!
What do you think of the new voice messaging feature? Will you be using it more frequently than typing with the onscreen keyboard? Let us know in the comments!
Get the Windows Central Newsletter
All the latest news, reviews, and guides for Windows and Xbox diehards.