How to use Startup Repair to fix boot problems with Windows 10
You can fix most Windows 10 boot problems using the Startup Repair tool, and here's how to do it.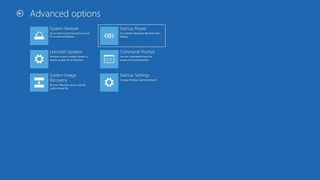 It's just a matter of time before your device gets stuck loading or won't start at all. Instead of spending time trying to find out the problem, Windows 10 includes the Startup Repair feature designed to quickly fix most common issues that may be preventing your computer from loading correctly.
In this Windows 10 guide, we'll walk you through the steps to use the Startup Repair tool to fix boot problems on your device.
How to quickly repair startup problems on Windows 10
To use the Startup Repair feature to fix boot issues with Windows 10, you'll need to access the Advanced startup settings, which you can do in at least three different ways depending on your situation.
Accessing Advanced startup when PC isn't loading
If your device isn't loading or stuck during boot, you can use this method to access the recovery environment:
Turn on your PC.
As soon as the Windows logo appears on your screen, press the power button. (This will immediately interrupt the boot sequence.)
Repeat steps 1 and 2 two more times.
After the third interruption, Windows 10 will open into the Advanced Startup environment, and then you can continue with the steps below to use the Startup Repair tool to fix booting issues with Windows 10.
Accessing Advanced startup using bootable media
Alternatively, in the case your device isn't starting at all, you can use a USB installation media to get to the Advanced settings environment. Here's how:
Start your device using a USB bootable media.

Quick Tip: If your computer isn't starting from the USB flash drive, you'll need to change your system's BIOS settings to make sure it can boot from USB. Usually, you can access the BIOS by powering up your device and pressing one of the functions, Delete, or ESC keys, but make sure to check your manufacturer's support website for more information.

Click Next.
Click the Repair your computer link in the bottom-right corner.
Once you've completed the steps, use the steps below to continue to the Startup Repair tool.
Accessing Advanced startup when PC is loading
If you have access to the desktop, you can use these steps to access the recovery environment to use the Startup Repair tool:
Open Settings.
Click on Update & Security.
Click on Recovery.
Under the "Advanced startup" section, click the Restart now button.
After completing the steps, you can now continue with the steps below to fix loading problems with your device using the automatic repair feature.
Using Startup Repair to fix loading problems
While in the Advanced startup environment, use the following steps to use Startup Repair:
Click the Troubleshoot button.
Click the Advanced options button.
Click the Startup Repair button.
Select your account.
Type your account password.
Click the Continue button.Quick Tip: If your computer is loading correctly, using this tool, you'll get the "Start Repair couldn't repair your PC" message because there's nothing that needs fixing.
Once you've completed the steps, the Start Repair feature will proceed to scan, detect, and fix any problems that may prevent your device from loading correctly.
Also, the repair process creates a SrtTrail.txt file in the "C:\Windows\System32\Logfiles" folder with log information that you can view to have a better understanding of the diagnostics.
If you're still having problems, you should use the Windows Central forums to find help.
Alternatively, if you've been running the same installation for a long time, you should consider nuking the old installation with a clean copy of Windows 10. This process will take longer, and it'll erase everything on your computer, but it'll help to fix the loading issues, as well as performance, battery life, and other problems.
More Windows 10 resources
For more helpful articles, coverage, and answers to common questions about Windows 10, visit the following resources:
Windows 10 help, tips, and tricks
Mauro Huculak is technical writer for WindowsCentral.com. His primary focus is to write comprehensive how-tos to help users get the most out of Windows 10 and its many related technologies. He has an IT background with professional certifications from Microsoft, Cisco, and CompTIA, and he's a recognized member of the Microsoft MVP community.
Windows Central Newsletter
Get the best of Windows Central in in your inbox, every day!
Thank you for signing up to Windows Central. You will receive a verification email shortly.
There was a problem. Please refresh the page and try again.