How to use your Xbox to get in shape
How can you use your Xbox to get in shape?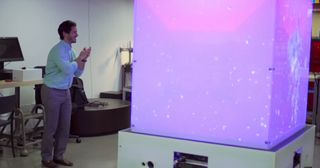 Whether you missed the boat completely with Xbox Fitness or you're anticipating some form of withdrawal from it, it's not too late to start using your Xbox One to whip yourself up into fine fighting form. For a good all round fitness routine, we recommend that you wear a fitness tracker, like the Fitbit Blaze (opens in new tab) to keep more accurate stats on your progress.
Exergaming (gamercise?) workouts range from the deceivingly easy to intense and hardcore, so pick a place to start and bring on the sweat!
Update 18 January 2017: While the games list still stands, we've added Fitbit in place of Microsoft Band as our fitness tracker of choice.
Fight-inspired workouts
Workouts that use physical combat as the foundation will work muscle groups you didn't know you had. You might think that punching and kicking thin air can't possibly be an effective workout, but when the game is immersive and entertaining enough, you'll be kicking some serious enemy butt with real gusto and a lot of power. Want some added incentive? A vigorous fight-style workout can burn 400 to 600 calories in under an hour.
Kung Fu for Kinect
In Kung Fu for Kinect, you're not an avatar; you actually appear on screen, fighting various comic book-style bad guys. Your image is also inserted into a comic book storyline at the start of each new level so that you have a fun, motivating story of revenge to follow. That might sound silly, but who doesn't want to be the protagonist in their own comic book adventure?
As each level begins you're given punching and kicking instructions so that you know how to inflict the most damage on your enemies. Your movements are ridiculously accurate and the sound of your fist or foot making contact with the bad guys is darned realistic. While it's fun, it's a deceivingly tough workout; the more levels you pass, the more bad guys you're required to fight, and the harder they are to kill. You're going to use your whole body in this game, and it won't take long for the game to start reminding you to pause every now and then for rest and water.
At the end of each completed level, you're given fight stats to show your accuracy, as well as some of your reach and power measurements. One way or another, you're going to break a sweat, and you're going to feel it in the morning.
Download Kung Fu for Kinect ($19.99) (opens in new tab)
Fruit Ninja Kinect 2
If fitness is starting to become a priority for the whole family, you should consider investing in a game that will be accessible and fun for everyone. Fruit Ninja Kinect 2 is the sequel to the original and extremely popular original version, and it features the familiar fruit-and-bomb combinations that require you to think fast and swing wildly with your blade-like hands. Up to four players can play at one time...just be aware of where everyone is standing so you don't accidentally whack a kiddo in the head.
You can also choose to battle friends online and keep your own leaderboard to entice some friendly competition. This version of Fruit Ninja has five new slicing modes to make the game a total body workout, although it does focus primarily on the upper body. Still, you might want to push the coffee table out of the way before this game gets going. Fruit Ninja is just generally a great way to get your game off the couch, though you will incidentally break a sweat more than once, and that's a promise. If fitness on your Xbox One is a newer notion for you, this is a great place to start.
Download Fruit Ninja Kinect 2 ($14.99) (opens in new tab)
Dance and music-based workouts
Dance is a phenomenal cardiovascular workout. With the right moves, the right instruction, and a killer soundtrack, you don't even realize you're burning off all of yesterday's pizza binge. And if you lack a little in the rhythm department, you can still play, exercise, and hone that skill in games that teach you the beats and trick you into moving to the music.
Beatsplosion
Beatsplosion is exceptionally addictive and a harder workout than you think it's going to be. It's a musical workout, but it actually uses three key moves from martial arts workouts instead of dance moves, namely punching, jumping, and crouching. Your avatar is a stick person with oversized boxing gloves that follow your movements precisely. You surf through futuristic landscapes, listening to techno-based beats, while smashing or avoiding obstacles that zoom into your path. Yes, it's a simple, simple game, and that's why it's so effective.
You actually have to hit pretty hard in order to smash the balls, rocks, and pillars that whiz into view, and the game will let you know with each swing whether or not you're hitting hard enough or reaching far enough to earn points along the way. One of the movements you'll encounter again and again is a jump to the side and a double-punch, which mimics the movements of a speed skater (warning: this movement is graceful and earns you loads of points, but your legs and your core are going to hurt the day after).
Your accuracy will improve along with your score if you can hit and dodge to the beat, so if you're rhythmically challenged, this is a great way to learn to find your groove. A timer at the top of your screen will keep a running total of how many minutes you've played in a given week, and the difficulty increases as you go. You can repeat a level if you want to better your score and better prepare yourself for a faster tempo and tougher combinations that are coming your way. An intense round of Beatsplosion will burn somewhere in the neighborhood of 300 to 400 calories in an hour.
Download Beatsplosion ($12.99) (opens in new tab)
Fantasia: Music Evolved
Have you ever wanted to be the star of a Disney movie? In Fantasia: Music Evolved, you become the apprentice to a powerful sorcerer, just like Mickey Mouse did in the original, ground-breaking movie all those years ago. The difference now is that the sorcerer wants you to become a powerful music maker, and he trusts you with all the magical tools that Mickey went a little bananas with. The storyline is a little forced, and it's mostly there to give you some extra motivation, but the real heart of the game is putting you in the conductor's shoes. in charge of some brilliant tunes.
This is a terrifically active game, and accuracy is everything here. It's not easy to jump into; you'll need the tutorials to start out so you can learn what the objects on the screen mean and which moves match them. It takes some getting used to, and it's as much a workout for your brain as it is for your body. The songs are complex, and the playlist goes way beyond classical music; you'll conduct to the likes of Queen, Lady Gaga, Coldplay, and Drake (which is tough but awesome in two player mode). While Fantasia: Music Evolved was clearly not developed with fitness in mind, it sure is a fabulous side effect.
Download Fantasia Music Evolved ($39.99) (opens in new tab)
Just Dance 2016
The Just Dance series is a longtime favorite that's seen many variations and updates as gaming systems have changed and improved. Unfortunately this iteration doesn't take advantage of all the features of the Kinect 2, like the infrared camera for heart rate monitoring. That would make this game all but perfect for both entertainment and fitness, but even without it, Just Dance 2016 is a fun and highly effective workout.
If you're new to the world of Just Dance, try the game in Casual and Party mode so that you can learn some basic steps, or have up to five friends join you for a little silliness on the screen. If you want to really use it to its full workout potential, then go for Sweat and Playlist modes. These are aerobic-style workouts that require repetition and rhythm, and you're going to sweat and stretch, no doubt there. The more accurate you are when you dance, the more points you earn, which gets you new avatars or the ability to unlock more songs. When you're feeling brave, you can upload one of your attempts at a routine and put it out into the world to be challenged by another player, or you can play against live competitors. The workout is as intense as you want, and the playlists include some awesome tunes from artists like Calvin Harris and Meghan Trainor.
A dance-style workout like Just Dance 2016 will burn an average of 500 calories in a one-hour session.
Download Just Dance 2016 ($49.99) (opens in new tab)
Zumba Fitness World Party
Zumba is a more difficult workout than you think it's going to be. It's the Latin dance-inspired workout that features challenging moves and killer music, and it's a total party. It's going to make you sweat immediately and although it doesn't make use of Kinect's heart rate monitoring capabilities, it will give you an average calorie count at the end of each song, which is a great motivator (a one hour workout has been known to burn up to 1000 calories at the more advanced levels).
There are 45 preset classes for you to choose from, or you can pick through the playlist and create your own. The moves take some time to learn and you do need to be rhythmically coordinated. You're also going to need room to groove, so clear out the furniture, especially if you take advantage of the two-player option. It features real instructors superimposed on enhanced backgrounds and familiar Zumba songs from Daddy Yankee and Juan Magan, with new routines inspired by Irish dance and Hawaiian Hula.
Download Zumba Fitness World Party ($39.99) (opens in new tab)
Sports and traditional workouts
Kinect Sports Rivals
If you're the ultra-competitive type, Kinect Sports Rivals was made for you. Your avatar is a likeness of you that's a little amped up to look sharp and athletic, and you can join one of three teams: the Wolf Clan, the Viper Network, or the Eagle Legion. You're not just playing so that you can be the best; you're playing so your whole team can rise to the top. Sports featured in Kinect Sports Rivals include wake racing, climbing, target shooting, bowling, tennis, and soccer.
You'll play against friends and strangers on a lush island full of games and obstacles and while all of the games are fun, if you're looking for an athletic burn, stick to full-motion, sweat-inducing sports, like wake racing, tennis, and soccer. Longer gameplay happens in live tournaments where you and your teammates go head-to-head against your rivals. Kinect Sports Rivals makes outstanding use of the Kinect 2 in terms of relaying your movements with precision and detail into the game; the slightest flick of your wrist can make all the difference in a real-life tennis match, and it will here too. A half-hour tennis match or soccer game can burn somewhere in the neighborhood of 300 calories.
Download Kinect Sports Rivals ($29.99) (opens in new tab)
Shape Up
Shape Up features a series of 10 mini games that you play for under five minutes each. Goodbye, workout boredom. The games target specific muscle groups and consist of repetitive movements like squats, push-ups, and punching. You can play them in whatever sequence you like, and they have names like Stunt Run and Waterfall Jump. On the other hand, you can let the game's coach create a regular rotation of workout games for you. It's very much like having a personal trainer, and you can yell at him all you want.
You can play solo, but it's more motivating to play against an opponent, and you never know who you'll be matched against: an artificial game avatar, a pre-recorded real opponent, or a recording of yourself playing the game from a few days or weeks ago. There is a two player mode, but you need lots of space and you do risk smacking into one another. Another great feature of this game is zero lag, which means your movements are accurate and precise. You will appear as yourself on screen, not a shape or a cartoon, which can be very motivating. Weekly stats are recorded to tell you which muscle groups you've worked and how many calories you've burned. If you are a runner and you download the Shape Up Battle Run app, you can sync the app to the game and it will add your calories burned and workout totals to your weekly tally. It's possible to actually build a very comprehensive workout routine with this game.
Download Shape Up ($19.99) (opens in new tab)
Fitbit
If you're keen to keep in shape away from your Xbox, our favorite wearable is currently Fitbit. Something like the new Blaze (opens in new tab) or Charge 2 (opens in new tab) is a great companion not only to your fitness regime but also to your Xbox One.
The Fitbit app is truly universal and it's available to download on the console, which means you can workout then fire up the Xbox One and check in on all your activity data, leaderboards and much more!
Download Fitbit from the Windows Store (opens in new tab)
Get fit, stay fit
How have you been using your Xbox to keep fit? What would you like to see in future exergaming workouts for the Xbox One? Have your say in the comments below.
Great list. Indeed, Kung-Fu for Kinect, Fruit Ninja Kinect 2, Shape Up, and Dance Central Spotlight in particular really can provide a great workout. It's a shame about Xbox Fitness--that truly was the greatest fitness game ever made. I'd definitely recommend Fantasia too, and even Fru can be good as a yoga-type game. Anything to get people up off the couch and moving around.

It's a shame about Kinect in general. A truly wasted concept...

I wish the sports game would connect to a cardio type machine. So lets say you're playing NHL, the player you control can only go 80% of what they should, however the amount of reps / calorie burn rate can add to the speed of the player and would be able to give you an advantage of something like 110%... Just a thought

I cant, they removed gestures.

Indeed, Microsoft's lies about supporting Kinect and their subsequent screwing over of Kinect fans is shameful.

I recommend Nike+ Kinect Fitness if you still have an Xbox 360. I've been using it for a few years and it's great. I was planning to start trying out Xbox Fitness, but no point now.

I like Your Shape Fitness Evolved even better (better than Shape Up imo). Sadly that one too is missing on Xbox One:-(.

Just got done playing Wii sports resort and it was so damn fun.

"exergames" ...UGH, are regular words really that scary to use? They're games focused on exercise. It's a genre.

Dance Central Spotlight is my personal favorite. I'm sitting here resting after just burning 680 calories in 40 minutes (according to my Band 2).

Sell it and buy a gym membership?

I was going to say. How to get in shape with your xbox, turn it off and go outdoors and exercise. works wonders. Kinect, just another awesome feature axed by the idiots at microsoft.

I'm all for going outdoors and exercising (the Microsoft Band 2 with built-in GPS is great for this), but it's not a feasible option for everyone: some times it's raining, some times it's a heat wave, some people live in dense cities without the space to run, some people have skin cancer, some people live in air polluted places, etc. Kinect and Xbox One can help those people.

Please provide the URL for this "outdoors" you speak of.

Sounds like my kids, and we're surrounded by Zion national park.

Bench presses with the original Xbox One power brick.

I would much rather MS dump HoloLens or whatever VR they have planned, and shift that effort back on Kinect. I have no use or interest in VR, and countless of practical reasons for Kinect.

So, can Kinect still be purchased?

Yes it can, both new or used, as well as multiple acessories

My family still uses Kinect on both the 360 and XB1. It's a great device that should have had a full MS support to increase its potential. I for one do not regret getting it and look forward to trying out some of the recommended titles noted in this article.
Windows Central Newsletter
Thank you for signing up to Windows Central. You will receive a verification email shortly.
There was a problem. Please refresh the page and try again.