How to view your Twitch comments while you play
Build your following by chatting and gaming with these tips.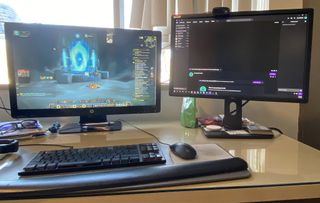 (Image credit: Windows Central)
Streaming on Twitch can be fun and lucrative, but it requires some work to really grow your audience. You'll want to pick up one of the best microphones for Twitch, so your viewers can clearly hear you when you're talking and playing, but you'll also want to make sure what you're saying is relevant. That means paying attention to what they're saying in chat.
Balancing between playing and viewing your Twitch comments can be daunting, but if you follow these instructions, you'll be able to keep your head in the game while having fun interacting with your fans.
How to view your Twitch comments on a separate monitor
If you have the cash, the best way to view your Twitch comments while you play is on a separate monitor. If you're considering upgrading to one of the best computer monitors of 2021, you can use your old monitor to view the Twitch comments since that's not going to require the same size or graphics you'd want while playing a game.
Setting up a second monitor is trivially easy, typically just requiring plugging it into the right port on your computer and then arranging your display settings in the system menu to decide what you want to view on each screen. However, there can be some issues where the second monitor is not detected on Windows 10. Once you've set it up, you can just drag your Twitch window to the second monitor so you can watch your comments scroll while you play on the primary monitor.
How to view your Twitch comments while you play with one monitor
If you can't afford a second monitor right now, there are some free ways to see your comments still while you're playing. For some games, your best option might just be to reduce the window's size so you can also have Twitch up on the same screen and easily glance between them.
That won't work for games that really need to be played on fullscreen to get the best experience. In that case, there are a few free apps that you can use to have chats pop up over your game. One of the best options is Restream since it also allows you to stream to Twitch and YouTube concurrently.
You can also have Twitch open on a smartphone or tablet so that the chats appear there. That's certainly a worse option than a second monitor since you'll have to be looking at a smaller screen. Still, if you pick up a stand to go with the device, it's a solid, affordable option to let you view your Twitch comments without reducing screen real estate or dealing with text popping up while you're playing.
Digital goodies
Pick up a gift card today

There's a lot to be said about Twitch, but its streamers provide countless hours of entertainment for us. Grab a gift card to support your favorite streamers or gift a subscription to a community member.
Get the Windows Central Newsletter
All the latest news, reviews, and guides for Windows and Xbox diehards.