HP DreamColor Z24x G2 review: A monitor that prioritizes color accuracy over everything else
When it comes to monitors, it's important for graphic artists, photographers, video editors, designers, and other creators to have accurate colors. HP targets that market with the DreamColor Z24x G2 Display.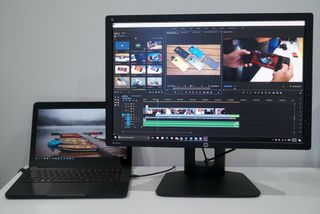 HP promises to deliver color accuracy with push-button, color-space selection on the $559 DreamColor Z24x G2. It offers a wide array of digital cinema-class color gamuts, including 100 percent coverage of sRGB and BT.709 and 99 percent of AdobeRGB. The included stand lets you tilt, swivel, and adjust the height of the panel. You can also rotate the monitor by 90 degrees into portrait mode.
See at HP Store (opens in new tab)
HP DreamColor Z24x G2 tech specs
Swipe to scroll horizontally
Category
Specs
Native resolution
WUXGA (1920 x 1200 @ 60 Hz)
Contrast ratio
1000:1 static; 5000000:1 dynamic
Brightness
300 nits
Pixel pitch
0.27 mm
Response time
6 millisecond gray to gray
Display Tilt & Swivel Range
Tilt: -5° to +20°
Swivel: ±45°
Pivot rotation: 90°
Height: 120 mm
Dimensions
22 in. x 2.6 in. x 14.4 in.
Weight
15.4 lbs.
In the box
Monitor
AC power cord
DVI-D cable
DisplayPort 1.2 cable
USB cable
Immediately after opening the box, I was disappointed to find that none of the included cables work with my laptops. Many laptops now have USB-C Thunderbolt 3 ports, so you'll need to get a USB-C to DisplayPort cable (opens in new tab) from Amazon if you want to use the monitor with such PCs.
The Z24x looks very serious. It's big, heavy, and has plenty of bezels. The right side has five menu buttons and the power button. The menu is straightforward to navigate. The left side of the display has two USB ports while the rest of the ports are accessible under the display.
HP DreamColor Z24x G2 ports
Two DisplayPort 1.2
HDMI 1.4
DVI-D
Five USB 3.0
Audio output
A factory calibration report is also included in the box, with the calibration date and equipment used, which is the Minolta CA-310. The report will be confusing for the average users, but the target audience will be able to decipher it and find it valuable.
The Delta E values for AdobeRGB and sRGB on our calibration report were 1.491 and 1.567. A Delta E value of 1 between two colors is considered to be barely perceptible to the human eye. The higher the Delta E value, the greater the difference between the two samples being compared. The low Delta E values for this monitor are very good, which are what the target audience is looking for.
We fired up our Spyder5Pro calibration tool (opens in new tab) and got 98 percent coverage of sRGB and 99 percent of AdobeRGB. This tool costs less than $150, while the calibration tool used in HP's included report costs over $12,000!
The HP DreamColor Z24x G2 display takes color accuracy very seriously. It's the type of monitor that media, advertising, and production houses use. However, there are other factors to consider when buying a monitor, such as resolution. The Z24x G2's native resolution is 1900 x 1200. Those interested in 2K or 4K resolution with DreamColor technology need to check out the bigger models, the HP DreamColor Z27x and HP DreamColor Z31x, which cost about $1,300 and $4,000. If image resolution isn't a high priority, the DreamColor Z24x G2 Display will be a lot easier on your wallet.
HP DreamColor Z24x G2 display review conclusion
The HP DreamColor Z24x G2 display isn't for the average user. There are plenty of other great-looking monitors that doesn't prioritize color accuracy over other specifications. This is the type of monitor that a production house will buy 20 units for their facility. Independent creators who can afford this monitor will also have peace of mind knowing their content will look as how they envision it.
See at HP Store (opens in new tab)
Pros:
Color-accurate display.
Adjustable tilt, swivel, height, and rotation.
Durable design.
Cons:
No USB-C port.
2K or 4K option not available.
Large bezels.
Windows Central Newsletter
Get the best of Windows Central in your inbox, every day!
You should note that one of the DP ports is a DP out only, used for daisy chaining unless I mis-read something from HP. Needless to say I've ordered a pair. Also all the ports have HDCP support. As to USB-C that's barely supported in the consumer market and all but non-existent in the professional market which is where this is targetted. The monitor has only 4 USB 3 ports as part of the hub (2 rear and 2 side), the fifth USB port is the hub connection to the host. The calibrator you used isn't capable of handling this display as far as I'm aware, and not officially supported due to this. When buying the monitor you should ensure you have a compatible calibrator: i1 Display Pro or a Klein A10, if I remember rightly. The old HP Calibrator should still work if you have one or can get your hands on one. The profiles are stored in the monitor and not the host system, as it's designed for working with video kit so you'll often have a video interface attached (the quirks of editing videos) which is another reason you may have not fully calibrated the display properly. Final note if you need 4k then the HP DreamColor Z32x is what you're looking for.

I have the older, non-"G2" version. While I adore the design, the resolution of this relaunch should've increased at least to 2,5 K, since HD monitors are beginning to look a bit bland.