HP Elite x3 grabs 5th firmware update to improve low-light photos, performance and more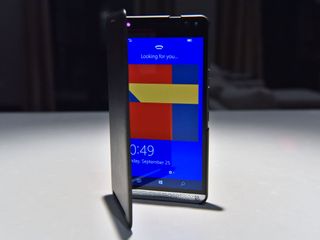 HP is continuing to improve the Elite x3 running Windows 10 Mobile. A new firmware (it's fifth) is now available 0002.0000.0026.0118 and there is even a changelog to go with it. That's a jump from the current 0113 version that came out just a few weeks ago.
Here is what's new.
HP Elite x3 Firmware 0118
Camera
Photo quality in full dark environment with flash on is improved.
Auto focus tuning updates.
Carriers
APN configurations updated for Orange, MegaFone, Vodafone
System
Memory utilization is optimized.
Performance of application launches is improved.
Accessories
HP Elite x3 Barcode Scanner Jacket is supported.
We're just firing up our update now to see how much better things really are with the update.
As usual, if you are in the Insider Fast Ring you may not see the update, which is a known issue with the Elite x3 for some specific reason. If that is the case your best bet is to roll back using Windows Device Recovery Tool (WDRT), grab the firmware, and then jump back into the Fast Ring. That method does require a hard-reset, unfortunately.
For more information head into our Elite x3 user forums!
Thanks, csw43, for the changelog and Thomas N. for the tip!
Windows Central Newsletter
Get the best of Windows Central in in your inbox, every day!
Daniel Rubino is the Editor-in-chief of Windows Central, head reviewer, podcast co-host, and analyst. He has been covering Microsoft since 2007 when this site was called WMExperts (and later Windows Phone Central). His interests include Windows, laptops, next-gen computing, and for some reason, watches. Before all this tech stuff, he worked on a Ph.D. in linguistics, watched people sleep (for medical purposes!), and ran the projectors at movie theaters because it was fun.
Those "System" firmware updates are needed for Lumias

Just buy the Elite and move on.

'Just buy the Elite' how loaded with cash are you lol. Besides, the 950s are still in their support window. Updates are to be expected.

I'm comfortable. I decided to buy an iPhone 7 and iwatch S2 to use along side my 950 rather than buy the Elite and essentially have the same experience as with my 950. I'm having the best Mobile experience that I've had in a long time using both iOS10 and Windows Mobile 10.

Wtf is an iwatch s2? Apple meets Samsung? 😆

Still iWatch isn't a thing mate 😄

To me it is and you still know what I'm referring to, mate😁.

So do you have 2 sim cards or how do you use two phones at once? I have 3 phones (Android, IOS and WP) and I just switch out the sim between them.

I just use one sim and carry both. Don't need the sim in the 950. I hotspot my iPhone and text & call via iWatch

Yeah good luck with that...

Luck is not necessary. Rather than limiting my self to just Windows Mobile 10 I also have iOS10. I have the apps on iPhone and the productivity on the 950. I also can't help but think how "awesome" listening to voice mail or having a conversation via iWatch is. I don't remember my Band 2 doing that. I just don't feel limited anymore. No Mobile OS battle for me. I'm enjoying 2 of 3.

I do the same thing. I do prefer my 950 for productivity compared to my iPhone, which is the work phone, by and large. In fact, the crummy imail caused me to pick up my 950 just a moment ago so I could locate something I needed.

Definitely is. Give it a try if you haven't already.

It's an Apple Watch, not an iWatch.....sorry for the rant. It's a pet hate lol

"Apple Watch" is to long. Correct or incorrect I prefer iWatch. Fits with iPhone, iPad and iPod.

Truth is most of us would have the Elite if it were available through our carriers... Nuff said. Sad. The best WP device EVER and the least amount of fans can get their hands on one.... WHAT ****** UP DIMENSIONS IS THIS?

It's not a consumer phone, it's a business phone, its not intended on phone networks, I know USA people suffer from carriers but the rest of us do not.

I'm glad you said "most of us" because I'm not one of them, but it's a nice device.

Wow seems like HP is really into this. They should release a phone at a more consumer friendly price though

I've heard a lot of times that HP has a strong support for its devices 🙂

Hopefully they push a firmware update that allows it to work with Preview builds without so many issues.

It goes on sale a lot, just recently it was $650, and that's the dock and phone.

There was rumor of new consumer oriented phone from HP...

Wonder if the "consumer" phone would get the same love from HP?

They would, but they would have to put the more consumer wanted OS (Android) on it, or it wouldn't make much business sense..

We'd need something with SD653 and most people should be satisfied.

Microsoft has not announced support for SD653 yet, have they?

Why we don't see firmware updates for the 950/ 959XL, I'm sure that's there is a lot to improve,iris scanner, boost performance, etc. 😤

Not worth the time and effort to deal with the 950 series. Buy an Elite and move on

The processor/ram update on the X3, for me, is not worth if I lose my awesome 950xl camera, also I really don't like the X3 looks.

Oh goodness, you're one of those types. "my awesome camera...blah blah blah camera." Enjoy the camera and not receiving firmware updates.

Two weeks after I had switched from my L950 to an Idol 4S I'm ready to switch back. I didn't realize how much I would miss the superior camera and wireless charging.

That's great. Do you still have the 4S? If so, you're in good shape. You're in great shape if you have both Windows Phones, an iPhone 7 and iWatch Series 2 (Apple Watch Series 2).

Stop being such a ****** bag. Not everyone has $700 to drop on a phone every year. My 950 was $600 from att on launch day, it's been treated poorly since launch. We didn't know that was gonna happen when we bought the phone. You can **** off and buy me an Elite x3 if you're rolling in the dough like that

Hey, I donate to charities on the regular. Clean up your language, explain your charity case to me and perhaps I will buy you the Elite. However, if you're buying Starbucks daily, forget it. Not being able to afford the Elite is your problem then. I too bought the 950 from Att for $600 a year after buying the HTC M8. This year I bought an iPhone 7 and iWatch Series 2 that I use with my 950. It's called budgeting.

No, it's called living with your parents.........

Lol, not in my case. Hey, I'd have alot more if I did though. I should ask if my family and I can move in. Thanks for the tip.

How exactly are you using the apple watch with your 950? Does it support basic bluetooth functionality?

No, sorry for the confusion. I just meant I use all 3 Mobile devices to satisfy my Mobile needs. iPhone 7 with all MS services paired with Apple's Series 2 watch and the 950 for the serious task. All 3 are required to satisfy my Mobile needs and much happier using both iOS and Windows Mobile 10

I paid €480,- for my second hand but basically brand new HP Elite x3. It was used only indoors and all the accessories where still in their original plastic, even the dock.
You don't have to pay retail if you look for a good deal online! It is very possible to get it a lot cheaper!

How much did you pay for your Elite?

Be nice to see Alcatel Idol 4s firmware update one day.

Should have bought the Elite then

Are you get paid by HP??? You've given the same answer in this section 😛

It's the appropriate response for everyone complaining about not getting firmware updates on their non Elite device on an article about the Elite receiving firmware updates.

Funny how that's not obvious.

What do you mean it's not obvious? You can tell by the way it is.

Corrected, sincerely appreciate the correction.

Corrected sincerely appreciate the correction

"Should have" or "should've"

Corrected, sincerely appreciate the correction

Out of the gate the IDOL 4s needs no fw updates, atleast no major ones. The Elite had some issues that it had to hurdle over before it was mostly stable. Consider the IDOL 4s where it is at at the moment a good start. Yet I too hope they add on to what is already a great phone...

So did the beloved 950 Series. My goodness was that a horrible experience. I still cringe when I think about it

If only they would update the Lumia 950XL firmware to fix the lock screen of death!!!

Just let it go already. Buy the Elite and move on.

Occasionally when I use my 950, but it's still usable.

The Elite x3 with its current camera is not Elite. Sorry troll.

That's because it's not focused on people who sit around saying "my camera takes better pictures than your camera because it blah, blah, blah and more blah.

What issues are you having with the lock screen?

Mine occasionally unlocks black, then I have lock and unlock again to get the display to come up.

Same problem with my 950XL. I think the ambient light sensor gets confused when a notification comes in?

My 950 did that its usually because the ambient light sensor has something over it clean it and reboot.

Happened on fast ring alot for my 950xl turn off the auto brightness and you will se it work 100%. And my phone is the cleanest here bar none.

I can honestly say that's something I've NEVER had on my 950xl

Same here. No issues with the lock screen at all anymore. My only slight annoyance is with notification badges taking a moment to show on glance.

What is the Lock Screen of Death? I guess I do have some occasional issues, but nothing I'd call a lock screen of death.

I've not experience this issue, but I'm not on an XL.

I am no bussiness user but..The more i see this phone from HP, the more i like it. From all Windows Phones users, Thank you HP.

Speak for yourself....I only do in house!!!

Yeah I'm thinking the same now, I just ordered the Idol 4S and getting it shipped to Australia, but perhaps I should have spent more and grabbed the HP Elite X3, just very expensive and not on any carrier :(

Hey Simon, how did you get it to be able to ship here? Through a website or friends?
I couldn't get it through the Microsoft site

Hi Danial, via Amazon to Shipito, total cost about AUD $675 :)

Ah Amazon. A bit scary sometimes with sellers if there are issues. I read once some US phones don't have the 4g band (28 I think) that works in buildings. If you could update with how the phone reception is in different locations, I would appreciate that. Did you have Lumia 950/Xl?

Hi Danial, its Amazon itself selling it, not one of their sellers, so its safe on that front.

I am not a business user as well but I love the phone.

I guess, but I get stuff done on my 950 and iPhone 7 too. Elite is good because it gets firmware updates.

But it may never receive a feature update since it is a dying platform. Even the creators update brought nothing!

Do you ever have anything positive to say about current windows-10 phones bleached ?

No, there is nothing positive about them. The quicker Microsoft moves away from Windows phone and to something viable, the better.

There are some positives, but MS needs to do something else.

The trolls who have been right about this platform from the beginning?

Whoa, you guys are like chicken little, "the sky is falling" if something you don't like is posted about WM10.

You're right; however, it is currently. All the non Elite owners are crying for a firmware update; therefore, should just buy one and spare the community of their moaning about what they don't have or deserve it too.

Goes for $650 on sale all the time.

They just need to budget better.

My wife bought this last week - amazing build quality and so far it's been rock solid. Missing a few things in terms of Living Images, Equaliser and Colour Profile when compared to my 950XL, but I'm pretty impressed that HP seem to have grabbed the hole left by Nokia in terms of setting the bar nice and high.

I love my x3. Very powerful phone and the battery life is amazing... But you know what I missed the most from the Lumia series ? The Glance Screen.

Yea I know right and the stupid thing is if you setup the dim settings for continum u know what happens while you're using it? A glance screen comes up with the time date and battery life(in color) and bounces around the screen. They just need to have that all the time and with the notification icons and bam glance screen.

I have both phones and the battery & screen on the X3 blows the Lumia 950XL out. However, no Glance sucks and the camera is no where near as good as the Lumia 950XL. And the double touch yo wake sucks on the X3. Honestly, you can't go wrong with either phone. If you're a camera person definitely go with the Lumia. If not the X3 will be fine.

Exactly what I found. About the only thing that doesn't work well at all on the x3 is DTTW. Otherwise perfect. The camera is good enough, not as good as 950xl.

No, everyone should just do what you did. Buy both phones. Win win. They'll have a device receiving firmware updates and one with a good camera since it matters so much.

Ironically the Lumia 1520 had a better camera than the 950xl.

So hanging out for the Cerulean. Can't be too long now?????!!! 🤓😡💩🚻

Im on release review, not getting it yet.

You have to roll completely back,,, out of all insider builds.. Back to the last release version.

You have to have an hp elite x3 tp get the update

How I wish L950XL receives one more firmware update to fix hardware issues like over heating, front cam quality etc..

Yeah that phone could definitely use fixes for battery life optimization, heating and performance stability (throttling). Hopefully Creatores update will address some of those issues as it's better optimized than the AU

An update was released already. It's called "HP Elite x3". Get the update, move on and enjoy the update.

Not going to lie that was funny

Why would anyone buy an overpriced fake metal device on a dead platform? The reason that phone is getting so many firmware update is because it needed them. The firmware was in terrible shape when it was released. HP will get it to the point that it is acceptable and you won't hear anything else about it.

Preaching to the choir, man. 😉

3g enabled for second Sim of Lumia 950 please

You mean at the same time as sim1? You can't. It has 1 antenna.

I'm pretty sure hp enabled 3g on the second sim with the x3, will have to check to verify.

It did. It has to do with the chipset. 820 can handle both phones doing 3g/LTE. My 950XL van only do one 3g at a time and second sim 2g.

is available via the device recovery tool for those on the insider builds.

I got a L650 and my camera app was updated two weeks ago.

Update gives noticeably improved performance

Man I really hope this stops the annoying issue where my phone locks up 60% of the time I get a text

Maybe you should contact HP , I don't have that problem.with my X3.

Was hopeful in the news, but still greatly disappointed. Here's the Elite x3 post update, and the Lumia 950XL, both on production release... Lumia 950XL: HP Elite x3:

Freakin-A... Windows Central's own image insert doesn't work. Ok let's try this... ​Lumia: https://www.dropbox.com/s/4bc3d3l0dh1qi94/WP_20170228_21_53_45_Rich.jpg?...
HP: https://www.dropbox.com/s/kp9yqcqiern80oe/WP_20170228_21_50_10_Pro.jpg?dl=0

I paid 900 AUD for mine recently from the HP store.
Not having to charge the thing every 5 seconds like my old 950XL ., and the awesome fingerprint scanner, plus the fantastic screen, outweigh the cruddy camera.
It's big bucks, but im on the thing constantly so worth it

Totally agree with you about it being worth it. I paid $1099 AUD for mine from MS AU website, but they gave me a screenbeam mini 2 and a silicon case for the X3 in that price.

Still waiting on a first for my idol 4s. A little jealous here.

What type of case is that on the elite x3?

Official HP Elite X3 Genuine Leather Wallet Folio Case. Available on mobilefun or mobilezap for an affordable price. They are an UK based company and I think they deliver worldwide. Exceptional customer service. I bought all my X3 and 950XL accessories from them.

Plz open agent in turkey . It's not available in turkey. Plz plz . Thanks .

With this level of commitment I wish i could buy one just to support them. Unfortunately I'm broke. Hopefully my 950 will hold out. I'm on my third replacement and my warranty just expired. Each replacement was brand new to top it off.

Most of us want to have good income but dont know how to do that on Internet there are a lot of methods to earn huge sum, but whenever Buddies try that they get trapped in a scam/fraud so I thought to share with you a genuine and guaranteed method for free to earn huge sum of money at home anyone of you interested should visit the page. I am more than sure that you will get best result.<br>
Best Of Luck for new Initiative
••••••••••••► http://jobbiz5.com

Hopefully other OEMs and even Microsoft get encouraged by HP releasing many firmware updates and they do the same.

HP is releasing so many firmware updates because the phone wasn't finished when it shipped. These updates are required, they are not a luxury. Look at any of the reviews when this phone came out and even recent reviews of the lapdock. It was in terrible shape.

It improved very quickly but last couple of OS builds or firmware releases have not been great in my experience over the past month of use. Hopefully they regain the traction they had and straighten the course.

Will this phone ever come to Dubai or India..???? Y so much delay????

I installed the update and have not noticed any changes So far. I can't say that from the last production update from MS. Lots of little bugs and inconveniences which can only be fixed by a reboot.

Camera focus is better but it still sucks compared to the 950XL focusing. Damn!!!!

Still randomly freezes and requires hard reboot. 0113 FW was awful for this which was escalated to 2nd Line Support @ HP UK yesterday..."Only" had one freeze so far today in past 4 hours, which is better but still unacceptable. I think its the latest 14393 production build thats screwed.

I've never had a single freeze with my HP Elite X3. Until now I'm unable to find the latest firmware.

Wow i'm on my third handset within the last month due to issues. I've not had a 2nd freeze so that's two in the past hour. I think it's to do with using the desk dock, or bluetooth. I'm at my wits end with it as I use it for work and it's proving awfully unstable currently. May have to just bin it off and revert to a 950XL unless this is resolved asap. TBH I'm wearing thin on patience with W10M at the moment, I've nearly defected to ANdroid twice and IPhone once all in the past month.

Yes I flirt every day with getting the xl... Because of this phones unstable ness

Mine has been rock solid when using the standard builds of WinPhone10.... Once I jumped on the Windows Insider builds it became VERY unstable. A quick update to put the production OS on fixed it and I never have any issues again.

Is it happening for you when you get texts? That's my issue and it's maddening

No not texts, just seems random mostly. Usually when I'm writing an email to a customer though so I loose half of it!

Great HP! Very good to know

I hate that I have to roll back in order to get this update. I might tackle it this weekend. HP has done a great job with their firmware support, epecially updating Dual SIMs to support at least 3g on both SIMS. Microsoft need to get off of their arse and do the same for the 950 series.
Windows Central Newsletter
Thank you for signing up to Windows Central. You will receive a verification email shortly.
There was a problem. Please refresh the page and try again.