HP Elite x3 will include a number of exclusive Windows 10 Mobile apps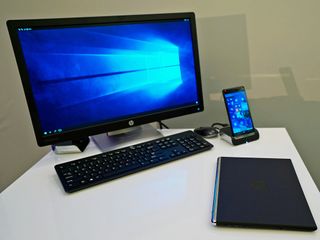 The upcoming HP Elite x3 will include a number of Windows 10 Mobile apps that are made exclusively for the business-themed 6-inch "superphone".
Aggiornamentilumia.it and Microsoftinsider.es have managed to find info and screenshots of these apps, which are currently hidden in the Windows Store. Some of the apps are pretty simple ones, such as a basic voice recorder, along with an app that redirects to the Salesforce.com sign in page. Another app will redirect Elite x3 owners to download apps from the standard Windows Store, along with one that goes to the previously revealed HP Workspace, which offers a way to run x86 apps on the phone with a subscription service.
Another app on the Elite x3 will be the HP Device Hub. This will allow owners to see the current firmware version for the device and check for any software updates. It also allows them to check on their warranty, connect to the phone's user guide or contact support. It also offers a way for owners to submit their opinions on the Elite x3 with a chance to win some prizes.
The HP Display Tools app lets users set how long it lets the phone stay bright before it automatically dims, and how long the phone keeps its screen on before going to sleep. There is an app that's located inside the Elite x3's Settings that allows owners to enable or disable the Double Tap to Wake feature, along with a way to enable the phone to remain on when it is tilted.
Finally, there's "Iris Anti-spoofing" which can also be enabled or disabled. This is likely something security related to the phone's iris recognition feature.
Pre-orders for the Elite x3 have started in some markets, and the phone might ship to some of its first buyers as early as this coming week.
Thanks to Mark for the tip!
Need more? Don't miss our other coverage of the Elite x3 including:
Windows Central Newsletter
Get the best of Windows Central in in your inbox, every day!
A voice recorder, I know, right?! Awesome! Take that Android!

I cannot tell if you are jesting or not....but we have had voice recorder for some time.

But it said it was an exclusive Windows phone app??!

Not sure if you're stupid, trolling, or what. It means it is an exclusive voice recording app to that phone. In other words, no one else is getting that specific app, not that no one else can have a voice recorder.

You know the CEO of MS had nothing to do with the exclusive apps on this phone right? SO I guess we can chalk you up to stupid.

That has been included since the launch of wp7?

"Since the launch of WP7" lol... we have had so many features coming and going since WP7... it's like saying "we have Double Tap to Wake since WP8".

Windows Central and OEMs had lots of problems when they did nothing and Nokia made Lumia exclusive apps, crying that Nokia is stealing the market share. Now HP is doing the same everyone is happy. Great ****!

That's because when Nokia did it if was a if Microsoft itself was stealing all the market share from it's oem which goes against the point of having oems,in the first place,but plus all these exclusive apps im seeing are feature windows 10 kinda already has baked in or are on the way

I am talking of WP8 times, when Microsoft had little say in Nokia's matter, except the money they fed Nokia

I am loving this strategy of Microsoft. Support to OEMs is very necessary and they will end up developing a potential market for Surface phone (if not create) and their services. I wish Acer jade primo could have got the same kind of support from MS, ultimately this would have also helped MS.

Hope the hp elite x3 sells well and i can't wait to see what the surface phone will be like

I use to think the Surface Phone would save Windows 10 Mobile. Not so sure anymore. If it is going to save it, it has a to be a game changer. Not just huge specs. Like they were saying, build something that is what is after the smart phone. I'm not sure what that is, but I'm not being paid to figure out what that is.

Unfortunately I feel we are not going to see many windows mobile phones hit the high street. I know quite a few people with a Lumia but this is a work phone and not one they own them self's. could be a big hit in terms of business but because of this we won't see apps like Pokémon go ect enter the market place and for us every day users its something we have to accept. I am an open book when it comes to tec. I tried android with the LG G3 and it was a nice phone but Android is not for me windows mobile is but when I came back and got the 950xl I knew my smart watch was out the window and I had to get a band 2 of I wanted something along the smart watch line. I don't really play games or use millions of apps on my phone so for me I am happy with what WM10 offers but its not for everyone ESP app users.

Hp is not expecting that. ""We're not trying to hit the volumes and scales of Android," Park said. "We're going after IT shops. There are a lot of people in the commercial domain who are not using Pokemon Go.""

Where does that say they don't want it to sell well, dumb ass

What are you even talking about? The phone will be available to the public just as soon as HP releases it.

If it has Glance this phone will be perfect.

Yes it has glance screen feature

I hoped so. It should be a Windows 10 Mobile level feature now.

First I've heard of that. Do you have a link?

A link? It's integrated directly into Windows 10 Mobile's Settings instead of being just an "extra" like it was in Windows Phone 8.1 and even early Windows 10 Mobile builds. Besides, I said "should", so don't act like I've sworn something without any evidence. It just makes sense from a logical point of view.

Just because it's integrated in the OS doesn't mean it works on every phone. It requires supported hardware, and AFAIK, only Lumia devices have ever had it.

Well I knew that, obviously there's also a hardware factor. What I'm saying is that its now a Windows feature instead of a Lumia exclusive feature. If an OEM includes the necessary hardware they can activate Glance, simple as that. Well, there may be more to it but still.

Also, I was asking maxha97 for a link, not you.

But will it have double tap to wake? I wish I did... STILL no 950XL f/w update.

Unfortunately the Elite X3 I have does not have double tap to wake. Having said that, it's not the final version to go on sale I believe.

They're probably still finalizing software and firmware. I wouldn't be surprised to see a "day one" patch/firmware.

950XL has it now. Go to Settings, Extras, Touch. Or do I have it because of preview. I think anniversary edition brought it to all. Just needs to be enabled.

The 950 XL has it because of a firmware update that not everyone has yet.

Which is what I said. Sholokov is spreading FUD.

Maybe HP can bring the retreating to a halt.

The only persons who can do that is ms themselves when they start to truly take windows 10 seriously.Perception is a serious thing and even if developers don't really make it known. No lumias on the stage,showing all your new windows 10 anniversary features using android or ios.Notice how apple and google present their presentations and mobile devices they show the passion and care for the platform they don't have to tell you they are committed you can see it and if ms has to always tell you they are something is wrong.

Why? Isn't it "business-themed" as mentioned in the article. Just curious why non-business folks want/need this device. I hope it does well in the business arena. Might help "lift" WP.

Because all I use my phone for is Business type stuff..no games or "fun apps".

That's great. Hope it fits your needs.

Why would consumers like this phone? Just because it is "geared toward business" doesn't me "regular people" wouldn't like this super phone. So many cool features!

I'd take it. I have oodles of cash, but I'm not wasteful, so I don't know if I'd buy it or not. Then, I like MS products - maybe wait for surface or change my 950 for an XL..idk.

I hope it fits my pocket.

What business feature is available here that isn't available on other platforms? Just the app gap itself is a deal breaker since the lack of a required app is a bigger deal when you need it for work. There is nothing about this phone that makes it more business worthy than an iPhone or Galaxy Note.

Well if what you said if ṭrue them hp would have made a android business phone. Well they didn't because Windows has robust security features..

The most secure phones are running Android. HP chose Windows because they don't really have software chops and likely received a deal on Windows licenses for their PCs. Microsoft definitely sweetened the pot and unlike Android, they don't have to be that involved with rhe software.

That is a lie, HP asked thier customers what type of phone they would prefer and Windows came up top. It was not the first choice.

According to reports they first went to Apple & Google. Windows was the last choice.

Windows phones have been available for years. Why are they waiting for HP to make one? Posted via the Windows Central App for Android

Continuum, better AD integration, higher security is the first things that come to mind. The exclusive apps from HP are also factors.

Being able to run a severely gimped Windows RT isn't a business feature and neither are these exclusive apps like a voice recorder. Continuum is pointless when an ultrabook and an iPhone/Galaxy Note brings a better phone experience as well as a better PC experience. Security can also be tighter on Android, just ask Obama. You don't see him carrying around a Windows phone. You also don't see Blackberry even making a Windows phone and their most secure device is running Android.

Apparently, HP disagrees with you, but you're never going to be impressed with anything Windows. Your "critiques" are expected and don't really hold water.

HP is getting some kickbacks from Microsoft. You really think they built this phone without Microsoft giving them a deal on licenses for their PCs or something? You don't see any of the other business oriented companies like Lenovo, Dell, or BlackBerry using Windows phone. Microsoft definitely sweetened the pot to get HP onboard. This will flop and HP will quickly forget about it, just like all their previous mobile endeavors. This new business strategy is a dead end. If Windows phones were actually good for business then they would have been using them for years. At this point it is only a matter of time before Microsoft kills it. All the OEM phones are failing and they will be hard pressed to find more suckers to build phones next year. Posted via the Windows Central App for Android

It must be true because a consistent Microsoft basher says so, based on speculation that fulfils an obsessive anti-Windows 10 Mobile script? Right, Microsoft gave a kick back. The same Microsoft that doesn't make their OWN divisions support Windows Mobile? Lenovo has been rumored to make a Windows 10 mobile device. Hmmmm, maybe the kickback check hasn't cleared.

I haven't been wrong yet, other them actually following through with Windows 10m. I assumed they would kill it last fall and not waste their time. It really doesn't make sense though. Why continue development if you are not going to support it 100%. Telling people it isn't your focus this year is ridiculous. Either own it and support it 100% or kill it. This half assed strategy really isn't a good idea. By this time next year, their market position will be so bad they will have no path forward whatsoever. I have been a Microsoft and Windows fan for close to 20 years, but this Windows phone thing has to go. The market has spoken. I want to see Microsoft actually innovate, not release this lame garbage for the 7th year in a row. I am sorry that you are fine seeing Microsoft release more mediocrity that is destined to fail. Every phone they have released the past six years has failed miserably. I don't understand how they think that is suddenly going to change when they basically haven't changed the platform at all. Posted via the Windows Central App for Android

Apparently, you haven't studied markets. They speak and change their minds...all the time. If that wasn't true, then Blackberry would still be on top...Apple wouldn't be a company...GM would be the #1 car maker in the world....GE would make high-end TV's...etc. I find Android and iOS to be mediocre, as well. Volume doesn't equal quality. The market only speaks about popularity, it doesn't give any hints as to WHY something is popular and sells well. Microsoft could very well emerge from this. If Nadella is right about whatever he has planned, he could orchestrate a market disruption. None of us know what they are going to do with AI, bots, Continuum or even the Surface brand. HP could innovate and inspire sales. Really, this is all speculation. You're happy to always speculate for the worst. I go back and forth, but I'm not married to a specific dogma on the topic. I call it play by play, how I see it. If they do what I think is a misstep, I call it. If they do something (I think is) right, then I say so. There's no reason to believe that they need to change the platform for changing the platform's sake. Copying iDroid won't inspire people to give up their investments in those platforms for a "me too". I hope with all of that money that Microsoft has that they have something up their sleeve worth the year in "retrenchment" or whatever they are calling it. I'm not OK with mediocrity, but I don't look for every reason to bash, just to keep letting people know that I'm all upset.

Beautifully explained dalydose...! I am your fan now...:)

Your BlackBerry analogy is exactly what I am talking about. They lost the top spot because Apple released a truly evolutionary product. W10m isn't revolutionary in the slightest. It has no chance as it is a "me too" product and so far behind. I am not sure what revolutionary product you think they going to release if it is running W10m. Posted via the Windows Central App for Android

I think with the NOTE 7 coming out, this "business phone" will probably never even get noticed.

Do you think President Obama's phone is running stock Android? Or do you think they rolled thier own. I guarentee it is rediculously secure. I also guarentee some of the smartest security experts in the world help make it that way. Most companies can barely skin Android properly let alone audit security and fix it. Also every IT department I have worked in could care less how many useless apps a phone has. As long as it allows someone enough resources to do thier job, then perfect. This is for executives and sales guys who travel, a lot. First of all they barely do anything that requires specialized software. This is not supposed to roll to a department of programmers or engineers.

Exactly. The S Pen is a business feature enough that's unavailable on Windows Mobile
And apps are always not there. Been using WP sing WP7 and upgrade after upgrade I've grown tired. I still see so many people using a WP8.1 Nokia device in Delhi Metro. I don't think Microsoft's retrenchment from India was a very good option. During WP8.1 Lumias were at a good market share. I don't think OEMs will do anything here in India for windows mobile

...and windows offers the best Office experience :)

The business focus is just for marketing. It's not like the thing won't run games or social media. Any business features are a superset of the Windows 10 OS feature set.

Could the ability to run x86 apps be the precursor to the Surface Phone having an x86 processor inside of it? Because if it did, then the Surface Phone would be groundbreaking! It may be too soon though for this, unless Intel steps their mobile game up by next spring.

Intel said they were discontinuing their mobile processors. So idk what the chances are of that happening. Unless the atom chips become more powerful and efficient with kabylake

It's only the Atom with cellular functionality that Intel is discontinuing.

You need cellular functionality in a phone

But you don't need an Atom.

Does Intel have another mobile processor that has cellular functionality?

Who knows what they are doing behind the scenes. They could be building a chip specifically for Microsoft and thus, pulling out of their own branded version. They could be looking at a new solution to the problem. All anyone around here can do is speculate.

It's no more of an ability to run x86 apps than Remote Desktop is. Don't get too excited.

Wow! That's something msft failed to do and I pretty much wanted to have since forever.

Sorry if I'm missing your point, but what is it that Microsoft failed to do? Genuinely curious...

I'm talking about Windows apps/features that should be made exclusive, Cortana is one of many.

Why on earth should Cortana and other services be exclusive? The whole point is to have access to the services regardless of where you are or the devices you are using.

Apple don't agree, just look at Siri. I mean do we have Google services/apps? Some thing should be exclusive to the Windows mobile platform, Cortana on PCs should be enough since Windows is the key player in desktop OS. They toss everything out to everyone, that's one thing that degrades the W10M. If you have a bunch of apps that gives access to Windows services on other platform, who is going to care for W10M?

And here comes the "same-old-question" of the day...

What are you implying to say?

The point is to have people use Microsoft's services. How do you think Google got so big? Getting people on all platforms using their services. And Apple would not have been looking at such great iPhone sales if they had not put iTunes on Windows as well as the Mac. Sometimes cross-platform efforts just make sense. It's all about long term strategy to get back to leading the industry again.

Cross platform efforts on desktop makes sense, it happened before and will happen again but it doesn't work on phones. If they wanted to give W10M a solid standard, they should have taken certain measures such as keeping their own personal assistant exclusive to Windows Mobile. I have known ppl who wanted to switch to Windows Mobile phone just for the Cortana, Office, and all the productive features it can offer. It just changed as soon as it all became available to android. Can you tell me of all the Google services, did they offer a decent app to Windows (appx/uwp) ecosystem, particularly for phones? No, Google made a lot of web based platforms that can be used by a browser whether it's phone/desktop. Browsing a service can be exhausting to me. I don't think Google or Apple want to provide their services to an another phone os. Everything msft does is for its own good since giving other platform its services sure is going to fetch them profit as long as ppl use it, my concern is if they really want their Mobile business to succeed today, they'd want to reconsider things. Tomorrow is a different chapter for msft.

Yes, but they're not ready for that yet. Baby steps and get it right. The point they're aiming at is beyond phones.

In my opinion, phones are gonna stay for a while, we won't be carrying an ultra portable hololens with 16 hours of battery backup everywhere in the near future. That is why they should have taken a bold move towards mobile form factor while continuing to innovate for the future. RS2 and Surface phone may release side by side next year, that's my hope for the Windows Mobile.

So what I was trying to say is that *before* Apple or Google got to where they are now, they had to pander to all platforms. Microsoft in the mobile industry is basically where Apple was back in the early PC days. As for Google courting Windows users... can you say Chrome? Essentially, Microsoft is now in the position to have to fight their way back up to the top. And the way to do that is to put services that will grow on people wherever those people are. Then, when they realize they're spending a lot of time using Microsoft services, they may be more susceptible to the possibility of coming back to the (by that time) much expanded world of Windows.

Yes that may be true but apple didn't put every thing on windows where's final cut pro x for windows? Is it coming as a uwp and while we're at it where apple music

I totally agree leave something home for the kids

Give me a date for a US Microsoft store release already!

for a mobile platform that's increasingly becoming a deserted island, what good does exclusivity? Someone needs a reality check and a touch with Nokia/Microsoft mobile division. This phone is nothing but a delayed self destruction. It is only a matter of time when Microsoft will announce the death of Windows Phone. That's the reality.

Ah, been sitting in on those board meetings have you? It's almost like HP and MS are privy to information about how their company is doing and what their business customers want. But no, that can't be because random people on the internet know better. Also, for every app that leaves there are more coming in and some that are coming back after being rebuilt. The situation isn't wonderful of course but clearly not as dire as you are making it out to be.

HP cares more about Windows 10 Mobile than Microsoft.

What hardware Microsoft will produce and sell is questionable. They might even go much lower than today's low. But considering the software it costs them nothing - aside from ARM support there aren't too many things that are Windows Mobile specific. And Microsoft needs to keep support for ARM. And if they produce the software they'll try to do something with it.

If you ever expect to escape the deserted island, you must have a competitive advantage over competitors. Microsoft providing all of their services to their dominant competitors only makes them more dominant. I've also not seen ANY numbers stating that it is bringing a significant number of Android and iOS users to revenue generating solutions. I only hear people HERE say things like "Microsoft is a software company that needs to be everywhere", or that they are "going where the users are" as if stating something that sounds obvious, proves the desired outcome.

This phone looks badass. I sure miss Windows on my phone. I hate the UI on Android (Got the S7 Edge). I was at the superstore here in Sweden today and saw the Lumia 950. What a lovely device. Maybe i should do the swich to the Lumia series again Posted via the Windows Central App for Android

Yeah, the home screen of an Android phone pales in comparison to W10M. Yeah, Android has widgets, but you can't get near as many on the screen as you can Live tiles. What you can do on the main display of a WP (without down scrolling) seems to take almost three Android home screens.

Agreed. After 4 mos. wiith Android I'm ready for a surface phone. Don't get me wrong I love the apps but wp works wayy better with my ford sync and I love the live tiles. Posted via the Windows Central App for Android

Ya my 950 loves my MSFT Sync in my Ford too.☺

Speaking of that is there any article here or on the forums about which cars works best with Lumia's?

Let's see music controls on your home screen, a scrollable calendar and a scrollable email list. Your statement is absolutely silly. What you can do on one Android home screen is completely impossible on Windows. If you want a single, vertical scrolling home screen, you can easily have it on Android. That isn't special and Live Tiles definitely aren't special. They are actually quite useless since you cannot interact with them or even directly access the info they may show.

Not yet. Maybe in the future if Microsoft gets it implemented. We know how that goes. Too little, too late anyways. Posted via the Windows Central App for Android

Why do you post so much about bashing Microsoft. They are the most dominate player in the computer world. Windows 10 Mobile is great for business. The office apps, email, and calendar are superior than the 1st party ones on android and iOS. The only thing ios and android have are consumer apps. It doesn't make a difference when you need to run a x86 Application and that is where hp workplace comes in. Bleached, you don't need to keep posting about your stupid views. You are not right, and because Windows Phone doesn't have your favorite social media, or game doesn't mean its okay for you to come on here and give false information. As a business person myself, I don't have fu***** time for some time wasting social media/ or games. The first party features on windows phone are by far superior than iOS and android, and yes if you knew anything about security than you would know that Windows is more secure than both iOS and vanilla android. Boeing has created the most secure phone but it is a highly modified android software. Your S7 is not more secure. Bleached, I hope you can go outside onto the playground instead of spreading false truths from your mothers basement

My parents basement is unfinished. It isn't a great place to hangout. I usually post from my own basement. Microsoft isn't dominate in computing. Android outsells all Windows devices 3 to 1. Even Apple now outsells Windows. You are still stuck in 2008. Windows 10m isn't even in the ballpark with iOS or Android. They are mature operating systems that now have a decade of work behind them. Windows 10 only has a couple years and will need quite a few more to reach the maturity of its competition. All Microsoft services are available and usually better on Android or iPhone. They aren't exclusive and aren't a selling point for W10m. Microsoft needs something new if they want to succeed. W10m isn't going to do it. They are Apple in 2006. They need to release something completely new and revolutionary next year. W10m is a "me too" product that wont bring them any success. We have 6 years of the same failed Windows phone experience to prove that. Posted via the Windows Central App for Android

The issue isn't the facts. You are correct that MS is behind and has a long way to go to try to make a comeback. The issue is why are you so over the top in your dislike towards Microsoft. Did they piss in your Cheerios or something? Why spend the time and energy bashing them so much? I would think you have more positive ways to spend your time.

I like Microsoft and Windows. I have at least 6 Windows 10 devices. I am just sick of them continue down this failed path. They keep trying the same thing over and over as if it is suddenly going to magically work. I want to see them actually do something innovative in mobile, not this poorly executed "me too" product. Posted via the Windows Central App for Android

What you are missing is MSFT is going back ward . MSFT fired code checkers to save money now all upgrades have many bugs whereas Google is pouring money in to improving the OS . Companies that do not invest in research suffer the most and that is the case with MSFT . 270 million people are using Windows and all would have loved to use a Win phone . But when a stupid CEO goes on record telling people that phone is dead for now what do you expect . Also every OS has to have some exclusives you can not find on others . Google Apps are not available to W10 Mobile . But stupid CEO of this company is making apps that works better on Android and IOS . Can you " believe " that

So true with his iphone pro smt. I was like are you serious

The thing with Android is if you don't like the home screen you change it. Microsoft themselves make a couple of decent launchers for Android, and you can even recreate the Windows Phone/Mobile environment should you wish. Customisation is one of Android's many strengths.

Don't do it. You left for a reason. That reason still stands.

"Finally, there's "Iris Anti-spoofing" which can also be enabled or disabled. This is likely something security related to the phone's iris recognition feature." - That's some heavy journalism there.

"Facts are just one option to chose."

Double Tap to Wake firmware for the Lumia 950 on AT&T when???

Hopefully everyone will get it soon. I'm so happy to have it again ok my Lumia 950 (unlocked US dual SIM) after using it on my Lumia 920 for years. The same firmware also fixes a lot of the Wi-Fi reliability issues.

They should bundle it for free with business orders, higher end tablets and pcs to kick start it

Double tap to wake is great. Hopefully they can do something like Glance as well. Great job by HP on this phone!

Hope this phone does well, but sadly most of those apps sound lame, not hating, just sayin

What kind of business do you run?

Exactly, these apps look good for business

I would like to see HP build a few different phones for consumers.

HP are currently in developemnt of at least 2 other devices, so we will see in 2017 what those are.

These are some really nice extras being built into the firmware to help supplement the OS. I especially like the highly customizable screen dim and lock times, and tilt to prevent lock is also a really nice touch. Reminds me of how Nokia used to always include nifty firmware extras, back in the day...

Lock prevention is not what any 'secure' phone should have enabled.

It's optional and it's configurable, something I think enterprise customers will love. If you want it to be secure, then ok: Set the lock time to whatever the minimum value is. But I could see how having a long lockout time could be useful for this device being used as a POS system. Apps Corner is a thing, and this device has ports for connecting things like barcode scanners and other useful retail accessories. A sandboxed POS app in the sandboxed Apps Corner would already have a couple layers of protection for data on the device, having the phone lock every 30 seconds it's idle would be more of an inconvenience than a security feature.

Exclusivity on Windows Phone... A terrible joke. Posted via the Windows Central App for Android

Can't wait to get a hands on it

Meh. Bloatware. Just delete it ASAP.

Meh. Bloatware. Just delete it ASAP.

So does this phone have glance or not. I've seen article's only to say it hasn't.

So does this phone have glance or not. I've seen article's only to say it hasn't.

The HP display tools sounds like bloatware. Should be part of windows 10 moible settings, just like what nokia did with theirs. A pity HP and microsoft didn't learn from the nokia experience. Having two locations for settings will only confuse the end user expereince. Just look at settings and the control panel in windows 10. I find that confusing and still having to constantly switch between both settings in the anniversary update is a confusing experience and a frustrating one. HP and mcirosoft should just go the extra mile and integrate display settings in the windows 10 mobile settings page for phone, just like with nokia/microsoft phones. And with regard to firmaware updage they could also have done something similar like the microsoft phones by inegrating firmware and firmware updates via the settings>system>info page or settings>extra's page. No need for an extra app or bloatware.

HP settings integrates into the settings app. You can download stuff from the store and when you launch it, it'll just launch settings. So, while this is indeed bloat, there is only one "place", one settings app to look.

One word....Verizon. It's a fail because the niche device has a niche audience. Release on all carriers and you might sell a few more. Am I the only one concerned about a major carrier having a 2+ year old flagship device?

I think you are, I haven't ran across anyone else concerned this isn't on Verizon. I did a search of the articles, comments, and forums, and didn't see a single mention of verizon.

I think that is more indicative of Verizon customers giving up on the platform. 300 million customers and none on WP/WM. That's pretty sad.

I've seen the "Verizon problem" mentioned in each and every article comments and forum string, that I have read, related to this HP phone. It is a problem where Verizon is the only carrier, the dominate carrier, or a carrier of choice, for whatever the reason.

Verizon isn't the entire World!

Re: fahadaslam2000,
While true, "Verizon isn't the entire World", I'm sure most people, will be able to think about it, and see how, to some other people, it is significant.

Nobody is saying that it is. It's just a large chunk of the world.

I am on Verizon with 5 lines. I need something to replace my Lumia Icon and would love to get this or a 950 unlocked. There are a lot of Windows phone people out there waiting on Verizon.

My company is with Verizon with 300+ lines. As the person responsible for deploying the phones for the company, I USED TO recommend Windows Phones. Now I can't.

Wow, what a beast phone. I hope it'll succeed!!

I really wan't to buy this!!!

The phone is ready to ship but finger print scanner feature is no where to be seen. I hope this phone doesn't get criticized like 950/XL for having incomplete OS so they better get this feature out in the next build.

Great, now I feel like I need this phone even more.

With a sub-2% share, is it safe to say that EVERY Windows 10 Mobile app is "exclusive?"

No reason why consumers could buy this. Many business people buy iPhone's which isn't even that good

I read in an internet blog that the HP Elite X3 would get Pen support soon after they go on sale perhaps in the aniversary update. I think microsoft software engineers are working hot and heavy to have pen support ready by then. the most positve thing I read lately about Windows 10 mobile is that it will get few new features in the aniversaryupdate but would get tons of bug fixes and improvements of the the Windows 10 mobile operating system right up until the redstone 2 spring 2017 that is just what this OS needs for it ti be worthy competitive smart phones OS

And when an OEM releases a truely great phone....the people still complain.....oh brother

I just returned my new Acer phone. It wasnt really supportive and intuitive very hard to work with so I'm waiting for the HP but it seems it's available in Europe. Why is it that we have to wait so long have any be all waited too long for half decent phone.
found this link that shows they already have it in europe as of 2 days ago
https://m.youtube.com/watch?v=P8bxxyvrXFU

Why is disabling iris-spoofing even an option?

There'll be no stopping the Windows 10 juggernaut folks!

Not to mention that the dock's Ethernet port won't work without the Anniversary Update. If I'm wrong about that let me know.
Windows Central Newsletter
Thank you for signing up to Windows Central. You will receive a verification email shortly.
There was a problem. Please refresh the page and try again.