HP IPAQ 900 Looks Powerful, Strangely Forlorn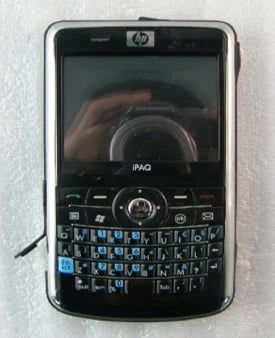 We really are very fond of the iPaq Messenger 510, which we nabbed a hands-on with at CES. It's a cute little bugger and makes working with VOIP and your office's SIP a cinch. The bad news is that the 510 hasn't and doesn't look to get any carrier support anytime soon. Things are even worse for the iPaq 610, which got sued off our shores back in February - that's a bummer because it has a neat virtual 5-way touchpad that makes more space for a bigger screen.
Basically the message here is don't get too excited about the iPaq 900, which Engadget Mobile just spotted on the FCC's website. If you haven't caught our drift yet, it would be a crying shame if this iPaq didn't get picked up and saw a wider audience, but given the iPaq's recent history our breath is decidedly not held.
Ok, that's a lie. We're really hoping that AT&T will pick this up. Why's that?
Windows Mobile 6 Pro
QuadBand GSM / HSDPA
WiFi / AGPS / Bluetooth
3 Megapixel Camera
Front-facing 320x240 Touchscreen
1940 mAh batter (!)
520Mhz CPU
128MB RAM / 256 ROM
HAWT. Go check out the FCC's images after the break!
Windows Central Newsletter
Get the best of Windows Central in your inbox, every day!
Any idea when or if this baby will be released.