HP refreshes some Windows 10 PCs with better performance and Alexa
By Rich Edmonds last updated
You will soon be able to ask Alexa to do stuff on your HP PC.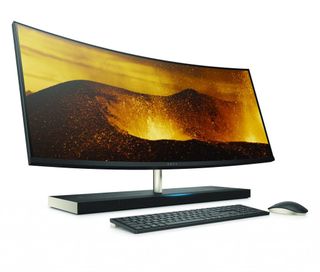 HP announced two refreshed premium lines of PC hardware. The company's portfolio now includes newer Elite 1000 and ENVY series products, with some even sporting Alexa built-in. Here's a quick look at what's new.
In the thousands
Part of the new 1000 series is the even more compact EliteBook x360 1030, weighing in at only 2.76 pounds and sporting a battery life of 18 hours. The included 4G LTE connectivity allows the notebook to be used pretty much anywhere and the newest model will be made available in June for $1,449. The Elite x2 1013 packs a 13-inch display into a 12-inch chassis, packing 4G LTE and latest Intel quad-core processors. Like the EliteBook x360, this device will arrive in June for $1,499.
The EliteBook 1050 is HP's ultra-slim portable business workstation. As the name suggests, this laptop comes with a GTX 1050 GPU for enhanced productivity and support for intense applications and games. It's no gaming laptop, but you will be able to work and play on a single notebook. Configurations can go up to 4TB of flash storage and the 16 hours of battery life will see you through the day and beyond. It's expected to land in May from $1,899.
Finally, we have both the EliteOne 1000 AiO and EliteDisplay S14. The former is a 34-inch curved All-in-One PC designed for video conferencing, with an FHD pop-up webcam. The EliteDisplay isn't a PC as such, but a USB Typ-C portable display, allowing you to transform your notebook into a dual-screen setup. This display will go for $219 in July, while the AIO EliteOne 1000 will set you back at least $1,279 in June.
ENVY of design
As well as changes to 1000 series devices, HP also announced refreshed ENVY products with Bang & Olufsen, better Wi-Fi, and extended battery life. First up is the trusty ENVY 13 notebook, which rocks the latest Intel processors, Alexa connectivity, and a full USB Type-A port. It'll hit stores in May, starting from $999.99. Both the ENVY x360 13- and 15-inch convertibles have been refreshed with AMD Ryzen processors. Both variants will be available in May for $759.99 and $749.99, respectively.
Other hardware affected by changes include the ENVY 17 notebook, ENVY Curved AiO 34-inch PC with Alexa connectivity. Not only will you be able to ask your very own assistant to perform tasks, but also GTX 1050 GPU processing, latest Intel processors, and a pop-up privacy camera. The 34-inch is expected later this year, but the 27-inch AiO will hit stores in May for $1,399.99.
Last on the list is the ENVY Desktop, rocking 8th Generation Intel processors, up to a GTX 1080 GPU, and optional Intel Optane Memory for enhanced responsiveness. Prices will start from $799.99 in May.
Rich Edmonds is a word conjurer at Windows Central, covering everything related to Windows, gaming, and hardware. He's been involved in technology for more than a decade and knows a thing or two about the magic inside a device chassis. You can follow him over on Twitter at @RichEdmonds.
No Snapdragon? HP already done with WoA?

Why would they put Snapdragons into premium devices? At $600 SD-based stuff is already much too expensive. They're much too slow and underpowered to justify the benefit of being always connected. Why would HP even consider putting them in $750+ stuff?

You realize the HP X2 with the SD835 starts at $999, right?

They already have a "premium" product using ARM with the starting price of $999 :))) Don't you remember their failed attempt with the Elite X3 phone? :))) A DEAD OS device priced at the level of Samsung and Iphone :)))?...that no sane person ever bought that...? It seems HP likes to be MS's guinea pig on their own expense...

You do realize that the Elite X3 was intended for corporations? And in addition that to the contrary of the Apple iPhone, corporations buying the HP Elite X3 had a large discount? Insiders spoke about discounts up to 40 - 50% ?

Yet no one bought it, and those discounts are fake...I've seen a maximum discount of 100 EUR. IT had nothing to offer for a business guy that an iphone or android did not offer. Nothing besides a mediocre OS and no apps that even a business man is using, such as booking and transportation apps, hotel and flight checkin etc So it matters to no one what the target audience it was for. It was the same junk OS that was present on any other win10 Lumia phone, same buggy mess, but you can keep defending that junk if it makes you feel better...it won't make any difference, no one cared about that joke and the few that bought it now feel for themselves how stupid they were.

I bet this won't help Cortana get mind and market share. I can't blame HP for doing this. After all, MS has screwed over HP many times, because HP has ben early adopters to MS tech (WoA, WP, etc.)

I feel things like this could end up being crippling to Cortana adoption. As more and more PC manufacturers forego the built in (and IMO superior assistant) for the more popular/known, I see Microsoft sending Cortana to the recycling bin. I would not be against an option (ala Android) that allows you to select which assistant you'd prefer. And the Cortana/Alexa collab demo was inspiring.

Not a big HP hardware fan, so I won't be making this purchase any time soon. Plus, I just bought a Samsung 34-inch monitor for my new Dell. I have been using Cortana via the Harman Kardon speaker for some time, and find it indispensable. Can Alexa make phone calls as well as Cortana can? Because when I want to make a phone call, Cortana is my go-to, and she gets it done. This HP integration might be crippling to Cortana adoption, but honestly, my first thought was, who wants the AI shoved down their throats with the hardware? No one wanted Cortana when that happened, even those who notably enjoyed Siri on the iPhone. There are people still griping about Google Assistant on their smartphones. Don't be so sure this integration is going to be any better for Alexa than it's been for Cortana to this point -- that's all I'm saying.

Lol look like Microsoft need new hardware company to hope it out Lol
I work now my business plans for my Hardware technology company. So now in market assessment part of the business plan look like my competing with just be Apple in the tablet space and Chromebooks in 2 in one space.

What do you mean by "Alexa"? As in "Cortana, I want to speak to Alexa"?

A well deserved FU Cortana :))))

Read my lips, nobody is interested in your rants. Watch the movie "The Draughtsman's contract"..... there is a famous scene where somebody says to a nobody "your thoughts are as empty as your...." go check it out and then do some inner-reflection.

:)) You try hard to defend a joke MS solution, but the truth remains the same: it's junk and very few care about it.
Windows Central Newsletter
Get the best of Windows Central in in your inbox, every day!
Thank you for signing up to Windows Central. You will receive a verification email shortly.
There was a problem. Please refresh the page and try again.