HP Pavilion Wave and Elite Slice put powerful desktops in pint-size boxes
One takes modular computing to a smaller form factor than it's done before; the other makes itself at home in your living space.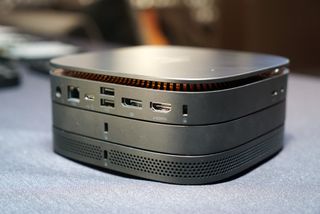 HP today announced a couple of diminutive but powerful new Windows 10 machines — the Pavilion Wave and Elite Slice — two computers that scale down in size but not power, while bringing along looks that could make you keep these boxes out where company can see them.
The HP Pavilion Wave looks more like a speaker than a PC. But it packs computer components and — OK, it also is a speaker, shooting sound 360 degrees from the top that HP says should fill a room. The speaker is tuned by danish audio house Bang & Olufsen.
Image 1 of 2
The HP Elite Slice might look like more of a traditional box, but in truth it's a modular and stackable PC — hence the name, "Slice". There will be a number of options to insert into a HP Elite Slice stack, including a speaker layer, wireless phone charger, and even a good old-fashioned DVD drive. Heck, there's even a topper that acts as a Skype speakerphone. HP will be selling a pre-configured stack that's set up to be the ultimate office communications computer. And don't think that a compact modular computer has to be a slouch — the stacks can be configured with up to a 6th-generation Intel Core i7 processor.
The Elite Slice starts at $699, and the Pavilion Wave starts at $549.
Along with the two new PCs, HP also announced a $429 EliteDisplay S240uj Monitor, and a 55-inch display for $999.
Image 1 of 3
HP Inc. Reinvents the Desktop to Enable New Experiences
HP Pavilion Wave and HP Elite Slice PCs combine engineering excellence and inventive desktop designs
Stunning desktops designed to be the focal point on the desk to power entertainment and productivity
HP Pavilion Wave is built to deliver breakthrough audio experiences
HP Elite Slice is a modular PC built for communications and productivity
PALO ALTO, Calif. Sept. 1, 2016 – HP Inc. today debuted two new PCs, HP Pavilion Wave and HP Elite Slice, that are revolutionizing traditional designs for the home and workplace. HP is transforming the desktop PC to create unique experiences that deliver the power customers expect in small, creative designs.
The HP Pavilion Wave is designed for entertainment and productivity for the home by combining desktop power and great audio experiences. For customers who want a PC that can fit into small places, the new offering is a beautiful and compact design with the power of a full-sized desktop. This unique desktop is built around a fully integrated, advanced audio system to play music, listen to movies, web chats and Cortana1. It features an iconic triangular form with an innovative parabolic reflector with an integrated speaker on top of the PC for superb, 360-degree sound to fill a room with crisp audio.
The HP Elite Slice, HP's smallest desktop is a desktop built for communications and collaboration. It is the first modular commercial desktop with cable-less connectivity2 and enables customers to build the desktop of their choice. This desktop changes the way office space is designed by creating streamlined work environments that boast productivity. Versatility, performance and enterprise-grade security merge to deliver greater productivity and collaboration between employees while transforming the workplace and workstyles.
"Today's desktop customers want sleek, innovative and powerful designs that enable new experiences," said Mike Nash, vice president, customer experience and portfolio strategy, HP Inc. "The HP Pavilion Wave and Elite Slice are the result of HP engineers and designers reinventing the desktop by rethinking its shape, size and look while adding functionality to enable new use cases."
HP Pavilion Wave Designed with Acoustic Capabilities to Power Entertainment and Productivity
The HP Pavilion Wave naturally sits on top of the desk featuring a compact, space-efficient 360-degree design and is 85 percent smaller than traditional tower PCs at 6.81" x 6.62" x 10.29". The desktop design is built around the central audio system and finished with premium materials including acoustic fabric engineered for room filling sound. A parabolic reflector on top of the PC reflects the sound coming from the speaker grille in parallel from all directions and acts as an outlet vent for hot air to come out. The 360 Degree Multi-Directional Reflective Audio delivers a crisp audio profile at all frequencies and is tuned by B&O Play for amazing sound whether listening to mid, high or low ranges.
The triangular design houses three main zones for components: the motherboard on one side, the hard drive on the second side and thermals on the third side. The thermal design uses heat pipes to extract heat from the motherboard and the graphics card to push out the top of the PC to keep the device running cool.
Other features include:
Up to two 4K displays3 are supported out-of-the-box to power entertainment and productivity.
Peripheral support with three USB 3.0 ports, one USB 3.1 Type-C port for data transfer, one HDMI port, one DisplayPort, Gigabit Ethernet and a microphone/headphone jack.
Cortana support with two dual microphones for customers to talk to their PC for a hands-free experience1
High-performing power house with up to 6th Generation Intel® Core™ i7 quad-core desktop processors4, ample storage up to 1 TB SDD5 or a 2 TB HDD5, an optional 128 GB SSD5 and up to 16GB of DDR4 system memory.
Optional AMD Radeon™ R9 M470 discrete graphics for photo and video editing or light gaming.
HP Elite Slice Designed for Business Productivity and Collaboration
HP Elite Slice is designed to modernize the workplace to cater to the changing workforce and workstyles with new collaboration capabilities. Its modular design features stunning curves in matte black with polished copper accents to streamline workplaces. It allows customers to pick and choose a factory cover or stackable options to add functionality including the Collaboration Cover or Wireless Charging Cover6, or stackable modules such as the Audio Module or ODD (Optical Disk Drive) Module for a beautiful PC that is unique to each business and its employees.
The ultra-small, big power form factor is just 6.5" x 1.38" x 6.5" and weighs 2.31 lbs7. The cable-less design allows for a clean work environment because customers do not separate cables plugged into the wall to power each component. This is the first commercial desktop powered from a display8 via only one USB 3.1 Type-CTM cable with a Type-CTM compatible display including the optional new Quad HD9 HP EliteDisplay S240uj Monitor. The display is equipped with integrated wireless charging and USB Type-CTM to perfectly complement the desktop.
HP Elite Slice versatility is provided by cover and base expansion options. Customers can choose from different covers when configuring the PC and expand the solution at any time with additional modules to create the desktop that best fits their needs:
HP Collaboration Cover6: turns the desktop into a Microsoft Skype for Business phone10 for easy call management with capacitive touch keys.
HP Wireless Charging Cover6: wireless charging starts automatically upon contact to eliminate charging cables and ensure mobile phones and devices are powered, ready for use. The Wireless Charging Cover is expected to start shipping in the first half of 2017 and requires factory configuration.
HP Audio Module: spoken word tuning makes virtual meetings and call experiences crisp and clear with audio tuned by Bang & Olufsen, 360 degree speaker design, dual-microphone array with range of five meters and HP Noise Cancellation software.
HP ODD Module: for quick and easy back up or to archive files and access legacy content on CDs or DVDs.
Other features include:
An optional touch fingerprint sensor for improved security and easy authentication.
HP Sure Start with Dynamic Protection, the industry's first self-healing BIOS-level protection.
Up to 6th Generation Intel® Core™ i7 35-watt processors for the performance to easily handle productivity and collaboration needs4.
Unique 360-degree dual fan pipe ring keeps the powerful device running cool.
Peripheral support for enhanced productivity including one Ethernet port, built-in Wi-Fi module11 and antennas, one HDMI and one DisplayPort™ to power multiple displays.
HP Elite Slice for Meeting Rooms Built Uniquely for Conference Room Collaboration
The HP Elite Slice portfolio also includes the new HP Elite Slice for Meeting Rooms solution, the first conferencing room PC with one-touch meeting start12. This offering helps users get more out of their meetings by having seamless technology to drive immersive conferencing and collaboration experiences with integrated audio and full desktop functionality. HP Elite Slice for Meeting Rooms combines HP Elite Slice, the HP Collaboration Cover, HP Audio Module and Intel® Unite™ software create a unique Microsoft Skype for Business conferencing solution making meeting rooms more intuitive and efficient with crisp, clear sound. For a more immersive conference room experience, this configuration can be combined with the new HP LD5511 55-inch Large Format Display, which features 178-degree viewing angles with a resolution of 1920 x 1080. The high brightness and contrast ratio provide excellent picture quality and readability that is perfect for meeting rooms that seat up to 12 people.
Pricing and Availability13
HP Pavilion Wave starting price is $549.99 and is expected to be available at select retailers and HP.com on September 23, 2016.
HP Elite Slice starting price is $699 and is expected to be available in September 2016.
HP Elite Slice for Meeting Rooms starting price is $949 and is expected to be available in September 2016.
HP EliteDisplay S240uj Monitor starting price is $429 and is expected to be available in October 2016.
HP LD5511 55-inch Large Format Display starting price is $999 and is expected to be available September 2016.
1 - Some features including voice supported Cortana, inking, and Continuum require more advanced hardware. See www.windows.com. Apps sold separately. 2 - Based on modular desktop PCs with Windows Pro OS as of 8/5/16 from top 10 desktop PC vendors. 3 - 4K Ultra High-definition (HD) content required to view 4K Ultra HD images. 4 - Multi-core is designed to improve performance of certain software products. Not all customers or software applications will necessarily benefit from use of this technology. Performance and clock frequency will vary depending on application workload and your hardware and software configurations. Intel's numbering is not a measurement of higher performance. 5 - For storage drives, GB = 1 billion bytes. TB = 1 trillion bytes. Actual formatted capacity is less. Up to 35GB of hard drive is reserved for system recovery software. 6 - All modules sold separately or as an optional feature. Covers are optional and require factory configuration and cannot be combined with other Slice covers. HP Elite Slice with Wireless Charging Cover requires factory configuration and will be available at a future date. 7 - Weight will vary by configuration. 8 - Based on SFF and smaller desktop PCs with Windows Pro OS as of 8/5/16 from top 10 desktop PC vendors. Powers Slice with Collaboration Cover, will not power additional Slice modules. 9 - Quad High-definition (QHD) content required to view QHD images. 10 - Skye for Business subscription required. 11 - Wireless access point and Internet access required. 12 - Based on desktop PCs from major commercial competitors with Intel® Unite™ software preinstalled as of 8/9/2016. 13 - Estimated U.S. street prices.
HP Elite Slice
Image 1 of 4