HP Spectre Folio convertible trades in aluminum for premium leather
Goodbye, aluminum. Hello, leather.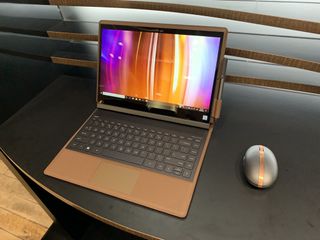 HP's journey to "reinvent" the PC begins with leather. The company today took the wraps off of the Spectre Folio (opens in new tab), a new convertible that trades in the sleek aluminum exterior typically found on premium notebooks, in favor of a leather-clad folio design that combines a bit of classic flair with the powerful tech inside.
The default model of the Spectre Folio features a combination of "Cognac Brown" leather and ash grey metal that complement each other nicely. The company also plans to offer a second "Bordeaux Burgundy" leather option down the road.
Meanwhile, the folio-style design allows you to move between laptop and tablet positions, as is common among all convertibles. Where the Spectre Folio stands out is in its ability to move to a "display forward" position, which lets you pull the bottom of the display out over the keyboard when you're ready to just consume content.
On the inside, HP hasn't skimped on power. You'll be able to get the Spectre Folio with Intel's 8th Gen Core i5-8200Y and i7-8500Y chips with support for gigabit wifi. Each configuration packs 8GB of RAM, along with 256GB of PCIe NVMe M.2 SSD storage. The display is a 13.3-inch 1080p IPS panel with touch, although HP says it will also offer a 4K option in the future. Otherwise, you're looking at a 1080p webcam with IR for Windows Hello, two Thunderbolt 3 ports, one USB-C 3.1 port, and one USB 3.1 Type-A port.
Battery life is promised to hit around 18 hours on the wifi-only models, though an LTE model will also be available with battery life landing closed to between 13 and 15 hours. HP has also thrown in a pen, so you're ready to ink out of the box.
Image 1 of 4
Availability
The HP Spectre Folio is up for preorder now at Best Buy (opens in new tab) and HP (opens in new tab), starting at $1,300 for the Core i5 model. The Core i7 with LTE model, meanwhile, will be priced at $1,500. The Core i7 model is expected to hit store shelves in Cognac Brown starting October 29. Meanwhile, the "Bordeaux Burgundy" and 4K options are expected to be available starting in December.
Windows Central Newsletter
Get the best of Windows Central in in your inbox, every day!
Dan Thorp-Lancaster is the former Editor-in-Chief of Windows Central. He began working with Windows Central, Android Central, and iMore as a news writer in 2014 and is obsessed with tech of all sorts. You can follow Dan on Twitter @DthorpL and Instagram @heyitsdtl.
Aren't we as a society generally moving away from slapping dead animal skin on our products? I mean, even Microsoft uses fake animal skin (instead of real skin) on their Surface Laptop, though that could change as early as tomorrow...

A. There's nothing from this discussion that states they are using actual animal leather.
B. Alcantara is not "fake leather" There's nothing leather about it. It's a type of fabric. That's like saying wool is "fake leather

A. Usually when they say 100% leather it's dead animal hide. A quick visit to HP's website says: "Product exterior and outer keyboard is 100% genuine full grain leather as of 9/18/18.". I mean, it doesn't straight up say animal hide but it's pretty close.
B. I stand corrected.

If it doesn't come from a dead animal, it's not leather.

If it's not dead animal, I'm gonna have to pass.

I would agree. I'd be more than happy to use synthetic leather if they could make it match the quality of real leather, but I've seen no evidence that that's going to happen any time soon. Plus they've got to murder the cows to make my burgers and steaks anyway... Just seems wasteful to not use the skins.

lol, exactly. It's not like their just skinning the things and throwing away the rest. Dang it, now I'm craving a good filet at the local steakhouse...

Exactly. I personally do not eat that much meat but do respect hunters as long as they use about every part of an animal, in contrary to the big livestock industry that treat animals like garbage / mindless beings.

I have reached out to HP to confirm, but so far everything that I have seen (see my note above) indicates that it's animal-based leather. Do you have any evidence to the contrary? Trust me, I would genuinely like to be wrong on this.

Seems like you're just looking for something to complain about. That Ms comment is just pure ignorance. I have a feeling you weren't going to buy those anyway.

There are plenty of vegetarian friendly laptops on the market to choose from. Although ironically cow skin is probably one of the more environmentally friendly parts of the laptop.

I agree, there are lots of vegetarian friendly laptops out there, isn't that great!?

Sure is, everyone should be catered for. Hell, all my laptops, computers and phones are 100% vegan and gluten free! As far as I'm aware... We don't actually know that the adhesive and plastics used are free from animal products...

No actually. Products which are made from 100% leather and selling very well include :- wallets, briefcases, messenger bags, shoes, watch straps, belts, etc. And it's always the 100% leather variants which are of better quality compared to the cheap faux leather. I may dislike HP's Folio for certain design reasons, but simply "the use of leather" cant be it.

You can not separate the screen from the keyboard and the pen is not magnetized, good device and interesting with some problems

Probably because this way you can put the screen quickly forward of the keyboard for some quick sketch or something like that.

Well it's definitely not revolutionary at all. Battery life sounds awesome though. Sadly it doesn't have a 3:2 display. Connectivity is great.

It's mixing clamshell and convertible designs and is covered in leather. That's ... not exactly conventional. But I agree about the battery life (claims!), the screen and the connectivity.

So... Is this it? Really?

I know right? Reinvent the pc... Lol

Next step: it's made of wood and you have to wind the spring up before usage 😉

Lol, a dual-core i7 with a 1.5Ghz base clock on a $1500 product?

Were... Were you expecting a quad-core...? It's a fanless, thin, leather-clad notebook. I think the price is right about perfect for a PC if this quality with LTE.

Even so, I expected better performance for the price. 1.5ghz when 2 cores are being used is pretty slow, especially for intel putting an "i7" moniker on it. Dual core I can understand for a fanless design (I was unaware it was a fanless pc), but such a slow clock speed is disappointing for an i7. I expected more around 2ghz base and Intel Iris graphics to drive that 4k display.

It's pretty, or at least the red one will be, but it doesn't exactly have me regretting my x360.

Although it is not necessarily a re-invented PC, it does provide a nice packaging. It is a premium PC which can be 'always connected' with decent battery life and Thunderbolt ports. I would like to see more 'Always Connected PCs' based on the Intel or AMD processors. Spectre Folio is a great addition to the PC choices.

Yeah it's not exactly revolutionary. But it's kind of neat.

Those prices aren't bad at all for what you're getting. Only an extra $200 for the i7 and LTE? Yup.

A thinner version with a snapdragon 850 would be ideal.

Don't like the leather, nor the fact that even as a tablet its 3.2 pounds, nor the fact you can't detach it from the keyboard, nor the screen. But, I do love the IO and some of the internals.

Looks pretty. Nice to see oems pushing the laptop design, not just MS.

Is it leather only on the top/keyboard, or also on the back? I'd guess that leather gives some kind of insulation -> poorer heat dissipation. Probably leather gives a nice feeling -- better than Alcantara, perhaps. But I kind of liked the "skin-like" feeling of old Thinkpads -- that would have been fine, to me.

Although this and the new Yoga Book are not my cup of tea, I do appreciate these companies trying something new. Although I like my Spectre x360, I do find the action of picking up my laptop and folding it around unweidly, especially if I'm in a tight space like a crowded cafe or airplane seat. I also have to prop the laptop on something sturdy to get a decent angle for drawing. This flipping mechanism would be much easier.

the leather will age well but I foresee problems with glue and stitching down the line as with any great leather item certain fluids leave a permanent stain, wait for it...

Dear God, that's gorgeous. I'd trade in my surface book 2 for one of those

You are crazy... SB2 is much better, in pretty much every way

It looks good but it is kind of heavy at 1.45 kg for such a device. Also Surface Book is more flexible. Though the hinge of this device is pretty neat (bit like the aspire r7).

As I wrote on Anandtech, there is no USB A, just a dongle in the box...

MacOS versus Windows laptops:
Versatile form factors e.g. 2 in 1 and soon 3 in 1: Mac-No vs Yes in Win. WinCoreOS will push the difference even greater. The vision of Andromeda will also push the differentiation futher. ===> results: OEMs like Asus, HP, Lenovo are in creative form factor race to win the most innovative and creative design prize for PC to GO. Big win for OEMs of Window camp. Big congratulations to Microsoft's decades of trials and errors of WinOS innovation, from Win7, 8 to 10, 10M, 10IoT, and soon with CShell through WinCoreOS. Apple is becoming more boring. Innovative Ideas all come from one source. Microsoft empower innovation through OEM diversity and democratization, but with technology leadership. However, Microsoft must manage challenges from Google and Amazon. Apple is fast fading to the side.

Must be Fake leather, I'm assuming!

of course...real leather will age faster, and its not ethical to use real leather on this kind of products...even in cars the real leather easy fades away

This is how its done when you flip in tablet mode Microsoft, the screen above the keyboard...Please do the same with surface book...

This is actually perfect for me and how I currently use my Note 10.1 with a folio (though without a keyboard). The price is a little high, but the leather really makes it stand out. I was thinking of buying a Spectre x2 or something similar, but I may just wait now, even though it's a little more than I wanted to spend.

Crap, don't see a rear camera listed anywhere. That's a deal breaker for me, I need that for work. And with a flash. I may go Elite X2 just because it's one of the only W10 tablets with a flash.
Windows Central Newsletter
Thank you for signing up to Windows Central. You will receive a verification email shortly.
There was a problem. Please refresh the page and try again.