HP Stream Windows 8.1 laptop coming Sept. 24, but it will cost $300, not $199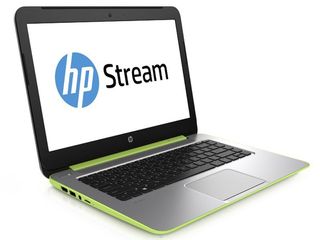 HP will release its budget Windows 8.1 laptop, the HP Stream, on September 24, but the price of the notebook will be $300, not $199 as Microsoft first announced back in July at its Worldwide Partner Conference.
So far, HP has not commented on why the price for the Stream went up by $101. The 14-inch display on the notebook has a screen resolution of 1366x768, and inside there's a AMD A4 Micro processor, 2 GB of RAM and 32 GB of onboard storage. It also has a USB 2.0 port, a USB 3.0 port, a HDMI port and a microSD card slot. The 3.8 pound notebook is supposed to have a battery life of 6 hours and 30 minutes.
On the flip side, HP will offer buyers of their new Stream notebook 30 free days of Office 365 access, along with 100 GB of OneDrive storage from Microsoft for two years and another 25 GB of cloud storage from Dropbox for six months. People who are still looking for a $199 Windows 8.1 notebook will be able to get the Asus EeeBook X205 for that price when it comes out in November.
What do you think of HP raising the price of their Stream notebook?
Source: PC World
If it is, I think it's a good deal.

Looks like Asus is the way to go then if we are looking for a $200 notebook. If consumers are looking to spend 300, they are looking at another class of notebooks, not a new age netbook. Total bummer for the consumer and HP.

I saw a dell 15 inch laptop with windows 8 for 249$ in Amazon ... Compared to that this is BUMMER...

Do you think you can give me a link? My sis wants to order a cheap laptop :)

Hi please find the link http://www.amazon.com/Dell-Inspiron-i3531-1200BK-15-6-Inch-Laptop/dp/B00...

Here's an HP for $199 http://www.walmart.com/ip/HP-Black-15.6-15-f009wm-Laptop-PC-with-AMD-E1-2100-Accelerated-Dual-Core-Processor-4GB-Memory-500GB-Hard-Drive-and-Windows-8.1-DVD-CD-DRIVE-NOT-IN/36561200

Guess HP will be joining Blackberry soon if they keep this type of thing up! You see some of the big, bulky, and heavy laptops they're trying to sell the public in Bestbuy and office depot...I'm an avid weight lifter and couldn't believe that they were trying to sell these this as a laptop......Crazy I tell you crazy!

Not worth it. For $300 you can get a laptop with twice the RAM and more than 10 times the storage. Unless I missing some key part of the specs, not worth it at all.

exactly...and also no HD screen. SSD + HD is what drives the cost.

Yeah sure SSD will have an effect on cost, but its only 32gb, and that's pretty damn inexpensive these days, especially if it onboard to the mobo, probably not upgradable at that price point, if it was its probably a mini card, which you would still have to upgrade the memory and purchase a higher capacity mini card to make it worth the while, but ur still stuck with a non performing A4 CPU... All in all, not worth it

Well that changes things.

So, for what is "stream"?

Still dirt cheap, but in the $300 range you might be able to get a quad core AMD APU and more onboard storage.

Yep, easily. Hell, after spending ten seconds on Best Buy, I found a 15" laptop with a 500gb drive and probably a Celeron Atom for $229. Not sure why you'd buy this at all.

My brother just bought that one and it performs for browsing and data entry.

It was too good to be true.

Guess its Asus all the way.

It probably is more since the Intel m processor was delayed so the went with AMD which I think is better anyway.

AMD is cheaper than Intel so that wouldn't explain an increase in price.

AMD A4 is more expensive than the budget Intel m processor

Man I hate those AMD processors...

They are ok, I never had one so I thought ill build a tower with one. Its actually better than my i7. And pretty stable with no overheating.

My laptop has an i7 inside and it's better than some high end AMD's FX for desktop computers.
AMD processors are budget oriented, but Intel offers better performance.

I dunno about performance but I'm running at 4.1 and it hasn't overheated once on me. And lets face it how often do you build a tower using intel? I will give them equal ranking for now.

How often do you build a tower using Intel? How about almost always unless you're targeting specific use cases? Even at the budget end, Pentium Haswells destroy AMD CPU performance. The best case for an AMD CPU is when you need the gpu that comes with it. I want AMD to be competitive. No monopoly is a good one. But right now, their top end CPUs have only just managed to compete with Sandy Bridge, a 2011 era CPU.

You are comparing high-end desktop processors, no AMD high-end will beat Intel's mighty i7 CPUs. APUs are a different story altogether.

These are fan-less and lower power consumption and cool on battery!!

AMD... Never again. Intel for life!

Give HP's strategy to slap Android on pretty much everything they can, raising the price for the Windows machine is not surprising. At this point even HP doesn't know what HP is doing.

They haven't for some time, unfortunately.

Sad but true. Haven't seen anything resembling a strategy from HP in years. Sad remains of a once innovative industry leader.

Ouch, another Microsoft based product priced $100 over the huge success price point. Hopefully its for real sourcing reasons, and not because they felt they could raise the price and get more money. Maybe Google paid HP some cash to keep this from the Chromebook price point.

i will skip buying this laptop. i wont throw my money for nothing.

Gives them room to drop the price when the$300 price tag doesn't move product.

Well that Asus is looking very interesting now.

Garbage. At $199 this had a chance. At $300 it doesn't, its too close to other computers with twice the specs.

I think HP is screwing MS!

Agreed as I could possibly see a touch version going for $300, but a non-touch, I don't think so!

HP has a 14" Chromebook for $300 (according to the source of this article), so it is not surprising this laptop is prices the same.

Typical HP......I guess there trying to sell overstocked inventory of Chromebooks by over pricing their windows units.....It's not Microsoft's fault their web OS venture fell flat!

I wonder if Google had anything to do with the price change... there were quite a few positve stories in the media bout MS when this came out which is rare for MS...Makes you wonder because MS would not annouce that low price if HP didn't tell them it would be that. Also a 101 difference does not seem like a typo of misprint. Seems deliberate. But noooo Google would never do that...

http://www.windowscentral.com/e?link=http%3A%2F%2Fadfarm.mediaplex.com%2...
249.00 Posted via the Windows Phone Central App for Android

Why offer storage for OneDrive and dropbox

Exactly...! The bundle makes no sense...! Which average consumer would want two different cloud drives...?

Still a better deal than buying a Chrometrashbook.


Thank you so much for great article..You can find out more details about this laptop and updates in this web site :http://www.hpstreamlaptop.com
Windows Central Newsletter
Get the best of Windows Central in in your inbox, every day!
Thank you for signing up to Windows Central. You will receive a verification email shortly.
There was a problem. Please refresh the page and try again.