HP's $199 Windows 8.1 laptop now on sale with bonus $25 Windows Store credit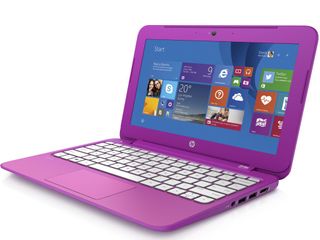 HP has started selling its previously announced $199 Windows 8.1 notebook, the Stream 11, and the PC maker is throwing in a free $25 gift card to purchase apps and games from the Windows Store.
Microsoft first revealed HP's plans to release the cheap laptop back in July. The Stream 11 has an 11.6-inch anti-glare WLED-backlit (1366 x 768) display with an Intel Celeron N2840 processor that has a clock speed of 2.16GHz. Inside there is 2 GB of RAM and 32GB of eMMC flash memory for storage. Besides the $25 Windows Store credit, the HP Stream 11 comes with a one free year subscription of Office 365 Personal that's priced normally at $69.99. That's nearly $95 worth of freebies for this cheap notebook.
HP is also going to sell a $99 Windows 8.1 tablet, the HP Stream 7, sometime this November. Will you buy these cheap HP Windows 8.1 products for the holidays?
Source: HP (opens in new tab)
Windows Central Newsletter
Get the best of Windows Central in your inbox, every day!
Maybe if the drive is upgradeable.
32gb is just too cramped

How much space does one need on a laptop/desktop these days? I only need enough space free for a defrag of necessary, geez use the cloud

As those of us who own a Dell Venue 8 Pro know, Windows 8.1 plus the recovery parttion takes up almost all of that 32gb. Add to the fact that you can't install apps to a SD card anymore. It's a lot of fun deciding what apps you want to keep vs. pictures or music.

Windows with Bing doesn't have a recovery partition...................

I remember ordering a £200 chromebook and got sent a £650 laptop with 8.1 and 1TB instead lol what a result

They were like - meh he'll just return the Chromebook to buy a real laptop so lets save the trouble and just send the laptop now :)

Lol..... I felt sorry for the guy who paid £650 and got my shitty £200 chromebook instead lol

Ha ha ha... There is that. If it's their first Win8 experience they'd be all - man no wonder everyone was complaining about Win8... :)

No need for suicide Stacey. I am gonna kill you.. That's MY LAPTOP!!!!!! ;-)))

What's the screen specs, if its ips ill get it

ppl who are wasting money in buying android tablets can go for this laptop instead

Some ppl hate Windows 8.1.

Then I think, they have some mental problems

Good deal for anyone in the market for an affordable laptop.

Wait... no touch screen?! Are these clowns for real?

What's the point of having a touchscreen on a laptop anyway? I don't have one on my laptop and I've never wished that I did have one.

Actually we have both and the one with it is alot more fun to use

You can get the touch screen version for 250$.

Burnt my fingers badly on the Envy X2; HP is going to have to offer something truly exceptional for me to give them a second chance...!

I have an Envy 17 and that thing is like touching the sun.

Huh? The 2-in-1 fanless HP Envy X2? Mine has never even gotten hot once. That thing has been a tank and I got mine right around the Windows 8 launch. Maybe you got a dud, but the Envy X2 is one of the best (and only) HPs I've owned.

Same goes for my sister in law. Really awesome laptop.

I would, if my kids were starting school. But with just 32GB storage its a big no no for every else but kids and students. And it isn't upgradable, unless you count adding a SD card. 32GB is properly 27GB when formatted. Then subtract 10GB for Windows and 5GB for recovery partion and you are down to 12GB for additional software. A Windows PC should have no less than 120GB.

If you utilize OneDrive, that storage doesn't really matter unless you are installing a bunch of large games. For the price, I wouldn't expect a 500GB-1TB hard drive. I'd expect as many corners cut to make the device cheap. Like someone else said, it's supposed to contend against Chromebooks. Some people who just want something to do school work on or basic activities and has a very small budget would love this. Perfect for a student because with Office 365 University, they get 1TB of online storage to offload any docs, pictures, videos, etc. And then using Xbox Music's service, stream music and keep a small collection you want offline. If my wife didn't already have my Surface Pro, I would buy this for her to use for school.

And all that OneDrive space is awesome, but it is also painfully slow even on a wired home network with 30Mb dl speeds. Watching a 1080p movie uploaded fra my L1520 is almost impossible. Opening a 10MB pdf or other file takes to long. This is why a PC should have more than 32GB storage, so that the files and folders you use the most can be synced to offline on your device.

Agreed. The bare minimum for any Windows 8.1 device should be 64gb.

You can move the OS partition to a separate drive. That with a high speed sd card should work out fine.

Windows with Bing doesn't have a recovery partition. It combines the installation with the recovery, through magic.

It's a SSD folks. This is supposed to kill the Chromebooks.

It's eMMC, like an SD card.

I will wait to read some reviews for the 7" tablet, but I am definitely interested. There are a lot of things I want out of a mini tablet that I am willing to pay more for, but nothing perfect has hit the market yet for my needs. The 7" tablet is so cheap I don't mind picking it up to hold me over until something more suitable comes along.

Toshiba has a $99 7" tablet out now. Haven't seen that one specifically but the 8" and 10" versions are really good for the price.

I"ve had the Toshiba Encore for about a week. 16 GB eMMC left only 4 GB upon initial bootup. Being a signature PC there was NO CRAPWARE. It has a very nice IPS screen @ 1280x800, handled a 64 GB micro SD with no problem, ran fairly quickly/smoothly with the intel 3735 (or 3740) quad core Atom @ 1.33 Ghz with burst to 1.86. Streamed movies from home network quite nicely (up to my Blu Ray 1920x1080 rips - I don't reencode for each hardware). Have gotten away from Office for quite a while and haven't decided what to do with the Office 365 1 year subscription. For $99 it's a pretty good bargain plus $25 for the 64 GB micro SD if you want to add movies or even additional software. I use WPS (formerly Kingsoft) office suite as it is much, much lighter on space requirements (only about 250 MB) and runs all my Office Documents quite nicely. The $199 laptop with similar specs should run quite nicely also while the 32 GB storage should give some room to install some applications.

You can always add an external USB hard drive for about $50.00 to either device.

I'll probably get the tablet. I need a small tablet for those lazy moments in bed.

I really hope a company releases a compact core m, would be killer.

Stocking Stuffers - it is the season.

I need a tablet a cheap just to have.
And the Surface I'll get one next year.

Without keyboard - Dell Venue Pro 8" ($200 @ amazon)
WIth keyboard - look at Walmart's new "Nextbook" $170 (available next week)

Core M surface would be a dream. The lack of battery life still kills it for me, apart from the price, lol.

Core M is not so different from i3....i5/7 are better for Surface ;)

Probably the 7inch tablet, I want something small for traveling and such as my Surface is too big and limiting sometimes with RT

What type ofh workjload could a Intel Celeron N2840 processor take?

Which one is better? This one, with the Intel Celeron N2840 Dual-Core at 2.16GHz, or the new Asus X205 with the quad-core Intel Atom Z3735 Bay Trail at 1.33GHz? I need it for web browsing, email and basic Excel. Thoughts?

I also need an answer for this, looking to a buy a asus transformer book for its long battery life

32 GB... But it comes with a year of unlimited OneDrive and Office (365 Personal) AND $25 windows/xbox store credit? I can live with it.

Great for people too poor to buy something nice.

Ideal for when I work on festival sites.

Or they don't need something expensive to connect to the internet.

I was hoping for the AMD version. Better graphics.

Already asked my parents to get me an windows tablet. This would be better with a keyboard.

Wondering the performance of Celeron processor

This looks like some viable Christmas gifts for my twin 7yr old boys

Saving my money for #lumia1041

Does this have the full version of Windows? Can I run desktop apps on it? I'm finding it hard to tell on a lot of Windows 8.1 computers. -han

and the award for the dumbest comment is.........of course its full windows, windows rt is not even be sold any more, and if they were sold the mocrosoft surface is the only player around.

I just want a new.phablet of 6 inches. Then I wont need a separate tablet anymore. If MS doesn't come out with a 1525 or the like, I will prob get Stream 7 and watch and see

Yes I will buy the 99$ hp tablet

I think I would like to get one but there is a lot of bad press for eMMC memory. I know it's not as fast as a good ssd but it should be faster than a standard hdd, right?

Does anyone know if I could install iTunes on this laptop? Just to listen to music and sync my iPod..

Why get a $200-$350 chrome book when u can get a $199 Windows 8.1 laptop 11 inch laptop, add a little bit more butter on that price and u will get 15 inch ones for around $220-$350.

32gb is nothing. My T100 was out after a few apps. Microsoft needs to allow installation on SD cards of 8.1 apps. It's ridiculous.

Eh, that processor costs $107 alone. Waiting for the 3rd and the Eeebook x205 :3

That's fixing to go to unlimited storage on one drive