HP's unbelievably thin Spectre comes to India at an unbelievable price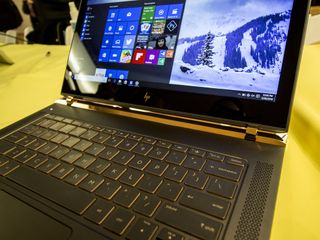 HP showcased the Spectre earlier this year, calling it the thinnest laptop in the world. With a thickness of just 10.4mm, that's certainly true, but HP also managed to cram enough powerful hardware in the Spectre for it to blaze through everyday tasks. The laptop offers a 13.1-inch Full HD display, as well as your choice of a sixth-generation Skylake Intel Core i5 or i7 CPU, up to 512GB of flash storage, and 8GB of RAM.
The screen on the Spectre is coated by Gorilla Glass 4, the speakers are powered by Bang & Olufsen, and HP claims that you'll get 9.5 hours of battery life from the 4-cell 38Whr Li-ion battery. That's a lot of hardware for a device that weighs just 2.4 pounds (1.1 kilos).
As you'd imagine, the Spectre costs a premium, with prices starting from ₹1,19,900 ($1,775). That's a $600 premium from the $1,169 retail price of the notebook in the U.S. (opens in new tab). If you're interested, the Spectre will go on sale from Saturday.
Windows Central Newsletter
Get the best of Windows Central in your inbox, every day!
Harish Jonnalagadda is a Senior Editor overseeing Asia for Android Central, Windows Central's sister site. When not reviewing phones, he's testing PC hardware, including video cards, motherboards, gaming accessories, and keyboards.
Harish, when I read "unbelievable" the thought that flashed my mind was that it must have been priced cheaper or equal the US prices

Hahaha. I was eyeing this thing when it debuted earlier this year, and was excited up until the time I saw the price. That markup is crazy.

LOL! You have an eye on everything. What is your income? Unlimited? Haha!

Correct Posted via the Windows Central App for Android

Heh. Most of my money goes towards buying gadgets. And I wouldn't have it any other way .

Food can be another good way to spend. I mean, I do.

+1 Posted via the Windows Central App for Android

lol yea the unbelievable heh

They should stop launching these dumbass products.

Rather sell it competitively in each country. The $600 mark up is not good at all and will deter many from buying it in India. Some may get around by getting from Amazon/Flipkart

You maybe stop to think that high markup may be taxes and tariff that were charged on hp to bring the item to india? Am not sure if they have a plant there, if they do not it would send the cost up even more no company is going to absorb that they will just pass them on to customers

Government should stop charging so much!
Every device is costlier in india
Not manufacturers mistake Posted via the Windows Central App for Android

I recently checked import duties and found that laptop imports are duty free. There is another tax (cess, I think) but that still doesn't justify the premium.

Actually the total taxes and duties applied on laptops is 17.54% but that still doesn't explain the $600 markup.

True That's why I NVR buy electronic stuff from India......buy it from Abroad

In this case, it is down to the manufacturer. My MacBook had a $100 premium when I bought it a few years ago. This thing is $600 pricier.

Ooh....please....
It is ten times better than MacBook's

Is the pricing got to do something with the value of rupees against dollar besides the cess?? Cos such a high price actually kills the fun and reduces sells drastically allowing macbook to gain grounds which is frightening considering that windows phones is almost a lost case until MS brings something advanced and different from the market with redstone and concentrate on markets like brazil and india where they were given share of the pie.....thus we are left here with nothing from MS!!! They should at least start selling surface range with a price tag around macbook specially in india.....this will help them gain ground.....cos what kills the surface here is the pricing!!! Else everything is top notch!!

Given the current tax regime, premium products from abroad will have tough time getting off the shelf in India

$600 would not be the tax HP is paying on importing these. This is HP's fault IMO.

If you calculate all the taxes and duties you might come close to it, however i don't see how HP can benefit by charging more in India, given the fact PCI(PPP) is lower than the USA here.

I had few questions... what is the use of this kind of costliest laptop in life..for common man?. I mean to say,it increases the incomes of any person?or it improves the health of any person?or their is any productivity of this product for common man??. Laptops are cool gadgets..but at this price we need to think it again.. I normally use laptops for games and watching movies or TV shows.... Posted via the Windows Central App for Android

We live in age of consumerism, very difficult to answer such philosophical questions.

Thanks Posted via the Windows Central App for Android

Let's say the main reason is basically getting the latest and best, as in a competition amongst the tech obsessed society.....
I mean people actually ...and other reason for example like phone..... U have the old tech..
Companies just end support for it.......so even if the new tech is really costly people will normally buy it because it's new and trendy....... THATS JUST THE HUMAN MIND

There are really just times when pricier products with the best specs is the best way to go. It ensures that you can always do anything you wants it to do with little to no hiccups in performance. Posted via the Windows Central App for Android

I feel waiting for the SB would be a greater value compared to this regarding the price or a surface in that case.

Nothing new about that, this is always the mark up we pay in Australia. Also we never get things like buy a 950 XL and get a free 950 phone. Current price for a 950xl $979

Doesn't do anything ! 350 dollars is more like it ...

What makes it so premium?just for the looks and design?Coz the specs are nowhere near best, it doesn't even have top notch dedicated graphics

I bought a hp laptop this January with AMD processor and graphics,8gb ram,15 inch screen,1TB storage,quite thin and lovely metallic silver finish just for ₹39k

So I think this laptop is overpriced even for its original price

Which one ? Windows FAN... >>LUMIA 640 XL

Quite frustrating that this more conventional laptop has 3 USB Type C connectors, some of which support external displays and Thunderbolt, whereas the HP Spectre x/360 2-in-1, 13.3" version, has zero USB Type C connectors.