HTC 8X available at Target for $129 with T-Mobile contract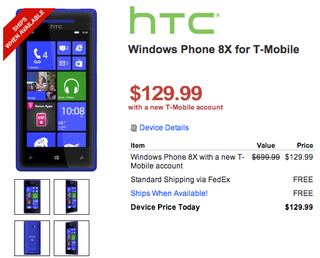 The HTC 8X is available at US retailer giant Target for just $129.99, when taken out with a new contract on T-Mobile US. The Windows Phone has its own product page on the retailer website showing off features included as well as the attractive discounted price.
This is -of course- a handset that's tied to a contract, so what's the catch? Minimum plan charge is $59.99 a month, which includes unlimited minutes, SMS and a data add-on. Unfortunately, the HTC 8X listed at Target isn't currently available, and sports the following notice:
The Lumia 920 isn't the only Windows Phone suffering from higher-than-expected demand levels. Walmart's inventory system has also revealed a low price of just $150.
Source: Target; thanks, jossueinacoma, for the tip!
Rich Edmonds is Senior Editor of PC hardware at Windows Central, covering everything related to PC components and NAS. He's been involved in technology for more than a decade and knows a thing or two about the magic inside a PC chassis. You can follow him over on Twitter at @RichEdmonds.
that's..."better" but still shameful compared to ATT pricing.....and T-Mo moved a LOT of 710s, you'd think they would have got better pricing from Nokia.

Did WP8 remove lockscreen support for the music player?

Nope still there on my lumia 920 :)

weird, I cant seem to figure out how to get the controls on the lockscreen

Did you try the volume toggle button?

And more importantly, I just confirmed with Verizon Customer service the HTC 8X will be available in stores TOMORROW, 11/15. I also called the local store and confirmed with the salesman there I could pick it up at 9 AM tomorrow. YAY!

I''m picking up the Nokia 810 today. Weeee

HTC messed up on the pricing and lack of better memory but this phone is magical. The front facing camera is so crisp and I could see myself using that for Skype a lot. Went into my local T-Mobile store to get a feel for the 8X and the Lumia 810. The 810 is a lot more capable but the 8X design is just spot on.

Agreed! I had a look at it today and man, HTC outdid themselves with the design on that thing. I wasn't a fan of how narrow the phone was. It made it look very tall, which I don't think looks right (see also iPhone 5).. I prefer a wider phone because its nicer for videos and is easier to type on.

Good to see more phones hitting the shelves... Even if on the shelves really means delivery.

Is that $129 for a 16GB 8X?

I have a funny feeling when the 8s comes out there will be more colors available for the 8x..... Ill wait

Wirefly.com also has it for $129.99 on T-Mobile with new 2 yr agreement. There are some additional items listed for FREE (Standard Shipping via FedEx, Get up to $100 Cash Back - Wirefly Trade-ins, Secure Contact Transfer & Backup. (Transfer Your Phone List With Ease)). Noticed "ships when available" warning.
http://www.wirefly.com/eCommerce/SpecialOffer.aspx?cid=21427_c7f82f521de...


The target order website looked identical to the wierfly order website for these phones... I'm guessing they're coming from the same place. My local Target said they'd have 2 Lumia 810s and maybe an 8x in stock tomorrow but didn't know if they'd be the same price in store.

Built-In Memory-16GB on wirefly.com model

If anyone here is a Tmobile customers value plan. This Friday and Saturday you can get the Nokia 810 for $99.00 with $99.00 mail in rebate, so you pay nothing. The HTC 8x remind me of an iPhone 5 skinny and tall, not for me.

I felt the same way about the HTC 8X. I held it against my HD7 and while its much thinner, it is taller, the width is about the same yet the screen seems smaller. Decisions, decisions...

The shape of HTC 8x is like a chocolate donut bar and it's not what I want, but Nokia 810 is well sized, that's what I'm getting Friday.

I don't know I was focus looking at the Lumia 810 and was planning to buy it until she said about the special offer this Friday and Saturday. Maybe the HTC 8x is included also but not sure.

Now if only at&t actually had some 8X's in stock...

Radio Shack looks like they have the same pricing, $129.99 with new account - ships when available, free FedEx 2 day

Don't appreciate Tmo's pricing at all!

And how is it different than AT&T or VZ pricing? The plans are cheaper too, cant understand why people are complaining about this.
Windows Central Newsletter
Thank you for signing up to Windows Central. You will receive a verification email shortly.
There was a problem. Please refresh the page and try again.