HTC Camera 2.0 arrives for the One M8, brings new Pan 360 feature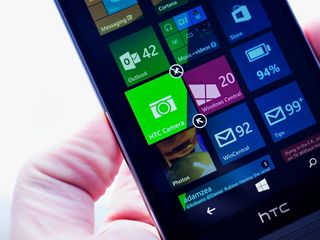 HTC today finally got around to updating their HTC Camera app for their One M8 for Windows. Since its release, HTC has updated numerous core apps (Sense TV, Dot View app) for their flagship Windows Phone, although Camera has gone without one.
Today, 2.0 has come to the Store, which is a rather large jump. The banner feature here is the new Pan 360 option, which replaces the previous Panorama mode that is built into the camera app.
Pan 360 differentiates from a typical panorama app in that it can work horizontally on a plane and also vertically, along the axis. In that sense, it feels similar to Microsoft's Photosynth, although it is not as focused on making a spherical photo. You can share the completed photos as usual although there is a built in "viewer" that lets you pan around the app in a more visually striking way.
There was no changelog included with the app update, so anything else that is new will have to be fleshed out by readers. It is not clear if the swap camera feature was already present, or if that is new. (The option works by effortlessly swiping across the camera display to switch between the rear and front camera)
HTC Camera 2.0 is still one of the fastest camera apps around on Windows Phone, although Lumia Camera 5.0 for some Lumia Denim devices come very close. Regardless, the HTC One is getting some reliable treatment from HTC, and it is great to see this app getting a refresh.
Back in December, HTC and Verizon pushed out a firmware and OS update for the One. The update bumps the OS to version Windows Phone 8.1.1 build 14203, and its firmware changed from 10602 to firmware build 21705.
Hopefully for those who had some glitches with the previous one will see an improvement with today's update.
Thanks, King B, jtbarton14 and Linus V., for the tips!
Windows Central Newsletter
Get the best of Windows Central in in your inbox, every day!
Daniel Rubino is the Editor-in-chief of Windows Central, head reviewer, podcast co-host, and analyst. He has been covering Microsoft since 2007 when this site was called WMExperts (and later Windows Phone Central). His interests include Windows, laptops, next-gen computing, and for some reason, watches. Before all this tech stuff, he worked on a Ph.D. in linguistics, watched people sleep (for medical purposes!), and ran the projectors at movie theaters because it was fun.
Zoe support should have been added....

My guess is it will depend on how well the One sells. It's easily the best WP available right now, but being the best WP doesn't mean much given how lousy the whole ecosystem is. Hopefully HTC sticks with Windows Phone through Windows 9...errr, 10. I was very impressed by what I saw out of MS and feel like there may finally be some hope for the platform. The one major thing they're still missing is a Dalvik to WinRT bytecode compiler. If they add that, it'll make the job of all kind of developers (including HTC!) a lot easier and we'll probably see many of the Android-only innovations come to WP, such as Zoe.

Lumia 930 & 1520 are better. But the HTC one M8 is decent. Just not the best.

1520 is too big to even be in the conversation. It's a niche device for a select few who can put up with it. For most, it is a total nonstarter. The L930 is a heavy brick with heat and battery life problems galore. It also isn't even available in the US, and the Icon (which is available) seems unlikely to ever see another update. Thus, I think it's safe to say the One M8 is the overall best. And in the USA, it really isn't even close.

Not at all. I tried the M8 on Android and the camera is the worst I've used in years. Even my OG Titan put the M8 to shame. The phone screen is too small to justify the size of the phone itself. The onscreen buttons are horrible. The only, I repeat, only useful feature on the entire phone is the TV remote. I dumped the M8 and reactivated my 1520 within a month. Also I have an Icon as well, which is actually smaller than the M8 so how would it be a brick?

Dude I don't care what you say, you have to put the best phone in the conversation which is the NL1520.

The L1520 is a joke. You look like a douche using that phone. Sorry.


The M8 is a joke and you look like a wimp carrying that crap.. Period

Funny because everyone that sees my bright yellow 1520 compliments it and wants to buy one. No one however, complimented or commented on the M8. Face it, if you are in the WP camp it is the 1520, Android it's the GS5 or Note and of chose ios users are flocking to the 5.5 inch. No one, I mean no one that I advised to buy the M8 liked the looks of the device. When I told my coworkers it was an android flagship they just laughed and said it can't hang with the Galaxy.

They ARE allegedly making the HTC One M9 Windows Version again.

Link? That'd be an awesome show of support from HTC.

There's an old post on Windows Central. It showed an inventory sheet with a M9 Android version and Windows version on like ATT and Verizon. And allegedly Sprint is getting a HTC One Windows phone around March or couple months later (which is when the One M9 comes out/announced).

http://www.loadthegame.com/2014/12/08/htc-one-m9-rumored-windows-phone-v...

http://www.nextpowerup.com/news/15915/htc-hima-one-m9-could-have-a-windo...

http://techspy.com/news/1636231/htc-one-m9-rumored-to-have-a-windows-pho...

Can you make a video of it ?

Someone didnt reads emails leeel

Keep doing great job, push Lumia become better with only have greater competitors

Lumia already is better camera lol.

Some sure, but not all Lumia models.

I wouldn't be so unequivocal, honestly. All Lumia cameras are sloooooow. HTC's is fast, fast, fast. Sometimes, that matters more.

He still has a point, as it'll keep Lumia from resting on it's laurels.

Don't rest on your laurels - a doomed Titan is still a threat.

Ever heard of auto correct? It's not like I misspelled the word, it just posted grammatically incorrect. I am using a "smartphone".

Lol.. I'm not making fun of you. Just being facetious.. It's ok.

Every Lumia 8x, 9x, 10x and even some 7x's even have better cameras than the M8. You can also throw on the Titan 1 and 2.

Not even close, absolute. The m8 beats out the 8xx series and in certain circumstances, the 920. The 1520 smokes it though, but it's not nearly as bad as its made out to be. My Htc m8 WP(first HTC so I'm not a fan boy) has been my favorite WP device yet! And the dot view case is pretty sweet too! It's been a "oh wow, that's cool" feature when I've shown it off. You can even take pics with it on!

Well I've owned almost every US Lumia as well as the M8. I have to say the M8 looks blurry most of the time. Alot of people feel the M8 's worst feature is the cam.

How do you take pics with it on?!? I would love to do that!!!

I do like that dot case. Too bad I can't get one for the wife(m7). She hates the phone but that's becw it's Android and she hates the cam. She wants another 1020 (broke the last one) but she can't live without Poshmark.

It's a good phone... It's just time for something new.... Hopefully W10 will be the return of the high end OEM's..

Haha that's those 99+ email account tiles :D

So many tips....... It has one from me

More likely this phone sits in a drawer and hasn't been checked in a while. Probably only used when something m8 specific comes up.

Also when you enter your email account from any other device, those tile notifications disappears from every device you are signed in, which is called synchronization.

I have multiple Windows Phones and that doesn't happen on mine. I believe once the emails are actually read it will dissappear form the count, but unopened emails still show in the count on other phones even though I have opened the app. Can you tell I have a disorganized inbox? Ha

Wen can we expect htc one M8 for windows in india?

Don't even expect officially ...... Check your region's OLX adds . You might see Unlocked unit for sale

U might even want to wait for the m9... if there will be a Windows version

Any word on that, BTW? The M8 is so much awesome I might sell mine on eBay and jump on an M9 if it actually comes to WP!

The now legendary 'wen in India' quote... I salute you!!!

Hmm.... Sometimes after Surface Pro 3 is available.

Meanwhile all other HTC WP devices are pretty much dead to them.

The ones that are over two years old already? Yeah, that is true.

It would be nice of them to release 8.1 on the 8X. That phone was the nicest of all the gen-1 Windows 8 phones, and some of it's compatriots (like the L920) have gotten the bump.

I don't think so. At least not on AT&T.

that's an at&t problem... of their customers, really

I don't think so. I don't think it's available anywhere.

Wrong.. My daughter has my old HTC 8x and I updated it to WP8.1 about two months ago. On AT&T.

No she doesn't. The most recent update on AT&T is 8.0.10501.127: https://www.windowscentral.com/e?link=https2F2Fcli... And to my knowledge, it has not been released anywhere in the world. Maybe she's running Developer Preview?

Man shut up telling me what she don't have on her phone when I downloaded it you numb nut.. It's not developer preview either, maybe you need to check your stupid phone because I have it on my daughters phone. Obviously it has been released, just not for your stupid phone. You need to check your sources again my friend.

No, she doesn't. Go check her phone again. If she has 8.1 on an AT&T branded phone she's running the DP, 100%. We have three 8Xs in the family. The two with DP have it and the one without it doesn't.

Well I don't need to sit here and argue with you, telling me what's on my phone, are you serious dude. I know what I've done and it surely wasn't downloading the DP, and that's 100%. You need new phones maybe. I'll show you when I get home later so look for it.

He's wrong, I have it on my daughters phone without a developers preview from AT&T.

Let's hope this is them showing a new face in supporting products to move away from that unfortunate expectation.

This device is under their HTC Advantage program, so that might have something to do with the increased level of support. Daniel, if you see this, HTC Advantage might be a good article topic. As I understand it, I think it pretty much guarantees that Windows 10 will definitely come to the M8. Of course HTC has also let me down in the past (HD7 not being updated to 7.8).

We want htc one m8 for Windows in Italy!

You'd be better off wishing for an W10HTCM9....
............
Which, BTW, I hope HTC is working on to be released right beside the Android M9 this year.

Good to see HTC doing better with updates

I can't believe it either...

Not seeing the Pan360 feature. I can swipe to switch between front and back camera, but, that's it.

You need to hit the four circles in the corner.

Nope, tried that. Still shows panorama. I have checked the store and everything is updated...just missing that feature it seems.

I had to go into the Store to the HTC hub to update.

Uninstalled and reinstalled and BOOM! There it is!

Hopefully this fixed the focus issue I've been having. I've had to use a different camera app for my photos.

That's 30 cm snow fall !!!

And people keep crying that HTC doesn't support thier phones. smh

I was going to say "More like Micah says they don't support their phones", but I changed my mind and decided not to say it

OMG! OMG! OMG! /squeals
He replied to me! /s Lol.

YEAAAAAAAAAAAAAAA. been waiting for this FOR EVER! MUCH more stable.

Is the camera any better with this update?

I've only taken like 10 shots with it, but already it seems much better. It will lock AF whereas before it wouldn't. It doesn't crash when you quickly attempt to view the last photo you took etc. Seems much improved.

Why cant Lumia have it when Lumia camera is going to be available for all windows phone soon!

Because it's an app made for the duo camera that only HTC uses.

Any pan 360 software for Lumia series??!!

No, you'd have to use photosynth or Lumia panorama

They added full blown manual controls!!! Just like in the lumia camera! SWEEEEEEEEEEEEEEEEET. Just change the mode to M and you see all the sliders appear.

Those weren't there before? I saw them when I looked after the update but I thought maybe I had just missed them before.

Yea, manual mode is brand new.

I literally have the same tiles arrangements ! Changin' it ! Lol

Good news for those who have bought One :P.

A friend just bought one of these. Good to see HTC supporting their phones.

I wonder do these features come to HTC 8x and 8s as well

I doubt it. HTC camera seems to depend on the duoshot hardware.

So what firmware version ATT version should have? Ic 10501 on my still (but just received it though...)

I wasn't aware there was a firmware update for Verizon HTC One phones back in December. Any news on this coming to AT&T versions? I'm currently on firmware version 10501.

There had been some random rebooting issues with the Verizon version, the update may have just been a specific fix.

AT&T sucks with updating so don't hold you breath lol.. Still waiting for Lumia Denim from those clowns. My phone(1520) is having issues and needs a firmware update, waiting on slow AT&T.

I got the update earlier today and didn't even realize panorama had been replaced. I can't find any other differences though. I love using this camera app in tandem with ProShot.

​the panorama mode is still there, it's just an option under the menu on the regular camera now.

Full manual features: https://pbs.twimg.com/media/B8ckgHNCAAAk7jo.jpg

One thing HTC has better, Panorama mode (Lumia Pano is pretty low end). Oh I guess IR too

In that case, they have nothing better

Wow !!!!! Can't believe they beat M/S out with this update while most of us are still waiting on Denim for Lumia devices

Meanwhile the 8x and 8s arw completely forgotten. F.... You HTC!

Good for when I switch to that device next month!

You can also save custom cameras and access them from that extra menu! Not to mention re-arrange the order of those.

That feature used to be available and disappeared on the last update, glad they brought it back. Love having HDR mode set as a "lens".

Can I install it on a Lumia in some way? Thanks :)

So this new feature is somewhat akin to Photosynth?

Heard about their RE portable camera? Looks pretty nifty.

Nokia always got us the best. Microsoft is screwing it's business buy selling out mixradio and Lumia camera(well everyone's gotta try this).
Hope it doesn't sell out City lens(guess, it's still with the Nokia).
But HTC, is worth appreciating.

Why would it be a bad thing to integrate these features into the base Windows Phone experience, rather than an exclusive Lumia feature? Allowing all the OEM's access to these nice apps will, hopefully, help bring more of them to our platform. For Windows Phone to really take off we need more than two phone manufacturers. Imagine if we had a WP version of the GS5 or note, or the other high end Android based phones. WP would look like a more enticing option. Right now it's really a choice between 1-2 normal sized high end phones ,based on carrier. All the Lumia phones have the same look to them and the layout is the same, too. I like that layout, but HTC brings a different flavor to the table with it's front facing speakers, which are amazing!, and dot view case. Differences like this are great.

As heard, Lumia camera is coming to all windows phone. Will HTC leave out their camera app on store for Lumia users?

Must be nice to have folders on your phone.. :)

Hey how the windows central's tile have about of 20 notifications but my tile only supports upto19...
How's this possible!???

Sweet! Nifty panorama mode. Sadly, my portrait-oriented photos still rotate when I try to Share them out via Instagram, Twitter, etc... Also, reading the comments, is there a short version answer for what Zoe does that Video Highlights doesn't do?

Awesome, will update later after work!

This runs awesome on my 1520

Even though I purchased the M8, 1st HTC I've owned, a week ago to hold me over until the release of the high-end Windows 10 devices, turns out it's the device I've been waiting for all along. The camera not besting the Lumias or other devices with similar specs isn't a concern of mine. The camera is the last feature I look at anyway; however, the photos I've taken so far have been rather impressive. I'm having a lot of fun with the M8, its camera and camera features. I REALLY hope HTC releases M9 with Windows 10. The M8 will go in the cabinet with the 1020 and all the other legacy devices. If they fail to support it I'll just move back to Lumia. No big deal.

I had no issues with the m8 camera, either. It's not as good as most Lumia cameras but it is not terrible by any means. Plus it brings the flagship hardware, unique features like front facing, powerful speakers, and the dot view case, which is pretty cool.
Windows Central Newsletter
Thank you for signing up to Windows Central. You will receive a verification email shortly.
There was a problem. Please refresh the page and try again.