HTC One M8 $150 off for the weekend, HTC cases 50% off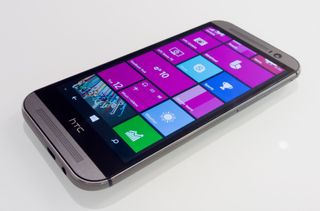 This weekend, through Monday, Feb. 16, you'll be able to save big on the the [HTC One M8]/(/htc-one-m8) directly from HTC. Sure, the HTC One M9 might be right around the corner (though we don't know if or when we'll see a Windows-powered version), but that doesn't mean the One M8 is any less of a phone than it is right now. The discount rings in at $150, which brings the 2014 HTC flagship down to $499.00. And it's available for all three carriers that offer the phone — AT&T, T-Mobile, and Verizon
In addition to the One M8 discount, HTC's also putting the HTC Re Camera on sale for the weekend, cutting it to $149.00 (from $199), as well as 50% off of HTC's cases, including the cool HTC Dot View case.
If you do go to buy, note that the discounts won't apply until after you've added the phone to your cart. Happy President's Day, Valentine's Day, or whatever else you feel like celebrating this weekend.
Source: HTC (opens in new tab)
Derek Kessler is Special Projects Manager for Mobile Nations. He's been writing about tech since 2009, has far more phones than is considered humane, still carries a torch for Palm, and got a Tesla because it was the biggest gadget he could find. You can follow him on Twitter at @derekakessler.
Why not both? *Mexican music*

La cucaracha la cucaracha...

I was going to comment, but you win.

Sé muy bien que estoy afuera, pero el dia en que me muera, sé que tendrás que llorar, llorar y llorar!

Wonder if it'll ever come to UK markets?

You mean there's no HTC one for WP on any UK carrier? That is a shame

Seems to only be the Android version. At least on their mobile site, I don't see an option for the windows version.

Click the "Looking for the HTC One (M8) for Windows?" link on the right side.

No link on the right side

the HTC for windows is not discounted. it's still priced at $650.

Read the article. Have to add to cart to see discount. Says it right in the article.

Its too bad they didn't release an international version.

Oohhh instead of $600 it's a great low price of $500!!! *sarcasm*

Compared to the $499 cost of the 830, this is a deal.

I had MSFT match B&H's price and paid $379.99 for the unlocked version (rm-985) and it runs excellently!

A 23% discount is not too shabby, down from $650

Your maths is off as it's $150 discount, not $100. I don't get the sarcasm, how is a discount a bad thing?

Who cares about this phone?
Sick and tired of OMS releasing devices just because MS paid them.
--------
Samsung ATIV S anyone? Perhaps one of the best WP devices ever released. I used to own one. Shame that Samsung felt ashamed of own it..
--------
HTC don't care about WP ecosystem anymore. Sad but true!!!

You do realized Nokia only released devices because MS paid them right? o.O

That's Samsung, HTC didn't have that problem plus I suppose you dislike manufacturers producing Windows Phone, dad really if you don't like competition. Posted via the Windows Central App for Android

Lmao. Careful. The HTC fanboys will swoop in. All 10 of them.

Well look back over the years when HTC was the only company putting out decent windows mobile phone there is a lo g history of htc/ms success the touch diamond was the best phone I owned up to that point

Yeah, I remember with my 8X on Windows 8 HTC always released the GDR updates the earliest for any phone, and that was with firmware, not just the OS. Sadly they've completely neglected 8.1. Now I'm still waiting for Denim on the 1520...

Problem is HTC haven't been in great financial health in the last few years and pumping funds into a low market share device is counter productive.
It will improve :)

anti HTC speech in 3 2 1 & go!!

Hahaha--NO. Now that we know a Windows phone with an 810 CPU is on the way, nothing out there is worth buying. I can wait. My Lumia 1020 is fine :)

Uh... all phones are worth buying. It's a matter of if it's the right phone at the right price for you. Just because the new phone that will someday be available has a newer CPU doesn't mean that this phone at this price isn't the right phone for somebody else.

Indeed. Just bought a Note 3 with Note 4 being available. Why? Right price, right specs. Posted via the Windows Central App for Android

Same with my 1520, phone processors have come a long way. The SD 800 with be future proof for at least a couple more years. The 801 still even uses the same GPU as the 800.

I'd snap one up if'n I had the ducket$ right now

I've always been a fan of HTC phones, but this just seems a bit overpriced. I would only consider it if on Verizon and couldn't find an icon for much less money. Fortunately made my icon usable on T-Mobile, so no need to plunk down half a grand on a phone that probably won't get much love in the future.

Overpriced? The specs easily compares to any other flagship and it's the same price with the discount as the 830, now that phone is overpriced.

And the 930 is $100 less.

Dude this has the exact same specs as the Android version. Would you say that one is overpriced too?

I don't know what the Android market prices are like, but you can get a 930 for around $400.

Just picked one up and love it!

I'd wait for MWC. Having said that, I don't think we will see much Windows Phone launch before W10.

Got my Xbox dot view case for free :). Twas a promotion I believe thru the end of January.

Does not apply to the Windows version on the T-Mobile site. Just tried to order one. :(

HTC stands for high tech computers.

Hmm, just today I finally stopped going back and forth between the M8 One for Widnows and the Lumia 1520.3. I went with the 1520.3 due to the camera and it being cheaper since I buy phones off contract so I hope I don't end up with buyer's remorse.

Asher . although Jonathan `s story is nice... on friday I bought a new Audi Quattro since I been bringin in $4718 this - five weeks past and-even more than, ten thousand lass month . it's actualy the most rewarding I have ever done . I began this 7-months ago and pretty much straight away started making minimum $78, per-hour . try here ........... ➜➜➜➜➜ www.netjob70.com
Windows Central Newsletter
Get the best of Windows Central in in your inbox, every day!
Thank you for signing up to Windows Central. You will receive a verification email shortly.
There was a problem. Please refresh the page and try again.