Huawei announce the Ascend W2 Windows Phone - UMTS shipping right away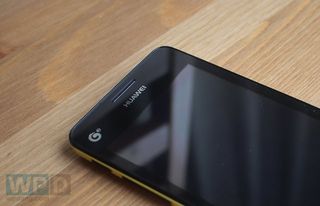 Huawei have made the Ascend W2 UMTS version official - giving consumers in the smartphone market yet another option when deciding on which smartphone to purchase. According to the below press release the device should be available now in China (but has already been listed at retailers) - with roll outs later this month to Russia and the Netherlands, and further markets to follow in due course.
Pricing, as far as we know at this stage, will be carrier dependent, but I'm pretty sure the device will be priced attractively. Sporting a 4.3 IPS WVGA LCD display, the specs that we know of already certainly are not up to par with the top of the line Nokia Lumia handsets, but Huawei are clearly going to try and tempt consumers in other ways - most likely pricing.
Here's a quick look at the device back at IFA:
I'm all for a bit of competition, but have Nokia pretty much got the Windows Phone market sown up? Sound off in the comments with your thoughts.
Press Release
Shenzhen, China, November 1, 2013: Huawei, a leading global information and communications technology (ICT) solutions provider, today unveiled HUAWEI Ascend W2, a new Windows Phone 8 smartphone. HUAWEI Ascend W2 brings a burst of color to the smartphone experience, offering a range of vibrant finishes including black, blue, yellow, and red. Featuring a Qualcomm Snapdragon™ dual-core 1.4GHz processor, the new Windows Phone offers all the power needed for talking, texting, gaming, and browsing.
"Building on the popularity of our first Windows Phone 8 device, HUAWEI Ascend W1, we created HUAWEI Ascend W2 so value-savvy people don't have to compromise on great technology," said Kevin Ho, President of Handset Product Line, Huawei Consumer Business Group. "HUAWEI Ascend W2 provides an enhanced visual experience and impressive stand-by time, and can be customized inside and out with splashes of color."
"We're excited to build on our partnership with Huawei to launch another unique handset that will delight customers around the globe," said Terry Myerson, Executive Vice President of Operating Systems Group, Microsoft. "HUAWEI Ascend W2 will offer the consistent, high-quality Windows Phone experience in a colorful new form factor and at a great price."
HUAWEI Ascend W2 comes equipped with a 4.3-inch IPS WVGA LCD screen, providing a brighter and more vivid display. For incredible responsiveness even when wearing gloves, the display also features TFT Magic Touch technology. The new Windows Phone includes 720P video recording and playback, perfect for watching videos and capturing special moments.
Powered by Windows Phone 8, HUAWEI Ascend W2 offers the most personal smartphone experience with Live Tiles that keep you closest to the people and things that matter most to you. The Windows Phone Store offers more than 175,000 apps, including Pandora, Hulu Plus, Tumblr and Halo: Spartan Assault. More than 20 colored homescreen themes are available for HUAWEI Ascend W2 to complement or contrast with the handset's exterior, while matching color choices are also offered across the phone's keyboard backlights and UI themes.
As a Windows Phone, HUAWEI Ascend W2 is cloud connected, so content can flow fluidly from screen to screen. Photos, Office documents, and more on HUAWEI Ascend W2 can be automatically synced to 7GB of free SkyDrive cloud storage and entertainment content like music and videos, spans phone, PC, tablet, and console can be shared with Xbox Music and Xbox Live.
The HUAWEI Ascend W2 TD version became available in China from August and the HUAWEI Ascend W2 UMTS version began shipping to China from October 2013. HUAWEI Ascend W2 will become available in Russia and the Netherlands from November, with other markets to follow.
I really hope some more high end options come soon from other OEM with good price points.

Or even Nokia. The only new high end device they announced this holiday season is the 1520 which at 6 inches won't be for everyone. Other than that, all their latest phones still cap out at the same specs as last years 920.

I'm pretty sure the 1020 has better specs than the 920, unless you don't consider the camera, extra storage, and additional RAM to be specs...

The giant camera in the back of the 1020 is a deal breaker for a lot of people

I don't understand what you mean by that. If anything, the 41 Megapixel sensor is something that will attract people in to buying the 1020.
If you are referring to the camera bump then fear not because it really doesn't stick out that much and is quite attractive to be honest.

I know a few people who took one look at it and said "too big, too ugly". They almost never use their phone as a camera, so they don't care if it has 1 or 1000 megapixels :P I'm just put off by only 32GB and no microSD :\

The L1020 is a niche phone, based on the L920. It does not have extra storage (apart from an exclusive version for one carrier), the camera is as said, a deal breaker for many who neither like the design nor need 41mp, and the 2GB of RAM don't have any effect on the phone's performance. They are there for the camera and even so it appears they don't do much good with the camera still being slower than the 920. The L1020 is a great phone, don't get me wrong. But it's a niche phone and not at all a justifiable purchase for someone with a 920 that doesn't need 41mp.

I was just commenting that the 1020 does not have the same specs as the 920 as bro stated. Whether it's "niche" or not a worthy upgrade for you is irrelevant.

The only different spec is the RAM. Ok, you can consider the camera too.
Are they "better"? Subjective. They are higher for sure. +1GB and + 32,3mp. But that doesn't mean the L1020 is a better phone. Considering the overall user experience (functionalities, pleasantness to the touch etc), I would even say it isn't. The only thing it does better but even then, slower, than the L920, is taking awesome photos.
It's a different incarnation, aimed at a niche of the market. Not at all a successor to the L920 which was what Aaron M was referring to.

A couple of things I will point out is that the 1020 is much lighter and thinner than the 920 (not counting the volcano) The screen is much better as well with the advanced amoled kicking the 920's @$$. L1020 is definitely an advanced evolution of design. I have both and the 1020 is a much better in the hand as well imvho....

The 1020 is NOT a niche phone. Very few people will consider its very small hump a deal breaker. I have shown mine to probably almost 100 people and not one person gave a crap about the hump after seeing the quality of the photos and reading "41 megapixela" on the back. Anyone that enjoyes taking pics with their phone will love the 1020.

I gotta say, after seeing pictures of it before launch and then seeing it in person when it came out, I was surprised how small the camera hump was. It's larger in diameter than the 925 hump, but whenholding or using it really wasn't noticeable. I think it might have been a mistake to make it stand out so much by being black... looks a lot worse than it is.

I actually had bought the 920 recently and changed it in for the 1020 and the MS Store free offer. I am very glad that I did since taking pictures matters to me. I also see it as more future-proof than the 920 with the extra RAM.

I don't want to get caught up in nitpicking about semantics. But yes, I stick by my assertion. Essentially all the high end lumias, other than 1520, have the same specs as last years 920. CPU, graphics, screen resolution, etc... Now don't get me wrong, I still consider the 920 a great phone and I think people are fooled into the silly spec race. But when consumers shop for new phones this holiday season, are they going to buy a the dual core 720p lumias over the quad core 1080p androids? Maybe, maybe not. If history has taught me something though, its that consumers do buy into the spec race. Edit: I didn't address your part about the camera. The 1020 certainly does set itself a part. But my worry about replying on camera as your main selling point is that the cameras in all the high end phones are getting pretty damn good. Basically I think its getting to the point where people have a hard time figuring out which phone really has the best camera because they are all so good. If anything, the 1020 may be worse for some because of the slower shutter speed.

Well, using your own argument, the camera boasts the highest megapixel count by far so wouldn't that help in the "specs race" you talk about? I would offer up that the average moron could appreciate what that means more than quad core or 1080p.

Ah maybe your right. Look, all I'm asking if that Nokia bring the same new CPU, RAM, and screen specs to a more mainstream sized phone. And hopefully in time for this holiday shopping season. But they looks less and less likely.

Fair enough. I have my own wish list also. Nokia came pretty close for me with the 1020, but I am missing a keyboard, stylus support, built-in wireless charging, wireless Zune-like synch, water resistance, and traffic reroute in the nav. I guess we can't have it all...

Nokia will definitely launch a more up to date flagship device with a 4.5/5 inch screen the only question is when, and, as you said, it very likely won't be this year.

I didn't know 32GB was greater than 32GB.

There is a 64GB model available, smart ass.

Nokia releases a new phone every full moon. No need yo worry there

Just loving this banter, huawei article = Nokia spec debate. But yes more high end from all OEMs would be nice.

I've never liked the looks of huawei windows phone. Or eve their android phones. Bur what we helps windows phone because more popular im all for.

A "4.3 IPS WVGA LCD display?" What unit is this in? Feet? ;)

Besides Nokia and HTC, I'm actually intrigued by what Huawei flagship might be. if they include all high end specs (1080p/SD800/10mp+(+OIS) and include small things capacitive button LEDS and a unique design that caters to WP design aesthetics, I would truly consider buying one.

The more the better for the platform, a welcomed addition

I'm glad that they've got rid of that hideous camera hump that they had on the back of the W1.

We could do with more OEM's producing Windows Phones. Having just Nokia dominating the market and a few offerings from HTC, Samsung and now Huawei isn't enough for the platform to be really successful.

The platform won't be successful until the OS provides feature parity with the competition and something special on top. Hopefully, that will come with Blue, but I had that same hope before WP8 was released.

As I've stated before to someone who said something similar that simply is not true. If it were then blackberry would still be in 3rd place, no one is going into a phone store looking for a phone with a file explorer.

Fine. Let me change my initial remark to "The platform won't stand a chance until the OS provides feature parity with the competition and something special on top." Your remark about a file explorer is not only false, but over-simplifying the situation. When I say "feature parity" it means more than just one feature. How about a fingerprint start button? Do you think people don't buy the new iPhone for that, either? I would bet that plenty of people are excited about that feature and go to the store just to check it out. I could also extend "feature" to mean apps. There are plenty of apps that don't exist on WP currently.

Just hope this one has more on board storage. The W1 only had 4GB. The battery on the W1 would last for days! More Windows phones from more companies is such a good thing regardless of whether or not we like said phone.

I must say it's a beautiful phone. It's good to have nice Windows Phone offerings like these.

Guys guys talk something about, Huawei, u forgot this is linked to Huawei new spec release , haha i love nokia making people forget all the things

Living in the US, I have never seen a Huawei phone, in use or for sale. I was shocked the other day to read that they are the 3rd largest smartphone manufacturer in the world based on 2013Q3 sales (and even more shocked that Lenovo was #4 - I had no idea they even made phones). So I would think it can only be a good thing to have them come out with a new WP model...no?

I hope Nokia does not have the market sewn up. There is no reason that should be the case and I welcome new entrants into the market. I look at the market like the car dealers. They tend to all end up on the same road in a lot of places. I'd be happy if people decide to get a new phone and go and see a big block of Windows Phone options to pick from

Competition is competition. Even if Nokia is the market leader, Huawei's devices may cause them to innovate a bit more in their low end devices. I mean, while not really a feature, the whole thing with the Back , Windows and Search buttons taking on the theme color is kinda cool.
Windows Central Newsletter
Thank you for signing up to Windows Central. You will receive a verification email shortly.
There was a problem. Please refresh the page and try again.