Huawei Matebook pre-orders begin today at Microsoft Store; available on July 11 [Update: Pre-orders are live]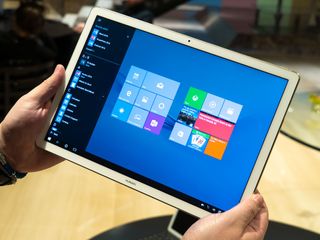 Update: Pre-orders for the Huawei Matebook are now live on the Microsoft Store site (opens in new tab):
Huawei has confirmed that its previously announced Windows 10 tablet, the Matebook, will go on sale in the U.S. and Canada on July 11. Pre-orders for the tablet are scheduled to begin today at the Microsoft Store website (opens in new tab) and its retail stores. It will also be available via Amazon and Newegg in mid-July.
The Huawei Matebook was first announced in February at the Mobile World Congress. The company says it will sell the 12-inch 2160x1440 tablet with the starting price of $699. It only weighs 640 grams and is 6.9 mm thick.
Here are the configurations and prices for the Huawei Matebook:
Intel Core m3, with 4GB of RAM and 128GB of internal storage - $699 in U.S.; $909 CAD
Intel Core m5, with 4GB of RAM and 128GB of internal storage - $849 in U.S.; $1,099 CAD
Intel Core m5, with 8GB of RAM and 256GB of internal storage - $999 in U.S; $1,299 CAD
Intel Core m5, with 8GB of RAM and 512GB of internal storage - $1,199 in U.S; $1,599 CAD
Intel Core m7, with 8GB of RAM and 256GB of internal storage - $1,399 in U.S.; $1,819 CAD
Intel Core m7, with 8GB of RAM and 512GB of internal storage - $1,599 in U.S.; $2,079 CAD
In addition, Huawei will sell three official accessories for the Matebook:
Huawei MateBook Portfolio Keyboard features best-in-class key travel and is backlit for easier use in the dark - $129 in U.S.; $169 CAD
Huawei MatePen has a built-in laser pointer and can detect 2048 different levels of writing pressure, great for Windows Ink. - $59 in U.S.; $79 CAD
Huawei MateDock expands the MateBook's capabilities with two USB 3.0 ports, an Ethernet, an HDMI, and a VGA port. - $89 in U.S.; $109 CAD
Stay tuned as Windows Central will report on today's press event that Huawei is hosting in New York City on the Matebook launch.
See at Microsoft (opens in new tab)
Windows Central Newsletter
Get the best of Windows Central in in your inbox, every day!
Thanks, I use moisturizer.

I think a even higher resolution screen, kickstand, Kaby Lake CPU and 8GB RAM in the default configuration look sweet as well :) Many people already posted about the Eve Pyramid Flipper so just check it out later :)

No, I will not. You have completely turned me off from your product. Your astroturfing has made your company look like a complete joke. The sad thing is this site recently gave these clowns an indepth interview, and now there are here flooding this site with spam.

Re: nohone,
Astroturfing? Secret code for club members only?
Just curious.
Best Wishes.

A commonly used word, around since the mid 80s, to describe someone who is secretly paid by a company to pretend to create a grassroots movement to support a cause, product, etc. https://en.wikipedia.org/wiki/Astroturfing

Callaham wrote the article, how is that astroturfing? You were alive in the 80's!?

Not the author of the article, it is the people here who are spamming this site to buy a product other than the one the article is about. Those are the people astroturfing.

What the?! damn I feel old now.... :)

It's SPAM. SPAM. A part of the internet since its inception. Don't tolerate it.

I was just gonna say that and saw your comment.

At first glance I thought: here we go again. yet another cheap manufacturer making cheap windows tablets. Doomed to fail just like all the rest. BUT THOSE SPECS! This thing is a real machine! Price is a bit high for my wallet, but man, that is a sweet little device!

Um, from when Huawei is "cheap manufacturer"? You know, it's competitor to Samsung.

Looks good but where are the reviews of this thing? Posted via the Windows Central App for Android

That thing is not even out yet. And even worse - Intel will release KL this year if we can trust the rumors and already announced devices with Kaby Lake CPUs! So it's basically Huawei throwing out their old CPUs in a cheaper package. also you don't have ANYTHING with the base-price. No Keyboard, no Pen just the tablet that doesn't even have a kickstand. If you want to know what it looks like when a community designs a device with a manufacturer then take a peek at the Eve Pyramid Flipper that has been mentioned here quite a bunch of times. Kaby Lake CPU, a screen better than the Matebook and 8 GB ram in the default config with a teased price < 1000$! And no "999$"-pricetag as well ;) You can make your voice heard too in the http://eve.community!

Yet another Eve marketing employee. You say that the Huawei product hasn't been released yet, but we should consider the Eve Parallelogram Upright. All we have from Eve is a picture of a cardboard box, and that is better than a device we can see here in pictures? When you actually have a product to sell to me, then we can talk. Actually, no, we will not talk. You using this site to try to sell to me and spamming with multiple accounts has completely turned my off from your product. I will buy from a reputatable company.

Ikirin you are making me hate your product and company

Not that it's a bad price, but being Huawei I'm surprised it's not cheaper. And that name just sounds silly.

Its a great price. It is at least priced where I think these things are worth.

Is this being released in UK/Europe?

Sweet jesus the astroturfing.

Hey, does anyone have any idea who else is making a tablet that could be as good or better with input form the community? Jeez. It's crazy. Maybe if Eve could put a product to market they wouldn't have to #soon everyone...

Whats the deal with all these moronic Eve Flipper promo posts? Is this what we can expect from now on whenever a device is discussed here? Especially when the device is essentially vapourware it amounts to sabotage, if your device is so superior why not give us a live demo? Prats.

It's more real than Surface Phone though?

Are you for real? Spambot?

He is real, unlike Surface Phone.

Like in UNreal? Are you vhyr?

More useless comments from a useless troll commentor.

Oh great now vhyr is justifying clear and present SPAM when even someone of his low posting standards should be well above that threshold. Stop typing words and go back to your miserable job at the DMV.

How many accounts that dude has created to spam about his fictive device seriously? Please delete those posts and ban the accounts.

Guys they are legit, and the device is real. http://eve-tech.com/

Doesnt mean we have to hear about it every 6 seconds....

You mean that someone put up a web site with a picture of a brown cardboard box and therefore they are "legit" and "real?" Wow, I never thought of that! A web site means that they have not lied on that site (because we know everything on the internet is absolutely 100% true). And can you provide evidence that you have used the devices from both Eve and Huawei extensively to know that they are "legit" and "real?" I have heard that they are not legit and are not real. I have no evidence to back that up other than it being written on the internet, so you cannot refute those truths because they are on a web site. Edit: How much do I dislike your company's business practices? You actually made me upvote theefman and LMM. That is how much.

I wouldnt buy that Eve crap if it was $1 and came with a $5 rebate. Spamming POS.

Heh, LMM complaining about spamming when all he does is troll about Windows Phone... that's rich man!

The Eve Pyramid flipper may well be the second coming. But we don't need to hear about it 50 times on an article that isn't related to it. If you have something new to contribute to the conversation do it, but please stop the spamming.

The bezel isn't bad, either.

The key question - does the MatePen work with MS Surface Pro 3/4 convertibles?

I think the technology used is Wacom so, no, it wouldn't work.

Random comment on the article image ---- but Geez! I miss the look of the hamburger menu all apps list. The Feedback idea is great, but just because 1500 users may have upvoted "bring the full screen" start menu back, doesn't mean that another 1,500 users weren't happy with the original all apps design. I personally hate the Redstone start menu & all apps list.

Actually, I would say PSVR is the first to embrace VR on the console. It will be available in October this year.
We know the Xbox Scorpio will support VR in the future, but there is no set release yet. We have no idea if Nintendo is going to do VR as NX is still a mystery. Hopefully, the PS4 experience won't be subpar because that might jeopardize the future of VR. PCs technically are first , but it's mostly for a niche market due to current costs. If MS gets VR and AR production ready for business, then there would even be more market penetration.

Actually, I posted it under the 'Damn,...PS4...' article on the W10 app, BUT I think it glitch because when I went to the article on the web browser it links to an external article. Also, I originally tried to post my comment on the old 8.1 app but it wouldn't let me (gave an error on permissions), so I tried the W10 version which oddly worked but some how ended up here. I also noticed that in the W10 app, it states there are 0 comments for the VR article even when there are a few comments available in the pivot.

Wrong article. Anyway, best is to skip current gen. Wait a year or so.

I agree that the product isn't finished and am sorry if this felt like spam. We aren't employees from Eve and don't earn anything from them. We were just trying to raise awareness for a product that we feel is better.

Sorry, not buying that you are not Eve employees. A bunch of spam comments all saying the same thing, all of you showing up at the same exact time when we had never saw any comment about Eve except in the interview a few days back, all making wild claims, all acting like Apple fanboys who don't need to actually see the product but have decided it is the best thing ever, all refusing to answer simple questions. And now when you realize that you may have over played your hand, angering people rather then getting the to buy your product, you are going on damage control. And the thing is, right around the time you made your first post (looks like you had one deleted), it was complete silence from all the other astroturfers. So, if you want to try to repair the damage, start answering some questions. First off, how much time have you spent using the Eve Pyramid? How much time have you spent with the Huawei device? Edit: Oh, and if you refuse to respond to this (like all the other astroturfers) then I will consider that you are once again you are an employee. Oh, and why is it you are apologizing for the spam, when you were never part of the spamming until now? And when you write "We aren't employees" how can you speak for everyone not being an employee unless you personally know all the other people who have spammed this site and know they are not employees? Edit 2: One other thing. You say that you are part of the Eve community. One of the supposed draws towards Eve is because it is collectively designed by the community. We have see how you, the community, act here. Does that mean the design of the Eve is a horribly designed as the community acts?

Even if you aren't employees, you're idiots. Anyone who thinks what you are doing benefits a product or company has no business trying to promote anything. All you are doing is driving off potential customers by making Eve look like a shady, unscrupulous company that resorts to spam and astroturfing to advertise their stuff. If I found out people were doing that with a product I sold I would issue an immediate apology and cut ties with any "community" members who participated in this crap immediately.

Wow, so much hate... And for what? For tryin to tell you that this is a waste of money? That 7th generation of intel is coming out and that Eve will have that in a few months? But you call us idiots? Bravo. And one more thing. We aren't Eve employees' but might as well be. You know why? Because Eve called us to tell them what we want them to make. And we did. And we feel a part of it in the community. And we, IDIOTS, will soon make reviews of it. And say if it's good or not. We never offended anyone and if we did, I apologise. It was my fault. I told them that some corporation is selling to people an overpriced product that will be even outdated in a month or so. So they, my companions and friends rushed in to inform you not to make a mistake... You know what? You were right. I am an idiot. Because I believe in good faith and in good people. So I thank you. I see you now as you are. Lord M&M

And you are giving out a lot of hate towards us for you deciding us what we spend our money on. If we decide to buy the Huawei, who the hell are you to decide for me what I spend my money on? Here you are "apologising" for your behavior, and then you repeat that attitude in this comment, not learning from your mistakes as you would have us believe. I told your fellow community member/employee that you can start by answering questions. But as your fellow community member/employee did, you will refuse to. You will just ignore it and continue on with the spam. I will repeat the first question for you, in case you missed it: How much time have you spent using the Eve Pyramid? How much time have you spent with the Huawei device?

With Huawei, none. With Eve, since last year when it started. We are with Eve pyramid flipper all the time. Since the first ideas. Then sketches. Then renders. Then spec decisions. And so on and on... Finally in the making. And soon some of us will receive units for testing... You buy that Huawei, I ain't pulling your hand... But imagine if someone has told you in buona fede this... Hey! Tell me what you want. Tell me what you need. We will do our best to make it for you. We will tell you how much each component costs. What it's possible. What are the problems. We will tell you EVERYTHING! Can you imagine that? I can't. I don't need to. Im living it now! Can you believe that =D A manufacturer that asks me, ME the consumer, what I want! Eve-tech has done that. In good faith. And so, we have the Eve pyramid flipper. Since the beginning. And it's ready to be born. You can understand our excitement? Remember, good is returned with good. We aren't deciding in your name :) We are trying to give back :)

You are looking at sketches, looking at a spec sheet, hearing what is promised to you. You have not held a Eve device in your hands. You have not held a Huawei device in your hands. You cannot make any determination as to what is the better device. And you certianly cannot go into a forum like this and spam all of us yelling and screaming about how the Huawei device sucks, the Eve product is the best, and there is not a device on the market that we can make a true valuation of the device - from either company. I cannot go to a store and hold a Eve in my hands, judge the build quality, get the feeling of the device in my hands. Hell, all I know of the device is from the web site that you or one of your fellow spammers told us about is that there is a cardboard box. I cannot look to see how big/small the bezel is, the curves, the designs. Everything right now is on paper, and when they get to the point of actual manufacturing when they find that something will not work right and they need to change the design, we will never know. At least with this Huawei device we know what it is going to be like. With Eve, we know nothing about it other than what is on paper, and by your own admission that it is not complete and is a community designed product, it is not settled for us to know what it is like. You are spamming us with made up info, info that you hope describes the device, but have no clue if it is true. The company is not showing us a device, they have not given us finalized specs, all of it is based around hopes and wishes. And you don't appreciate you and your little friends attacking us because we do buy into the promises of a company that has no track record, and when they were given an interview here used that interview to attack the to be competitors.

"Can you imagine that? I can't. I don't need to. Im living it now! Can you believe that =D A manufacturer that asks me, ME the consumer, what I want! Eve-tech has done that. In good faith. And so, we have the Eve pyramid flipper." Sounds like something right from Marketing 101 text books. You are not doing much to convince me that you are not an Eve salesperson.

Well, you can either trust me or not. And there is really no need to call me a liar. Im simply fed up with the products that I get constantly disappointed with. At least now I have a chance to get what I need and like. What else to say? We can ping pong like this or you can simply check the facts by visiting Eve Community. It's a few clicks away. Or you can call me a liar again, it's your choice :) Either way, I salute you. Live long and prosper! :) EDIT: You can find me by the name there at the community, I am Ervin.

Reading this it feels like you're on one of those wired shopping channel DVD home fitness adverts and also maybe in religious sect marketing team

Hold your wallets, everyone! Kaby Lake is coming out soon and it will have a 1-2% performance increase over the Skylake crap these other companies are trying to sell you right now! Those evil corporations, selling current products with the current generation of processors. Don't they know they should all pull their products from the market and offer nothing until Kaby Lake comes out? Eve Flipoff is going to have a Kaby Lake CPU. Whooptie freaking doo. You know what else will use Kaby Lake? Every other device that comes out once Intel releases their new CPUs to OEMs. But I won't be buying one, oh no. I won't support a greedy company selling me an overpriced Kaby Lake device when Cannonlake will be out in just a few more months!

Eh, for $1,199 they give you an m5, 8gb, 512gb. I can get a SP4 with i5, 8gb, 256gb for the same price. I'd rather lose the 256gb of SSD (I can add a microSD later anyway) and get the i5.

Plus the kickstand and the pen both come with the Surface Pro 4. For no extra cost.

Huawei - also well known for their involvement with spying.

So is the US and every other country. What is your point

It looks very nice, but I still think the SP4 is a better deal, especially now that it's on sale. You get the pen included, and IMO the kickstand is MUCH better than that foldable cover. With the Huawei you are losing screen size, screen resolution and going from windows pro to windows home. Plus I'm not sure which pen technology it uses, is it wacom aes? Still, the huawei m3 is tempting with student discount, but I can't stand when you can't customize specs. Would it really cost them that much productivity in the manufacturing line to be able to choose what size hard drive I want regardless of cpu/ram??!?!? How do you guys think the m3/4gb will perform. I love my SP4, I have the core i5, but it still chokes on a lot of stuff. I used Atom procs for a long time, but don't think I could ever go back to that slowness. I wasn't sure which end of the spectrum the M procs fell towards.

From looking at some synthetic benchmarks recently I think the m Series is almost exactly one notch lower than the i Series. So an m7 is roughly on par with an i5, an m5 roughly with an i3 (and an m3 is slower, but faster than Atom). And when I say "roughly" I mean within 5%, higher or lower. If you're only running 1-2 UWP apps at a time, even the Atom X7 in the Surface 3 does a good job, and that's worse than an m3. I think the SSD and RAM are frankly bigger bottlenecks than the CPU (e.g. if it's a PCI-E SSD vs SATA vs eMMC, both amount and speed of RAM, etc.). I think the m3 Huawei is a great value and could put the non-Pro Surface 3 in a tigher spot (maybe why it's on sale right now), but if slowness bothers you even on your i5 SP4 you'd probably want the m5 or m7.

WC can you PLEASE blacklist anyone who shares an IP address with these Flipper cons? They're making a mockery of your productive ecosystem.

$699 sounds like a great deal but actually works out the same price as the SP4 m3. There's no pen included and you get W10 Home instead of Pro. So basically you are choosing between: - Matebook: more compact lighter device but smaller lower-res screen with only 1 USB Type-C port and W10 Home - SP4: slightly heavier and larger dimensions but larger higher-res display, a lot more ports and W10 Pro Matebook should be cheaper. It's only a good deal if you don't need W10 Home and don't need the pen. If you can wait, the Asus Transformer 3 is much better with Kaby Lake, Thunderbolt and USB 3.1 Gen2 support (although I think the Matebook looks better)
Windows Central Newsletter
Thank you for signing up to Windows Central. You will receive a verification email shortly.
There was a problem. Please refresh the page and try again.