I Am Fish officially swims onto Xbox Game Pass for consoles and PC on Sept. 16
I Am Fish tales the story of four cruelly separated friends on a long journey to find each other again — but also you're fish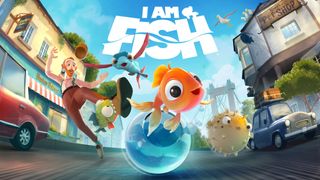 (Image credit: Curve Digital | Bossa Studios)
What you need to know
I Am Fish is a physics-based platformer from Bossa Studios, the creators of Surgeon Simulator and I Am Bread.
The game is officially heading to Xbox, PC, and Xbox Game Pass on Sept. 16, 2021, and has gained a new trailer.
I Am Fish follows the adventure of four separated fish friends that are attempting to reunite at the ocean.
The perilous journey takes players across a wide range of environments and modes of transportation.
As we enter Gamescom 2021, Curve Digital and Bossa Studios are releasing a slick new trailer for their upcoming very-serious-platformer I Am Fish. The physics-based adventure from the creators of Surgeon Simulator and I Am Bread is officially releasing on Sept. 16, 2021 for PC, Xbox Series X, Xbox Series S, and Xbox One, with an additional surprise: I Am Fish is launching into Xbox Game Pass for both consoles and PC.
I Am Fish tells the tale of four fishy friends that were cruelly separated from their pet store home. Each of the four fishes needs to traverse a wide variety of environments and obstacles in order to be reunited with their scaly family in the ocean, and the methods they use to do so aren't exactly traditional for a fish. Swim, roll, jump, and even fly your way to success and a new home in I Am Fish, which combines Bossa Studios' expertise at quirky physics with new custom water rendering that looks especially great on Xbox Series X|S.
The list of best Xbox Game Pass games continues to grow at an alarming rate with the release of new titles (like Psychonauts 2), so I Am Fish has some tough competition. If you're excited for I Am Fish, you can wishlist it on Steam or see it on the Microsoft Store right now, or simply wait until Sept. 16 for I Am Fish to release on Xbox, PC, and Xbox Game Pass. I Am Fish will cost $20 when it releases.
You can check out more images of I Am Fish below.
Image 1 of 6
Back to the ocean
(opens in new tab)
Reunite with your friends

I Am Fish follows four fish friends trying to reunite with each other in the ocean, but the journey there is filled with shenanigans. As fish, you must swim, ride, jump, and even fly to get to your destination. Coming to Xbox and PC, I Am Fish launches into Xbox Game Pass.