#IDARB launches for Windows 10 with cross-platform multiplayer with Xbox One version [Update]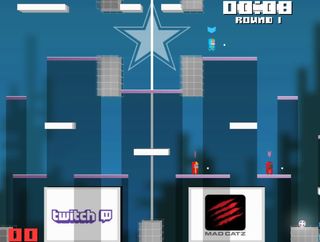 Update: It looks like the store listing for #IDARB may have been posted a bit early. Currently the developers are looking for players to help test, particularly the cross-play with Xbox One gamers.
Windows 10 PC gamers can now download and play their own version of #IDARB, the 8-player eSport jetpack arena ball game from developer Other Ocean that was released for the Xbox One in 2015. Windows 10 gamers will be able to play against Xbox One players online thanks to the game's cross-platform multiplayer support.
The game does require Windows 10 users have an Xbox Live account to play, and it also requires a Xbox compatible controller. Here's the quick description:
Thanks to Lazario for the tip!
It says that the game is available for phones. It's not out yet, but will we be able to play it with Continuum when it comes out? We could plug in an Xbox controller and play with our phones. That would be awesome! :)

where says phones? on store?

https://imgur.com/hoixrTa

at the moment there's only PC support..no phones

Does that mean IDARB is free if we already have it on Xbox One?

I hope so, that would be the only way i'm playing on the PC

IDARB is sooo much fun, it is ridiculous ...

"#IDARB is currently not available".

Same here. Getting seriously sick of this.

I liked IDARB, but the inability to search for team matchmaking (more than head to head) killed it for me.

Yeah, I find that to be a pretty shocking omission in this day and age. It sucks being limited to the number of people on your couch at the time for your team.

Fantastic to see cross platform play. We are entering the future.

Cough... FFXI cough.. PS2, PS3, X360, PC crossplay cough...

Game sucked tho. * caugh * needed a pull, a rebuild and remake and a relaunch to work and be decent *caugh* Posted from Windows Central for Windows 10

I going #IDARB to be great--a lot more fun and original than Rocket League; it deserved as much recognition.

Hah, Feb 25th event is leaking before it is supposed to. Cross-buy for all games, here we come!

If they ever resolve how matchmaking works, they'd have a solid game. Right now, it's basically couch co-op only if you want to have fun with it.

This was what put me off playing it - Even though it was free

YES! This game is awesome! =D

Dang i know the devs ! Posted from Windows Central for Windows 10

The Windows Store is growing pretty quickly.

If crossplay means I don't have to buy it twice just to play with my friends on PC, I'm happy.
Windows Central Newsletter
Get the best of Windows Central in in your inbox, every day!
Thank you for signing up to Windows Central. You will receive a verification email shortly.
There was a problem. Please refresh the page and try again.