#IDARB, Brothers and Sniper Elite V2 for Xbox will be free to download in February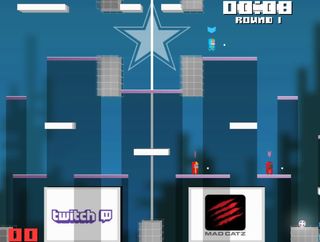 Microsoft will offer its Xbox Live Gold subscribers a chance to download #IDARB for the Xbox One for free during the month of February. Xbox 360 owners can download Brothers: A Tale of Two Sons and Sniper Elite 2 for free next month as well as part of the Games for Gold program.
Also known as It Draws a Red Box, #IDARB will be making its Xbox One debut in February as well and will be free for Xbox Live Gold members the entire month. The game, with retro-style graphics, will be a mashup of different game genres, including sports, platforming and fighting. The game will be available for $14.99 for non-Gold users. Microsoft says:
Make sure to check out our recent interview with Other Ocean game designer Mike Mika on the subject of #IDARB.
The fantasy-themed game Brothers: A Tale of Two Sons, will be free for Xbox 360 owners from Feb. 1-15. Developed by Starbreeze Studios, it normally costs $14.99 to download. Here's a quick description:
Finally, the Xbox 360 version of the WWII-themed third person shooter Sniper Elite V2, from developer Rebellion, will be free for Xbox Live Gold subscribers from Feb. 16-28. It's normal price is $29.99.
Source: Xbox Wire (opens in new tab)
Windows Central Newsletter
Get the best of Windows Central in in your inbox, every day!
Oh yea! More free games , that's the business.

Will they post when its available?

It's in the article. Feb 1st-15th for brothers, 16-28 for sniper, all Feb for #IDARB

I would love for them to add COD Modern Warfare 2 to Xbox One. I still love that game.

I know! Way better than both Ghosts and AW.

I'm still waiting for the day where the Xbox One's library is vast enough that GwG offers compelling titles.

Max: The curse of brotherhood and crimson dragon where both fantastic gwg. So was guacamelee.

Crimson Dragon was horrible. Deleted that mess from my HD.

Same for Strike suit zero. I didn't find flight controls better in that either.

I absolutely agree! The shit already removed from my library.

Agreed. D4 didn't appeal to me either.

If I want to play a platformer, I'll go play my Wii U. I got Guacamelee! from a Humble Bundle where I was wanting something else, so I've basically gotten it free twice and still can't find an excuse to play it. I'm tired of the love indie games get when so many that get praised highly are just platformers with a different coat of paint or a gimmicky feature.

Well unfortuneately for you, that's your opinion. Some people love them, some don't. You fit in the don't.

It's not really unfortunate for me. I just play games I like instead, which exist in a greater quantity than I can finish anyway. I'm not exactly hurting for entertainment (minus the fact that Dying Light is taking FOREVER to get here).

I pretty much agree, I did really like volgar and guacamelee. However Xbox ones indie collection is so weak it doesn't surprise me

The Xbox One Games with Gold offerings have been a odd mix of great or good games, contrasted with some pretty mediocre or bad games. Great: Dark Dreams Don't Die, Super Time Force, Max: The Curse of Brotherhood Good: Guacamelee: STCE, Halo: SA, Chariot (huge gap) ---------------------------- Mediocre: Strike Suit Zero, Crimson Dragon, Worms Battleground Bad: Volgarr All signs point to #IDARB being above the line, so that's promising. Having said that, I vehemently dislike the Games with Gold program and would favor it being completely scrapped, with the savings passed on to consumers, or adapted to provide greater choices to consumers. In it's current form, its economically irrational for all parties involved.

From what I hear, IDARB is pretty fun. And DarwinPurol - they usually become available in the early morning of PST in America

I always wanted to play Brothers

Brothers was awesome. It made me call my brother after finishing it...

Yep, always wanted to play it too. Heard nothing it good things about so I guess its time to dust off the ole 360...

I've heard it plays on the feels pretty hard.

Still doesn't beat what the psn gives people.

I'd rather less downtime.

I don't know, I'd take Dark Dreams Don't Die, Super Time Force, and Max: The Curse of Brotherhood over anything offered on PS+ for PS4 so far.

Isn't there supposed to be 2 games for Xbox One?

Yeah, I think MS is cheating.

There has traditionally been two games offered every month, but only one of them new (except for June, when it launched, in which cases both games were new, and also in August, in which case both games were new). So, it is likely that February's offerings will be 1. #IDARB and 2. D4 (carried over from January).

Really? While I will take free games, can we get some major game love for the Xbox one?

Havent really tried Brothers, probably not my type of game. As for the Elite Sniper, i may like it, although i am a spasmfest when using snipers, i could try it.
Windows Central Newsletter
Thank you for signing up to Windows Central. You will receive a verification email shortly.
There was a problem. Please refresh the page and try again.