IE11 in Windows Phone 8.1 to have InPrivate Browsing, better tab management and more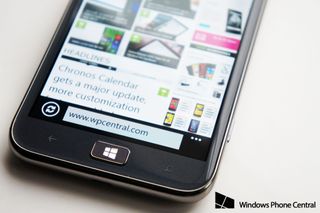 Recently we covered UnleashThePhones taking a good look at Internet Explorer 11 in the Windows Phone 8.1 SDK. The publication has now added more details, including InPrivate Browsing and the ability to have more than six tabs open at any given time. Pass the break for more information.
The InPrivate Browser feature will allow users to surf the Internet without having data stored on the Windows Phone, just like private browsing on a Windows 8 PC.
Alongside the private browsing (for all your 4chan needs), Internet Explorer 11 for Windows Phone 8.1 will also allow users to have more than 6 tabs open at once. No longer will you be required to delete tabs to make room for that seventh website you so desperately require access to.
Remaining on the topic of tabbed web browsing, IE11 can synchronise tabs with Windows 8, allowing users with multiple devices to pick up on where they left off – perfect for when browsing the web at home and then continuing when out the house on a Windows Phone.
Lastly, IE11 adds an option of opening downloaded files instead of saving them after they're stored on the device. Not a whole lot more functionality, but these are changes that address minor complaints from consumers and we certainly look forward to IE11.
Source: UnleashThePhones
Rich Edmonds is Senior Editor of PC hardware at Windows Central, covering everything related to PC components and NAS. He's been involved in technology for more than a decade and knows a thing or two about the magic inside a PC chassis. You can follow him over on Twitter at @RichEdmonds.
Porn only on Windows phone 8 - Reinvented around you We have lots of hubs in WP already, maybe it's time for PornHub :)?

Many of those use HTML5, and works fine on WP. Shh...

lol hahha works fine on my ipad :D

Eagerly Waiting For 8.1! It has LOADS to offer.. :D

Hehehe :P I knew I'd get a reply like this..

So can we download and open .zip files now?

And can we even download music files and videos as well?

yes, you can download basically every file on the internet it´ll be saved in your "others" folder

NOOOO NOT THE OTHERS FOLDER!! Posted via the WPC App for Android!

That is not true. If you try to download an exe file (for example) you will see that you can't and a message saying that that file is not supported

can we move the contents of the "others" forlder to SD card?

You can already download and open zip files.

Finally! I can start watching a video on the computer, take out my phone, and finish on the bus... All over the bus...

Windows Phone 8.1 is shaping up to be a very highly anticipated update. WP just gets better. Private browsing also means party time!!!! Of course in a strictly educational way.

Whoo, synchronized tabs between devices! Take THAT Chrome-- you hear me?! I don't need you anymore! (lol)

Yeah, this is what I've been waiting for from desktop to surface to phone and back again, such a brilliant feature glad to have it finally coming to the phone.

8.1 is shaping up to be an enormous release.

See, I appreciate the more subtle puns.

Hahaha..i am right there with u man.. ;)

Can I open new tabs in the background? That is my number one wanted feature!

Same here! Need to open tabs in background!

Not a whole a lot of changes?? Are you kidding me?! They finally added the ability to synchronize tabs open in windows 8 to your mobile device. I have been dying for this feature since day 1 of owning both windows 8 and wp8!

Me too. And vpn for tunneling through college's internet

Glad that they have in-browser tab management now. Putting tabs in multitask window as in the leadked SDK is a terrible idea.

I think that's a different function - they were never getting rid of the tab management system but in 8.1 if you'll be able to jump to unique tabs through the multitasking menu rather than seeing just the most recent tab multiple times

If you watch the video about the leaked SDK, there is no tab button in the browser. You have to hold the physical back button to close and switch tabs.

That is because they have hidden most of the new features in the leaked SDK. The back button tab management has been there since WP7.5!

Yeah people think it's an upcoming feature when it's already on their phones haha

Tabs have always been able to open in another session. The leaked video got it wrong.

Synchronise Tabs across multiple devices, FINALLY!

Id like to see better video controls for video content but this is a good edition

Tan sync is great. But I want to see how favourites show. Do they finally have Favicons? Can they sync too? And will there be "Reading List" for Windows Phone so you can sync it with Windows?

That's a good question. I wonder if there will be a reading list that will sync with Windows 8. Hope so. So, there's the reading list feature, then there's the Office Gemini reader app to open and annotate pdf, xps, etc (which I assume will be made available on Windows Phone), and then the XBox reader app for books, magazines and stuff.

private browsing was much needed :D 34 days more and you are mine ;)

34+120 if you're in india

no why should i wait , i will use dev preview ;) so 34 days for me :D , i did the same for gdr3 and then i got the final build with black firmware

But don't you lose your warranty if you install the preview?

hahha no , atleast not here in New Delhi , umm me yaha ke rule tod raha hun typing in hinglish , mene gdr3 oct me dala tha , no problems , jan me final update bhi aagya black firmware ke saath , and mene yeh sab apne dusre lumia 520 pe keya but uske screen tut gaye the mere se , me nokia care leke gaya , waha they charged me , i told them isme gdr3 dala hua hai , they said koi nahi system update he hai , it wont void ur warranty , aur mene koi custom rom bhi nahi dala tha ;) so you wont lose your waranty , yeh us me hota hoga jaha carriers ke sath lock rehte hai phones

Okk. Hopefully Nokia India jaldi release karega

its not by nokia , yeh sab microsoft ka update hai ;)

GDR3 was Microsoft, but Black was GDR3 + Nokia extras and was released by Nokia.

thats what i said above , gdr updates are by microsoft and amber/black are firmware are by nokia

34 days only..?? Do you mean to say that this will be out in a month..??

april 2-3 maybe as a dev preview

Will we able to send pr receive big size files on WP like airdrop and software data cable like idroid???

Internet explore is the best browser and now I came to know that all the jokes and memes about internet explorer was just a lie.

Oh no, they are absolutly true pre-IE9.

If you're stuck using XP or lower, they still apply.

Now I can do my research ;)

I won't be satisfied untill it is at least on par with the Windows RT version.

Any update on the back button??
UC browser has amazing back button.

Where's the back and forward buttons??? Its shit without them. Or at least add swipe gestures like windows 8.1

true , they should add these buttons , i don't think it would be that hard for MS

I want swipe gestures too.

Tracking protection lists anyone?

The icon for pinned web pages looks ugly (a snapshot of the page). I hope they fix it and make it like iOS.

You mean it should be like Windows 8.1 (shows the favicon, and also allows live tiles with notifications/feeds)... which is MUCH better than iOS.

You're right. I assumed Windows 8.1 was similar to Windows Phone and never tried it before. It's pretty cool.

I really really want this. The current preview thumbnails look so ugly on the start screen, I cant stand to pin them at all

what you can do, however: zoom in to a specific spot on the page you'd like to be displayed on the tile (like a logo or picture) and make it so, that it's on the upper left corner of your screen. now pin and your tile will show the zoomed in part from the page. unpin and retry, until satisfied...

That's worth a shot, I guess.. Thanks for the suggestion, I'll try it out

hmm maybe there will be some way for w7 users to cheat and get synced browsing also. im still way happy about this, easily one of my top 3 feature requests... and its about time i build myself a new rig anyways

Ummm what about tpl any word!?

And still no back and forward buttons...

Don't need buttons, need ability to swipe left and right like on Surface.

Hit recent for forwards, your back button for back.

Also can I add that Skype for WP8.1 is updating with file share, group video, video share, photo share and will sync across devices. Also it will bring better group management - all confirmed by "escalated support" team who I have been pestering for 2 months.

Um yeah i agree with above comments. BACK AND FORWARD BUTTONS OR SWIPE GESTURES ARE CRUCIAL. It is ridiculous that secondary features like tab syncing is being added when basic functionality is ignored.

Finally - I can start watching a video on the computer, take out my phone, and finish on the bus... All over the bus...

Wouldnt that be considered indecent exposure? haha

This is not *exactly* on topic, but I've been hearing rumours about "live lockscreen", and it's gotten me all excited...can anyone confirm or deny this for sure, and, if yes, how it's supposed to work?

The UI is still terrible. A slightly reworked Windows 8 / Windows RT interface is the way to go, not sticking with the bad UI in WP8.

You're kidding, right? Windows Phone is well thought out. Windows 8 is terrible and it feels like a slightly better than amateur attempt at Metro.

Yes, because I CLEARLY was talking about Windows 8 in general in a post about the browser. This is solely about the browser. WP8's IE user interface is the worst I've ever used in any browser. A slightly reworked version of this: http://i60.tinypic.com/2upxmhd.png is a million times better than the above depicted tabs interface.

I need full screen mode and swipe between tabs

Love the option to sync tabs with Windows 8.1! Already using this feature heavily between Windows 8.1 devices! :)

Cant be true as there is no digital butonss

How about autofill in the address bar and a forward button? Too much to ask?

May i know what about the call recording in windows phone 8.1 or allow the 3rd party apps to record on call recording....it will be useful for Business user's....

Woot! Now I won't have to resort to UC Browser when I'm, um, "massaging"... ;-)

I hope the secure on WP stays extra high when downloading files.

If u guys notice that SDK leaked videos n pics not shown tabs button, inprivate browsing, reader mode, new settings of IE11.. and if daniel rubino right then these Unleashthephone guys also hav old wp8.1 build..
all these things shows that MS frequently adding new features n lots of features r still on the way.. we can expect more features in IE11 of wp8.1 final build..
coz ms employees not that much mad to leak everything..
they still saves lots of features to show in BUILD Event in 2nd april.
Hope so... ;-)

And what is release date of developer preview...anybody know???

I would love for the streaming video in the private browsing window to keep the streamed data as it is if i lock the phone for some reason and unlock it again..it basically stops streaming and i have to load the whole thing again..would love for it to work like it does on iOS. I am sure people understand what i mean.. Don't you agree..???

Yaa i agree ...waste of data Mb when reloading videos...

not just data , I am so lost in the video if this scenario occurs by mistake , i have to seek the video till i find the right frame :(

Finally, been using UC Browser which is still great

Excellent!! Now all we need is better pinned sites (fav icon / live tile showing feed) and swipe gestures (back/forward) to match IE11 on Windows 8.1 and then we have the best mobile browsing experience :D

We already have the best mobile browsing experience. Not to mention the 'find on page' feature. WP for the win.

Swipe gestures on a mobile browser is the last thing you're going to want to have. Very annoying!.

Here's hoping we'll also see text reflow support.

+1
can't believe Microsoft didn't provide text reflow yet...

We should be able to access the tabs by way of sementic zoom. However they spell it.

Still no "single tap to top of the page" feature. Can't believe MS cannot incorporate this simple feature.

Funniest set of comments I've seen in a long time, lol.

Does anyone know the upper limit on tabs in wp8.1?

I am really hoping they bring Family Safety to 8.1. That would be so major. Anyone hear anything about this?

Yes, they are codenaming it: "Don't let anyone else in the family use your phone", aka "Pin Code". I have seen the demo, its flawless!

Would like more information on the tab syncing with Windows 8. Is this for the Win8 app version of IE11 or will it work with the desktop version as well? Will it also include syncing of favorites? Would be nice to not rely on the OneDrive (SkyDrive) workaround to syncing favorites. Overall it's good to see them finally starting to catch up with 2012...

QUESTION: will be sync with IE Metro on Windows 8/8.1 or both (IE Desktop and IE Metro) ?

Rich, rules one and two. You must be a newfag /b/tard :p

please enter this informations in the feature list: http://www.wpcentral.com/windows-phone-81-features

So there *is* a tab manager after all.

Refresh button integrated to the address bar, FINALLY!

Finally some of the stuff that's been on other Browsers since forever....

WebKit??? I sure do hate browsing the internet on my Lumia 920. Posted via the WPC App for Android!

More than 6 tabs, awyeah!

Now really want to see the call log of 8.1..hope they avoid the repetation of same contacts ...also the smart dail need to be introduced..

Still not close to UC Browser. I have high hopes on Firefox though.

Disagree, Crimson Clouds - mobile browsing is WP's biggest weakness for me, which sucks because I like using my phone for most of my fun surfing. Mobile IE has been incredibly klunky and annoying for me.
Windows Central Newsletter
Get the best of Windows Central in in your inbox, every day!
Thank you for signing up to Windows Central. You will receive a verification email shortly.
There was a problem. Please refresh the page and try again.