IGN and Nerdist apps make their debut on the Xbox One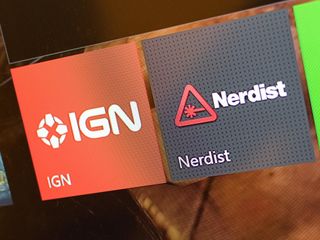 Two more media streaming apps are now available for owners of Microsoft's Xbox One console. One features content from the gaming-themed IGN website, while the other contains videos and podcasts from the Nerdist Network.
Here's what you can expect from the new IGN app:
The new Nerdist app is also available on the Xbox 360 console as well. Here's what you get:
Source: IGN, Nerdist
Windows Central Newsletter
Get the best of Windows Central in in your inbox, every day!
That's what I thought, but she disagreed.

Lol even can't pronounce it..

I see these headlines about great apps that go to Xbox one instead of windows phone :( so saddening.

Yeah hopefully when windows 10 hits

Now that I think about it, if they would somehow implement W10 into Xbox ONE and made those apps also universal with PC/tablets/phones. Devs would more likely do apps for Windows because Windows has better marketshare in consoles than in phone division. Playstation vs XBOX is like Iphone vs Android comparison (I dont mean literally by numbers). I am not sure if I missed something but W10 wont come into XBOX right?

Xbox uses win10 kernel. Correct me if im wrong anybody.

Win10 is coming to XBOX and it's part of microsoft's plan for universal apps also.

Exactly. We will get the apps because it wont make sense for them not to create for it. The Windows store will grow no matter what whether phone, Xbox or PC. If they bother to make an app at all it will be worth their while to make it universal eventually.

Thats cool, because now they cant say "low marketshare" cause millions of PC and consoles will be included. I am really curious how devs will act when W10 will oficially come out.

Nice... What about phone apps? Do we have those?? I haven't checked.

No but IGN's website is very mobile friendly. Looks and behaves like an app.

"With Shit Loads of Ads" ....indeed. But God forbid a Non Sport Game includes a Billboard and IGN start Preaching "Brimstone & Fire".

Just get addtrap. Best money, literally I can surf the web including ign, ESPN, Hulu plus without commercials. Amazing. Just plug and play.

Still ni no windows maybe it will change

IGN's Podcast Unlocked is a good show for Xbox fans.

Anyone seen the redesigned NowTv app icon. How ugly is that!!

Still waiting for Spotify, or free Xbox Music for Xbox gold members:) I have been a loyal Xbox live paying costumer for 10 years now!

Not gonna be free! Paying publishing companies like ASCAP is pricey. You can't even stream free anymore. Just let me use iy in the background and not just snapped and I'm happy. I'm only 6 years into my Live/Music combo. Go you.

Yes, it's really bad that you can't play music in the background in 2015! I don't want to have it"snapped". Ms has alot of work to do if they don't want to lose costumers' to Sony's PlayStation.

And I maybe have been a paying costumer for 10 years, but this may be the last year whit Xbox. Sony's PlayStation is just much better. Spotify,can play music in the background, alot of free games whit Psn live, good prices at the store and also the ability to chose Nordic game versions(I am Swedish) and so on

Games with Gold has gotten much better on the One, it was too new to offer good free stuff for a while and no backwards comp killed the chances on getting great games, but I like it now. I just got Rayman! On the 360 GWG is already good. We have Spotify but I haven't tried it so can't speak to its functionality. Gold members get good prices on games and while Sony sometimes has them a bit cheaper/earlier we get that with some games too. In the U.S. so don't need the Nordic. MS wont catch Sony in console sales for this generation, not sure they care near as much as Sony does either. They have and continue to sell enough to be relevant slash see some resemblance of a profit. Being number two in a two person game ain't bad, see Apple v Android in mobile.

Well Microsoft Will lose more and more costumers everyday. I have Xbox One/360, PC, Lumia 930/920. But we wo are loyal to Ms don't get much, and even less outside Us. We don't get Cortana, Nordic Games in the store, Spotify who everyone here use and recently "Games whit gold" haven't been satisfying:/ I still really hope that Ms will fix some of this because i really love my One

Nerdist has been there for a while actually but at least you got around to reporting it. Thanks WCentral :) all appreciated.

Yes, I grabbed it when Nerdist sent out the email notice of it going live a while back.

Arghh I thought they finally made a windows phone app

Just used SmartGlass beta to get IGN. Hope it looks/works well.

Does that means that once W10 realeases, IGN will be also for Windows Phone?

Would be very interesting to see how can companies not be compelled to release Universal apps once Windows 10 is released.

You left out the Time Warner Cable app that went live today

Any news about a Windows Central app for the One?

and people bitch abuot the xbox becoming media and not a gaming console. dumb people are praising these apps.

Hopefully scalable to windows phone
Windows Central Newsletter
Thank you for signing up to Windows Central. You will receive a verification email shortly.
There was a problem. Please refresh the page and try again.