Images of the Microsoft Lumia 950 (XL) prototype revealed for the first time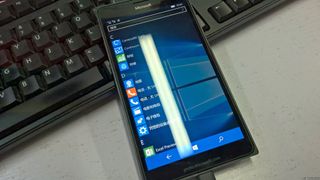 For weeks now we have been filling in the news regarding the Microsoft's Talkman and Cityman Lumia phones due later this fall. Possibly going by the names Lumia 950 and Lumia 950 XL these phones should represent the next-generation of high-end devices for the struggling mobile maker.
This morning, numerous photos of the Lumia 950 XL aka Cityman prototype have appeared online in the WPXAP forums.
Windows Central can confirm that these images are indeed real and recent.
The photos are of decent quality. However, the phone is only seen from a few angles. The main one, seen above, shows the 5.2-inch WQHD AMOLED display with a black body. As we have indicated earlier, these phones have a polycarbonate body.
The phone is also evidently in a protective case to help disguise it.
There is also a rear shot that reveals the 20 MP camera and triple LED flash (yellow and white) along with a USB Type-C port on the bottom. Also, as we have confirmed earlier, this phone and the Lumia 950 XL with a larger display both have on-screen keys and not physical capacitive ones. Presumably Microsoft chose this to keep the screen bezel smaller.
Talkman (Lumia 950)
Matte White or black polycarbonate body
5.2 inch WQHD (1440x2560) OLED display
Snapdragon 808, 64-bit Hexa core
Iris scanner (infrared) for Windows Hello
3GB of RAM
32GB of internal storage with a microSD card slot
20MP PureView rear camera
5MP Wide-angle front facing camera
3000 mAh removable battery
Qi wireless charging with flip cover
USB Type-C
Cityman (Lumia 950 XL)
Matte White or black polycarbonate body
5.7 inch WQHD (1440x2560) OLED display
Snapdragon 810, 64-bit Octa core
Iris scanner (infrared) for Windows Hello
3GB of RAM
32GB of internal storage with a microSD card slot
20MP PureView rear camera with triple LED flash
Aluminum side buttons
5MP Wide-angle front facing camera
3300 mAh removable battery
Qi wireless charging integrated
USB Type-C
The phone is also running build 10240 of the Windows 10 Mobile OS, and it has an early build of Continuum for phone on board as well. Interestingly, the camera settings confirm that this phone can shoot 120 FPS in 720P HD, which is something many people have requested for some time.
Microsoft is expected to reveal more about Talkman and Cityman in an October event, likely in New York City. Along with these phones, the Surface Pro 4, Microsoft Band 2, and Windows 10 wave 2 are expected to be revealed as well.
Update: There is some debate whether this is the Lumia 950 (Talkman) or Lumia 950 XL (Cityman). We are trying to confirm which it is at this time, but besides some slight design differences (which would be hidden by the case) and the screen size, both phones are quite similar.
Update2 : We have been able to confirm that this case is actually more than that. It is meant to hide the final design of the phone and ID anyone who uses it publicly. Specifically:
It is meant to hide the real shape of the phone and prevent leaks about the final design, mainly the back part
It cannot be removed from the engineering sample
To track leakers, the case has identifying information including: shape of the case (number of stripes, space between stripes); upper/lower cases for letters: there is a sort of binary code: MicRoSoft MObIle, MICrosOfT mObILE, etc.; The phone is ugly with this 'special' case and the shape hurts your hand when you hold it
All of these things about the case are meant to distract people from using the prototypes in public. This also means the owner of that phone is likely in a meeting right now and about to get fired.
You can read more about these devices, including their iris scanners for Windows Hello and more in our big expose on these devices a few weeks back:
Microsoft's Cityman and Talkman flagship Lumia phones and what you need to know
Source: WPXAP; Thanks, everyone, for the tips!
Daniel Rubino is the Executive Editor of Windows Central, head reviewer, podcast co-host, and analyst. He has been covering Microsoft here since 2007, back when this site was called WMExperts (and later Windows Phone Central). His interests include Windows, Microsoft Surface, laptops, next-gen computing, and arguing with people on the internet.
Hmmmm Posted via the Windows Central App for Android

Thank goodness the buttons aren't capacitive!!! I was worried I wouldn't be able to buy the phone. After using the One M8, I can never go back to a phone with capacitive buttons...they're terrible!!! But I don't want the XL...can anyone confirm that the I'm-not-blind-and-I'm-not-compensating-for-something-in-my-pants-sized phone will also not have capacitive buttons?

You're in the minority. Real buttons for me please.

capacitive buttons versus on-screen buttons is the new slide-out keyboard versus no slide out keyboard argument!

Well accept of that the slide out keyboard is superior in every way:) you dont waste space on your screen. you can time blind - you can put in functions properly like selecting text and copy and pasting and well.. you might be able to tilt the screen and put your phone on the desk:)

But the hardware can break quickly--sometimes after just a few hundred thousand button presses.

Those concept phones above (that are supposed to look like the real thing) have no sex appeal whatsoever. They're even boxier than the Icon. What is Microsoft thinking?!? We waited this long for another brick?

Those aren't official concepts. Notice that they have capacitive buttons whereas the real phone do not.

I miss the slide-out keyboard on my HTC Arrive. Wish slide-out keyboards were still around.

Yep, I had an Arrive as well before getting my Lumia 1020. The Arrive was amazing piece of engineering. Felt really neat sliding that keyboard out. I was sure it would wear out or break but it never did. Now it rests in the "Drawer of Legends" with the HTC Touch Pro and HTC Touch Pro2! :)

Real button have a major issues 1) Hitting search button when watchingo r playing something. 2) I usually hit search buttong while running/jogging and cortana gets activated and its annoying 3) on my 1520 capacitive buttons never turn off and its annoying to watch something while those lights are on. 4) Capacitive buttons increase bazel size and phone size. Then again its a personal choice. But for surei want a phone which slim bezel and current proto tpye looks like 1520. But its a prototype, so lets wait and see..

They need to let you turn them off outside of battery saver. They don't necessarily increase the bezel. On-screen buttons are only better if they can be hidden, because Nokia/Microsoft centers the screen around screen + buttons.

Well I'm quite sure that all Lumia phone without capacitive buttons had the same bezel size as those with buttons and the empty space looked terrible.

1) this can be resolved via software 2) same as above 3) same as above 4) looking at the pictures above, it doesn't look like the bezel is any smaller: it just looks like wasted space now. So, wha'ts the point? Might as well put the capcitive buttons there, which are a) more easily accessible and therefore quicker to use b) advertise the phone to onlookers

On Screen buttons have one big drawback, from a developer perspective. One more wonky aspect ratio to test, as the on screen keys can be hidden to add app real estate.

Its funny number 3 is something Samsung got right lol

Boo! Touch screen all the way!

Having owned the 1020 and now the 640, I prefer the onscreen buttons. It's also in keeping with the OS design and in addition, when you watch videos or look at pics you can hide the buttons so there are no distractions. Well thought design right there, IMHO.

I also like that you can change the color. Wish my 830 had on-screen buttons.

Do the on screen buttons show on the lock screen?

Yes. It's translucent. I think it's there so that you can still double tap it to turn the screen off.

I stand behind you! Real buttons.

Yes, "real buttons" as opposed to software buttons is my preference.

i'm getting a bit used to the 640 without real buttons but prefer dedicated real buttons. i do miss the dedicated camera hardware button on the 640.

You may think so now...but trust me as a person who has used both: (To each his opinion, for sure, but hear me out.) Lack of capacitive buttons is better. More screen real estate, and it only takes a simple swipe up to show or hide the buttons. My Icon's available screen real estate and workspace were hurt because of the buttons at the bottom, but now my HTC One is SOOO better because those pesky buttons aren't taking up screen space on my phone ;) I can work better without the buttons getting in my way, and it's better ported to other device types when hardware manufacturers don't have to succumb to those requirements. Microsoft was smart on that one. :)

Pleas explain to me how do onscreen buttons provide more screen estate than below screen?? Because from where I can see, its totally the opposite of what you are saying. I mean if you have physical buttons below screen, you have a complete screen free to your service and a lot easier to work on.
I would like to have onscreen buttons only uf Microsoft gave us some really good dual front facing speakers and a record minimum top and bottom bezels. Otherwise I am better with some Android options. Windows Phone has already compromised a lot, no more room for compromises, from here on, there have to be improvements and upgrades only. Posted via the Windows Central App for Android

Real buttons for me all the way. It really is twice the work and can get annoying trying to bring up hidden buttons.

Agreed. Capacitive over physical I can tolerate, but full onscreen buttons? No way.

On-screen buttons all the way... why waste space and get dust, dirt and water inside the phone, when you could have on-screen costumizable buttons ? An that's screen too, so you could simply hide them and now you have more space for you videos, photos and apps. I think it makes so much sense.

If you have capacitive below screen buttons, then you will have all the screen at your disposal from the word Go. So why waste the below screen space on nothing??? Posted via the Windows Central App for Android

Dont you feel uncomfortable to reach real buttons on phablet screen? especially in an os based on one-hand interacting?

Capacitive buttons are not real buttons. That is funny. Real buttons include the home button of an iPhone or Samsung device Posted via the Windows Central App on my Lumia 640 or using the Android Version which is free*

As long as I can hide the tool bar, I won't care "no capacitive" buttons.

I'm pretty sure that you'll be able to, since I can hide them on the 640.

Why do you care if a phone you don't want has a capacitive buttons or not? (it doesn't)

I've been using the 630 for a while, and am now using the 830. I prefer the capacitive buttons with the light and vibration turned off, both for normal use, and turning on my phone.

I'm with you, although I prefer double-tap to wake.

I agree 100% i love the on screen buttons!

With my 1520 GPS and Wifi not working correctly the slide up buttons is actually pretty cool and gives you the sense of more screen real estate.

With a smaller bezel and no capcitive keys, the 950XL won't be that huge. Based on renderings, I estimate the 950 to be about the size of the 1020 and the 950XL no more than a half inch taller and a quarter inch wider. I for one can live with that.

I'm confused as to how a .5" (rumored) increase in screen size constitutes a "I'm-not-blind-and-I'm-not-compensating-for-something-in-my-pants-sized phone." Please explain. I feel its more of a Someone-finally-designed-a-large-phone-for-the-larger-handed-not-an-over-priced-excuse-for-sore-eyes-cramped-hands-and-inaccurately-typed-messages.

Well, I can't be sure,​ but I think the most likely explanation for your confusion is that you lack a sense of humor. ;) ​ ​

It has a Snapdragon 810, confirmed by the image. (SOC is Qualcomm MSM8994)

October event??? That means launch in 2016 then... :-(

Sadly yes. :-(
As Windows 10 Mobile won't be out before November.
BTW, that brings me to question, why launch a phone when its software won't be ready at the time of announcement? It would have been a lot better if they actually waited till November, that way they could got their hands on SD 820 also. Posted via the Windows Central App for Android

When will we, the people, get 10240???!

Never. blocking bug. next build will be higher.

I hope it wont have onscreen buttons - I hate those. I prefer classic ones under the display

I have said it does and it will. End of the story at this point, they are not changing it as that would make the device larger.

Not a good news for me Dan :/ But thanks anyway.. Ill just have to get used to it I guess.

I thought the same, but I actually really prefer onscreen to capacitive or physical (I have a 928, 2nd gen Moto X, and a note 4). So I really wouldn't worry about it until you get to try it out. (That said it really only works if you have something like double tap to wake, glance screen, or whatever the moto glance screen thing is called.)

I didn't like them at first but then I noticed I didn't really notice, lol. It fades after awhile and I think people can get over it if they give it a shot.

All the phones I've had for the past year have had them, and they're just annoying. I like the capacitive, especially if they use them as notification lights. The worst is typing, going to hit the space bar, and hitting home. It's annoying.

I have 3 issues with them on my M8 1. you constantly must swipe down to minimize the buttons otherwise content is blocked 2. lack of responsivnes on the search button I often have to press it 5-10 times before it registers 3. I find I have often accidentally swipe down to minimize the buttons without realizing it ... yes I realize this is due to user error and that I'm complaining about both having to minimize and accidently minimizing lol overall though I agree you get used to it

Exactly. OnScreen buttons feel the same as capacitive. You won't even know the difference. And it has more benefits.

An interesting fact is that even if you don't have on screen button you can't touch them and the screen at the same time and they respond. I use it a lot when I want to quickly clean the buttons and have the phone unlocked. Just hold on screen.

The capaciticve buttons are transparent in the photo....i think its a new addition. Posted via the Windows Central App for Android

"I noticed I didn't really notice"
quote of the day!

I couldn't get over it. Went back to my Lumia 625 from 635 for that very reason. Well lack of dedicated camera button was another factor for me. Now that I have a Lumia 830 I'm pleased.

Yeah in most cases its a muscle memory objection not a "does it work good" perspective.

IF only the statement that they did this to keep the bezel size down were a TRUE statement. If it truly is an almost bezeless phone then I'll have my cake and eat it too. When in reality the bottom bezel is still huge, at least according to the prototype pic. This truly is a low blow. What are they thinking? Flagship.... I've been waiting for??? Yea..... Not so much....

I will give it a yes only if its height and with are less than Note 3-4(which also have 5.7 inches screens) but as we already saw in case of Lumia 640XL, that is not the case. So, I would better pass on this one and look for something better in Android world ( which I am sure I will definitely find one) Posted via the Windows Central App for Android

It must have. Can't image it would not have double tap to turn on. If it's like with the Lumia 735, the 950 will even have double tab to turn off. Microsoft *could* even get rid of the power button completely.

Can't get rid of power button. How would you turn it on? Also, double tap doesn't work for people with bad circulation/people in colder climates all the time.

You wouldn't be able to do a soft reset without a power button as well.

I prefer on screen buttons now, with 920 n 1520 i keep hitting search button like a moron by mistake. Lesson 1520 because of its size and placement but i still hit them. On screen buttons can be hidden and thats a huge plus. I f you run like me then you would understand the pain of activating cortana while phones in the pocket and im jogging.

When my mom's phone (1520) died, warranty replacement wanted to send an M8 (which has on-screen buttons). Size aside, I was worried about having to train my mom about the "disappearing Windows buttons." Well, her 1520 just had a bad charger, but I still had a week to play with the M8 (mom lived out of state and was coming to visit; she would pick it up configured when she visited). I have to say, the on-screen buttons are kind of nice. You get more screen real-estate and the button bar appears only when you want it. I bought a spare phone (640) which does the same thing and gave it to my partner (whose 830 was smashed) and it also responds quite nicely. I really believe people will actually like them once they get some time with them - they make better use of screen real estate in my opinion. Oh, and with transparent and gradient Live Tiles, etc, in W10, the button bar allows for the most prominent punch of accent color - but only just a punch.

Please explain how onscreen buttons provide more screen space than below screen capacitive ones? I really fail to understand this argument Posted via the Windows Central App for Android

You have to make the bezel bigger to fit the buttons. If the buttons are on screen, you can extend the screen where the buttons were going to go. Posted via the Windows Central App for Android

If this phone has 3d touch like the McLauren was supposed to have, you'll all be grateful for the on-screen buttons.

Nope. That was an experimental feature which has been, at least temporarily, removed from the roadmap. Suspect more talk about its future will happen in the Redstone time frame.

I hate the onscreen buttons too, if the device is smaller and cured GG3 then maybe but :'( I really hope its not the final design, I want it to be better than this :c

Well from these pics it seems it doesnt make any difference, there's still wasted space below the onscreen buttons which is exactly where the capacitive buttons would be so its not really making the device any smaller.

I love how non-engineers throw around terms like "wasted space" like they know what they are talking about. Let's see: iPhone 6: huge top/bottom bezel. Samsung Edge huge bezel on the top/bottom. But please, share with us how you would move those components around to get around this, lol. Consider this thing has a giant, replaceable 3300 mAh batter to make sure you don't die like the hilarious bad Galaxy 6 Edge (I have and use one), some tradeoffs are okay. Regardless, it's a very thin phone.

Yet with my 1520 the buttons are in that exact same space so how is this making the phone any smaller when the buttons are above that space taking up screen real estate? What magic does this phone contain that precludes having the buttons there? Looks completely wasted to me.

I'm no engineer, but the 1520 has the advantage of having a bigger body for these components to go into, and so therefore more space - in the case of the space you mention, this bit will be much wider, so there's more space to spread out the components (the majority of which will not change size regardless of device size) in a thinner line. Besides, with what this phone is rumoured to do, it's quite amazing how small the bezels are and how thin it actually is.

Moto X : perfectly optimized bezels. So why ? Posted via the Windows Central App for Android

Moto X: Up to 11 [mm] thick and rounded corners, with a slightly above the average 75% screen-to-body ratio (the Lumia 1520 is near 72%). That's why.

And it's really uncomfortable to use the buttons if they're all the way at the bottom. So It's not really "wasted space".

Dan have you heard anything about the estimated weight of these devices? I know they are supposed to be between 7-8mm thin but no mention of weight has been shared.

I love how you always seem to have an excuse for every dumb decision MS makes. Keep up the good work.

Having onscreen buttons is a mistake? Lol

I totally agree with you and it is very unbecoming of the "editor-in-chief" to have such a condescending tone while replying to users' posts. -_-

That space does seem to be the same size as the space on my Icon. Soit world seem there is space enough for the cap buttons. But I agree with you that there must be a space of a given size above and below the display to house parts like speakers,mics, sensors, ports etc

Let's be fair. To the layperson, it IS wasted space, aesthetically. The casual consumer doesn't give a rip about what engineers think or how various components have been shoe-horned into a device, they just want devices to be "pretty" or comfortable or whatnot. However, as a longtime Lumia 920 user who recently shattered my phone (a tumble down 100 marble stairs tends to do that), I recently switched to a Lumia 635 as a cheap temporary fill-in until the new flagships arrive. That phone has the so-called "wasted space" in the bottom bezel and uses onscreen buttons....and it's fine. Sure, I preferred devoted bottom buttons, but the onscreen work just as well and don't obscure things. My only major issue is the lack of a dedicated camera button. THAT is a must-have for any device.

at least there is thecamera shortcut in the drop down action center...!

The iPhone has a large home button.

From what I can see, if they removed the "Microsoft" logo at the top and moved the screen up a bit, they would have just as much space at the bottom as the 830 and 930 I have in front of me here with capacitive buttons. Or they could make the screen to phone ratio even bigger, if they were to stick to on screen buttons as you say they will! Must admit that I will probably get used to on screen buttons, tho. And as a sidenote; I get that you probably get a lot of shit in these comments, but this and at least one other comment here makes you sound like an condescending ass. Be a bit more humble, maybe?

Are you referring to Dan R. comments? If so, I agree! It must just be his personality or maybe he's misunderstood (or just doesn't care!) but he's always has a "rude tone" in his comments, which always stunned me considering his position at WC... not to mention we're all here to read, learn & discuss his articles! Lighten up Dan, we're all "friends" here--for the most part! Posted via the Windows Central App for Android

Remember, people, only engineers can talk about "wasted space." The rest of you peasants, stay in line.

replaceable batteries and microsd card - 2 very big bonuses to a high end phone imho

Ok Mr. Well-informed-tech-engineer guy, would you please like to explain to us how Samsung achieved same size display in a narrower and thinner Galaxy A-8 with physical menu keys compared to thicker and wider Lumia 640 XL which doesn't have any physical buttons in that wasted (Again!) space? Also, please note the Galaxy A-8 has all the hardware doubled compared to Lumia 640 XL. Waiitng for your response now.

Except if they hold to what they did with the 640, the onscreen buttons can be hidden, giving you a bit more screen space. I thought I would hate onscreen buttons but they aren't bad.

Think of the metal part you can see on your charger...all of that needs to stick inside of the phone, a phone that also needs to be incredibly thin. Your dream of even smaller bezels won't happen until we remove the 3.5mm jack and the USB port.

Stop with your logic! lol also ear speaker and mics.

They go on top.........yyeeeellow.....I know I blow my mind as well. lol It doesn't take an engineer to make an obvious observation. THE BEZEL IS HUGE! Which makes the inference that the onscreen buttons were used in the design in order to keep the bezel size down and/or overall size. Nuff said...