Images of the Microsoft Lumia 950 (XL) prototype revealed for the first time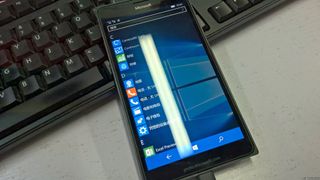 For weeks now we have been filling in the news regarding the Microsoft's Talkman and Cityman Lumia phones due later this fall. Possibly going by the names Lumia 950 and Lumia 950 XL these phones should represent the next-generation of high-end devices for the struggling mobile maker.
This morning, numerous photos of the Lumia 950 XL aka Cityman prototype have appeared online in the WPXAP forums.
Windows Central can confirm that these images are indeed real and recent.
The photos are of decent quality. However, the phone is only seen from a few angles. The main one, seen above, shows the 5.2-inch WQHD AMOLED display with a black body. As we have indicated earlier, these phones have a polycarbonate body.
The phone is also evidently in a protective case to help disguise it.
There is also a rear shot that reveals the 20 MP camera and triple LED flash (yellow and white) along with a USB Type-C port on the bottom. Also, as we have confirmed earlier, this phone and the Lumia 950 XL with a larger display both have on-screen keys and not physical capacitive ones. Presumably Microsoft chose this to keep the screen bezel smaller.
Talkman (Lumia 950)
Matte White or black polycarbonate body
5.2 inch WQHD (1440x2560) OLED display
Snapdragon 808, 64-bit Hexa core
Iris scanner (infrared) for Windows Hello
3GB of RAM
32GB of internal storage with a microSD card slot
20MP PureView rear camera
5MP Wide-angle front facing camera
3000 mAh removable battery
Qi wireless charging with flip cover
USB Type-C
Cityman (Lumia 950 XL)
Matte White or black polycarbonate body
5.7 inch WQHD (1440x2560) OLED display
Snapdragon 810, 64-bit Octa core
Iris scanner (infrared) for Windows Hello
3GB of RAM
32GB of internal storage with a microSD card slot
20MP PureView rear camera with triple LED flash
Aluminum side buttons
5MP Wide-angle front facing camera
3300 mAh removable battery
Qi wireless charging integrated
USB Type-C
The phone is also running build 10240 of the Windows 10 Mobile OS, and it has an early build of Continuum for phone on board as well. Interestingly, the camera settings confirm that this phone can shoot 120 FPS in 720P HD, which is something many people have requested for some time.
Microsoft is expected to reveal more about Talkman and Cityman in an October event, likely in New York City. Along with these phones, the Surface Pro 4, Microsoft Band 2, and Windows 10 wave 2 are expected to be revealed as well.
Update: There is some debate whether this is the Lumia 950 (Talkman) or Lumia 950 XL (Cityman). We are trying to confirm which it is at this time, but besides some slight design differences (which would be hidden by the case) and the screen size, both phones are quite similar.
Update2 : We have been able to confirm that this case is actually more than that. It is meant to hide the final design of the phone and ID anyone who uses it publicly. Specifically:
It is meant to hide the real shape of the phone and prevent leaks about the final design, mainly the back part
It cannot be removed from the engineering sample
To track leakers, the case has identifying information including: shape of the case (number of stripes, space between stripes); upper/lower cases for letters: there is a sort of binary code: MicRoSoft MObIle, MICrosOfT mObILE, etc.; The phone is ugly with this 'special' case and the shape hurts your hand when you hold it
All of these things about the case are meant to distract people from using the prototypes in public. This also means the owner of that phone is likely in a meeting right now and about to get fired.
You can read more about these devices, including their iris scanners for Windows Hello and more in our big expose on these devices a few weeks back:
Microsoft's Cityman and Talkman flagship Lumia phones and what you need to know
Source: WPXAP; Thanks, everyone, for the tips!
Windows Central Newsletter
Get the best of Windows Central in your inbox, every day!
Daniel Rubino is the Editor-in-chief of Windows Central, head reviewer, podcast co-host, and analyst. He has been covering Microsoft since 2007 when this site was called WMExperts (and later Windows Phone Central). His interests include Windows, laptops, next-gen computing, and for some reason, watches. Before all this tech stuff, he worked on a Ph.D. in linguistics, watched people sleep (for medical purposes!), and ran the projectors at movie theaters because it was fun.
Hmmmm Posted via the Windows Central App for Android

Thank goodness the buttons aren't capacitive!!! I was worried I wouldn't be able to buy the phone. After using the One M8, I can never go back to a phone with capacitive buttons...they're terrible!!! But I don't want the XL...can anyone confirm that the I'm-not-blind-and-I'm-not-compensating-for-something-in-my-pants-sized phone will also not have capacitive buttons?

You're in the minority. Real buttons for me please.

capacitive buttons versus on-screen buttons is the new slide-out keyboard versus no slide out keyboard argument!

Well accept of that the slide out keyboard is superior in every way:) you dont waste space on your screen. you can time blind - you can put in functions properly like selecting text and copy and pasting and well.. you might be able to tilt the screen and put your phone on the desk:)

But the hardware can break quickly--sometimes after just a few hundred thousand button presses.

Those concept phones above (that are supposed to look like the real thing) have no sex appeal whatsoever. They're even boxier than the Icon. What is Microsoft thinking?!? We waited this long for another brick?

Those aren't official concepts. Notice that they have capacitive buttons whereas the real phone do not.

I miss the slide-out keyboard on my HTC Arrive. Wish slide-out keyboards were still around.

Yep, I had an Arrive as well before getting my Lumia 1020. The Arrive was amazing piece of engineering. Felt really neat sliding that keyboard out. I was sure it would wear out or break but it never did. Now it rests in the "Drawer of Legends" with the HTC Touch Pro and HTC Touch Pro2! :)

Real button have a major issues 1) Hitting search button when watchingo r playing something. 2) I usually hit search buttong while running/jogging and cortana gets activated and its annoying 3) on my 1520 capacitive buttons never turn off and its annoying to watch something while those lights are on. 4) Capacitive buttons increase bazel size and phone size. Then again its a personal choice. But for surei want a phone which slim bezel and current proto tpye looks like 1520. But its a prototype, so lets wait and see..

They need to let you turn them off outside of battery saver. They don't necessarily increase the bezel. On-screen buttons are only better if they can be hidden, because Nokia/Microsoft centers the screen around screen + buttons.

Well I'm quite sure that all Lumia phone without capacitive buttons had the same bezel size as those with buttons and the empty space looked terrible.

1) this can be resolved via software 2) same as above 3) same as above 4) looking at the pictures above, it doesn't look like the bezel is any smaller: it just looks like wasted space now. So, wha'ts the point? Might as well put the capcitive buttons there, which are a) more easily accessible and therefore quicker to use b) advertise the phone to onlookers

On Screen buttons have one big drawback, from a developer perspective. One more wonky aspect ratio to test, as the on screen keys can be hidden to add app real estate.

Its funny number 3 is something Samsung got right lol

Boo! Touch screen all the way!

Having owned the 1020 and now the 640, I prefer the onscreen buttons. It's also in keeping with the OS design and in addition, when you watch videos or look at pics you can hide the buttons so there are no distractions. Well thought design right there, IMHO.

I also like that you can change the color. Wish my 830 had on-screen buttons.

Do the on screen buttons show on the lock screen?

Yes. It's translucent. I think it's there so that you can still double tap it to turn the screen off.

I stand behind you! Real buttons.

Yes, "real buttons" as opposed to software buttons is my preference.

i'm getting a bit used to the 640 without real buttons but prefer dedicated real buttons. i do miss the dedicated camera hardware button on the 640.

You may think so now...but trust me as a person who has used both: (To each his opinion, for sure, but hear me out.) Lack of capacitive buttons is better. More screen real estate, and it only takes a simple swipe up to show or hide the buttons. My Icon's available screen real estate and workspace were hurt because of the buttons at the bottom, but now my HTC One is SOOO better because those pesky buttons aren't taking up screen space on my phone ;) I can work better without the buttons getting in my way, and it's better ported to other device types when hardware manufacturers don't have to succumb to those requirements. Microsoft was smart on that one. :)

Pleas explain to me how do onscreen buttons provide more screen estate than below screen?? Because from where I can see, its totally the opposite of what you are saying. I mean if you have physical buttons below screen, you have a complete screen free to your service and a lot easier to work on.
I would like to have onscreen buttons only uf Microsoft gave us some really good dual front facing speakers and a record minimum top and bottom bezels. Otherwise I am better with some Android options. Windows Phone has already compromised a lot, no more room for compromises, from here on, there have to be improvements and upgrades only. Posted via the Windows Central App for Android

Real buttons for me all the way. It really is twice the work and can get annoying trying to bring up hidden buttons.

Agreed. Capacitive over physical I can tolerate, but full onscreen buttons? No way.

On-screen buttons all the way... why waste space and get dust, dirt and water inside the phone, when you could have on-screen costumizable buttons ? An that's screen too, so you could simply hide them and now you have more space for you videos, photos and apps. I think it makes so much sense.

If you have capacitive below screen buttons, then you will have all the screen at your disposal from the word Go. So why waste the below screen space on nothing??? Posted via the Windows Central App for Android

Dont you feel uncomfortable to reach real buttons on phablet screen? especially in an os based on one-hand interacting?

Capacitive buttons are not real buttons. That is funny. Real buttons include the home button of an iPhone or Samsung device Posted via the Windows Central App on my Lumia 640 or using the Android Version which is free*

As long as I can hide the tool bar, I won't care "no capacitive" buttons.

I'm pretty sure that you'll be able to, since I can hide them on the 640.

Why do you care if a phone you don't want has a capacitive buttons or not? (it doesn't)

I've been using the 630 for a while, and am now using the 830. I prefer the capacitive buttons with the light and vibration turned off, both for normal use, and turning on my phone.

I'm with you, although I prefer double-tap to wake.

I agree 100% i love the on screen buttons!

With my 1520 GPS and Wifi not working correctly the slide up buttons is actually pretty cool and gives you the sense of more screen real estate.

With a smaller bezel and no capcitive keys, the 950XL won't be that huge. Based on renderings, I estimate the 950 to be about the size of the 1020 and the 950XL no more than a half inch taller and a quarter inch wider. I for one can live with that.

I'm confused as to how a .5" (rumored) increase in screen size constitutes a "I'm-not-blind-and-I'm-not-compensating-for-something-in-my-pants-sized phone." Please explain. I feel its more of a Someone-finally-designed-a-large-phone-for-the-larger-handed-not-an-over-priced-excuse-for-sore-eyes-cramped-hands-and-inaccurately-typed-messages.

Well, I can't be sure,​ but I think the most likely explanation for your confusion is that you lack a sense of humor. ;) ​ ​

It has a Snapdragon 810, confirmed by the image. (SOC is Qualcomm MSM8994)

October event??? That means launch in 2016 then... :-(

Sadly yes. :-(
As Windows 10 Mobile won't be out before November.
BTW, that brings me to question, why launch a phone when its software won't be ready at the time of announcement? It would have been a lot better if they actually waited till November, that way they could got their hands on SD 820 also. Posted via the Windows Central App for Android

When will we, the people, get 10240???!

Never. blocking bug. next build will be higher.

I hope it wont have onscreen buttons - I hate those. I prefer classic ones under the display

I have said it does and it will. End of the story at this point, they are not changing it as that would make the device larger.

Not a good news for me Dan :/ But thanks anyway.. Ill just have to get used to it I guess.

I thought the same, but I actually really prefer onscreen to capacitive or physical (I have a 928, 2nd gen Moto X, and a note 4). So I really wouldn't worry about it until you get to try it out. (That said it really only works if you have something like double tap to wake, glance screen, or whatever the moto glance screen thing is called.)

I didn't like them at first but then I noticed I didn't really notice, lol. It fades after awhile and I think people can get over it if they give it a shot.

All the phones I've had for the past year have had them, and they're just annoying. I like the capacitive, especially if they use them as notification lights. The worst is typing, going to hit the space bar, and hitting home. It's annoying.

I have 3 issues with them on my M8 1. you constantly must swipe down to minimize the buttons otherwise content is blocked 2. lack of responsivnes on the search button I often have to press it 5-10 times before it registers 3. I find I have often accidentally swipe down to minimize the buttons without realizing it ... yes I realize this is due to user error and that I'm complaining about both having to minimize and accidently minimizing lol overall though I agree you get used to it

Exactly. OnScreen buttons feel the same as capacitive. You won't even know the difference. And it has more benefits.

An interesting fact is that even if you don't have on screen button you can't touch them and the screen at the same time and they respond. I use it a lot when I want to quickly clean the buttons and have the phone unlocked. Just hold on screen.

The capaciticve buttons are transparent in the photo....i think its a new addition. Posted via the Windows Central App for Android

"I noticed I didn't really notice"
quote of the day!

I couldn't get over it. Went back to my Lumia 625 from 635 for that very reason. Well lack of dedicated camera button was another factor for me. Now that I have a Lumia 830 I'm pleased.

Yeah in most cases its a muscle memory objection not a "does it work good" perspective.

IF only the statement that they did this to keep the bezel size down were a TRUE statement. If it truly is an almost bezeless phone then I'll have my cake and eat it too. When in reality the bottom bezel is still huge, at least according to the prototype pic. This truly is a low blow. What are they thinking? Flagship.... I've been waiting for??? Yea..... Not so much....

I will give it a yes only if its height and with are less than Note 3-4(which also have 5.7 inches screens) but as we already saw in case of Lumia 640XL, that is not the case. So, I would better pass on this one and look for something better in Android world ( which I am sure I will definitely find one) Posted via the Windows Central App for Android

It must have. Can't image it would not have double tap to turn on. If it's like with the Lumia 735, the 950 will even have double tab to turn off. Microsoft *could* even get rid of the power button completely.

Can't get rid of power button. How would you turn it on? Also, double tap doesn't work for people with bad circulation/people in colder climates all the time.

You wouldn't be able to do a soft reset without a power button as well.

I prefer on screen buttons now, with 920 n 1520 i keep hitting search button like a moron by mistake. Lesson 1520 because of its size and placement but i still hit them. On screen buttons can be hidden and thats a huge plus. I f you run like me then you would understand the pain of activating cortana while phones in the pocket and im jogging.

When my mom's phone (1520) died, warranty replacement wanted to send an M8 (which has on-screen buttons). Size aside, I was worried about having to train my mom about the "disappearing Windows buttons." Well, her 1520 just had a bad charger, but I still had a week to play with the M8 (mom lived out of state and was coming to visit; she would pick it up configured when she visited). I have to say, the on-screen buttons are kind of nice. You get more screen real-estate and the button bar appears only when you want it. I bought a spare phone (640) which does the same thing and gave it to my partner (whose 830 was smashed) and it also responds quite nicely. I really believe people will actually like them once they get some time with them - they make better use of screen real estate in my opinion. Oh, and with transparent and gradient Live Tiles, etc, in W10, the button bar allows for the most prominent punch of accent color - but only just a punch.

Please explain how onscreen buttons provide more screen space than below screen capacitive ones? I really fail to understand this argument Posted via the Windows Central App for Android

You have to make the bezel bigger to fit the buttons. If the buttons are on screen, you can extend the screen where the buttons were going to go. Posted via the Windows Central App for Android

If this phone has 3d touch like the McLauren was supposed to have, you'll all be grateful for the on-screen buttons.

Nope. That was an experimental feature which has been, at least temporarily, removed from the roadmap. Suspect more talk about its future will happen in the Redstone time frame.

I hate the onscreen buttons too, if the device is smaller and cured GG3 then maybe but :'( I really hope its not the final design, I want it to be better than this :c

Well from these pics it seems it doesnt make any difference, there's still wasted space below the onscreen buttons which is exactly where the capacitive buttons would be so its not really making the device any smaller.

I love how non-engineers throw around terms like "wasted space" like they know what they are talking about. Let's see: iPhone 6: huge top/bottom bezel. Samsung Edge huge bezel on the top/bottom. But please, share with us how you would move those components around to get around this, lol. Consider this thing has a giant, replaceable 3300 mAh batter to make sure you don't die like the hilarious bad Galaxy 6 Edge (I have and use one), some tradeoffs are okay. Regardless, it's a very thin phone.

Yet with my 1520 the buttons are in that exact same space so how is this making the phone any smaller when the buttons are above that space taking up screen real estate? What magic does this phone contain that precludes having the buttons there? Looks completely wasted to me.

I'm no engineer, but the 1520 has the advantage of having a bigger body for these components to go into, and so therefore more space - in the case of the space you mention, this bit will be much wider, so there's more space to spread out the components (the majority of which will not change size regardless of device size) in a thinner line. Besides, with what this phone is rumoured to do, it's quite amazing how small the bezels are and how thin it actually is.

Moto X : perfectly optimized bezels. So why ? Posted via the Windows Central App for Android

Moto X: Up to 11 [mm] thick and rounded corners, with a slightly above the average 75% screen-to-body ratio (the Lumia 1520 is near 72%). That's why.

And it's really uncomfortable to use the buttons if they're all the way at the bottom. So It's not really "wasted space".

Dan have you heard anything about the estimated weight of these devices? I know they are supposed to be between 7-8mm thin but no mention of weight has been shared.

I love how you always seem to have an excuse for every dumb decision MS makes. Keep up the good work.

Having onscreen buttons is a mistake? Lol

I totally agree with you and it is very unbecoming of the "editor-in-chief" to have such a condescending tone while replying to users' posts. -_-

That space does seem to be the same size as the space on my Icon. Soit world seem there is space enough for the cap buttons. But I agree with you that there must be a space of a given size above and below the display to house parts like speakers,mics, sensors, ports etc

Let's be fair. To the layperson, it IS wasted space, aesthetically. The casual consumer doesn't give a rip about what engineers think or how various components have been shoe-horned into a device, they just want devices to be "pretty" or comfortable or whatnot. However, as a longtime Lumia 920 user who recently shattered my phone (a tumble down 100 marble stairs tends to do that), I recently switched to a Lumia 635 as a cheap temporary fill-in until the new flagships arrive. That phone has the so-called "wasted space" in the bottom bezel and uses onscreen buttons....and it's fine. Sure, I preferred devoted bottom buttons, but the onscreen work just as well and don't obscure things. My only major issue is the lack of a dedicated camera button. THAT is a must-have for any device.

at least there is thecamera shortcut in the drop down action center...!

The iPhone has a large home button.

From what I can see, if they removed the "Microsoft" logo at the top and moved the screen up a bit, they would have just as much space at the bottom as the 830 and 930 I have in front of me here with capacitive buttons. Or they could make the screen to phone ratio even bigger, if they were to stick to on screen buttons as you say they will! Must admit that I will probably get used to on screen buttons, tho. And as a sidenote; I get that you probably get a lot of shit in these comments, but this and at least one other comment here makes you sound like an condescending ass. Be a bit more humble, maybe?

Are you referring to Dan R. comments? If so, I agree! It must just be his personality or maybe he's misunderstood (or just doesn't care!) but he's always has a "rude tone" in his comments, which always stunned me considering his position at WC... not to mention we're all here to read, learn & discuss his articles! Lighten up Dan, we're all "friends" here--for the most part! Posted via the Windows Central App for Android

Remember, people, only engineers can talk about "wasted space." The rest of you peasants, stay in line.

replaceable batteries and microsd card - 2 very big bonuses to a high end phone imho

Ok Mr. Well-informed-tech-engineer guy, would you please like to explain to us how Samsung achieved same size display in a narrower and thinner Galaxy A-8 with physical menu keys compared to thicker and wider Lumia 640 XL which doesn't have any physical buttons in that wasted (Again!) space? Also, please note the Galaxy A-8 has all the hardware doubled compared to Lumia 640 XL. Waiitng for your response now.

Except if they hold to what they did with the 640, the onscreen buttons can be hidden, giving you a bit more screen space. I thought I would hate onscreen buttons but they aren't bad.

Think of the metal part you can see on your charger...all of that needs to stick inside of the phone, a phone that also needs to be incredibly thin. Your dream of even smaller bezels won't happen until we remove the 3.5mm jack and the USB port.

Stop with your logic! lol also ear speaker and mics.

They go on top.........yyeeeellow.....I know I blow my mind as well. lol It doesn't take an engineer to make an obvious observation. THE BEZEL IS HUGE! Which makes the inference that the onscreen buttons were used in the design in order to keep the bezel size down and/or overall size. Nuff said...

And while I am no engineer, I am an ACMT and I've taken apart hundreds of devices. There's still choke room for your speaker and mics

Probably won't get this then. Perhaps maybe I'll wait for the intel phone. Hopefully my 920 can survive till then. And yes these buttons are a big issue to me. It does affect my usability for the phone.

I don't see any difference with both phones I have "capacitive buttons" and "on-screen buttons", both are more than usable. More than complains I only see tantrums.

imo786, I am genuinely interested in how this (on screen buttons) affects your usability for the phone?

Is it just XL with on screen or the 940 as well?

the pictures shows the 2 sims at the top left of the screen, like a 640xl dual sim. my guess is yes.

That's really big news!!!

You really can't please everyone!

How does it make the device smaller? I am looking at my NL 1520 and the 950 xl picture and am hard pressed to find any significant reduction in the bottom bezel. The side ones sure look smaller, but bottom one is more or less same size. That said, I should clarify that I have no preference for on screen or capacitive buttons - I am fine with both and they are equally good.

Because it's only 7-8mm thin. It would have to be thicker to house all the parts there already AND cap buttons

Daniel, I hate to sound nasty, but I really don't understand your insistence on blindly approving of unpopular decisions by Microsoft, to the point of trying to justify them with illogical statements. ​The iPhone has a pretty big bottom bezel to accommodate its physical home key...and its the most popular phone on the planet. It's bezel, which is more than big enough to accommodate Windows phone keys, doesn't make the phone "bigger" than it needs to be. You don't hear hordes of people complaining that the iPhone's too-big bezel makes the phone too big - because it doesn't. ​I'm not claiming to be the ultimate authority on what type of keys Microsoft 's flagship phones should have. I'm sure there are many people who prefer on screen keys. I personally find them distracting and can't stand them. They make the viewable screen smaller, and make the device seem less premium to me. Again, though, we are all entitled to our own opinions. However, if the engineers designing these phones truly thought that physical keys would somehow make them unacceptably large, when all of the best selling premium phones on the market feature them to no ill effect, then I really do weep for then potential quality of future Microsoft devices. ​ ​ ​ ​ ​ ​

Because Daniel makes sense? Well, you don't. An iphone IS bigger (higher) because of the big bezel. We don't want that. (*isheep have to buy it because they can't buy a smaller phone of the same type ;) ) Personally, I LOVE onscreen buttons (on my Lumia 735) For those that don't: set them fixed.

solution: make them both as on 1+2! :)

I really hate those buttons, after i sold me L930 for Sony Z3, everyday i wished my z3 had the capacitive button than the on-screen. especially the space it takes on the screen, that's one reason i like samsung but i cannot see myself using samsung, Sony is the only Manuf that can make me use android but i hate their on-screen buttons tho.

Apple tells the consumer what they want, versus producing what the consumer wants.

Blind cheerleading is never logical.

From the screenshot, the bezzle is not that slim any ways... it looks like there is more than enough room down there for them buttons, I don't think its much of a space problem as it is a making it easier for most hardware to run Windows 10 mobile issue.

Daniel I have no issues whatsoever with on screen buttons, especially if they make the phone have smaller bezels. However from these photos the bezels seem huge, they look the same as my 1520!!! Any chance the final version will have smaller bezels?

Also for continuum of you are using keyboard and mouse you cannot go back if you have capacitive buttons but using on screen buttons you can go back

"that would make the device larger." Looking at the pictures, it doesn't look like device is smaller because of on-screen buttons. The area where the buttons would be is still there. Now it just looks like wasted space.

The buttons swipe at the bottom of the screen above the start menu. You can easily swipe to remove it. It actually is better. :) That extra space you all have with your buttons is being lost to potential screen space. I much rather prefer the bar.

Its a dual sim. That is no body mentioning.

And thank goodness there are none! More screen real estate for the masses! Just a quick swipe up gets rid of the bar, so you can work with more screen!! =D 10x better than capacitative buttons.

I dislike too. But hey! 120 fps video? That one makes me smile.

Why, oh why, would you hate onscreen buttons? They are better in every way, shape and form than capacitive buttons. They are the main reason why I think the One M8 is unequivocally the best WP out there.

Onscreen buttons are why I hate the M8. The reason I stick with high end phones is to get capacitive buttons.

They will! Look at the photo!

Capacitive buttons are the best. End of discussion Posted via the Windows Central App for Android

Physical push buttons are the best! As on Lumia 710

I would agree that the iPhone home button is superior to anything else. It only activates when you press it down, and it's easy for people to pick up their phone, press the button and login.

I keep forgettign about physical buttons, but yes! They're great! At least physical home, and capacitive search and back.

I hated onscreen buttons until I turned the phone landscape and they were still "right side up" - physical buttons cannot rotate (or at some future time be replaced with better UI design).

Sacrificing screen space for capacitive buttons? Cool...more power to you then ;). I'll tell you though, having that extra .75" of screen real estate is awesome.

After using the HTC One M8 since last August, I prefer the onscreen buttons. I love being able to hide and unhide the buttons. More responsive than the capacitive buttons on my 928 and 822. I think the 950 series will have the physical camera button and that IS the one thing I miss. The capacitive buttons are inferior in my book.

Exactly, Microsoft copy Sony :3

As does every other technology company copying everyone else ;) it's not an unheard of situation

I hope the person who leaked it did not get fired in the meeting....

Honestly...I hope he did. Leaks aren't fun. I like to be surprised!!

That & the type c connector = big turn off besides its only 1440p. Guess if Samsung can pull off something amazing thats available on both sides of the border ill buy

Sorry its back cover has removed....

The must be removable battery to be seen if at all the back cover is removed

The camera bump is still off-putting. :/ I really hoped they would forego it in the smaller one at least. I know there might be a tradeoff, but I would prefer the camera to be flush with the casing if possible. (I'm still planning to get the 950 though)

Back cover is removed if I observe it carefully.... The camera bumb will be reduced

I think you'll really appreciate the camera bump. Look at the Lumia 930 and 830. The 930 is thicker and has no camera bump. The 830 has a tiny camera bump, the back shell makes sure it doesn't touch any surface, and it doesn't rock around when on a surface.

To each his own... I prefer the 930 concept, and bought one.

That's because what you're seeing is the hump in the protective cover.

This looks like 5'7 which is cityman..

Which is what the article's title and text say.

No.. They're saying this is talkman..

The title says 950 XL (cityman) but inside the article it refers to "5.2 inch" screen. This is where the confusion comes in.

But it also says "5.2-inch WQHD AMOLED display with a black body" so...

You didn't read the title, didn't you?

In fairness, we originally did have it has 950 due to getting the story up too quick.

It is powered by a Snapdragon 810. So what's the fuss all about? It's the XL variant for sure.

No way to add "updated" to title? Would save some of the no it all comments from ExtremG,shyx?,etc types

But the article clearly states it is the 950 / 5.2" device, multiple times.

"The main [photo] shows the 5.2-inch WQHD AMOLED display "
"this phone and the Lumia 950 XL with a larger display"

Nice. Looking forward to using Windows Phone again. I missed that sweet keyboard and awesome camera! Posted via the Windows Central App for Android

Ugh, on-screen buttons? Shoot me in the face, those things are hideous.

They rule. I can't understand how anyone could ever prefer capacitive buttons. Now those suck!!!

I don't like the concept of showing and hiding my navigation buttons. I also don't like the awkwardly colored stripe across the bottom of the screen. It seems like it would make the navigation less convenient and generally make the display less visually appealing, having that stripe along the bottom. Of course, I'm someone who liked to use the old WP8 feature of holding the Search button down to unlock the phone to the Bing search app. Since Cortana brutally murdered that (hate you still for that, Cortana), I guess it matter less. I just prefer my nav buttons capcitive and separate, not something I can accidentally tap or swipe over.

You can change the color to black or white to match your background. I take it you've never used one. Its not so bad. Have it on my 640xl and it adds a flair

I don't even know what that's supposed to mean. It adds a "flair" of static icons disrupting the flow of the display just because?

not sure that you realize the color can be changed (to black for instance to blend in to the black bezel underneath). if set to black, then no flow disrupted.

Yes, it will. It'll disrupt the flow when the bar has to be hidden or pulled up. That, and even if they go to the best AMOLED display they can, the black of the nav bar won't match the black of the bezel. It's still going to be annoying and cumbersome to navigate.

I'm with you on this. But mostly because I feel like I'm losing screen real estate. The 1520 has the exact same bezel and also physical buttons. I feel like every bit of the hardware spaced was used.
But I definitely want this phone,so I guess I'll just have to get used to it.

I don't really care about the screen space much. My 920's got that extra-tall bezel, so it'll balance out for me. The 1520's looks like it might be stlightly larger. But the problem I have is that they're supposed to have the ability to show/hide these things, aren't they? That makes quick navigation slow, and I don't like that. But like you, I don't really have a choice. I've been stuck on my 920 for basically an extra 18 months because McLaren was canceled, the 930 never got to AT&T, and those now-crushed hopes kept me from the 1520.

On-screen buttons are awful... I miss the time when Lumias were beautiful well made devices...

That's kind of a sweeping overreaction to the phone phone, I think. The renders as a whole look good. The side buttons are really awkward though, not sure why you'd flank the power button with the volume ones, that's plain weird. However, the actual device design is perfectly fine, and an upgrade from the weird metal bands of the 830 and 930. I also think I prefer the boxier shape of these than the rounded one of my 920.

It's actually not bad. And if you don't like its sight, change the background to dark and hide them with a swipe up. Trust me, you'll appreciate the extra screen real estate ;) Capacitive buttons just are unnecessary, IMHO. (But hey, to each his own on opinions)

As this is a prototype i will reserve judgement on the design but, if it has a square in shape i wont be getting it and will be probably leaving wp mobile as far as the phones go.

Wow. Really?? Of all the shortcomings of Windows Phone, the shape of the phone is what drives you away. I could understand lack of apps, but the shape?? Posted via the Windows Central App for Android

Look man, the Windows Phone Orthodox have spoken: Squares are for contacts and NOT phones /s

And circles and triangles! Since of course Android uses them, too along with squares ;) And well, Apple has a patent on the rectangular form-factor as well that Samsung lost to, sooo.....if rectangles and squares aren't your thing, if you want to use a basic phone, go for it ;).

Oh no, what ever will the platform do without you ?

Aren't all if not most of the current, upcoming and uncancelled phones square? Aside from maybe the 5xx and 7xx, they're all square.

Dammit, that sucks. I absolutely despise on-screen keys.

The first pic reminds me of the 920. Not a bad thing.

WPCentral Renders and 'actual' device look spot on, a worhy replacement for my 1520. But I wonder if Mr. Rubino can tell me if it is 940 XL or 950 XL. Seems news cycles are going back and forth. Not like it matters too much though.

940XL and 950XL are used interchangeably, they are all talking about the same thing at this point. It appears Windows Central has transitioned to always refer to these new phones as the 950 series now. A little bit ago they touched on that in an article. http://www.windowscentral.com/microsoft-cityman-and-talkman-flagship-ful...

Tks. Must have missed that one.

I think that's a shell and the actual phone is inside that

I do say it has a protective case to disguise it, so kind of yeah

Dan I'm sure you've seen the inside ;) does it have sharp corners like your render?

wish it had more colors :-/ I love my green 930, and would not upgrade until there is green or cyan Lumia

Replaceable back covers mean it has the potential to come in more colors. Fingers crossed.

Indeed, that's what I'm hoping for with these devices. The Lumia 920 was kind of a drag with colors (along with most every onther Lumia, really) because of things like limiting the gray device to certain markets and not having all colors available at once and providing enoguh choices for everyone (I got a black 920 because it was the only one AT&T received at launch, gray was not going to come to the U.S., and AT&T didn't know when red would be available). I relaly wish Microsoft would go the MotoMaker route. I know it's hard to do and expensive, especially doing it for a whole phone, but I think that doing a removable back plate should make it so folks can get custom colors and designs on their devices. Heck, they let you get engraved images and such on the Zune.

Nice thing is that LG showed with the G4 that you can make a great device with a replaceable battery and cover while still making it feel as solid as the unibody devices. Nokia did a good job with that too. Love that they are going with replaceable parts instead of unibody like the 920, 928, 930, etc.

Yeah, they should let 3rd-party also to make backplates, it will open up new ecosystem of accessories and customization. That was I'm wishing since I first saw Lumia with removable backplate.

I must've missed the article that says Nokia is going for replaceable parts, can you provide a link please?

I don't know how it works, but if they have special covers, like the Lumia 630 in Blue, you can get it on ebay.

Replaceable back covers combined with Microsoft's push for 3D printing and design tools built into Windows means we could be printing new custom back covers for our phones at home soon or submitting to a 3D printing service to print our masterpieces and share with the community. Not to mention the possibility of putting on a Hololens, look at my phone, and seeing what my new case design will look like right there in my hand before I send it to the printer.

I'm really hoping on a dual SIM variant. This will get me back from Android Posted via the Windows Central App for Android

The one in the picture is dual SIM.

How do you know? it has just one IMEI number listed. But I sure hope for a dual sim variant as well

See the two sim card error icons next to Wi-Fi icon... It's Dual SIM variant

Well. This may have won my money Posted via the Windows Central App for Android

In another blog site, they have the 950/950XL pictured full body and you could clearly see two phone tiles. So yes, I would say it's dual SIM.

Am I the only one that likes on screen buttons? I always accidentally hit the search button when there is capacitive keys. I've yet to do that once with my 635.

No. I can't imagine why anyone would feel different. Accidently hitting capacitive buttons is such a PITA I don't think I could ever buy another phone that had them. On screen is better in every conceivable way, shape and form. There is literally nothing better about capacitive buttons.

I agree. Also onscreen buttons keep the phone clean when the screen is turned off. It just looks sexy as hell to me.

Same here, all the time on the 920, yet to do it on the 635

LOVE my onscreen goodness!! ;) It's so nice to get rid of those buttons when you don't need them, and then show them at the same time when needed with a simple swipe! ;) It rocks

I know the on screen buttons aren't going to change, but I do prefer the capacitive buttons on the 920 and 930. I think this is their first high end device to not have them.

Great example - Lumia 1520 ( I love capacitive button it ) but we have to accept it now . Hope no bezel or less

We don't have to accept it. I'll probably buy an iPhone or stay with my Lumia 930. Those devices are looking really awkward.

Is it dual sim? Looks like that from the icons in the first photo.

May be dual version and single version coming

120 FPS at full HD - omg thanx finally it's coming in these two Flagship . Wow ( I gonna buy Lumia 950 XL (940 XL ) ) . Because addicted to my Lumia 1520 since launch in 2013 end . I can't use smaller then phablet

Why do people have a problem with in screen buttons? So many complaints about it.

I love on-screen buttons! Now only if they used the top and bottom bezels for stereo front facing speakers.

They take away from the screen. Look ugly. Annoying to use.

You can hide them and get your fill screen back

I didn't mean purely for screen size. They take away from the look and overall "smoothness" of the screen. Also, some apps don't work with them.

Never encountered an app that the buttons don't work. As for the stretching problem? Just hide it with a swipe up. Problem solved ;)

Because personal preference.

Because they look cheap and when you buy a flagship with an outrageous price the last thing you want is for it to look cheap.

Well... In my mind they look a lot less cheap than the capacitive ones on the 928 which had a tendancey to be kinda muddy. I don't know if that was a only an issue with that Lumia. (I had two different 928's and they both had muddy/dirty looking capacitive buttons)

It's a manufacturing issue and yeah, that's a problem and it actually makes the device looks cheap with dirty looking capacitive buttons. My co-worker before she got 920 and the capacitive buttons are yellowish and have tiny bands. I wished that if they continue making capacitive buttons, better make it very clear.

Exactly! My buttons looked horrible after just a few months' use, especially the Windows key and back button. Plus, to put those requirements on manufacturers puts Windows Phone as an option NOT to use on phones. Microsoft was right to remove that requirement so Windows Phone (Mobile) can be put on more devices. ;)

i thought it would be a TERRIBLE experience but i dropped to a 640 for a week to play with it and got used to it. just have to give love a chance ;-)

The first picture at the top reminds me they need to add that space we have on Windows Phone 8 on the left before the apps for lefters back. With the seach button and all, it's all for right-handed persons...

Please tell me there's a dedicated camera button.
I am so excited for this. Can't wait for continuum on Windows phone. Hopefully the accessories to enable it aren't prohibitively expensive.
I'm expecting there will be an easily pocketable USB type C video adapter and I'll just use my existing Bluetooth KB and mouse.

"Please tell me there's a dedicated camera button."

Yes Dedicated camera buttons are for PureView devices, which this is.

AWESOME! and with a microsd card i'll never delete photos and take lots more videos of the kids!

Now THAT I will love. I miss my dedicated camera button on my HTC One....only complaint about the phone. Otherwise, love it. Talkman will be my next Windows Mobile device.

It would be nice if it could shoot slow motion.

Um, shooting at 120 FPS lets you do slow motion, lol, that is how it works.

I feel stupid LOL, thanks :D

In the screenshots: Dual simcards?

Probably a SIM card and an SD card.. Hope :D

They want to make the UI more like iOS/Android, but they're removing the Home/Start/Windows button that people use to wake their phones with both iOS and Android? They shouldn't make it harder to open your phone, that turns people off.

A lot of high end androids out there with on screen buttons only.

When people hand me an S6 I use the button on the side to control the screen

No virtual buttons plzz its makes device look cheap I have 830 won't upgrade if dey r providing virtual rather than physical :3

More screen = me like. I dislike the bezel on my 930.

Looks good...but on-screen buttons is meh! Keeping my Lumia 1520.

I actually prefer on-screen buttons for the simple fact that my capacitive buttons on my Lumia 1520 are starting to malfunction. The backlighting of the capacitive buttons is no longer working properly (lights are off and when I clap on the back they sometimes go on again but only to go off again shortly afterwards). At least this sort of thing can't happen with on-screen buttons, so I'm more than happy to adjust.

'On-screen buttons' - Is the colour linked to 'Accent Colour' ? No other option?, i.e Black background and white foreground keys or vice versa. Would be nice option to have in Windows 10 Mobile if not already there. Daniel please suggest **Have a Lumia 930 myself, no on-screen buttons.**

On-screen buttons can be black, white, or match accent. user choice.

Cheers Daniel 'The Oracle' :)

You can choose to have it black, match accent colour, or match the theme of the app.

Very nice! Any indication that it has front camera flash as well?

Two things that I find disappointing--on screen buttons and non-integrated Qi wireless charging in non-XL version. If the buttons are on-screen, why does the bottom bezzle appear to still be so large? I noticed the same with the Lumia 735. It just looks odd. I much prefer the buttons being in the bezzle, but I could live with them on-screen if the change gave us a sleeker bezzle. I love Qi wireless charging on my Icon (and the 928 and HTC 8X before it). I want this on every device now, without having to use a cover or case. I don't understand why MS would omit from the non-XL device if it is meant to be a flagship.

"non-integrated Qi wireless charging in non-XL version"

I actually do think this is there, just some of the wording for some internal documents were confusing

And I'm praying to the Gods that you are right about it! I can't imagine a high end Lumia without it!

On-screen buttons and still big-ass bezels. Great design, really...

It looks to have more bezel then the 1520, the camera better have super high tech inside because the 1520 doesn't have an oreo and has a 20 mp camera. The 830 has an unnecessary oreo also so this 1 better be worth it.

Mmm oreos now I am hungry.

Front looks like lumia 1520. Back looks like lumia 830. 1080 p at 120 fps. Hopefully that is 1. full screen, 2. the processor doesnt heat up too much and blow up the battery.

That's my fear as well. I def won't be buying this phone on launch day like I did the 1520. Love the 1520 BTW, but I'm gonna need user reviews on the new ones before I grab them. Might have to hold out for an intel based phone either way though lol.

You can't see the back of the phone in these pictures. That's obviously a case that the phone fits into. You can see where the phone edges are in the photo of the screen side of the phone.

It's diapointing that they stuck with the same bezel design, where the screen has different corner radius' than the case, like the 1520 and 920. I know its trivial, but the contridicting corners keep me from buying the higher end Lumias. Maybe it won't be so bad with a black case.

I'd perfer that they just shipped in the 950 internals inside the 920 body. Hopefully this new phone has some heft to it.

Eugh. Got myself an iPhone two weeks ago as I was sick of waiting, looks like t he best decision I ever made looking at these. I understand that they are a prototype but they look completely uninspiring all the same.

" I understand that they are a prototype but they look completely uninspiring"

This why companies hate leaks. You just formed an opinion on an engineering sample in hardly flattering circumstances. Shame, really.

Point taken. Do not get me wrong, I was a huge advocate for WP. Reccomending it to friends etc and i get pulled up by them regulary for calling WP 'the future'. What disturbs me the most is just the lack of suppourt, delayed updates, ridiculously large product line and just general unproffesionalism from one of the biggest companies in the world. I wanted it to succeed believe me but after a 2.5 year wait for a flagship I gave up.

I gave up a year ago, i cannot be happier with my Note 4 and soon the Note 5 or S6 Edge +. Microsoft lets everybody wait for so long, which i understand due to WM10, and then when it is ready they make polycarbonate flagships again? Wm10 will never succeed with plastic flagships. They can't get the design right after seeing what the competition is able to produce. I must say that i will be jealous about that USB type C port that the Note 5 won't get. But it's not a dealbreaker. Way more up to date components in the Note 5 when compared. Posted via the Windows Central App for Android.

Totally with you. The problem with Microsoft is as if they never learn that great design matters. And these prototypes look very ugly.

And probably making the device thick to have wireless charging.. ughh, what a gimmick, i was excited for that feature when i got my 920, but it's battery has lost so much of it's capacity because those magnetic waves create heat... The Note 5 will get it too probably, but i'd rather use Fast Charging then destroying the battery and end up replacing the battery with all the risks that come with a sealed back.. Posted via the Windows Central App for Android.

PROTOTYPE! You're not meant to be seeing it therefore it isn't a perfect design. They're making sure the damn thing works. Some people honestly you make me want to hit my head on a wall all day. I'd probably feel better for it. As soon as these devices come out there won't be long waits between flagships. I'm excited for the future of the platform now more than ever. Microsoft have done it right this time with Windows 10.

120 FPS FullHD. Maybe i'm missing it, but i can't see the setting?
Max i see is FullHD @ 90 FPS

In the article, you can see a photo where setting show 120FPS. However, I think it was 1280x720 video capture not really the quasi definition of FullHD. But HD starts at 720.. We have too many HDs it gets confusing. HD, FullHD, QuadHD, 4K and many resolutions in between those.

Yeah, i know, but Daniel is stating FullHD and 720 is definitely not Full HD :)

Could the 1080@120fps just be off the screen to the top? Although that would mean Daniel's comment was a bit of an assumption (120fps is available at lower resolution, so why not higher?) or he had details beyond these pics.

Apps, please. Until then, no go.

The SnodenCam in full effect. lol.

Yeah the onscreen buttons on the m8 don't work right... In win 8.1 they hide portions of many apps and on w10 they are just unhidable period making the screen effectively smaller and lower res. Onscreen won't bother me if it works right.

It has the same design as Lumia 1520 (from the front)

This is gona be a badass phone.

This looks exactly like what I saw at the MS Insider Windows 10 Launch party.....see my theverge.com thread here: http://www.theverge.com/2015/7/30/9072745/i-saw-a-windows-10-mobile-flagship

No thanks. I can't bring myself to click on a link to Verge.

On screen or capacitive its all the same to me

Where I can find these"chinese guys" ?
Man seriously they always get preview builds first, prototype first ! >_< Well jokes apart
The prototype looks same photocopy of concept given by Windows Central, I mean camera-design language, placement of speaker.... Whole device itself looks like 3D printed by Windows Central.
(left a huge doubt in my mind)

Dedicated camera button? Is it there?

it's been two long years. until i actually see them and know that they won't be exclusive to one carrier then i'll start getting excited . until then it's just a read.

I don't mind the on screen keys so much, but from playing around with an XL it still feels like their implementation doesn't factor into the screen resolution and you run into display issues in some apps. Meaning, the button bar would hide elements of the current app you're in. I understand that you can hide the bar, but if I want it to persistently remain, I shouldn't have to sacrifice the overall experience.

If you've used the XL, please share more info :)

Yeah I noticed that especially when using the Amazon app. Took a me longer than it should have to realise why I couldn't find the Today's Deals tab xD

On screen buttons are a no go.

People here care so much about aesthetics, it's one design specification, and people are up in arms about it. Not like the software or build quality take priorities above a very slight functional variation, but people here get so upset about opinions like that for whatever reason...

What are the chances that the 930/1520 will get 120fps video too?


Phone looks fantastic, just got one important question: When will there be a WP with wacom support? Is that already supported by Win 10 mobile? Thanks in advance!

Most likely never since MS owns N-Trig now.

Oh, there's still the chance that pigs start flying and Samsung makes a WP version of the Note.

Mehhh. So sad the 1020 line got axed.

Waited so long & Microsoft shock us with on screen buttons.which flagship have this kind of stupidity, only ms think of this. From long time i want to replace my 925 but ms u just disappointed us.
On screen sucks , really. My bro has 735(which is giveaway from WC )
When i play games which has some controls which is right side then if i accidentally swipe the bottom then it just impossible to acces it until i relaunch the game, most bad thing is if i on auto hide then y screen resolution not adjusted when it pops up automatic. Means keys have to off screen edges not on my game menus.try dragon mania , u will understand my frustration.its not fast as capacitive ones. U notice some kind of lag when use it frequently & not possible to operate ph fast as capacitive Keys. Definitely its because of windows hello hardware addition. They dont have space to put keys. But they have to find alternative ways. Right now in market only 830 available with capacitive keys (930 is not available easily). & i think this year i will not find any with it. I was twice at Microsoft priority stores last month , some persons came for asking nice windows phones , sales executive show them 640 xl, 730 but they hesitate to buy it with only reason on screen keys. This is very bad for marketing strategy of MS. Some of my friends bought 535 ,their complaints also is same . They like 535 but hate the navigation problems because of on screen keys. But now nothing is going to change, & may b 950 will suffer have to suffer the loss like they face in 930, which was perfect but not good marketing strategy, not too many have any info about it.under 15 k its ok but 20k & almost 40-50 thousands its not acceptable for many of us.

930 was perfect? Wrong. It really wasn't. A lot of flagships have on screen buttons. HTC and LG both do as do some Lumia's. 950/950XL will be the best Lumia's ever produced.

Yes! On-Screen buttons! (no sarcasm!)

Is that a camera at the bottom?

It doesn't look nearly as sexy as the WPC renderings.

Yea, I know its a little underwhelming. But again this is a prototype, not a polished version so I will give them the benefit of the doubt. I expect nothing less than those renders :)

Engineering prototype. Meaning it has all the internal parts but the outside is just a box it all fits in.

Read the article. This is not the actual case. This is a case to hide the real body and cannot be removed. Also the amount of stripes and the width of them are all custom to the user so they can figure out who leaked the phone even if they black out the numbers. Most likely the person who owns the phone in this leak, is on their way to getting fired.

Chao windows phone, its been real!

I'm sorry, but I am demoting this phone from flagship to mid-range. All because of the on-screen buttons. Stupid on-screen buttons, which I would be fine with if they didn't work like a POS and cover up part of your screen so you have to minimize it like a Windows 95 start bar.

I'm probably feeding a troll but have you even tried the on-screen buttons? 99% of the apps don't get covered up......

Maybe it is my limited amount of apps that I use but a good amount do have this issue. Where the buttons cover up a part of the content where I have to close the button bar to interact with it.

You hardly have to. And when all Lumia's have on screen buttons the apps that do will be adjusted accordingly.

what if they worked like charms did in W8.1, swipe in and out to reveal? Im thinking id like them if that were the way they were implemented.

I wouldn't unless all apps implemented a standard place for a back button.

Yeah, when I hold an HTC One series phone in my hand, I think to myself :"What a mid-range piece of crap".

Are you Louis Armstrong? That's the voice I used when reading your comment.

That's ashame the buttons are software buttons. I was hoping that these flagships would keep me on Windows mobile, which is where I want to be, but if I'm committing to a two year contract I want a phone that suits me and from what I've heard and now seen I'm not thrilled with these devices. There is still more to see about these so we'll see how it goes. Maybe I should hang on to my 1520 until that rumored Surface Phone comes in 2016.

I don't want on screen buttons. I don't like it. I love my windows phone keys glow during night.

Then don't turn of the light.

It's more a question of design/individuality of the platform...the Microsoft phones do not need to be designed for multiple platforms like the M8 for example needing onscreen buttons to simplify use through assigning purpose.
The Microsoft phones (especially flagships) NEED to have capacitive keys, not only for identification but also STYLE...
The single design aspect that puts Windows Phones above the offerings of other platforms is that windows logo, those keys at the bottom of a phone just look great....

This on screen key business is complete shit. The flagship phones should have high end features. This includes physical keys, in my opinion. ​ ​ If you decrease the size of the bezel by removing the physical keys, only to decrease the size of your viewable screen by adding the keys back on-screen, what have you gained? Nothing.

The buttons can be hidden. Custom colored. In future there could be more or different buttons or you could customize the layout. Can't do any of that with physical buttons. This is a high end feature.

If you decrease the size of the bezel by removing the physical keys, only to decrease the size of your viewable screen by adding the keys back on-screen, what have you gained? Nothing.

Thats what the fanboys here cant seem to grasp.....

Just like you can't grasp that other people want on-screen buttons. If you don't like it, too bad but do move on.

Capacitive buttons do suck, so do all nav being on the screen. I hate to say it being a WP junkie but Apple has it right with a single PHYSICAL button for home and nav arrows on screen. I like the presense to quickly tap home, hold for app switch, double tap for search, etc. That being said I am willing to give full on screen a chance and my biggest gripe will be loosing screen real estate in some cases along with anything that is hidden to regular users such as WP pictures view and swiping up to get the NAV back is just bad news for some users (think charms).

Having only one button for everything is bad design and it's starting to bite Apple in the butt because it's starting to limit functionality. I've been using my One for almost a year and you really get used to on screen nav. I love being able to swipe and get all of my screen real estate.

Fuck on screen buttons :/

Looks very nice! Looks like the engineering team has kept that phone dirty as hell!

Didn't someone at Windows Central just confirm days ago that it's going to be the 940; not the 950?

That might have been the price ;-)

How does one sign up for http://proto.microsoft.com ?

It's very simple, there's 2 ways: 1. You get an advanced degree in engineering, get a job at Microsoft in the devices department, start testing devices and sign that device up to proto... 2. Get a job at Foxconn, steal a prototype and register the device at proto...

Yeah, I was being facetious. It would be nice if they had an insider program for hardware.

Why there is no flash in 950 :(

there is, heck, even the 640s have them!

Daniel, Are both getting pen support or is it only the xl ? Different sites say different things.

I wanted a smaller screen size. 4.5" is plenty big for me.

Disappointing because it looks nothing like the two different concept renders I've seen and the entire front is not covered in glass. This looks like the Lumia 1520 with a removable back and I hate to say I'm disappoint with the design. I was hoping from something truly stunning. This doesn't look like it. Microsoft is never going to make up any ground if they don't make a device that truly turns heads and makes people want one. Maybe it will look better in person. I was hoping to upgrade to this, but now it looks like I'm waiting to see if there is a Surface phone coming. Damn Microsoft. This is not very sexy.

The 1520 with a removeable battery is very sexy to me.

I'm just tired of the same Lumia designs over and over while never changing. This site's renders look far better than the actual phone.

You've seen the actual phone? Enlighten the rest of us please.

The iPhone rarely changes it's look, and when it does, it doesn't change that drastically. It's part of it's identity. It still sells incredibly large amounts though, for each minor revision. Which amazes me as a non-Apple fan, because I don't entirely see why.

Well you call it the XL but then say its the 5.2 display. Make up your mind ;-)

I don't really want to make the jump to Android, but nothing from Microsoft has given me any confidence in their platform. I love my 920, but there hasn't been anything comparable made since that model. I suppose I can wait 2 months to find out what MS *finally* rolls out, but my current phone has taken a few hits and is ready for replacement. Does anyone else suspect that MS is slowly extricating themselves from the mobile market? No other vendors are joining in, and they are not being aggressive with their new models.

Completely agree, come on back Nokia

Nice looking phone. However, I think I will get a 930 to hold me over for a while as I am not a big fan of camera humps.

This will be my next phone, coming from Android. I purchased the 1520 for Tmobile but didn't pick up good. So I purchased the 640 which was good but to small for me. So I ordered the 640 XL. And while that phone is great I want more, like 1080p+ screens, more ram and more memory. Windows is doing amazing things lately. Love it way better than Android and iPhone. So much more smooth, and love the live tiles. Come on Oct just hope its available like the 640 XL is "unlocked"

Those on screen buttons are ugly they're just ugly. They could have given it a single windows button and it would have made it better looking, similar to the surface.

I recall a story in the past said that Verizon won't carry new Windows Phones. Will the "unlocked" versions that MS sells directly through the MS store have the appropriate CDMA radios for use on Verizon? Because I really like everything about the 950 XL!

October? We have to wait that long for the phone to be revealed!?

Everyone looked at me funny at work, when I threw my wallet at my monitor.

You win for best reaction. I think it's quite beautiful.

Not much to look at it but its basically a slab with a rubber case on it. The on screen buttons scream cheap. Galaxy Nexus from 2011 cheap. What's with the side buttons? Volume up, power, volume down? Is MS drunk?

Oh, come on. Can't Microsoft get a designer? It the same damn phone we've had since forever. This is just a big version of a Lumia 630 with a great camera. I mean, they should try once to make something that stands out

Tell that to Apple...the phone hasn't changed much since the first one.

So what? The iPhone 6 still is a sexy phone, still got it's identity. Lumia phones look all the same lately. This flagship is just a big Lumia 630, or a Lumia 1520 without the polycarbonate parts, etc. It's really uninspired

How about transparent on screen buttons as a choice.... Because black, white or accent color still hides part of the screen and take up space. That'll make me feel a little better knowing I dont have capacitive buttons

I'm more concerned with on screen buttons and apps recognising this. Was horrible in some cases on my 735 but in general use not a problem. Still prefer capacitive but it is what it is.

Polycarbinate? Nope! Nevermind. I'll wait for the next HTC or a Surface phone. I'm good on getting another Lumia that looks exactly like the previous 5.

MS please dont fire the leaker. I dont want to see anyone getting fired for being enthusiastic about MS's mobile efforts.I'm going to tweet MS hopefully other readers will do the same. I'm feeling bad for the guy.

Or this might be his resignation

Dual SIM & Amoled Screens....... Question is will these new phones have Glance feature or will it be skipped like the L930 & L735?

it'll have glance for sure. the 640 has it and that i bought new for $99 so you can be sure it'll be there.

Is the flagship 940 or 950 because there are some other site that claims is 940.

Need to see more...so far not a fan. Hope they kept the camera button.

Looks good. I want me the XL, but I probably won't have the money for it when it first comes out. They should add something like Windows Hello to Windows Phone, so other people and other conversations don't interfere with your speaking to your phone

I wish they would have kept the Xenon flash. Hopefully in whatever it is that comes to replace the 1020.

Wish that the name changes to Lumia 1540

camera button http://i.imgur.com/IGqfgrk.jpg

October? They better be releasing this thing in October. These phones had been be absolutely fantastic with how long its been since they released a flagship. There is no excuse for them to be missing anything.

Did you notice the dual sim option?

Ok Microsoft, commence Hardware Insiders program, obviously you need geek support on all levels

hmmmmmm fine iam not going to buy this i will wait for intel one..i hope it will have capacitive buttons plus fate of windows mobile moreover iam used to capacitive button on my S3 and dads 1020..i hate onscreen keys especially on my moms 730,main reason not all apps are optimised for onscreen keys.

Any leaks on pricing????????

i'm sure it'll compare to phones with same build. i'm sure you can purchase five 640s to one of these so the camera and screen better be nice!

These should be decent phones. It's not like the 920 was perfect in every way either, and so these too must have little things that aren't quite there. If they have the physical durability of a "Nokia Lumia" then they should sell fine... and then Microsoft can move on to making something truly great.

the prototype is so different from the renders

Renders are always fantasy based concepts of perfection that doesn't seem to be practical.

i am talking about the renders WC claimed as very close to real.

i just hope to have more rounded edges just at least like 640

Looks like the 1520. Gimmie.

Dedicated windows button that act as notification light please!!!

Is there a difference between OLED and AMOLED screens? I know they save power and all but am I the only one dissapointed that these phones will have OLED instead of LCD? I had Samsung phones with AMOLED before the Lumias were available and the two that I had experienced very noticable screen burn in. Being a heavy text user, within months I was able to see the text screen bubbles burned into the screen. I never had a worry about this with my Lumia 920 and even use the phone as my nightstand alarm clock with Glance set for clock always on while on wireless charging cradle. Now I feel with OLED that I won't be able to leave the clock on and will worry about the screen.

Don't like speaker placement and don't like the volume/power buttons.....hope this phone has awesome audio like the HTC One M8

Donald Trump in the phone render image. Can't wait for 2016

hey guys I think is cityman (XL) cuz I can se the aluminium side buttons!!! hoping the bumps of the cameras in both phones arent way too big, hate those... love OIS though :)

I just wonder with ever other flagship going go metal and this being what people see as plastic if it will catch on. The other aspect that is concerning is the artist renditions show sharp corners which would be hard on your hand.

Hi Daniel. Thanks for the article. Can I ask if there is any news on actual physical dimensions of the device/s? I know the screen size and can then estimate but has anything 'official' been leaked? If yo know what I mean?
I currently have a Lumia 735 and am trying to work out just how much bigger the actual device will be in comparison. Also, will the screen actually run x2 large lanscape live tiles side by side as per the mock-up at the bottom of the article? Thanks again.

Well it should gets nokia name in top of phone.....!!

Looks like dual sim to me...

Looks good...gj microsoft

October? So it will actually go on sale around November-December which is also when W10 Mobile launches? Then starts the update marathon and we could expect current WP8.1 devices to be updated around Q2-Q3 2016. Universal Apps must be tempting for devs..

Most people complaining about on-screen buttons don't or have never owned a phone with on-screen buttons. They are fine just like capacitive buttons are fine. Do you all really thing your day to day experience will be somehow tainted without capacitive buttons? We get caught up in our own 1 or 2 specific views and rarely do we consider a platform wide design decision. It is easier for developers to create and port apps across devices when they don't have the additional consideration of hardware buttons.

@Daniel - how do you keep your sanity/morale after reading all this?

Easy, he just looks at the number of responses. He'd be far more concerned if only 2 or 3 people commented.

That side button placement is horrible.

Lumia 950 has a dual-SIM version? On the first picture it show the symbols on top left corner. The lumia 630 has these symbols, so I think a dual-SIM version is coming.

The front face looks horrible to me. Ugly as hell.

MS is throwing all these ridiculous flagship specs and all you guys complain about is on screen buttons. Smh.

For fucks sake this. People act like a hard reset (if in the rare occasion it hangs) needs capacitative bezel keys, or its impossible.

What is with the buttons on the side? It looks like there are two power buttons or something.

Except I cannot get through one session of gaming without triggering Cortana on my 920... Can't wait to trade up for something with hideable buttons. Using my wife's 635 isn't the best case use of them, but even on it, it's pretty flawless.

I would rather capacitive buttons. Really not happy they are on screen and hoping atleast the Surface Phone will have capacitive. And it has nothing to do with keeping the bezel smaller.
the bezel on that phone is no smaller than the bezel in my 1520.

1280X720 with 120 FPS? WOW! I can make nice slow motion shots with that.

Not a wow thing anymore since iPhone is able to shoot 240fps Posted via Windows Phone Central App

Sad that no front firing speakers

It's pretty dangerous to have front firing speakers

Hello, I'm getting confused about this. At the screenshots you can see a QHD 1440x2560 resolution, so the device should be the Lumia 950 XL. http://www.windowscentral.com/sites/wpcentral.com/files/styles/larger/public/field/image/2015/08/Lumia-950-info.png?itok=ixOe1HS7 As far as I know, Lumia 950 should have a 5,2" Full HD screen (1920x1080), and the Lumia 950 XL a 5,7" QHD screen (1440x2560), but at the end of the article, when you talk about the specs, both have the same resolution :/

I'm just praying the phone supports Verizon. I'll gladly buy it at full price from the Microsoft Store.

One reason I won't buy it: On screen bottoms.

Why is the bezel so huge ? I mean come on man. Really hope thag this is not decided as a final design. Even with thd case on, i have a feeling that this wont be sexier than the 930. If not, im not buying it. I want high build quality and features to go along with a stunning phone. They should keep the metal trim and shape of the 930 or 830. Let's hope.

Onscreen buttons... do not like.

should i say: good things come to those who wait or patience is a virtue im not leaving Windos phones until the completely stop making them

I only shared the photos with my mum. The next thing I know they're all over the interweb!

I got used to on-screen keyboard, I'll get used to on-screen buttons. And I love that it's dual SIM, or at least a version of it. Can't wait for it to arrive!

After using the One M8, the thing I'll miss the most are the dual front-facing speakers. Hopefully MS will include this in future designs.

If this is the flagship they've been making us wait for then sorry, iPhone 6S or OnePlus 2 with microsoft services setup will be the way to go. #PoorDesign

Agree. This device is awful...

One observation; is this phone dual-sim? Look at the top of the screenshots. I didn't think it was rumoured to be. Looks good, but until we see the whole of it it's hard to tell what it really would be like. At the moment it's just a screen and a glimpse of a camera module. It'll be interesting to see how much the camera module sticks out, though. I doubt it'll be 1020-like but it does seem quite prominent with that prototype-identity case.

If this is their flagship, it's the end of the line for me.

I really hate on screen keys. Such a distraction from how I interact with the OS and apps. It may honestly push me towards switching back to iPhone. This feature is what I hate most about my M8.

Isn't Apple implementing on screen buttons in their next iPhone? Lol

And people are going to preach innovation, because Apple regardless.

It's so nice, give me one!

IT SEEMS TO BE A DUAL SIM.

I'm only hating the back speakers. Back speakers are the reason my L920 and old iPhones are used on our offsite conference calls. The back speakers get muffled when you don't have a hard surface. And in the land of textiles, hard surfaces are never around when you want them.

If you zoom in and check the right edge, you can see "cutouts" in the privacy case for where the buttons will be. It looks like we'll have a camera button and volume-power-volume as prophecized. Although, the WC renders have the buttons a bit higher than they appear to be here. It looks like volume and power will be closer to the middle. Or look at the picture of the back. Volume and power buttons (metal) can easily be seen.

I like what I saw so far but I hope the on screen botton disappear when I use the phone to take the full size of the screen when I play ,, And last thing I hope the man who take these photos don't get fired ,,maybe he deserve a strong alarm the man doesn't deserve to get fired(or maybe he does)

For those complainging bout the big bezel taking up a lot of space or whatver...this is a PROTOTYPE! not a final design, and this will certainly not be released in such a shape to the consumers this Fall. On top of that the article clearly states that this prototype is covered by a special, big, uncomfortable case, hence the bulkiness.

You can see the edges of the phone itself from the screen view picture. It looks to be quite a thin edge around the screen and you can see where the ugly case wraps around the acrual phone. looking forward to this big time!

Physical buttons means less screen size. My 1020 uses a good half inch if phone real-estate for the physical buttons. The onscreen buttons use approximately zero.... Grow with technology you nannies... ;-)

The leaker must be a idiot.
Risking his job for just one moment of fame.................

The dual SIM option is a welcome news! The location of volume up/down and power buttons is not!!! They get in the way of your thumb hoding the phone while talking on your ear...They should be located higher closer to the top of the phone opposite to the camera botton location. I also scaled the snap shot of the three screen pictures to get exactly 5.2 inches diagnol. I was surprised to find out both the overall width and height dimensions of prototype L950 are smaller than Lumia 640!!!.....assuming the bezel dimension on the sides, top and botttom the same as L640... That is good news for smaller hand Lumia Lovers! Just a reminder that with onscreen navigation bar (keys) exposed, the usable screen diagnol is less than 5.2 inches.

Jeepers! I hope the buttons won't remain on screen... I'll likely still buy it if it keeps true with the removable battery, but I'd really prefer capacitive buttons.

I do not know why, but to me this Lumia design very boring. Button on the screen is quite disturbing and suffocating. I would not buy this phone, I'll wait and see Lumia design for next year 2016, hopefully very attractive design as well as software and hardware more advanced. May also can upgrade megapixel for camera. Surface Phone possible will have an attractive design ???

I really dont mind the bezels... they are not really that bad.

Love the case wonder if they'll have one in production

If these new images are real (specifically the first image showing the phone resting on a laptop), it looks like the "Windows Central renders" were pretty far off the mark.


Those concept phones are awfully boxy.

Let me start with the fact that I've had the 1520 since November of 2013. I normally replace my cell phones on a regular basis, and within the last 7 months have purchased an IPhone 6, IPhone 6 plus, and a Nexus 6, but even as late as yesterday there isn't a phone out that compares favorably against the simplicity and functionality of the 1520, it is by far the best cell phone I've owned. I've even converted many IPhone and Android users to the Windows environment and I haven't heard any of these converts complain about their choice. I am very much looking forward to the new phones, I've been watching for their arrival as patiently as possible while continuing to use an almost 2 year old phone which is actually better than the day I bought it due to software updates. Thank you Microsoft for refusing to "Throw in the towel", many of us who actually know your product will continue to support what we feel is the best platform for mobile on the market.

It looks like a 1520 from the front without hardware buttons.

Not getting it because "on screen button" fail

Hello, windows fans. I'm a Chinese guy here and excitingly, I have something more to tell you about the lumia940XL because I've seen more photos of this phone revealed from the bbs. I made a list and I'm 100% certain what I'm talking about is all from these photos without any assumption. 1, It IS lumia940XL(cityman),because the processor is Snapdragon 810. 3GB ram , 1440*2560, 5.7 inch display 2, It HAS LED and supports glance 3, It has an Oreo carema with three flashes. (I guess you know what I mean) 4, Its rear cover can be changed and of course the battery is removable. (Maybe those who complain the phone is ugly should wait and see the final retail version) This is my first time to reply here and I wonder if you could make more fans see it because that may reassure some fans. Anyway, glad to be here and excited to see the new lumia flagship. LOL, one things is quite sure that the guy from Microsoft China who revealed these photos has big problems now.

Finally... My Icon is looking so small now!!!

Not bashing around but iPhone is able to shoot 240fps with its camera, it's not really a wow features or anything but come on Microsoft do something since this phone got a 20mp camera Posted via Windows Phone Central App

I wish they will make it with capacitive buttons instead...

it seems as if it's just me , who think that a high end device should not be constructed of plastic . was never fond of the 920 design because the plastic body ( used the phone until the 930 came ).
Disappointing to go from 930 ( partially aleminium ) back to polycarbonate . would rather paid extra for the premium feel of aleminium.

Is this Dual SIM.. Photo shows tow sim option ?

Thanks for this really excited.

To be honest, i am bit bored with Lumia's rectangular design. I really hoped they would make a design change. Something like this concept phone. http://www.volkankey.com/wp-content/uploads/2015/07/concept_lumia_940_xl_d.jpg It would have nicely sync' with the new curvy/circular design changes for Windows 10 for buttons, profile pictures etc. Anyone with me?

this Windows 10 Mobile smartphone Prototype reminds me of my Nokia Lumia verizon 928 whose design is simplistic. i wanr the 4 corners of my smartphone o have more curve to them so the smart phones does not dig into your hand's palms. The person who leaked this info should not be fired if it's true. This info is what the Public needs to know to keep interest in MS Windows smart phones Alive.

On-screen buttons are best in the long run. sure we will get used to it same as we did with onscreen keyboards(people type much faster now)

I hope they will make better design than this.. It looks cheap though for a flagship tier.

The only phone that's coming close to replacing my 1520

I really can't believe the fuss some people are making over whether the buttons are hardware or software. Personally, I prefer hardware buttons will be disappointed if new Lumia flagships are released without, as now seems to certainly be the case. It's really not that big a deal though. Having software buttons hidden while you're playing games or watching video on a device with a smaller bezel is a positive, although using on-screen buttons is slightly less of a pleasure in my opinion. The issue is not worthy of the hyperbole some are producing though. I'm more concerned with the body of the device. We've been hearing for a while that the body will be all polycarbonate but it's now clear that the bodies provided to those who are leaking the information are not final. The fact that the buttons are aluminium makes me hopeful that the final product will have an aluminium frame and polycarbonate back, like various other high-end Lumias have, including my own 925. That would be my own preference in that regard.

That is not the new 950. They are trying to throw people in the wrong direction so they'll be more surprised when the thing comes out.