Imperium - ROTS, a fantasy adventure game for Windows Phone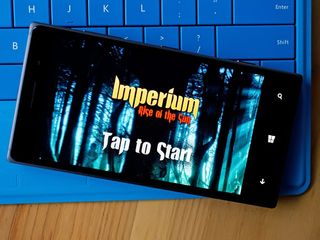 Imperium - ROTS is a relatively new fantasy adventure for Windows Phone that has you battling a host of foes as you search for the crystals of ancient imperators so you can rule the world.
The game has a bit of a RPG approach and may be best described as a Yu-Gi-Oh styled card battle game. You can work your way across the gaming map taking on opponents or take on other gamers with the Online Battle mode. There are over 120 imperators to catch and plenty of attacks to learn and improve upon. I would describe imperators as battle avatars or character that are under your control during combat sequences, much like you would find in the Yu-Gi-Oh or Pokemon type games.
Available for low-memory devices, Imperium - ROTS (short for Rise of the Sun) does make a nice first impression and I can see it being a Windows Phone game to keep you occupied for some time.
The main menu for Imperium -ROTS has your standard options to enter game play, check your roster of imperators, view your achievements, view the impersonator's catalog and access the help and options menu.
The help and options cover music controls, viewing the tutorial (via website), turning on/off the vibration setting the BGM (Background Music) and resetting the game.
Two gaming modes are available with Imperium - ROTS. You have a Story Mode where you battle your way across the gaming map and an online battle mode where you can test your skills against other Imperium players. In either gaming mode, your first order of business is to create a screen name. The battle mechanics are the same for either gaming mode. The key difference is that with the Story Mode you have a set quest and computer opponents to deal with.
Imperators
You begin the game with three imperators (which are depicted more or less as playing cards) and as you play the game, you will have the opportunity to capture new impersonators. You can also create new imperators through transmutation of existing imperators.
Each imperator will have a set of attributes that include hit points, elemental points and stamina. As they survive battles, they will earn experience that will automatically advance them in level, increase their attributes and learn new attacks. Speaking of attacks, the imperators also have specific elemental attack strengths. They also are more susceptible to certain elements than others while other elemental attacks have little effect. You'll get clues as to which is which during battle and the weaknesses are listed on the playing card that appears during battle.
You can manage your imperators from the main menu and you can only have three imperators active at one time. If you are defeated in battle, you may want to swap out imperators based on their abilities to better your chances for victory.
Game Play
Game play with the Story Mode has you bouncing around a map battling opponents and capturing new imperators. The online mode has options to send a battle request to a friend or start a quick battle with a random opponent. As with any online mode of game play, a lot is dependent on finding an opponent. After several attempts, I could never find a random opponent to do battle against.
The Story Mode on the other hand ended up being rather challenging. You'll tap on the player icons that appear on the gaming map to interact with the various characters of Imperium (most just want to fight). The first battle was somewhat easy (mainly to get your feet wet) but from then on, you not only needed to make sure you managed your attacks with a bit of strategy.
The battle screen has the imperator you have in play displayed in playing card style at the lower left corner of the screen with the attack choices running across the bottom of the gaming screen.
Your opponent's imperator will be displayed center screen and combat is turn based. You will see descriptive comments appear after an attack that can be used to guide you through combat. If an attack is described as "very effective", you know to stick with it.
Each attack will consume an amount of your imperator's elemental points and as these points decrease, some attacks will become unavailable. If at any time during the battle you need to switch imperators, tap the red arrow on the combat screen. Turn based attacks will continue until all of your or your opponent's imperators are defeated.
Battles increase in difficulty and it is important to manage your imperators to give yourself a fighting chance at success.
Overall Impression
The more I played Imperium, the more the game grew on me. I have always had a soft spot for the Yu-Gi-Oh or Pokemon styled games. They are easy to play but challenging to master and make for great time wasters.
With Imperium - ROTS the graphics are nice and the imperator selection has some rather interesting characters. I do wish the combat was more animated but what is in place isn't too shabby.
I also wish the online mode worked better. It is my understanding that the developers are working on this feature to make it easier to find an opponent. If all goes well, look for an update in the next week to improve online play.
Imperium is a free, ad-supported game but does have a few in-app purchases for gold or potions that give your imperators a boost in performance.
At last check, Imperium - ROTS pulls down a 5 Star Rating in the Windows Phone Store but that's only with 29 reviews. Overall, I'd rate the game a bit lower but a 5 Star rating isn't that much of a stretch.
Windows Central Newsletter
Get the best of Windows Central in in your inbox, every day!
George is the Reviews Editor at Windows Central, concentrating on Windows 10 PC and Mobile apps. He's been a supporter of the platform since the days of Windows CE and uses his current Windows 10 Mobile phone daily to keep up with life and enjoy a game during down time.
Duel Masters was better than Yu-Gi-Oh :P
.
Downloading.....

Pokémon games are not available......

Duel Masters was mind numbingly simple compared to Yu-Gi-Oh.

LOL that's why it was better.
No fanciness

I liked them both but duel masters was more into graphics while Yo-Gi-Oh into storyline... Summing them up, both were great!

Duel masters was the best! Why did it get a shut down after completing some 50 episodes? ? ? ?

They used to just have a game called Imperium back on WP 7. I guess the developers kept the characters and switched up format. I'll give it a look.

Eagerly waiting for Dr.Drive game...

Is there a version that isn't free? I only see a free version.

Love card dueling games hope this one is exciting. But I am playing evoker right now which is amazing but needs optimising for 512ram devices as the app crashed alot.

Sounds good, I'll give it a try, thnx

I'm just waiting for the headline to say Microsoft Lumia Denim Is Available For Download On All Carriers!! Lol.

I don't like to play games on Phone. Just my opinion. Need to be said...... Cheers!!!!

Download VGBC8 and a Pokemon ROM, you'd be playing the best game till date!

I tried this game and I am really enjoying it. Thanks for the great review!

This seems to be a super evolved version of the devs previous attempt on this type of game, it was fairly simple but this one looks worth playing.

Where can I download BGM (background music)? Can`t find anything about it
Windows Central Newsletter
Thank you for signing up to Windows Central. You will receive a verification email shortly.
There was a problem. Please refresh the page and try again.