Incandescence, a Windows Phone game that will test your rhythm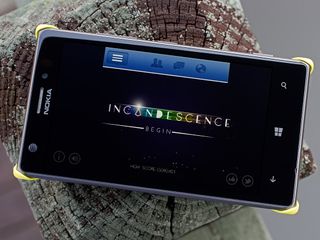 Incandescence is an upbeat Windows Phone game that will test your rhythm, reflexes and speed. Described as a finger drumming game, you try to keep pace with the background music's beat and tap circles that light up in rhythm with the music.
Incandescence reminds me a little of the popular Windows Phone music game SongArc but noticeably scaled back. The game still has its fair share of challenges but needs a little more meat on the bone to avoid getting stale too quick. Incandescence is available for low-memory devices.
Uncomplicated design, zippy game pace
The main menu for Incandescence is brief with options to view the About screen, mute the music, rate the game and view the games' Twitter feed. To jump into game play, all you need to do is tap the "begin" sign on the logo.
Game play is fairly simple in that you have a collection of circles lined up across the bottom of the screen. These circles will light up in rhythm with the music playing in the background. You will need to tap these circles as they light up.
As you first launch game play, Incandescence will have a few tutorial overlays to guide you through game play. Your score is displayed at the top center of the game screen, your high score in the lower left corner and a "+" button sits in the right corner that will reveal a mute button, a home button (goes back to the main menu) and a help button.
As you progress through the game, the pace of the music picks up and your tapping will have to step it up as well to keep up with the flashing lights. There will also be times where the number of circles will go from four to three or two in number. Incandescence also has support for multi-touch and don't be shocked if you see two buttons to tap simultaneously.
Visually, Incandescence is well drawn-up and, in my opinion, has a little Pink Floyd influence. As your score increases during game play, multi-colored lights will emit from behind the pyramid to acknowledge your success. The lighting effects will begin to fade if you slow down and if they dim too much, the game ends.
Overall Impression
Incandescence is a nice time waster of a game for Windows Phone but may have limited appeal, which isn't unlike any other music game. If you lack any rhythm in your body, I can see Incandescence being a dull game to play.
If you do have any sense of rhythm, Incandescence can be a fun game to pick up. There is a decent selection of music with the game but it would be nice to see Incandescence pick up the ability to play your music files.
A few more observations include:
There needs to be a more defined indicator when you are at risk of losing the game. While the fading lights are one indicator, it's easy to overlook. Maybe a life meter running down the side of the screen?
The buttons you tap with Incandescence are functional but it wouldn't hurt to have them a smidgen larger. The design is to accommodate one handed game play but if you have large hands or playing from a smaller screen, this can be challenging. You can play Incandescence with two fingers but it adds to the challenge of the game.
Incandescence is a free, ad-supported game but the ad banner sits at the top center of the gaming screen (just above your score). Not sure of the logic behind this placement but it does block game detail. I'm not sure if there is an alternative location for the ad banner but it should detract from the game.
While there is room for improvement, I can see the appeal of Incandescence but it does need a little more meat on the bones. Support for local music files, larger buttons or maybe even a variety of gaming graphics could help bolster the game's appeal.
Incandescence lacks a rating in the Windows Phone Store and we would probably score it in the 3.5 to 4 Star range. If you try Incandescence, let us know what you think of the game in the comments below and be sure to rate it in the Store to give the developer a sense of things.
George is the Reviews Editor at Windows Central, concentrating on Windows 10 PC and Mobile apps. He's been a supporter of the platform since the days of Windows CE and uses his current Windows 10 Mobile phone daily to keep up with life and enjoy a game during down time.
You even took a picture of the ad.

Seems cool. Enjoy everyone :D

Is this going to be a thing...

That's the only game from the developer that is not a universal app. Strange.

I'd love to pay a couple of bucks to get rid of the ads, also let me play my own music and it's a done deal.

What music can you play in this game?

I'm still waiting for a good music game. I'll give this a try.

I'm a drummer and I accept this challenge! /tappa tappa tappa

I would play it but I'm afraid it would do like Song Arc and zoom the screen in when tapping and I would always have to turn my phone off and back on to get it back to normal

Just taking a guess and trying to help. You seem to have magnification on in WP settings. Try going to Settings > Ease of access > Switch off screen magnifier If this doesn't work then I'm not sure what would.

But this is not a problem, this happens because you make a double tap with to fingers, you can disable this zoom in settings
Ps: Sorry about my grammar, I'm just learning English now.

This is one hell of a game...nice graphics...something new...challenging...
Loved it

Love the graphics and the music. Man, my index finger did all the playing. Hahaha

So, uh, it's Guitar Hero/Rock Band for touch phones, and without the song selection?

You can swipe in the direction and even tap anywhere on the screen when there are 2 dots
kinda boring, doesnt go witht he beat :/

its damn buggy, just made 999,999 score XD LOL
Windows Central Newsletter
Get the best of Windows Central in in your inbox, every day!
Thank you for signing up to Windows Central. You will receive a verification email shortly.
There was a problem. Please refresh the page and try again.