Indian OEM launches Penta WS802X, a budget 8-inch Windows 10 tablet for ₹5,499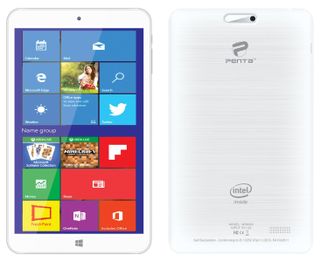 Pantel Technologies, an IT and Communication devices company from India, has launched its first Windows 10 tablet in partnership with Intel and Microsoft.
The Penta WS802X features an 8-inch IPS display and is powered by a 1.3GHz quad-core Intel Atom processor coupled with 1GB of RAM. There's 16GB of internal storage that is further expandable via a microSD card. The tablet also packs in support for USB OTG and 3G via USB dongle, and includes a micro USB port.
Penta WS802X Specifications
Processor: Intel Atom 1.3GHz Quad Core
Operating System: Windows 10 Home
RAM: 1GB DDR3
Memory: 16 GB Flash Memory; up to 64 GB using micro SD card
Display: 8-inch IPS | 1280 x 800
Camera: 2MP front camera | 2MP rear camera
Battery: 4000mAh
Pantel Technologies is a little-known OEM, although the company has been selling affordable tablets under the Penta T-Pad brand name in India, South-East Asian, GCC, and African markets for some time now.
The Penta WS802X is exclusively available on e-commerce retailer HomeShop18 at just ₹5,499. Not only does the tablet affordable, but it also comes with a free keyboard and Bluetooth mouse as well. What do you think about the 8-inch tablet? It looks good on paper, and I'm looking forward to try it out.
Windows Central Newsletter
Get the best of Windows Central in in your inbox, every day!
How do they make money with the freebies

It's a gamble. They're counting on the "freebies" to get them more sales which means an increase in profits. This deal also likely isn't permanent and is only to get some positive feedback for the tablet.

Slap a LTE radio in that thing, and load up W10M, and this will be my next phone... Lol.
#SuperPhablet

They get those freebies from china for like $2. Nothing to be excited about.

That is super affordable. At around US $80. Even an 8" screen replacement will cost more than that

Hey..., Do you remember all of those affordable windows 10 tablets coming to the US when windows 10 launched? What happened with that? Everything seems to be a Surface Pro competitor around $800....

You can still buy some for less than 100. Check MicroCenter, there are plenty of options.

Sorry dude, no idea. I don't live in the USA.

Will it support hdmi? If yes then its a buy for me.

No wifi? Can't connect to local network..

All tablets do now... Except stone tablets

It's about 78 Euros, pretty cheap but nice.

Wow, I wish they sell it in the Philippines as well. For P3,750 pesos it is very cheap for a tablet that works luke a full PC.

So does it have any sim card slot??

Well i don't have any faith in HomeShop18. I could buy this if available in flipkart, amazon or even in snapdeal.

I m no fan but homeshop18 is actually Viacom / tv18 group entity.. The group is pretty much bigger than flipkart and snapdeal combined..

Faking news too Posted via the Windows Central App for Android

The site shows os as windows 8.1 not windows 10.. It says upgradable to 10..

From my experience a 16GB is not upgradeable, you have to clean install from USB. An upgrade requires 5BG free space on the system drive, and there's no safe way to free that much in 8.1

I've upgraded to Windows 10 in a 16 GB storage and with a Micro SD of 16 GB. Worked smoothly. Posted via the Windows Central App for Android

At least people cannot cite app gap as an issue for this device because they can run win32 apps on this device. Now attack me for supporting a Windows device.

There's no Win32 app for SnapChat, there's your app gap

spot on.
and more importantly, most win32 apps are not touch friendly. and a lot of them will run poorly on this hardware.

'not touch friendly' .. Why are you getting keyboard and mouse freebie

I don't care about snapfaggotchat, neither about they teens of today that makes me sick. Wish them death

OEM Windows 10 PCs and tablets - check
OEM Windows 10 mobile phones - coming soon :) How well does tablet run with 1GB RAM when trend in mobiles is going towards 2 or 3GB?

Windows mobiles runs perfectly with 1 GB

I slightly disagree. My L535 dual works well, however, apps quickly gets killed in background, even by holding the back button and changing your mind by reselecting the currently running app, you may be greeted by a "resuming" screen. despite the 960x540 screen.

You must be using WP8.1.
Believe me, you will forget loading and resuming screens in W10M, at least for apps which have W10 support.

I'm in the process of getting the W10 recent Insider release

Windows 10 Mobile is perfect on my Lumia 640 with 1 GB of ram. I haven't seen a resuming screen ever since I upgraded to the newest build.

Thats because ur processor is low end .. snapdragon 200 and dont blame windows phone os for ur mistake .

The cpu is not responsible for killing background app. RAM is.

You can't say perfectly, and be serious... Lol.

Windows mobiles runs perfectly with 1 GB. The major factor is the processor. This tablet runs an Intel atom processor. While Windows smartphones runs qualcom soc which is not that powerful because of lower power ratings.

To those commenting mobiles being OK with 1GB RAM - I agree. But Lumia 950 - 3GB (OK, it tries to be also your "WinRT"-PC). Don't know about current android or Apple handsets, but we have an android tablet with Atom and it has 2GB RAM and same size. But this thing is a PC. Windos 10 Home. Full Windows with full programs and stuff (limited by what can fit in internal storage and card that is). We also have old small notebook with single core Atom and 2GB RAM - and it's often really slow. Nvidia chipset plays videos alright, but checking e.g. latest MS & Lumia news... This tablet has faster CPU but half the RAM. If it has web browser and Skype running, how does it handle? I'm very much aware that this tablet is quite affordable, but can it deliver enough to be worth it, that's what I'm worried about.

Comment in next post confirm 1GB works well. Ignore my doubt ;)

1GB RAM is too small. at least 2GB

1 GB Ram with Intel processor is equivalent to 3 GB Ram on Qualcomm processor. This is due to the different power ratings of the two processors.

RAM comes in to the picture when you have actually opened multiple apps... With 1GB ram you are easily bound to get the annoying error saying low on memory...free your memory...blah blah blah
And since it has a 'complete' windows 10 os, one will be thinking about multitasking...

Does it support external hdd with usb 2.0 or usb 3.0

1GB RAM for PC with full Windows 10 Home seems awfully little. I haven't seen such device in action though. I don't quite understand why Atom or Arm makes memory consumption any different. OS, programs and services consume memory.

I have an iBall tablet running Windows 10 Home with 1 GB RAM, works very nicely so far as I can tell after 3 months.

Nice to know it works well :)

It's cool there's another tablet, but the limited storage demands the consumer buy a memory card. And if the user upgrades to Win10 and uses OneDrive they will have to use the VHD/VHDX workaround.

And sad that he'll be getting only 5 GB of OneDrive storage

Should price 7k and keep 2 gigs of ram.

Ok... so go get the iBall Slide WQ32 Tablet. It also has a 3G sim slot. Cost 8k in Amazon.

Good choice. Posted via the Windows Central App for Android

Im curious. What is Windows 10 like in Small tablets? Is it like W 10 mobile? Or is it same version which we have on PC and tablets?

Its the same, just has tablet mode too which I never used

It's pretty good for casual work, reading articles, playing games etc.

This is very similar to the HP Stream 7, except for the 1" screen difference. Windows 10 runs great on 1Gb of ram but you will be limited to 32bit version. That hasn't been an issue for me. I'm curious to know if it also comes with Office 365 like the Stream did.

I meant the OS. is it same OS which runs on PC & tablets or is it OS that runs on Phone.

It's the full OS which runs on your pc

I have ordered it! O.o Not sure if that was a good decision or not..looking forward to try it out! Hope it doesn't disappoint me..

Don't worry. You did a good thing. The device looks solid on paper. All the best. ;)

Saw this review on the website
This guy gave 3 stars
And it also has 1yr office subscription according to this buyer "Handy PC! I just got my Tpad delivered delivered and writing this review using it! It is a good product if uu need a handy PC as a buffer to a high performance PC whichyou may notbe able to carry everywhere with you. Pros: Equipped with decent keyboards (am typing with itright now :) ) ,mouse and cover 1 yr MS office subscription Good display Sound is good too Battery lasts for 2-3 hours Cons It hheats up Cannot plug keyboard andmouse at one time because there isonly 1 slot! design flaw! "" Posted via the Windows Central App for Android

Maybe he didn't use the Bluetooth devices. Sounds like he was trying to use USB. Of course, a hub would have solved that problem.

Why don't they launch the device in win 10 OS still hanging on win 8.1. http://www.pantel.in/tablet/t-pad-ws802x.html

Why doesn't MS let manufacturers customize the OS as per their choice like android? All windows devices look the same. I mean this is not seamless experience across devices

Windows is not open source Posted via the Windows Central App for Android

I just ordered for the injoo tab online with a free injoo iKeyboard cover for $101 USD. It has same specs as this but with the edge of having 3G on board rather than thru a dongle, but with a downside of windows 8.1 on board. Hopefully it should be freely upgradeable to W10 without issues. Can't wait to have that delivered at mu doorstep in about 5 days time.

And hey I just checked again and it has 5mp rear cam, 2mp front cam as against 2mp rear and front that this has. Gonna give you guys hands on review when I get it.

I think the specification is minimal or on average. If they want to be in the market, they gotta put some good specification. Maybe a ₹2000 extra with a quad core,atleast 2gb of a ram, resolution should be improved to the processing with ppi, 2ghz clock. Also,storage.
Much more!
However they can think of profit later,but not at this point if they want to be in the market.

I have a similar device, iBall wq77, and I have to say, I miss having a proper usb port in it. Micro usb is fine but you cant use a usb device and charge it at the same time. And that becomes a big problem when the battery lasts for just 2-3 hrs.

My tablet had aarived two days back! It's quite good actually but 16 GB storage is causing problem in upgrading to Windows 10 1511 version. They could have increased space upto 32 GB and ram upto 2 GB then it could have beaten its counterparts in market
Windows Central Newsletter
Thank you for signing up to Windows Central. You will receive a verification email shortly.
There was a problem. Please refresh the page and try again.