Indie game developer explains how QONQR has done better on Windows Phone than iOS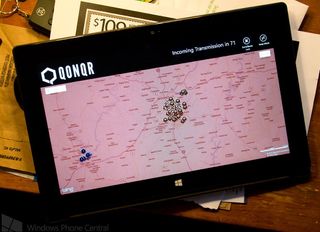 QONQR should sound familiar as we've covered it numerous times in the past. The popular MMO has now been covered on the Windows Phone Developer Blog. It's been revealed that the developer, while basing revenue on in-app purchases, has experienced up to 10x the weekly downloads and double the revenue on Windows Phone compared to iOS.
The development team has accumulated more than 100,000 users, who have access to in-app purchases for upgrades and bonuses to help them progress against other players. The basic idea of the game is to take control of geographic locations, pushing through one of three available factions. Working together along with allies or enemies to QONQR - see our review.
Powered by four servers running on Windows Azure, QONQR is not a difficult game to get your head around and this is one of its highlights. You can literally pick up and play. So just how has it been doing so well on Microsoft's mobile platform? One would assume the team would have better luck on iOS.
The blog post details how the team had difficulty porting to both iOS and Android. Fortunately for QONQR, the Windows Phone Store is less competitive than iOS and Android, making it easier for developers to crack through and attract custom. This factor combined with others has led to the game being downloaded up to 10x more times than iOS some weeks.
Here's what the QONQR team attributes their Windows Phone success to:
The New & Rising list that showcases the best rated apps from recent weeks
Apps being promoted inside the Windows Phone Store
The Windows Phone Web Store.
QONQR also has some strong points, including social integration for players to invite friends (who then receive in-game credits). There are also cubes (in-app purchases) that can be purchased for exclusive items or conversion to credits. Externally, the team has done some advertising and promotion, reaching out to the community on various websites and forums.
Developers who may be considering in-app purchasing as a revenue model should check out the blog post for the full read through. We'll not repost exactly what's written, but there are some helpful pointers that will surely be of use.
If you haven't checked out QONQR for Windows 8 (opens in new tab) (companion app) and Windows Phone (QR code below), download it right this very second. You'll not be disappointed.
Source: Windows Phone Developer Blog
Rich Edmonds is Senior Editor of PC hardware at Windows Central, covering everything related to PC components and NAS. He's been involved in technology for more than a decade and knows a thing or two about the magic inside a PC chassis. You can follow him over on Twitter at @RichEdmonds.
If you download it use recruit code Hectorivan

Oh Hector, everyone knows you should use GodlikeNay if you're in the Northwest ;)
In other news, Qonqr seriously needs to step up their game on Windows Phone. When I started months ago, the WP app was superior compared to the iOS one. Now, the WP app is completely inferior! Come on!!

Or urbangentlemann
join Legion (red team)!

Actually you should join Faceless and use recruiter code Sayyadina

Join Swarm .. Recruit code - zeehunter

Yeah they neglect to mention how this game is botted / automated by players & therefore unless you buy stuff, its impossible to keep up with. They deny - don't care because they win in the end. I was big into the game until I figured this out, cheating ruins games.

I've had my assumptions about that but never could figure it out. I know a lot of people use a bunch of device's around the house to multi-scope.

I wouldn't consider multiple devices cheating.

Its expressly stated in the terms and conditions of the game, that you agreed to upon playing, that having multiple devices is cheating and will get you banned.

The same account on different devices is fine. More than one device with a different account on each is not.

I've been playing 6 months, my XP maxed out a long time ago and I own almost all of the territory I can reach.
I've never automated and never battled anyone who has.
Maybe you just suck?

when I was faceless I was untouchable in my area and had about 8 million in Iowa and another 3 in Illinois. it all depends on where you're located. areas like Chicago and st Louis are always war zones and its very hard to keep and real estate.

Hey Cursive! I remember you from a few months ago. I traveled through Iowa to some family and was taking quite a few zones of yours on my way.

You may or may not remember a swarm player by the name of Enad.....

either way, Glad to see you've come to your senses and switched to swarm! :)


Yeah cuz ur the only one who plays or just had to defend urself, for some reason. Maybe you just retarded?

1,823 captured zones and 12.5M kills says otherwise.
Also, don't accuse people of being retarded when you can't even English bro ;)

Report suspected cheaters to support@qonqr.com. They'll look into it and let you know if they are cheating or not.

Not sure how you get that feeling. Might have some instances of multi scope but automated deployment I doubt. They are also very good at detecting it and removing the players from the game.

no use - cursivekid - join swarm!

Cubes are stupid. I have had 2 1 mil zone cubed from me in the last week

True but they were 1 mil zone until my teamates switches and then they were cubed

I can't help but giggle when I hear swarm. It reminds me of Spiderman and his Amazing friends episode.

Faceless Forever!!!
In truth, the WP app is better then the iOS version. iOS dosn't have notifications when your zone are taken over, you cant pin zones, and you don't see the battels.
I am obsesed with this game. I try to deploy at least 4 times an hour and have gotton up in the middle of the night to attack or defend.

Hello fellow Faceless friend ;). I kind of disagree with your comparison of the apps. I didn't realize iOS had no notifications (are you sure, I thought they did) but the standard user interface that iOS has since their last update is soooo much better than what we have IMO. I waste hours opening and closing zones that iOS can see at a glance.

REALLY awesome game. Use KasakDesign as a recruitment code. But enough spamming. Go download it!

Nah, its a good game. It has room for improvement though. One nice thing about the game is that the developer is pretty involved with the online community through the forums. Kind of cool.

I don't like this game because A people cheated on me with multiple accounts :( (a faceless people!!)

Love the game. Have been playing almost since the game was released. Have to say the game can be very addicting. If you are thinking about join I would strongly suggest faceless. Lets control the net work not be controlled by it or destroy it.

My interest was piqued so I checked out the screen shots and saw that they misspelled 'ordnance'. I have no tolerance for such carelessness and will not download it till this is fixed. I already gave them a free pass on the title. That is more than generous of me.

cool story bro, can you tell it to me again.

Join the Faceless! Use code name Sayyadina.

Story looks a lot like the one last week.
Windows Central Newsletter
Get the best of Windows Central in in your inbox, every day!
Thank you for signing up to Windows Central. You will receive a verification email shortly.
There was a problem. Please refresh the page and try again.