Inflexiball for Windows Phone gets a major update and comes to Brazil [Updated]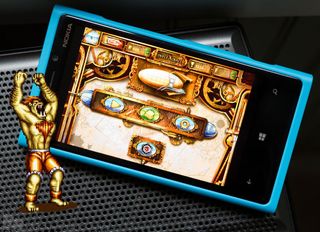 When we reviewed indie brick breaking game Inflexiball a couple of months ago, our resident Brazilian reader Guilherme quickly noticed that the game was not available in the Brazilian Windows Phone Store. We gave publisher Renatus Media a shout to find out why the game skipped over good ol' Brazil. No, it wasn't due to riots or Angry Birds attacks!
As it turns out, Inflexiball didn't release in Brazil for the same reason every other game passes over the South American nation: Brazil's strict and somewhat confusing software ratings requirements. It just so happens that we published a guide to releasing software in Brazil a few months back. Renatus put it to use and Inflexiball has just launched there at last.
Brazilian Inflexiball fans aren't the only ones with occasion to celebrate today. Renatus has also just released a new update to the game that doubles it length! Details and impressions after the break.
Inflexiball version 1.1 release notes
14 new levels (15-28)
new bricks and bosses added
new quests and items
new background
The game launched with 14 levels, so this update pushes it up to 28 total levels. The new quests are basically objectives that must be completed on top of destroying all of a level's bricks, such as collecting a specific item hidden within one of the bricks. You can beat a level but fail the quest, which is sort of the equivalent of failing to 3-star a level in other games.
The new bosses tend to be combinations of large and small steampunk aircraft. They fire shots that will cause players to lose a life if they hit their paddles. Boss levels are tricky because you still have to break an arrangement of bricks on top of dodging and attacking the bosses. You'll probably have to retry some boss levels several times before your paddle emerges victorious.
Ball buster
Inflexiball is a brick breaking game with steampunk elements, somewhat reminiscent of Xbox Windows Phone game IonballEX. The main difference – besides this game's brighter visual style – is its free to play nature. Since it doesn't cost anything outright, the developers monetize the game with an energy mechanic.
Each time you play a level, it depletes part of an energy meter. Run out of energy and you'll need to either purchase more with the in-game gold currency or wait a while for it to refill. You can earn gold by collecting it during levels, so you're not really forced to make In-App Purchases. My only issue with that is that failing a level and choosing to retry it still costs energy, whereas I'd prefer to spend the energy once and have as many tries as needed to beat it.
Retrying becomes an issue because Inflexiball can be surprisingly difficult at times. Bricks often appear very low on the screen and the ball moves slightly too fast in general, making it tough for players to react in time. The ball, bricks, and especially boss projectiles are also a bit smaller than necessary.
Vamos celebrar!
Those criticisms aside, I love the game's setting, and you can never have too many quality brick breakers. Considering that the Windows Phone version of Inflexiball has been downloaded over 10,000 times since its release, players seem to agree… And now Brazilians can get in on that action as well. Learn more at publisher Renatus Media's website.
Inflexiball – Windows Phone 8 – 44 MB – Free – Store Link
Update: The game finally showed up on the Brazilian Store, a bit later than we originally reported it.
Windows Central Newsletter
Get the best of Windows Central in your inbox, every day!
Paul Acevedo is the Games Editor at Windows Central. A lifelong gamer, he has written about videogames for over 15 years and reviewed over 350 games for our site. Follow him on Twitter @PaulRAcevedo. Don't hate. Appreciate!
Hahaha. Nice Blanka reference.

BWHAHAHAHA yeah I laughed really good at the picture of Blanka celebrating. Awesome!

Thank you a lot Renatus Media!!
Is always good when a developer notice the Brazilian users!! Brazil is soo big! There are a massive potential market in here.

Now, you know why some WP games aren't available in Brazil: "As it turns out, Inflexiball didn't release in Brazil for the same reason every other game passes over the South American nation: Brazil's strict and somewhat confusing software ratings requirements."
So it's not because devs don't want to publish there their games or apps but because of Brazil's software rating requirement. You can stop now posting on every new posts when new games are available here and why the game is not on the Brazilian marketplace. Nothing to do with the devs but mostly with the country software law itself. If you want the game badly without waiting 2-3 weeks, change your phone region to US and get it that way. Much less hustle and PITA, trust me. It will take 2 mins from your time.

Guilherme already knows that. He's just trying to get more games released over there.

i know but he always thought that the main reason was the devs, wich is not the case. Devs can publish their games as long as it's pass the sofware rating requirement. If it doesn't pass, that's not the devs fault.
It's like in Australia/UK/Germany. Adult and mature games have to be reprogrammed/removing/censoring if the game doesn't meet the Australian "ESRB/PEGI" with the content.

Yes, I know. But almost all developers don't know that they now can use PEGI/ESRB certificates to publish their games in here. That is the reason I always post asking and I will continue to asking...

they know that trust me, no need to post this everytime, it's annoying. if not, send an email to the devs about this directly.

But I don't know why I can't download the game right now. :(

Hilarious adding Blanka!!! Would use that character all the time. When I looked quick I thought there was a release of this game on WP8!

That blanka there, kudos Paul! Sadly no Xbox game, but you have to give those developers credit for their good effort.

Will the character out of the screen be available in a future update? Should I get this or wait for part two? If the second part is exclusive to Nokia, won't it cause fragmentation? Why Microsoft why?

If you are serious about the character. No he wont be in there. It's a character from the Street Fighter Games who was from Brazil. They used him as a reference.

Thanks for the info, but I'm just kidding. :p

I just checked and is not yet available for Brazil.

HAHA Blanka! I'd love to see him spinning in that game! LOL! If only they could cross license him. Maybe get a Blanka Powerup where you shock the pieces. :p

Going to try it out, hope it's good.

I noticed you got a case for your phone! What is it called?

Oh, that's actually George's photograph. Not sure what case he's using.

Ok cool I will try and look it up then!

That's why I use the american store. Dot.