Initial impressions of the official Tango update for the AT&T Nokia Lumia 900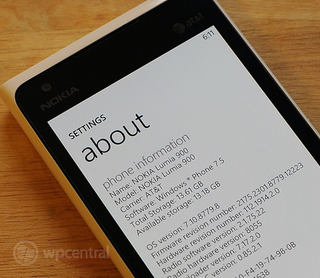 AT&T Nokia Lumia 900 with the 8779 Tango update
Well after biting the bullet and factory-resetting our Lumia 900 with a ROM flash, we managed to update our glossy-white AT&T Lumia 900 to the official Tango update. That update is sitting in stand-by on Nokia's servers, presumably waiting for AT&T to give the go to push out to the Zune servers so the rest of you can update.
Although you can manually do this yourself using a third-party program called Nokia Care Suite, you will factory-flash the phone meaning the device will be completely wiped—no saved games, no saved photos. In that regard, you may be best served by just waiting a few days (weeks?) for it to hit Zune where you can just update the phone and keep everything.
In the meantime, we sacrificed for your knowledge. In turn you can watch our video hands on after the break for our thoughts on the update in addition to our mini-review...
Before we begin, here are the software version updates:
OS version: 7.10.8779.8
Firmware revision number: 2175.2301.8779.1223
Hardware revision number: 112.1914.2.0
Radio software version: 2.1.75.22
Radio hardware version: 8055
Bootloader version: 7.17.2.0
One of the biggest-small things we were happy to notice is that the capacitive buttons now stay lit on the Lumia 900. Going back to our initial review of this phone we noted how those lights would turn off after about 3 seconds, presumably to save battery power. It was odd because Nokia didn't do that on their Lumia 710 or 800. (Of course, this may have happened with the previous update, so forgive us if we're just noticing now).
As expected, apps like Contact Share and Counters fully work with the new firmware on board. (Note: in the video, I erroneously mistake Contact Transfer with Contact Share; the latter does work though).
What about the camera, you ask? It's always hard to judge on these issues as we don't want to be susceptible to placebo effects. Having said that, our impression is this: yes, it is better. Does it still get crushed by the Titan II? Oh of course it does but here's where we think it improved:
Speed – the electronic shutter seems a hair faster to us
Metering – Seems much more accurate when we use tap-to-focus (which should also tap-to-meter)
White balance – Also seems to better
Flash – The timing of the flash and brightness seems better optimized
Image noise – While still visible it appears to be more muted
Camera button (when phone is in standby) – No problems with it launching camera
We hesitate to factually say all the above is better and for all we know Nokia engineers are chuckling, noting how they didn't touch half of those things. But we're feeling somewhat confident in stating that the camera is performing better than before.
The Lumia 900 camera is still not awesome but it may let us rethink using our Titan II for a few days to try in more every-day-life situations. We still recommend you put Contrast to High but don't touch Saturation. The latter will turn your photos to Day-GLO and will look just terrible.
[Update: Read our in-depth analysis of the updated camera on the Lumia 900 here]
We've tossed up a few sample pics below if you want to gander and judge for yourself.
Sample from the AT&T Lumia 900 with Tango - Untouched but resized for the web
Flip to silence? The ability to flip the phone to silence the ringer is a new feature that Nokia is touting on its Lumia line. We have not found the option for it but we also haven't tossed in our micro SIM yet (our Titan II use regular SIMs, which means an adapter which means minor "surgery" to remove it). Edit: It is evidently an 'always on' function so there is nothing to enable.
Nokia also promised that with this firmware update for their phones that screen brightness (and corresponding color rendition) would be improved. The screen does seem to dim down quite a bit in regular room light which we appreciate—it both saves battery and our eyes from strain.
The proximity sensor is also said to be improved though that's a bit more finicky to test.
Tango also brings multiple photos in MMS and the ability to attach voice-notes, both of which are present in this ROM of course.
Other than that we did not notice the GPS-service icon on at all though we'll look to see if it appears in regular use, nor did we notice any new features or apps from before. The OS still feels fast and we have no initial complaints though we'll be sure to share them later on if we notice. The update feels solid and while there seem to be many minor fixes they are certainly welcomed.
**************************
Update: As asked in comments, how is the volume rocker? Specifically, when the device is in standby the buttons wouldn't always work or they would require a double-tap. From our intial tests they do now work as expected--one tap immedilatey turns them up and vice versa for turning down.
Did you flash your Lumia 900 with the Tango update? Notice anything we missed? Let us know in comments and we'll add it to this story.
Daniel Rubino is the Editor-in-chief of Windows Central, head reviewer, podcast co-host, and analyst. He has been here covering Microsoft since 2007 when this site was called WMExperts (and later Windows Phone Central). His interests include Windows, Microsoft Surface, laptops, next-gen computing, and for some reason, watches. Before all this tech stuff, he worked on a Ph.D. in linguistics and ran the projectors at movie theaters, which has done absolutely nothing for his career.
Flip to silence isn't a switch on/off option. It's just an always on function.

And only works for current call. Leaving face down does not stop next call from ringing.

Did the marketplace icon change? It changed when they pushed tango to my 800 and I know they 610 ships with it

It's a good question but the reason I omitted it was because no, they did not change it. Sort of surprising but I wonder if Nokia is backing away from that with WP8.

Thank god, imo it looked terrible.

It changed in mine after launched the marketplace for the first time (on my 800)

Daniel. I saw you have the cyan purity headsets. How is listening to music and lowering the volume on the headset? I usually have to power it on and then use the volume rocker. Hope that is fixed as well.

The trick is actually to double-tap the volume keys--odd but that's the trick. I'll try now with the update though. Update: Okay, that too seems to be fixed. They are very responsive now when the display is off. I updated the post.

Does the headset button now work in standby with music like it should? One press to pause, two to skip forward,three to go back. Doesn't work in current version.

I did this flash the other day for my Rogers (unlocked) Lumia 900.
I am really happy with the screen quality now, since it fixed the purple tinted keyboard that we never had patched in Canada. I also find the device a little more responsive, especially the camera.


Hey slayerx, how do you flash your lumia 900? I'd like to do it. Tired of waiting for rogers too.

i used the directions from XDA site, but didn't download the ROM from the links. I just used the nokia suite to flash and the nokia data manager to get the lastest ROM for Rogers.
http://forum.xda-developers.com/showthread.php?t=1605144


can you attach and view videos from text messaging?

Tell me they fixed the voice command control. I am getting close to giving up on my 900 because tellme keeps opening, or bing, or back button.

Are you talking about the capacitive buttons acting up?

I don't even need to touch it. If I start playing a game tell me opens, and tag teams in Bing and back...very annoying.

I was in the same boat as you. I bit the bullet and had my original 900 warrantied out. Now the buttons work as they should all the time. Sorry to say but it was definitely 100% a hardware issue.

That's a bit of an issue, I traded vacation time for this phone when I worked at AT&T and then found a new job....maybe I can get a receipt to prove I bought it so it can get swapped!

Easy solution there... Buy a new one, use the receipt from the new one to take back the old one. Can do for online retailers with an RMA policy as well (like newegg).

Receipts have the imei on them, if I use the old phone and new receipt they will notice the difference. Thanks though!

My buttons do the exact same thing. But I wanted to help Nokia do well in my own little way, so rather than sending it back within the 30 day return period I held on to it. I help onto it hoping it was a software/firmware issue.
Anyways after waiting for months and browsing the forums for help I realized that Nokia claims that they cannot reproduce the issue. Which is funny because I can get it to bug out 100% of the time. So I returned the phone under the "Warranty" and waited 4-6 days for the new phone. Now guess what? The new phone has the EXACT SAME ISSUE.

I have never ran onto this issue

I'm on my third 900 and this one finally is free of the problem you've described. It happened anytime the speaker was in use. It seemed like the vibrations from the speaker would cause a reaction from the buttons as if you've long pressed them. It worked fine if headphones or Bluetooth was used but once you kicked the speaker on, the problem would arise. I traded the first one in within the 30 days period but the second one was finally traded in after 2 months of use. This one in on now works perfectly.

My Focus did this if I placed it on a surface that could retain a static charge. Anytime I put my phone near my couch it would go nuts. I realized what was going on after I steam cleaned my couch and the phone was fine when I sat on it while it was slightly damp. A little static guard on the couch straightened it right up.

It's a hardware issue. Get your phone swapped out.

Damn, and I finally rebeat PvZ! Oh well, now I'll be really good at it!

Just connected AT&T Lumia 900 phone to zune software and checked for update and it says: "We couldn't connect to the update service." Maybe update is getting ready to be pushed out.

Can you test headphones with inline controls while playing music in zune?
Basically, the phone has had a problem where if the screen is off, the phone won't recognize commands like skip to next track using inline headphone controls. The controls work fine when the screen is on.

I've yet to find inline controls where the track skip works with my HD7, even SOME of the time... What have you used that actually works?

Same. The only ones I got to work were for the headset that came along with the Focus (which is nice, but nowhere near the headset I spent actual money on...). It's kinda stupid though, as most of them are really only compatible with the iPhone since you know, everyone has one.

Any chance they have better integration of saved places with Nokia Drive?

My capacitive buttons act up, I also get the echo problem too. :(

I wonder if the browser has improved. The Browser on my Focus was way faster than my 900, also sites from gawker like gizmodo and io9 are really crashy in desktop mode.

I doubt this includes updates to the browser

I'm %90 certain it's a memory issue in the Lumia.

My Lumia sometimes operates very slowly for no reason at all. Just opening a simple thing such as Office or anything else brings up the dots and the words loading for about 5-10 seconds. My Lumia900 also freezes and becomes unresponsive randomly.My Focus is way faster than my Lumia 900.

Flashed my 900 and typing seems alot faster with no lagg here is the Link for you all to get your flash on :D
http://forum.xda-developers.com/showthread.php?t=1605144

Volume 1/30: still silly loud on speaker and way too quiet on headphones/bluetooth?

Yeah the 1/30 is pretty loud :)

Does the internet sharing work?

My internet sharing has worked since day one on my 900.

For ATT you need a 5gb data plan to use internet sharing

Does the icons like cellular data, time battery stay on or still go away?

Man, the lumia 900 sounds like it has alot of issues...definately something ill keep in mind when shopping for a wp8. I know the 900 was a rush job but still...some of these issues sound like they are more than a mild inconvienence...

The two things I ran into were the data bug when it first came out and volume rocker not working all the time. Everything else seems fine to me

It's not the worst phone. I really like my lumia, it has great battery life, great voice quality, and a great screen. If it wouldn't open bing or tellme then it would be the best phone ver ever owned.

Every phone has several minor issues. There are also some kind of people in the world, who make minor issues sound bigger ones.
Go and check any forums for any devices(with substantial sales) and you will find several minor issues.


I hear ya there, actually reading these comments was the first I've heard of these issues with the lumia, perhaps im just a lil jaded hearing lumia owners talk down about my Focus S, I've heard alot of issues with HTC phones too but Im actually really excited to see what they bring, especially the windows version of the One S 4.3. I really think 4.3 is the best overall size for a phone, big enough to enjoy movies and games but still pocket friendly...glad you guys love your lumias, one thing I've loved is the exposure of our awesome OS, which is only gonna get better ;)

I said that, even though I don't own a Lumia. :)
I use iphone 4s and it too does have it's own several issues. There is no phone in the market and will never be with no issues.



So you toying with the notion of jumping from ios to wp8? Last night, I was doing alot of side to side comparison s with my sister in laws iPhone 4s and my Focus S and its crazy how the design language of both OSs make for different app experiences. I think its definately up to user opinion but I've grown so accustomed to windows that navagating her iPhone was just not as pleasant. I just love swiping to the left and right and through ios apps/interface its more about pushing buttons, it was hilarious to see us both on the other's phone, lots of schooling going on lol

My wife has a Focus Flash, I have a Lumia 900. I know, it's a Flash, so it may be worse quality than the S, but trust me, she's ready to get a Nokia the next chance she gets.

I've heard about the issues with the flash as well, does your wife have the memory maxed out at all? From what I've been reading, on the e8gb phones, if you get close to topping out the memory, you'll encounter freezes, lagging, and a swarm of other issues, even on the Nokia and htcs...and 8gb is easy to max lol. I actually liked the flash alot, it was what the windows team used to demo the OS to us at one of the launch parties, but the memory is what stopped me, I just like to have way too much music on my phones(Zune pass)...

I don't have any issues with my Lumia 900.

Guys please post a tutorial on how to use Nokia Care Suite.

Here is the link to Nokia Care Suite:
http://forum.xda-developers.com/showthread.php?t=1605144

BTW got it from a comment from 'Natebird' in the previous Tango article so thanks to him

I watched this and anway I went. I flashed my 900 last night. It was pretty easy too. Nokia Care Suite Tutorial http://www.youtube.com/watch?v=k1e3xAZCzZY This Tutorial will show you how to download, install, and use Nokia Care Suite to flash Stock ROMs to your Lumia 900 Phone. LINK: http://forum.xda-developers...

Daniel, sorry to digress... But how did you get your Xbox live avatar to pose 3 dimensionally like that. That's amazing! Is that an app I hVent seen yet or something? Thanks!

Yeah, I think that's a doll, not an augmented reality overlay. Notice its standing on a cd.

I think it is this: http://www.xbox.com/en-US/Live/unleash You can make a statue of your avatar made by a 3d printer, and put your avatar on a bunch of things.

You could have included a damn link to Nokia Care suite! I would flash but I can't find shit. The reason im mad is cause I want to do this now. I dont give a damn if I lose all my shit.

Yeah please add the links, Dan.

See my comment about 6-7 comments up.

When can we send video text?

I did update the phone but I don't see much difference or any. Could someone help me on this?

Read the article, it's a good start.

DOES THE FREAKING INTERNET SHARING WORK!!!!!

DOES THE FREAKING INTERNET SHARING WORK?????

while mine is on 8773, one the messaging part I do have a 3rd option which is to attach a ringtone. does anyone have that.
And I have to mention that I couldn't find counters, contact transfer or the diagnostic apps!!

here is how u can get it. go to your phone, put the dailer up and Press ##634# at the dialer and the tool will open. it should work.

does it seem to have any effect on the wifi/data issue? if my cell data is on, my wifi connection is near useless, even after the nokia "fix" was aplied. if i turn off wifi, data os great with data off, wii is great

Same question here. The issue is documented at: http://discussions.nokia.com/t5/Nokia-with-Windows-Phone/Lumia-900-Wifi-...
I would like to know whether the new update fixed this problem. WPCentral people... can you confirm?

If you go to settings > lock + wallpaper > change wallpaper there are about 6 new wallpapers as well

Nice tip!

BTW I just flashed my phone, so far so good. Thanks to supersport at XDA!! Also, had a chace to convert my Live account to an Outlook.com one. Very nice!
And my phone feels so different now... Maybe it's the giant orange ATT U-Verse tile on my screen, lol.

Tip to all those who change their Live account to an Outlook.com one!! (Maybe others are affected as well)
I don't know if it's always been this way, but it seems like this is different. You have to go into settings -> accounts -> Windows Live then check 'Email' to sync if you want email. It seems obvious I know, but I was confused as to why I couldn't get email to sync.

The flash went super smooth.
I have run into one problem, but I'm not sure if it's related or not. When I connect the phone to my computer, Zune starts, but i get a message that says "Connection Error: We can't create a connection from your phone to the internet. You can still sync content between your computer and your phone."
Sure enough, I can sync my music, pictures, etc. But, I'm not sure what that message means. I thought that it might be a conflict with the Nokia USB driver, so I uninstalled that via the control panel, but I'm still getting the same error.

Well, if anyone else runs into this problem, there was another driver called "WinUSB Drivers x64" that had today as an install date. I uninstalled that, and when I connected my phone, it installed the correct drivers and Zune popped up, but without the message.

Strange issue, I myself got it too. Thanks for the fix.

For those of us with the in ear Nokia Purity Headsets, I wonder if the pause, rewind and fast forward button now works consistently when the phone is in lock mode.

I have both the on-ear and in-ear units, I'll be testing both over the next few days with the update. I sure hope they fixed it, it's such a huge frustration.

My phone should be perfect with Tango update. Only thing doesn't work great is the camera button wont turn on 100% on the camera.

I'm not an Apple Phan but Steve Jobs could do a dam good presentation he will be a man in history.

Sure hope this fixes the damn WiFi issue. 2nd phone with the same problem

Hmm...weird thing. There's like no instructions on really how to do this, but I just chugged away, anyways, the thing I noticed. I installed it all, but I thought I'd have to use the Multi-Software Updater. I tried, and it kept messing up in Flash Mode. In the log the connection read USB_WP8. Not sure what that means, but O_o Anyways figured out you have to use the Product Support Tool then hit refurbish.

There is a YouTube video on the XDA thread. It has very good instructions on how to flash the rom.

I'm pretty sure this update doesn't address the WiFi "issue" where WiFi turns off if the screen is locked and off the charger. I have discovered that if the phone is on the charger, WiFi stays on when the phone is locked. Most useless capability ever.

Yeah that's a feature of windows phone it cuts the WiFi off to save battery

That's a feature, not a bug.

But yeah, I agree that it's the most irritating feature ever. Hopefully there will be an option to disable this feature in WP8.

I have an HTC trophy, and wanted to share something I found in the settings, internet connection sharing! it works to, everyone should try it out, I got the update on Wednesday

Since upgrading to tango... My L900 has developed new problems... Making the on device management of podcasts effective useless. (I had to buy a third party app to restore this ability)
I can no longer subscribe to podcasts on my device.
The back button often doesn't work.
Calls fail And reset to factory after applying the update. I AM VERY DISAPPOINTED WITH THIS PHONE.

What method did you use for the update? Did you force it or wait for carrier delivery?

Official Carrier delivery.

Hmmm... Curious about firmwear version... If I get my update from ATT soon, I'll let you know if I get the same problem. But I will say have not had any bugs on my 900. I would be seriously disappointed if the this push cripples what I consider to be an excellent experience with this phone.

When will 8779 be out on orange UK? Still no update notification for me.

Without a doubt, the update has made my phone faster - especially during multitasking.
I can now switch from app to app while playing music over Bluetooth without lags, pauses and all without apps crashing! :-)
I think my battery life has improved to, but it's still to early to verify.
Nokia is finally living up to it's promise.

ditto here... much tighter feeling, fixed minor annoyances (volume rocker, wake-to-camera, back button sensitivity, background nav-button lighting, etc.). Even fixed an annoyance where plugging in the 3.5mm jack would sometimes call up voice command prompt... no longer a problem. Very nice device -- excellent voice quality, great battery life, and above average camera.

Ok ok everybody is talking about the Nokia 900 and this update now....But What happend with the other devices of at&t????....what about the HTC TITAN?? this phone came before this one and is not receiving this update!!!!! I am fucking angry with these stupids of at&t!!!!

For what it's worth, this also appears to fix the garbage text that showed (faded) in the background on the email compose screen.
Windows Central Newsletter
Thank you for signing up to Windows Central. You will receive a verification email shortly.
There was a problem. Please refresh the page and try again.