Injustice 2 hits Windows 10 with Xbox Live integration
Injustice 2 has made its PC debut, including a release on Windows 10's Microsoft Store, alongside Xbox Live support (kinda).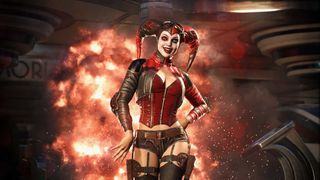 Six months after the game's initial release on console platforms, Warner Bros.'s hit fighting game, Injustice 2, has made its PC debut. Bundling together the content available on the existing console versions, PC players can experience the full roster of its battles – with an unexpected release on Windows 10's integrated Microsoft Store.
Injustice 2 on the Microsoft Store offers the same content seen in its simultaneous Steam release, including the base game's single-player and multiplayer, alongside all associated downloadable content (DLC). Both a Standard Edition (opens in new tab) of the game and DLC-packed Ultimate Edition (opens in new tab) are available as of launch, priced at $49.99 and $79.99 respectively.
The game also sports Xbox Live integration when purchased through the Microsoft Store, however, doesn't appear to support Play Anywhere or Xbox Live achievements. This version is also sectioned off from the Steam version, meaning only those who purchased the game through the Microsoft Store will be compatible for multiplayer. Without any form of cross-platform play with Xbox One either, those looking to play online will find more value purchasing the game elsewhere.
While this Microsoft Store release is hard to recommend, this is still yet another acclaimed AAA title to hit the storefront. Those looking to purchase the game can do so using the store link below, where the game is available to download at 55.6 GB.
Matt Brown is Windows Central's Senior Editor, Xbox & PC, at Future. Following over seven years of professional consumer technology and gaming coverage, he's focused on the world of Microsoft's gaming efforts. You can follow him on Twitter @mattjbrown.
Nope this is just like how call of duty infinite warfare launched last year on the store watch it not be bought

Good, it's important that big games are in the Store. I usually go for the store version whenever both versions are available. I'm a bit tired of Steam's software.

lol, why did they even bother. I know it won't really cost them much to distribute but this is the same kind of ass-brained crap that ruined COD: Infinite Warfare or Dead Rising 4 on Windows 10. There will be nobody to play with and without the added incentive of achievements, who will bite? (a even achievements won't guarentee anything on a game with such a large multiplayer companonent)

A Microsoft Store release! Now that's a surprise! I want to buy the game and would definitely buy it from the Windows Store instead of Steam just so I don't have to install Steam on other computers that don't already have Steam installed. The whole "surprise" of a Microsoft Store release isn't a good thing in my eyes. I take it as a lack of commitment and faith that the Store version will sell. It seems half hearted. A game as big as this should have been announced and marketed that it was coming to the Store and some benefits. As is, it looks like neither Microsoft or the developer put in the effort to ensure the Store version is a success. I agree with the Author, the Steam version is the way to go for a lot of gamers, especially given the familiarity of Steam with PC gamers and all that the Steam ecosystem has to offer. Lastly, I hope the install process for the Store version goes smoothly unlike many AAA releases in the past.

The game absolutely supports Xbox Live achievements, don't know what you're talking about. Go to the Xbox app, search Injustice 2 there and select the PC one, the achievements will be listed there.

Hey, I've been searching the Xbox app and Microsoft Store and see no mention of Xbox Live achievements? Are you searching under the Xbox Windows 10 app?

Indeed I am. Search results there listed an Xbox console version and a Microsoft Store one, the latter is the PC version and has achievements.

Kholat does the same thing. The Windows 10 version has no achievements but still has Xbox Live integration- It's just showing you the Xbox One list. I will confirm that because I bought the game

I own it, it has achievements. I unlocked on within minutes.

Great, bit, another non-PlayAnywhere title, this step will never be able to unify the store and the Xbox ecosystem.

So a Xbox game launched in Microsoft store will require Xbox live Gold to play multiplayer, even on pc?

No. It's free on PC. I play my Xbox buddies on weekly basis. We play Gears 4. They on Xbox, me on PC. I do have Live ATM, but have played without it on PC. Also notice not many people play Gears on it though. It's usually just me and like one other person in a 10 man game.

I disagreed with the author. Steam is a good place to buy games, but not all players like steam. Having an option to not install steam is a good one for some people.
Give us choice, editor.

I understand the reasoning, however, for those playing online, this simply isn't a valid option. There will never be the players available to matchmake with the Microsoft Store version. Same thing sadly happened with Call of Duty for the Windows Store and it was honestly a mess.

No crossplay with Steam = instant failure, how does MS still not get that

No crossplay with Steam is probably Steam's decision, not Microsoft's. Microsoft should allow crossplay with Xbox, though I'm sure you'll get the regular naysayers complaining about consolve vs pc unfairness. They should just get better keyboard support for games that are on both PC and Xbox and release a keyboard for the xbox. Problem solved.

I think just provide a dropdown for people to choose who they want to play with is good enough. Gamepad only, KB only or Mix. If you worry about the fairness, give gamepad player x2 XP when killing a KB player, simple XD

I'm not really interested in this game. Will buy Tekken 7 when the Steam sales hit. But I feel this is a pretty terrible decision. Fighters, unlike shooters don't seem to have a very big community. We need all the people we can get. On a side note, I do prefer Steam, if for nothing else, its versatility with different controllers. On the Windows Store, you're stuck with KBM or XBOX controller. All others are at Microsoft's mercy. Although I do think Windows Store games seem to be less resource intensive.

...
Does game installed from Steam, capture input signals through Steam *.exe? I'm in the lesser *.exe the better group. Don't mess with my registry and please remove everything during uninstallation.
Now my PC is just clean, except Adobe, Office, Unreal, Visual Studio, Havok those big names and a few PortableApps, I don't install / uninstall any other *.exe anymore. But I do think this build is a bit silly like the COD... interested in why they decide to do this (the reason why it's not a XPA title).

I don't see the point of releasing a game in the MS store when it is not even "Play Anywhere"

developers can do this......
they can just sell campaign part of the game via win store at a cheap price & just update the campaign.

there are lot of improvements ms can let us have.....
1) let us download only single player or multiplayer part of the game (if we play only one of them, we don't need to download both or download only the necessary parts & hence update them)
2) gears of war 4 on ms store is 120 gb approx. (with 4k assets & may be other language files). they can let us choose if we want 4k textures & hence decreasing the download size significantly.

Think that's neat, do suggest

I refuse to give Steam my money, but I also can't give myself enough of a reason to buy it from the Windows Store without crossplay.
Windows Central Newsletter
Thank you for signing up to Windows Central. You will receive a verification email shortly.
There was a problem. Please refresh the page and try again.