InPic updated: brings bug fixes, Facebook sharing, and Picture Hub integration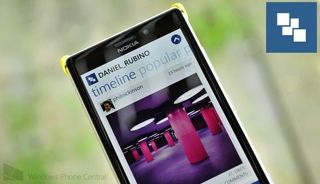 When it comes to Windows Phone, we may not have an official Instagram app, but we do have the best around. Earlier today we saw 6tag pick support for multiple accounts and now InPic joining in with some updates of its own. Let's check out all the v1.1.1 newness.
InPic is one of the more recent newcomers to the Instagram app field on Windows Phone. It's developed by Applyf – makers of PrimeTube and the first Instagram app with upload on Windows 8, also called InPic. The last update to the Windows Phone version of InPic featured a security update. Here's what's new with the latest:
User login bug fix.
Upload photo - Share to Facebook
Picture Hub Integration
After updating the app we had no problem login into the app. So any bugs you might have encountered there in the past seem to have been addressed. There is also now the ability to share your photos to Facebook. And finally you have integration with the Picture Hub.
Why go with InPic over competing apps on Instagram? The app is completely free with no trial and no ads. Just 100% free for users. It's a really nice way to dip your toes into the world of Instagram if you haven't yet.
Interested in grabbing InPic for Windows Phone 8? Head to the Windows Phone Store, use the QR code below, or swipe to the more section in our app. You'll then be on your way to a fast and fluid Instagram client.
Now if only someone could point CNET's Molly Wood to one of the handful of excellent Instagram apps available on Windows Phone… ;)
Awesome free app, but already invested in 6tag

Molly Wood officially owned.

Any 1 know a good Instagram app for windows phone 7?

#2InstaWithMassiveLove is the best one for WP7.x

Aside from #2InstaWithMassiveLove, other 3rd party instagram apps for WP7 that are free are instagraph and pictastic. There are others but I'm not familiar with them.

http://forums.wpcentral.com/windows-phone-apps/229613-10.htm

#2InstaWithMassiveLove is still being worked on as I speak :)

Its the second best wp8 instagram app atm. Better than instance. Second only to 6tag

I like this app not only because its setup, but its Windows 8 app too.

I was an avid watcher of always on until I saw that review. No longer subscribed to it. That was terrible how she treated the 1020.
Windows Central Newsletter
Get the best of Windows Central in in your inbox, every day!
Thank you for signing up to Windows Central. You will receive a verification email shortly.
There was a problem. Please refresh the page and try again.