Instagram beta for Windows 10 Mobile now generally available in Windows Store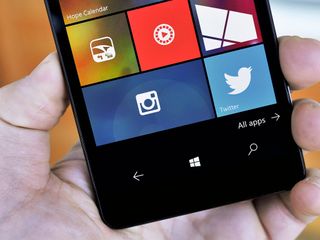 The Instagram beta app for Windows 10 Mobile is now generally available for all users to download from the Windows Store.
Previously, the beta app was hidden from users who searched for Instagram in the Store, but the download link itself was live. Now that the Instagram app can now be found in the Store without knowing its URL, it should see a big uptick in downloads and users on Windows 10 Mobile.
Thanks to everyone for the tips!
Download Instagram beta from the Windows Store (opens in new tab)
FINALLY! :') Posted via the Windows Central App for Windows 10 Mobile

I thought Beta tag finally went away. -_-' Posted via the Windows Central App for Windows 10 Mobile

Nah, they still need to fix the image capturing and uploading. Posted from Windows Central for Windows 10 Mobile

Well they have to implement Live Tile similar what 6tag does or better, at the moment it seems like it's just a normal static tile with thick Instagram logo. The animations is also quite laggy especially when going to next screen and back. That back arrow on the top also is uncessary for Windows UX as we have universal back button like Android, this is not iPhone where it only got one button for everything. Lastly, performance is still left to be desired. Still good app though and it's official Instagram app that is now comparable to other platforms. It just needs more refinements and implementation of Windows features like Live Tiles, Actionable Toast, etc.

Live tile shows detailed notifications with animations now unlike 6tag

Nice! Interesting, so I have to wait when I got some notifications to see, it seems I haven't seen showing that particular feature or I missed it which I need a link. Still, it needs the images cycling inside the Live Tile like what 6tag does already. They can use the slideshow Live Tile that being used in myTube. At the moment, Instagram Live Tile is mostly lifeless when there is no notifications where it shows icon-only most of the time, comparing that to 6tag where it shows latest post. Sent from Turing Machine

I guess that means it is coming out of beta soon. If only we could get the new Facebook and messenger apps already!!!

Now this is what really Windows 10 Mobile users deserve, after that 2 year Instagram in beta app. Posted from Windows Central for Windows 10

The app is nice an everything, but I won't get over the unfamiliar UI design which makes this app only second class.

I thought it was generally available with the last update. Ah well. Still needs faster gallery viewer when uploading.

You're right about Instagram. As for your sanity, I can't possibly comment.

I update my phone and I saw a new update 14328.but the last article here was about 14327...
Can someone help me??? Lumia 640 XL dual sim

14328 update is released for both Windows 10 and Mobile and introduced in the same article. There is no big changes and new features but bug fixes.

There is no big changes and new features but bug fixes.

For W10M

... There was/is BIG changes for W10. Just a clarification.

And for further clarification, A LOT MORE happened on MOBILE than they let on. While there are zero new features, and while the "known issues" remains largely the same, there are actually a lot of bug fixes, much less app crashes, everything is faster and smoother, and the battery drain is now gone. Stopping the battery drain alone was reason enough to upgade 2 days after the previous release. Plus, several of my apps that had stopped working with 14327 are working great again. Officially, nothing new for mobile, but lots of under-the-hood improvements that have made it a better experience, at least for me. YMMV

Makes sense & is as one would hope, thanks for sharing.

Can you switch mobile data on with your Lumia 640 XL dual sim? I can't on mine. I have to disable one sim to be able to switch mobile data on, if not it will hang, with mobile data on without working. Posted from Windows Central App for Lumia 640 XL

Ty God I found someone else with this problem...I thought my phone just has hardware issues or something broke ....

and if I try to open the cellurar data from action center the phone freeze and I have to remove the battery to turn in on. You have found anything to fix it??

The only workaround is to disable the second sim from working. That way, you can keep your mobile data running. When it hangs, instead of removing your battery, you can simply hold down the down volume key and the power key together until the phone vibrates before you will release it. Maybe the next update will address the issue. I laid my hanging issue complaint in the Feedback Hub for Microsoft quick action. Posted from Windows Central App for Lumia 640 XL

I would download but the li l still doesn't work, I hope I can do it in the store now

Installed on phone but says unavailable for laptop.

I highly doubt it will ever be available on desktop. It's always been billed and branded as a mobile network.

Good to hear, it's a cracking app and with the old app gone, it's good that W10M can easily show off that it does actually have some apps in the store. It's one of those essentials for new customers, so just having a presence is great for W10.

It updated again last night.

This damn app has been in BEta for 4 years. **** sake

It's only a name. New app has been updated often and is actually quite decent while in hopefully few more updates will be actually really good.

This app has only been around a few months. The app which i assume you are referring to was deleted before this one came out of private beta.

What is the name of app Right side of WC app Windows FAN... >>LUMIA 640 XL

If you mean in the article image, there is no app to the right of the WC app. The one to it's left is flipagram.

This app does not feel like a UWP app. It has different menus, all animations stutter, scrolling kinetic is different, standard widgets like toggle buttons look different, it even has an iOS back button on left top corner lol. It is obvious they used something other than UWP frameworks. I am looking forward to Rudy's upcoming UWP version of 6tag.

You have just described Windows 10 Mobile UI.

remember this app is ported by FB with their own tools not with project islandwood. besides why to make a native UI when its the same on the other platforms

It wasnt meant to be a a UWA, it was just meant for mobile. This is a port from iOS. MS made big changes to the Windows/mobile UI to make it easier for devs to port their apps with less effort ...they created the bridge softwares to make that porting even easier and quicker so that we would inturn, hopefully start receiving more apps from devs who dont want to put their resources and time into Windows Mobile. That said, Instagram is one of those apps that should feel/ the same on all platforms, so personally, im glad it's like this as we're getting a direct port with full features ...the glitches will surely be ironed out in the next couple of updates.

@abduz it was ported/developed using the Osmeta platform (which Facebook acquired) not the Microsoft's bridge tools.

I know that but thanks anyways. I was just explaining Microsofts efforts, so that he would understand why the app doesn't need to have Windows design language anymore. On that note, Im wondering if Instagram would be less buggy, should FB had opted to use MS's bridge app ...Candy Crush worked flawlessly from day one but then again, maybe they ironed it out well before release.

This is better than nothing for sure. But I would prefer a W10M interpretation of Instagram, not a direct port. And the difference between a native experience and an app such as this is huge, it feels like a web app more than a native app. Anyway, at least we will be able to tell that there is Instagram for W10M. I'll keep using 6tag though, even though it is currently Silverlight based, it feels more native. And hopefully Rudy will make UWP version in a few months.

I agree: Functionality is one thing, but liking to use an app is way more important to me.

I understand your point but once the experience is ironed out with less bugs, the experience will be a lot better. I loved using 6tag and I still do when I want to download images but 6tag also lacked the best experience. It (still) loads images slower than the official app, notification are crap to say the least, long hold on an image to preview is also not available on 6tag, multiple accounts works better and more fluid than 6tag (you also get notifications for each account), swiping back from an image to go back and im sure im missing a few stuff. Im not saying 6tag is bad but for what is "lacking" in the official app, there is more lacking in 6tag. I loved using 6tag and appreciate Rudys amazing efforts but it's nice to be able to use a feature rich app that works similarly as it does on competing OS's (when its ironed out of course). Either way, glad both are available, as everyone has different tastes and both have their strengths and weakness. Look forward to Rudys UWA but for the time being the official app feels nicer to use

This app is a port as it was explaind before. You have to understand 2 things: 1.) Instagram has no plans for desktop app so they really don't care for 269M running windows devices (remaining 1M being phones) and 2.) You can't use a competing product (iPhone, Android) publicly, say in an interview that you don't give a F about it (phones) and expect to get a full blown app for your device. It's MS's fault that we have to be happy with this kind of half backed/10 years late products (apps). They had a nice market share last year and they were on the rise, but not giving a fk has hurt it's sales and made people leave taking developers with them.

It's not only Microsoft's fault. Facebook, Google, Adobe and others simply don't care about Windows phone users, at least from an image stand point.

Well last year MS had 2x market share than this year and if they payed more attention to its mobile efforts and gaved a more polished OS at launch (not putting it to second place) it would have done a lot better and who knows maybe even entered new year with bigger market share than beffore. If you don't care about your product, why should I?

I dont think it's so much about them not giving a fk but rather, focus on the bigger and more successful part of their ecosystem in order to be able to be an important player in the game in the long run. Believe it or not, iPhones success is what helped catapult the iPad into success as well as given a boost to the Mac market. Think of Windows as the iPhone and Windows Mobile as the Mac ...when you dont succeed, you make use of your strength in order to help your weaker sides. ...and on that note I personally believe up until the anniversary update, everything so far has been an advanced beta test, Windows 10 was rushed to the market because it needed to whether it was for MS or OEMs.

If they focused more on their own OS and less on "What dog are you" for iPhone maybe they would have a finnished OS by now. Also allowing better apps on iOS and android is a mistake.

Are you serious?
1) The devs developing apps are not the same as the ones developing the OS
2) Yes MS should focus on their own apps more for WM but the larger market, is what they currently need to focus on in order to have users remain with MS services and attract new users. This could also play into their advantage because if they get users on other platforms hooked to their apps/services, it might make Windows Devices more appealing for them. If the experience is horrible on those platforms, they will stop using their services and never even consider looking at a Windows Device. 3) Microsoft is gaining a lot more data and knowledge from competing OS's than they are on Windows Mobile, thats not to say they shouldn't focus on their own apps but their priority right now is developing their ecosystem and gain as much data/info as they can. Which takes me to the point i mentioned before that we've basically been a part of an advanced beta testing program.

BETA = Best Effort Try Again

I want instagram on my PC

Go for Instagram website Windows fan boy
Sent from my windows 10 device

yeah but an app is much better so I wait for 6tag

I don't think is necessary to change the UI after all this app looks the same on iOS and Android so why to make it native if they share UI on other platforms, if they use native UI they will have to re-do the app from zero. Like the old app which wasn't that great it lacked of features. We should be grateful they ported this app from iOS and it has all its features now I would like they also bring the re-post app as well cause it will be a great addition.

Would someone explain why it is necessary for this app to only run from main storage? Having a substantial sided SD card is for memory hogs like this app. TIA

Because this app is a port from iPhone (no sd there) and it can't run from "D:\". Maybe in the future but I wouldn't hold my breath.

Seriously? For such a "great" device (iPhone), it seems even more lame with these types of limitations. No wonder they have to upgrade their devices so frequently. That's why it's such a cash cow for Apple while people are being productive on Lumia 52Xs.

Lol the 52X are horrible and it's on Facebook's part not iOS or Apple. Posted via the Windows Central App for Android

Look I know what you guys are going to say but i don't care. I am going the android way. I have been with windows phone from 2010 and two months ago the even of my 1520 broke. It feel on it. Now i need 150 € to get a new one. I got a Redmi note 3 instead. Posted from Windows Central for Windows 10

Φίλε κι εγώ το σκέφτομαι τελευταία γιατί κουράστικα λίγο... :/

Hooray I guess. It's at least about on par with its competitors unlike the dreadful cancerous 'Facebook' application which is just God awful. #TeamLumia 950 XL

Facebook and Facebook messenger still private beta.....

Hi Guys! I cannot download the app from the store always error installing it. - Joey from the Philippines (640XL W10)

I wonder if it will be worth it considering that we got 6Tag, which has been nothing short of awesome!

The windows store hides the app? Ridiculous! Does this update support non square formats?

Just 2 days back I had tweeted to Instagram and Windows about app not available for W10M, and now we have the app :)

This one is amazing... But slow... Need to b update again

I still can't browse my photo gallery to upload a photo using this app, perhaps because I have them stored on my SD card (on a 950XL)
​I thought maybe it was because I was on a Redstone build, but I used the recovery tool to go back to the release ring on the weekend and I still have the same problem.
Windows Central Newsletter
Get the best of Windows Central in in your inbox, every day!
Thank you for signing up to Windows Central. You will receive a verification email shortly.
There was a problem. Please refresh the page and try again.