Instagram gets Boomerang, hands-free, and nightmode support for some Windows phones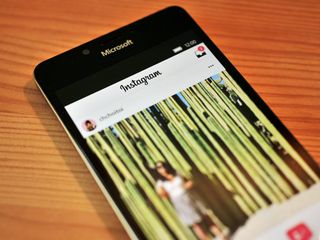 Instagram appears to be rolling out a batch interesting new features to at least some of its Windows Phone app users. Included in the update, which bumps the app from version 10.707.48352 to 10.738.64166, is support for Boomerang, hands-free and night mode in the camera portion of the app. You can check out a before and after look at the changes in the screenshots below.
The Boomerang option is similar to how it works in other versions of the app, allowing you to create short loops out of your videos. Meanwhile, night mode should adjust the sensor to take better images in low light, while hands-free lets you record video without holding down the capture button.
Before you get too excited about checking out these new goodies, however, it looks like this rollout is either extremely limited or accidental. So far, we've only been able to grab the update on an HP Elite x3 running a Windows 10 Mobile production (non-Insider). We've checked for the update on a Lumia 950, 950 XL, Alcatel Idol 4S and Lumia 640 in various Insider and Production configurations, but have only received it on the Elite x3.
That said, these features could be rolling out only to a specific group of devices for now. Another possibility is that it's an accidental rollout of some sort. For now, let us know in the comments if you've received the update, along with what phone you're using and whether you're on production of an Insider ring. Again, you'll want to look for version number 10.738.64166.
Thanks to TechJunkie81 for the tip!
Download Instagram from the Windows Store (opens in new tab)
Dan Thorp-Lancaster is the Editor in Chief for Windows Central. He began working with Windows Central as a news writer in 2014 and is obsessed with tech of all sorts. You can follow Dan on Twitter @DthorpL and Instagram @heyitsdtl. Got a hot tip? Send it to daniel.thorp-lancaster@futurenet.com.
Can they just fix that app to show your latest photo in camera roll. It's aggravating..

No update for my Lumia 540

It works but it seems very slow if there are tons of pictures (I'm at 1449 but when I was 3000 it was even worse) Like go to start adding a pic, wait a bit and the recent picture in your camera roll will show, then click the camera roll folder to go somewhere else like screenshots where it's way smaller. Then go back to camera roll and everythings starts showing up!

Same here. You have to choose a different folder, then go back to the camera roll. I don't bother with it anymore, just share straight from photos app.
Lumia 950

Rudy H. should please update 6tag

Rudy made apps to fill a void. Since Instagram is active in Windows 10 Mobile development you won't see many, if any, updates to 6tag.

I have to rely on this app to upload any picture to Instagram for some reason. I love Rudy for putting the time into the app.

Sadly as those apps ported from iOS are terrible on low/mid range-phones. I miss the FB app by MS, the official one takes ages to load and closes all the time on my Lumia 640, as it uses too much RAM. I like 6Tag a lot and payed for it, I hoped it would keep getting updates :'(

The fb from Microsoft was super slow on my old 640 XL

Was way better than the official fb app.
Official fb app barely loads on 640xl. Store requirement is 2GB RAM.

It's time to get newer phone those 640 XL specs are outdated at that price range

Yeah, but they just need to update the Facebook app that's all. Of course they're not doing that any time soon, but I don't miss the Microsoft Facebook app.

Bro also has a full-time job. Wikipedia for WP8.1 has even been pulled from the store. Hate these stupid stores.

That was the official Wikipedia app even.

Embrace the fact that instagram is working on windows, we need these guys to kick butt and show up other companies for slacking off.

It barely works. Pictures look terrible. Videos and livestreams run at like 5 fps with terrible color. Everything "works" but nothing works well.

Really? I never felt pictures looked bad, you see some really nice stuff on instagrams! I haven't had problem playing back video's or people live feeds either. I wouldn't be complaining about that, more about the speed of loading up my camera roll to upload is what bugs me.

No no no no no. I meant taking/uploading your pictures, videos, and livestreams.

Ahh... I've never actually used instagram to take anything. Usually it's after the fact for me. Yea counter intuitive to the insta part lol. Videos take a long time to upload but they look good afterwards. I tried a story and it seemed ok... I don't want anyone to see me live lol.

Did you use the video recorded through Instagrams recorder or the one recorded through windows camera ? Instagrams video recording is kinda bad for me. 480X480 compared to the 1080p from windows camera. Instagram doesnt let me upload videos recorded from windows camera,

In my experience, videos upload to Instagram needs to be less than 15sec (so i trim them) and you best not navigate away until it's posted. Any time I leave sooner the post is stuck

That app is done I believe no more use for it Imo it served it's purpose and ran it's course. We have the official full featured app now

The only thing I keep it for is saving images and regramming. Otherwise I use the official app.

I use instaget universal instead now. U can copy and paste the url to a pic and video to the app in the notification center and save them from there without leaving the Instagram app. So I don't need 6tag at all anymore try it out u have to turn it on to appear in the notification center in settings

Agree.. Wish it had dark more tho.

You can't save photos on the official app
That's why I love 6tag.
Also the "regram" feature.

I use instaget universal I can save pics and videos from the notification center without leaving the Instagram app

That's exactly why I still keep it around. Tho Sedp23 mentioned this other app I will give a try, ill still keep 6tag around for as long as it works.

Rudy should make 6tag full free! When you want to upload long videos 6tag ask for money that's annoying

Yeah why should he be paid for his time, he should release all apps for free /s

Rudy H is money greedy, im better using official instagram 100 times better

I got it on my Lumia 920 running 10586.682

Bravo Instagram for supporting windows app. Just make it faster and more reliable.

yea it actually makes me want to use instagram more just cause we are getting some decent love from them hahaha. I'm not complaining about ANYTHING they put out right now lol.

Frustrating news for Lumia 540 user! No update :( I am pretty sure it will never get those feature from Instagram! I don't even able to upload videos from my Lumia 540 by using Instagram windows 10 mobile app

same... no update for lumia 540

For what it's worth, I received it on my AT&T 950.

I really hope this comes my way!

How do you have live option in there? Though it wasn't available yet

I've had live option on my Instagram app for months now.

Uh, what model do you have and are you on Insider Program?

I assumed no low powered devices has instagram live. I am on lumia 640xl and i still haven't got live features.

Im on a lumia 930 and all i have is story..no live.no boomerang .. DANG!!!

Wow i got all the features like live story boomerang .....lumia 535😎

What... I have great difficulty to find version number of this.. After settings/something I saw 10.1.0, so what is this 10.7xxx?

Saw that too, had to uninstall and install again to be able to see it at Store/Download & Updates (or whatever is called). My version is 10.707.48352

SOB!! WHY IS IT SO HARD TO MICROSOFT to just f*** use common f** sense and basic intelligent to understand that in store USERS WANT an md need to see current app's version!!! AS*****!!! Had to poke feedback hub AGAIN AND AGAIN... NOTHING HAPPENS!!!!!

They want to add big features which people hardly use... Small features will take long time for them 😅

This is elementary! This is "hello world" calibre stuff for f**&% sake! Every app/ line of code is born with version number and THAT info is what everybody seeks and compares against.

Never used download and updates page on the store?

My IG is off that list, does not show... I have created few Apps in the store so yeah: I have perfect Right to rant and rave about issues that I saw fit because i have contributed to the massive app-shortage problem.

Yip just checked and definitely have the live option on my 950 XL

The official app for me is way too slow to load and clunky. 6tag is much faster and the UI looks way better

6tag is for WP8. No way I am using silver light s*** anymore. WhatsApp is perfect example on why to recode to UWP (it Should be!!!). Performance is tons better (not to mention launch problems). IG WM10 is iOS port and sort of ... Sucks.. Uses lame iOS control -flow schemes..

Odd 6tag loaded slowly on my 640 xl when starting the app. Loads slow opening on my idol 4s too

6tag is **** many annoying ads pop up, the explorer also annoying

I stopped using 6tag I use instaget to save pics and videos from the notification center. The only time I use 6tag now is if I want to post while on a phone call because the bar at the top covers the share button if you're on a phone call

Same for me on my Lumia 640, the splash screen takes around 8 seconds and scrolling is very choppy, just wish Rudy would update 6tag. Facebook is even worse (crashes all the time), I miss the MS app.

Is live video available now?

Is that for streaming myself, because I can already see live video from others?

live works guite good... it's HLS mode .ts wrapped 10 sec chunks manifest based h264..

I've had it since it launched months ago

I can't even record live video. I can only watch.

I've recorded live video before on my idol it works great

I've had Boomerang for months now. If you held the video circle and dragged it outward it activated Boomerang. Today's update isn't showing up on my 950xl

I have the HP© Elite X3 and running regular Win 10 mobile and I'm not seeing any update for Instagram so far.

Nothing on my Lumia 830. Not surprised tho as I'm still unable to go live even on my Android backup phone...

FWIW, Instagram sucks so bad. It's worse than Twitter and Twitter is garbage. I noticed on IG that too many users are desperate to have more followers than the amount of users they follow back. I would get a random 'like' on one of my posts from way, way back and then that user would follow me hoping that I follow back. Yeah right! If you follow back that user unfollows you after a day. LOL. So many "traps" on IG. The Barbie girls are the worst. No thanks.

And i dont even have live yet :3

Is it available in Lumia 540

Does the app logout after exit for anyone else or is it just me?

How to stop AutoPlay of videos?

but why limited devices? how can you beat other os?

Does this official app have a live tile as 6tag have?

No update on my Lumia 640 Xl

Still I didn't get live option itself.

Why don't get instagram original version for wp8.2

It's a uwp app for windows 10

In the story, the before pic shows live mode being an option. I do not see that on my version. I am up to date and on a VZW Icon. Anyone know why i wouldn't have this feature yet? I really want boomerang so hopefully that is really rolling out to everyone.

I have the new version on my 950XL dual SIM unlocked

I just wrote this to IG problem line.. "If user adds a location of an post, that post can be then opened by clicking it. Instagram then opens the location to a full view and shows what other users have posted there. This works with Win10AU phones. Now if user taps the map, system ask for "open in maps" and this is the problem. Now it opens the browser with e.g. https://m.here.com/#action=route&params=7D&bmk=1 and this does not work. It does not show the location on the map. Can this be fixed properly by using WM10 internal Microsoft Maps application launch with search parameters as the place at question. This is the proper way and will work"

Messenger also has this problem

Just got another update. Version number 10.743.19450.0 On Lumia 920 running 10586.682

Just got it on my idol 4s release preview

How do you have live streaming?

Just got it in my Instagram for PC and in my Lumia 950 XL!

I just updated to version 10.743.19450.0 on Lumia 950 XL but no Boomerang or any of the other improvements

See my comment above.. you need to press the camera button on the top left or just swipe left from your feed to get the camera that has the options.

I got all the features on my 640xl except Live story. Any suggestions?

I have all features here in the USA, Alcatel Idol 4s

I have all the features on my 950XL and i wouldn't be surprised if everyone does it's just you don't know how to find it. The features are there (live, boomerang) when you press the camera icon on the top left, or by swiping left from your feed. The features are not there if you press the + button at the bottom of the screen. I'm pretty sure boomerang's been there a while and live the last week or so.
Windows Central Newsletter
Get the best of Windows Central in in your inbox, every day!
Thank you for signing up to Windows Central. You will receive a verification email shortly.
There was a problem. Please refresh the page and try again.