Instagraph for Windows Phone 8 updated, Metrogram integration joins the fun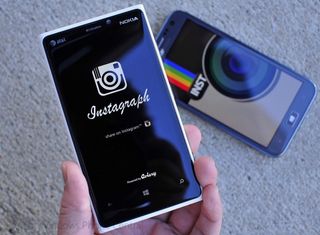 The popular Instagram client Instagraph was updated just a short while ago to version 2.0 and as promised, Metrogram is now part of the mix. The two apps really didn't become one but rather integrated where you can access Metrogram's features from within Instagraph and visa versa.
The Metrogram integration is only for the Windows Phone 8 version of Instagraph. Windows Phone 7.x users shouldn't feel left out in the cold though.
Both versions of Instagraph get the ability to create Instagram accounts, a new color picker to create color borders, and a new internal browser for liking/commenting on Instagram feeds, modify profile information, and receive live notifications.
With the Metrogram integration on the Windows Phone 8 version users have direct access to followers and those followed, the ability to search tags and accounts, and view your liked photos.
To access the Metrogram features you'll first need to update that app (due in a few hours), then just tap the "M" button at the bottom of the main Instagraph screen. This will pull up your Metrogram menu.
The neat thing about it all is that Metrogram is due for an update as well (version 3.3) that gives that app integration with Instagraph. This will allow Metrogram users to post or re-Tweet pictures.
As a side note, Instagraph's developers have made the offer to any developer wishing to add Instagram sharing from their app, they can download a public sample over at GeekChamp (opens in new tab) and connect to Instagraph within their app. It is our understanding that Instagraph is now working with WPGram to provide similar integration. Who knows what's next or how far the integration could go.
The update for Instagraph should be pushing out shortly (if it hasn't already) and the Metrogram update should be live soon too. If you haven't tried Instagraph yet, the full version running $.99. Metrogram is a free app.
You can find Instagraph here in the (opens in new tab) Windows Phone Store and Metrogram here in (opens in new tab) the Store.
Get the Windows Central Newsletter
All the latest news, reviews, and guides for Windows and Xbox diehards.
George is the Reviews Editor at Windows Central, concentrating on Windows 10 PC and Mobile apps. He's been a supporter of the platform since the days of Windows CE and uses his current Windows 10 Mobile phone daily to keep up with life and enjoy a game during down time.
First!!! Yesssss! And yay

Itsdagram has my heart.....sorry guys..even though i was one of the first to buy your apps

Me too! Itsdagram Is da bomb! I still like to see this though just in case Instagram pulls a cease and desist on Itsdagram. But as long as Itsdagram is around it will be the only client I use unless an official app is released.

TJWIND are you paid by Daniel or is is an alias ? You are on EVERY forum advertising isdagram... ;)|

LOL! I'm glad you noticed me haha! No I'm not paid by Daniel but I appreciate him because he gives a shit about Windows Phone. Without him we have neither a fully functional Pinterest client nor a fully functional Instagram client. He replies to emails and listens to his users. He also creates the most beautiful metro apps available in the store. Without him we are screwed and Windows Phone is screwed. He is more important to Windows Phone than many people realize. He is the man! Period!

*** your post goes in Irrelevant comments too :) ***

Which is better: Itsdagram or Instagraph?

Nothing I uploaded thru Instagraph showed up on my Facebook's Instagram picture folder, only Itsdagram uploads.

Current release of Instagraph share on Instagram only, sorry if it was not well reported on the App description, we will update it shortly.
Thank you for the suggestion :)
Next versions will add support to 5 different sharing networks.
Instagraph goal is not to emulate Instagram, there are awesome Apps that do this very well: Metrogram, WPGram, Itsdagram, etc.
In next scheduled updates we will focus on picture editing and wide sharing options. Instagram was only the first ;)


You can circumvent that limitation as a user by creating a recipe on If this than that (ifttt.com)
Here are a few recipes I have shared to post instagram to twitter.
https://ifttt.com/recipes/95522 Post Instagram links to twitter.
https://ifttt.com/recipes/95523 Post instagram photos to facebook


Next version of Instagraph will share on 5 different social networks ;)
WP7 users will not be left alone, obviously :)

Do Foursquare sharing and you are my default photo app. Photos are location-based beasts, and there is not a single photo app that shares to Foursquare on WP8. That can make or break you.

See Daniel! Thas how developers should cares about users. They write to them. Thanks!

I was in the first batch of guys that bought Instagraph (and Itsdagram as well) and honestly, Itsdagram its way, way better than Instagraph. Try them both, specially the new Instagraph version and see for yourself.

I will update Instagraph, but I already have Itsdagram as my favorite app.

Instagraph goal is not to emulate Instagram, there are awesome Apps that do this very well: Metrogram, WPGram, Itsdagram, etc.
In next scheduled updates we will focus on picture editing and wide sharing options. Instagram was only the first ;)


Itsdagram smokes this app!

7.x shouldn't feel left out though. Looool why not? And Instagram says they're going to start deleting accounts who are not posting pictures with the camera within the app

more info on intagram deleting accounts please

If so, you are safe with Instagraph, all images passes throuh Instagram Lense.
Even if they change the private (or public) API, Instagraph will continue to work:)

Why do I have to add my email ? @venetasoft

In order to let the users updated in case of server interruptions, scheduled upgrades, or any other problem to the publishing process.

Do I have to enter the email when I sign in or can I leave this out?

I have to check but I suppose it is optional, on the contrary, if you don't want to provide your email to receive server tickets, you can enter a inexistent address such as foo@foo.foo.
The email is not required to open the account nor to publish so you can safely enter any correctly formatted value.

where is the trial version? it doesnt show try in the store

After the update every time I close the app it keeps reseting my account and I have to login again. WP 7.8, anybody else has this problem?

Sorry wp7 version has that little bug, we have just submitted the patch, it should be available tomorrow.

Thank you for the quick answer.

Can't use Metrogram because it still be V3.1

Metrogram 4.0 should be available in next hours :)

Current metrogram not compatible. Got to wait for update. But I think itsdagraph is better. U open app and goes right to ur feeds. Don't think this does it. We'll see

Metrogram 4.0 should be available in next hours :)
We did our best to make the transitions between the Apps fast and fluid, let us know what do you think!
This is the first integration experiment, next step will be to let other Apps directly call Instagraph services.

While the built-in browser in idstagram is nice, metrogram is better. And the instagraph filters are far more polished (I found the idstagram ones to be pretty hokey). So while I would like to have it all in 1 app, the 1-2 punch of instagraph and metrogram is better for my taste.

If Itsdagram launches third party filter apps like Creative Studio then nothing will touch it including the official app!

@venetasoft will the integrated metrogram feature come out for WP7.

Unfortunately uri association is a wp8 feature only...

Itsdagram have you heard.

Come on Daniel Gary integrate Itsdagram to launch Creative Studio and Fotor from within the app so we can have the most amazing Instagram experience on any platform!

C'mon copy Daniel, copy copy this is awesome!

Cant you pull those lenses when you take a photo and just use any of these clients as "tool for sharing" rather than editing? I thought we were all more than happy that we had enough filter apps on the market. What we wanted was ability to create new accounts and share to Instagram, which all of these app now fulfil in some or the other way, no? I think creative studio has the best filters, followed by fotor and camera360.

Rockstarzzz we are not complaining but it would just be nice and convenient to be able to take a photo, then apply a filter, then upload in once easy sequence without having to exit the app to edit. I am happy with Itsdagram as is but just requesting features to make the experience the best it can possibly be.

I agree with Rockstarzzz. You could just take the photos with your desired lens/camera app, edit it, then share to Itsdagram using the "share" functionality. It'd still be a simple and fluent process. Itsdagram just has to tap into that functionality, which I think the developer is actually working on (stalked the dev and Jay's conversation on Twitter).

The "share" menu Integration in Instagraph exists from its first release ;)
It integrates the "edit" system menu too.

Trial version is for windows phone 8 only??

Unfortunately there isn't a trial version for Instagraph. I'm working on a Instagram roundup and who has and doesn't have trial versions got mixed up.

It is complicated using 2 apps in the same tame to instagram...

Please wait Metrogram 4.0, try the interoperability and then write me what do you think :)
We worked hard to make the experience very fast and fluid.
Really it seems to be a single App :)

metrogram and instagraph would be just one app and not 2 connected apps.

This is the first integration experiment only, let's see what will happen ;)
Anyway the transitions are very smooth and fluid, really it seems to be a single App :)

Thanks for the answer, why dont you have a free version with ads? :)


We use a mix of Azure and on-premise servers to push pictures to Instagram network without using their private API, so we have some costs to cover...
We think ads are more useful on a game, where the users pass lot of time on it (even hours).
We saw that the average Instagram/ph user posts no more than 1 picture every 2 or 3 days (they really care about it) so we were not so sure about ads on Instagraph.
Anyway we could do a test, why not :) ?

Hi. It is great you have made iG uploading app for wp. But have you noticed that tags are not working.. Yousee I can find OTHER things by clicking my tag, but MY PHOTO is not among those pictures wich I found by clicking tag..

Think everyone is switching to itsdagram. Pretty much exactly like instagram. Till they throw a fit and force it out the store.

How do you share your pics on Twitter and FB from the itsdagram?

Pays $800 for a high quality PureView camera phone; spends 1.49 on an app "to filter".

Okay I have bought this app and I'm very disappointed because I can't really do anything with it if I can't follow anyone..it just gets stuck loading on the follow friends:(

Where is the Metrogram 4.0? Hope to see it soon!

Hi. It is great you have made iG uploading app for wp. But have you noticed that tags are not working.. Yousee I can find OTHER things by clicking my tag, but MY PHOTO is not among those pictures wich I found by clicking tag..

How do you delete photos with this app or metrogram? so stuck. Can anyone help please?