Intel's tiny Compute Stick is now available for pre-order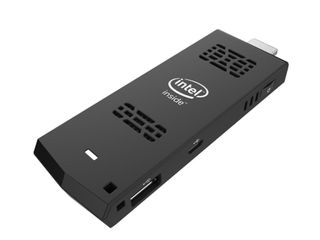 Intel's compact computer-on-a-stick is now available for pre-order and will be shipping later this month. Announced back at CES, the Intel Compute Stick is essentially a computer on a USB stick. All that's required is a monitor with HDMI, some peripherals and you're good to go.
Priced at $149.99 ($110 with Linux) on Newegg, Amazon and a handful of other retailers, the device packs 2GB of RAM and 32GB of storage. As well as the HDMI connection there's also a microSD card slot (for increased storage), a regular USB port, Wi-Fi, Bluetooth, a microUSB port to will power the PC and runs Windows 8.1.
It's a perfect solution for those who require a PC that can be carried around in their pocket.
Pre-order Intel Compute Stick at Newegg ($109) (opens in new tab)
Via: Neowin
Rich Edmonds is Senior Editor of PC hardware at Windows Central, covering everything related to PC components and NAS. He's been involved in technology for more than a decade and knows a thing or two about the magic inside a PC chassis. You can follow him over on Twitter at @RichEdmonds.
Thanks for news and update.

Im gnna plug it straight into my Xbox!

I like that idea but I'd imagine that there is a noticeable lag using HDMI passthrough on xb1 to the point that it would be too frustrating to use.

Everything I've used through Xb1 no lag at all, only lag the may encounter with any device with this even a tv is the wifi capabilities and that's it, is shouldn't have a problem whatsoever

when I played my 360 using hdmi passthrough i never noticed any lag

*plug it straight into your TV

I'll be traveling for my new job and bring my Xbox with me, some rooms dont have good tvs, so ill be streaming my Xbox to my tablet soon with windows 10, you can say why not use my windows tablet as PC but this has that extra kick with RAM and memory so yeah there's that difference

Plugging it into your TV would be annoying--switching HDMI inputs is totally played out. I actually tried doing it last night for the first time since I got an Xbox One and laughed at how ridiculous it was. I'm interested in plugging this into the Xbox One, though. Would like to know more about people who have tried that.

???
Switching inputs is annoying? Get a new TV lol

Waiting for a Video Review!

Same. The windows version is expensive, I would also like to know if there is a possibility to upgrade to windows 10 at a later date. Also from past experiences I dislike the form factor (stick) and was really hoping for something like pipo x7. Now I hope this performs well.

It's got Windows 8.1, I don't see any reason why you couldn't upgrade to 10.

The reason not to upgrade is microsofts invasive snooping on your windows use.. They still have made no announcements regarding the end to that program.

Same here, super ineterested to use this as an HTPC to stream music and movies from the home server, and games from my big PC in the basement (Via Steam's in-home streaming). The real question is if it can do these kinds of things in 4K, or upscale to 4K... though I dobut it for this generation. But maybe soon?

Can someone in the know about its CPU say if its a good Plex etc candidate? The rest sounds good. Off to find out more!

+1, I'm also curious about that...

+2 I'd like to know that too.

I think it's going to have the latest atom CPU, same as the surface 3

That's a tempting piece of hardware... Popcorn time anyone? If you've got the US netflix, fine, but over here, in France, the netflix catalog is utter crap. It's only good for TV series...

I believe it is expensive, and hope that Chinese made a decent copy soon. If not I would get the pipo.

$150 for essentially a plug and play computer is too much? Hmm

I agree. I really can't see how people are calling this expensive. To me it's ridiculously cheap.

To those whining if it isn't free, its expensive. When that's the benchmark everything is expensive. Particularly so for things that may be neat but totally unnecessary or material. I suppose it's a good problem to have.

This will cost double in Bulgaria 500-600 BGN(~300USD) way too much

Android keys cost 50$.... Little too expensive but nice.

Last fall there was a nearly identical Russian product for ~$80. I get the feeling that the price on this will fall below $100 fairly quickly if you don't mind waiting a few months.

Agreed. I was hoping for something around $110-120 for Windows version.

There already is a Chinese version, it doesn't have a authentic version of Windows. MeeGo Pad I think it's called.

Yes, I've played with one of those glad to see the official one for our market out. Posted via the Windows Central App for Android

search for Meego pad T01 on aliexpress or https://www.windowscentral.com/e?link=https2F2...

@KarmaEcrivain, Netflix is just as bad in the UK and I imagine its the same everywhere except the US.

Just use "Hola Better Internet" as an extension to Google Chrome and you can access the US catalogue.

It doesn't run Windows, why report it here?

It runs 8.1. Lets start reading from this Easter?

Because it does. It even says it does in the post.

Ah, end of second paragraph. My eye was distracted by really of the cheaper Linux version.

It does, but I question why they linked to the Newegg Linux version at the end of the article instead of the Windows version since this is "Windows Central".

Oh wow, yes the hdmi port on the xbox! Fantastic idea

wut? You'd plug it into your TV or AV Receiver, not an Xbox (unless I'm missing something?)

You're missing something. The Xbox one has a HDMI pass through port, so you can use the mini pc via the Xbox dashboard. There's a bit of lag though, so I wouldn't recommend playing whatever games this stick can run.

What lag? I've played so many pc games, ps3, ps4 and not to mention blu ray movies no lag at all. Not just me but others have reported the same thing. If there was any lag (widespread) you can bet it would have been plastered all over the tech media. Perhaps you have a faulty port?

There is definitely noticeable lag. It is not to the point of being unusable but if you are running Windows through the pass through you'll notice it as soon as you move your mouse.

Yes the lag is quite noticeable but not impossible to work with Posted via the Windows Central App for Android

I have my Meego Pad T01 plugged into my Xbox One and am testing it at the moment. Working pretty well so far. The only problem I forsee for being able to use it long-term like this is that I also have a USB TV Tuner and I'm not sure if saying "Xbox, go to TV" when that is plugged in will switch to the HDMI pass-thru or to the TV-via-USB. Anyone else tested this?

Does it has WiDi Miracast?

Probably but not as good as say their standalone wifi cards

It was previously reported to have Miracast/WiDi, but we will have to wait for a full review to see what it really does and does not have.

Yes I will wait for the review

Once they get small enough to swallow, they'll be perfect for spy or terrorist movies.

MS has stopped using ARM they just officially ended the support. Everything will be full PC's I'm sure this will be x86

This isn't entirely true. Windows 10 mobile will run on ARM devices under 8 inches. All Windows 10 mobile did is get rid of the desktop which Microsoft should have done with Windows RT in the first place. But due to the fact touch MS Office wasn't ready, or advanced control panel settings you were forced to drop to the desktop.

Nope, ARM isn't being used under 8inches, its Windows Phone OS

With the exception of a special version for pi

and phones... and mini-tablets... and IoT devices... I mean really, the only ARM SKU that got axed was the one used by tablets like the Surface, the rest of the ARM products are alive and well.

Is some flavor of atom but not the x7 Posted via the Windows Central App for Android

Is it practical to swap the SD card with your movies on it and the HDMI cable you are watching them over between every frame?

Meegopad T01 with Windows 10 here in my TV - working fine. Love that Sticks :-)

I want this tech in a W10 phone. Would be so useful for my company of salespersons could just dock their phones to a screen, mouse and keyboard!

Agreed. I really thought this would be the future of smartphones but we're either not there yet or people are just not interested. There was the Motorola Atrix which had the "webtop" dock but unforunately people thought the dock was too expensive and it never took off. Motorola could have continued to release future phones comptabile with the dock but they did not so it fully died. IIRC Ubuntu Phone has this ability/feature but we're talking about an OS that hasn't even started selling phones quite yet. I think it may become a reality when it can be sold in the enterprise/business sector as the only required PC for your professional instead of laptops plus the business phone. The consumer sector is too worried about Snapchat and wearable garbage instead of actual useful products ;/

.... This has been discussed in the forum, ad nauseam... Yes, it is nice to have but in reality it doesn't offer much benefits. You are better off getting a tablet that has inking capabilities (pen input) + dock support and using that as a POS system.

I just wrote a long-winded comment and posted before I saw this. This is what I'm talking about! If MS can put out a truly all in on phablet/PC that can do it all... it would be a game changer. They are in a position to do so. I know there are technical and economic hurdles... but in time... an all in one device is INEVITABLE. So someone needs to win this race. Come on MS!!!

Not officially available yet on either sites in Canada. Guess I'll check netlink instead

Now there's an official listing on Newegg.ca except its sold out

Im pretty sure i would never stress out one of my HDMI ports with something that huge, looks kind heavy/big for a dongle. Maybe use an HDMI extention cable?

Well you could rig up a bracket :P. But yeah as an extension cable would be easier.

Stress out a HDMI ports? Woot?

Its lighter than a long cable but yes just use an extension cable Posted via the Windows Central App for Android

If this would support 2 monitors I would give it a try. A bit expensive for just using with tv and not usable for anything else.

I'm immensely curious about this but I'll wait on the real time reviews before jumping in. This feels too much like Leap saga at this point.

Seeing this stick makes me wonder... who will be the first company to *truly* make an "all-in-one" device? Phone AND tablet AND full computer. I know there have been some attempts, but it will be a major game-changer when a FULLY functional desktop OS (Windows or OSX) is VIABLY and MARKETABLY fit into a 6" (give or take) phablet.
Can you imagine Microsoft showing off a OneSurface on a commercial where someone talks on it, then uses it on a bus as a tablet, and then pops it in a dock on their desk at work followed by "One Device... One Person... OneSurface"
I know there are many technical (especially battery) and economic hurdles... but this stick is a good reminder of how FAST tech is shrinking... and an affordable & functional all-in-one device that IS a phone, tablet, AND full computer (when attached to a monitor, keyboard, mouse) WILL rock the industry when (not if, when) done right!
I just hope Microsoft beats everybody to it... and I believe Microsoft CAN do it. Look at what they have done with the Surface line and are doing with Hololens... and they have the infrastructure and research/development power. Who else has a better foothold in desktop/tablet/mobile OS aaand Cloud aaand gaming aaand mobile manufacturing aaand enterprise like they do?
I know this is a bit off topic, but surely others are thinking the same thing. App gap? Imagine Windows 10 (or it's next gen) being refined to truly complete its mission of making a single platform. It would be a coup.
Ok... end of daydream rant of the day :)

Suface phone with, dock with hdmi output.. :) Bring it on.

I can give you 2 examples of failure 1 dell streak 2 Motorola atrix

Absolutely, FarStrider. There hasn't been a successful implementation of this yet. But it really is a matter of time until it is all affordable and viable to produce in a marketable way. I think, ultimately, Apple & Microsoft are in the best positions to win the race, and if Microsoft is clever about it, they can leverage their advantages to win it by a mile. That being said, Microsoft would still need to work past the carrier and marketing hurdles, and those are hurdles that Apple happens to be good at clearing. Who knows... but one way or the other it will happen, and the first one to the finish line will be in an excellent position to keep their lead on the runner-up!

If I may ask could someone list all areas and equipment I can use or connect this portable PC with??? Am interested but where and how???

Ths is really great. But expecting more specification on this like 4gb ram and 32bit os 128gb internal storage with sd caerd suppport up to 128gb would be great to carry anywhere

It has an USB 3.0 port, so actually you can attach a 128GB USB Stick at $45 bucks and get a lot of space. With that said you can also put a USB 3.0 hub to attach a USB controler, mouse or keyboard and convert this into a computer.

I'm pretty sure this is more revolutionary than Microsoft Wireless Display Adapter, Amazon Fire Stick, Apple TV and Chromecast, however I'm wondering if it will canibalize Windows 8 laptop sales since many people still use their computer's HDMI cable attached to a living room TV to watch youtube and Netflix movies.

I may be getting older day by day, but trying every day to keep up and stay young. Nevertheless: mind = blown. It finally sunk in what this is. WOW.

It is out of stock on New Egg. That is good news for my bank account

Nope, the Windows version is not. http://www.newegg.com/Product/Product.aspx?Item=N82E16883800002 Your bank account is still not safe.

Expensive? Seriously? Were you expecting to see this at the dollar store? Anything that is more than $0.99 these days is tagged expensive.

This is a really cool device, I'm glad intel actuallly released this. I know a lot of you are saying you want to plug it into the xbox, it's just unfortunate that you can't just run windows from the xbox one natively. It has really good hardware and is more than capable of handling whatever the compute stick can.

A little computer stuffed into a flash-drive sized housing still has more ports than the new Macbook. Hehehe

Could you plug this into a Surface RT?

Cool. Eagerly waiting for the product here in India

jej only country available to preorder is US...

Would buy, but want a 100% win version, Linux supported? No thank you.... Too much android/linux stuff at Intel stand at Mwc, I think Wintel is dead.

Intel Compute Stick Windows 8.1 Quad Core 2GB Ram 32GB Storage is now also available in late April/early May 2015 on Stickpcstore. The Intel Compute Stick is a latest generation PC-on-a-stick device that offers the quality, performance and value for money that you would expect from Intel.
Windows Central Newsletter
Thank you for signing up to Windows Central. You will receive a verification email shortly.
There was a problem. Please refresh the page and try again.