Internet Explorer 11 gets some enterprise improvements for Windows 7 and 8.1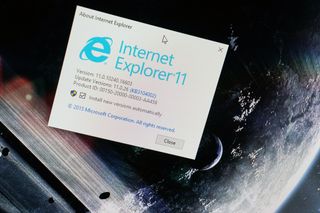 (Image credit: Windows Central)
Businesses with PCs that have Windows 7 or Windows 8.1 installed can check out some improvements in today's cumulative updates for those operating systems. The changes are specifically for users of the Internet Explorer 11 browser.
In a blog post, Microsoft stated:
It's a little weird that edge has no compatibility mode.

Not weird. A compatibility mode would entail more code and bloat into Edge, a browser they are purposefully trying to keep lean and modern. Why add it to Edge with new complexity when, you know, you could just leave IE11 as it and Edge as is? It's not like IE11 is going to see a resurgence, it's on its way out.

Must be so boring being on that team now.... Nevertheless, nice to have a job.

Parts of if not all the IE team work on Edge. The main reason IE was considered as lagging behind the competition wasn't the devs, it was making sure everything worked with a huge legacy and dated codebase

There is but few sites that have worked it into their coding https://msdn.microsoft.com/en-us/library/gg622935(v=vs.85).aspx
http://go.microsoft.com/fwlink/p/?LinkId=620451
http://go.microsoft.com/fwlink/p/?LinkId=620453

I never found anything wrong or bloated with internet explorer.
It is still more modern than all the competition, like chrome which doesn't even look like a Windows program.
Edge is beautiful but Microsoft doesn't realize that people moved to chrome as a result of gmail corrupting users to install it without their permission.
Not because there was anything wrong with IE.
I don't believe adding compatibility will increase code.
In fact compatibility is ' safe mode' which in theory is less bloat.

Compatibility mode is adding and enabling support for outdated technologies whilst still supporting modern stuff. It does infact add tonnes of additional code, not the other way around. Read up how much code they stripped from Edge to make it faster, it was something like half a million lines of code or at least hundreds of thousands.

This folk is right, don't even mention the IE11 personalised TPL!

Isn't IE11 on Windows 8.1 mobile?

Yes, the metro version is

Any idea if this applies to Server 2012? I am waiting to deploy the new schema to our whole domain, but I can't until Server 2012 (and 2008 actually) supports it.

I feel IE 11 would be more accepted and welcomed if there were some backward compatibility to older web sites and business internal interanet web site which still use dot net older versions and their older coding... Eric
Windows Central Newsletter
Get the best of Windows Central in in your inbox, every day!
Thank you for signing up to Windows Central. You will receive a verification email shortly.
There was a problem. Please refresh the page and try again.