Project Scorpio, Xbox One S, and more with Xbox Services GM Dave McCarthy
E3 2016 is here, and Microsoft fired off some heavy salvos in the ever-evolving console war.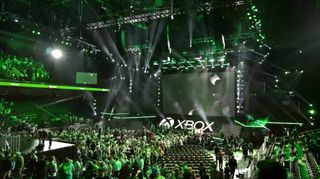 (Image credit: Jez Corden | Windows Central)
We saw the Xbox One S, a super-slimmed down console that outputs video in 4K, features an internal power brick and has a built-in IR blaster. We saw Sea of Thieves gameplay, ReCore, Gears of War 4, and Halo Wars 2. And perhaps biggest of all, we saw Project Scorpio – a six teraflop 'monster' that will deliver games in native 4K resolution, high fidelity virtual reality, and much more.
After Microsoft's E3 briefing, we caught up with Xbox Product Services General Manager Dave McCarthy to discuss the Xbox One S, Project Scorpio, Xbox Live's new features and much more!
Jez Corden: The Xbox community across Twitter at least seems to be on fire following today's briefing. It has been pretty awesome to see the positive reactions to everything you guys revealed.
Dave McCarthy: Yeah! I hope our fans remember this E3 as a major inflection point. That vision that we delivered on today – 'playing without boundaries' — is key for us. We were able to reference the largest line-up of games ever across Xbox Live, and new supporting features like Xbox Play Anywhere. We were able to introduce a host of improvements to the Xbox Live service, new features that make it fun for anyone to enjoy our service overall. Even taking it to other networks like iOS and Android – expanding that choice for people, we even took that to our device line-up. We were able to tell that Xbox story that I think people love, around on-going innovation and pushing the boundaries. But, the key today was that we were able to talk about it without sacrificing compatibility. We think that's a huge deal for our community.
Jez: I did want to ask you about compatibility. Given the PS4 'Neo' leak from recently, one of the concerns I've read is that developers will have to make separate visual tiers to accommodate the different Xbox devices. Do you have a firm plan in place for how developmental compatibility will work across Scorpio and Xbox One?
Dave: I don't ever want to be in a situation where I feel like the games I'm spending money on today and controllers that I'm using are not going to work on those devices of tomorrow. I don't want to have to choose. So being able to eliminate those boundaries and be able to make that promise to people that "it's just going to work" – your games today, there going to be there. So that allows you to decide when you change your machine overall. The Xbox One S is a cool machine in 2016, HD gaming, 4K video, the industrial design – it's awesome – 40% smaller, integrated power supply...
Regarding developers, there's a delicate balance here. We heard loud and clear feedback from our developers that if you're going to offer true 4K gaming and high-fidelity VR, you need that six teraflops of graphic power – otherwise you're making compromises. So, it was essential for us that we get there as quickly as possible, hitting that bar for them and maintaining that challenge of ensuring all content would still work across the ecosystem overall. We can't leave anyone behind with this transition. It's not to the spirit of playing without boundaries.
So, will developers write to some of the unique specs of certain devices? Absolutely. But I can tell you right now, a lot of developers that are in the PC ecosystem working on true 4K are already doing what needs to be done to unlock those capabilities on Scorpio. That was kind of the "ah ha" moment for us as well.
Jez: Are you going to do a Xbox One S in black by the way? I've seen a lot of people asking that. Haha.
Dave: I love that white design! I think it looks awesome. As I told somebody earlier today, we're always listening, things like user feedback – the community speaks to us, and we'll try and respond.
Jez: Also, will the new Xbox One S controller with Bluetooth work with Windows 10 Mobile?
Dave: That's something that developers have to write to at a game level. Capability-wise, this works across the Windows 10 ecosystem. It's a huge advantage that this controller will work seamlessly across the whole ecosystem.
Jez: Going back to Scorpio for a moment. If I'm using Nintendo DS as an example: new DS editions cannibalize the sales of older ones, and as more people upgrade, you end up in this place where you get games that are exclusive to the latest DS and aren't compatible with the older devices. Is that a concern with Scorpio and the Xbox One device family? Will there be games that are exclusive to Scorpio?
Dave: Our statement around this is that your games are going to work across our family. That's our belief, and that's our 'playing without boundaries' message overall. Will there be a range that developers will take advantage of in Scorpio? Absolutely, but again, that's going to be a developer choice. But, on our devices, all of your games are going to work. Period.
Jez: So you're saying that a developer couldn't choose to make a game that was exclusively 4K resolution, Xbox Scorpio-only?
Dave: We made that promise today: those games will work across the whole line-up. They have to work across the whole line-up.
Jez: Staying on the topic of Scorpio. You've announced it very early, which seems risky. We've all seen the PS4.5 'Neo' leaks, which Sony announced last week won't appear at their E3 conference. Now that you've put all of your cards on the table, is there a concern that Sony will come back with an even more powerful PlayStation?
Dave: I mean, we're convicted in this playing without boundaries journey that we're on. If we're convicted, it means we've got to be open with our development partners so that they have enough time to deliver true 4K and high-fidelity VR experiences in 2017. We have to do that. Everybody at team Xbox is committed to this idea of choice. I really like it as a gamer overall. You're putting it my hands to decide when I want to change the hardware I'm playing on. The services are going to work; Clubs, Looking For Group, Arena, Xbox Play Anywhere, all of those things are going to work.
Were we wrestling with the idea? We love the story of customer choice, and we love being friendly with our development partners, and trying to give them as much of a heads up as we can to take advantage of what we think is a six teraflop monster – I think that's what we called it in the video right? Haha. So, really it's about our own conviction and belief, and listening to our fans about them wanting to play without boundaries.
Jez: Do you think we'll see a more rapid Xbox console cycle as a result of these developments?
Dave: Part of what's at play here is making the right step at the right time with the right technology. Not just innovation for innovation's sake. You're offering new games that have new value overall; we truly felt that with six teraflops and true 4K gaming, high-fidelity VR. I think that principle is going to guide us moving forward. If and when we believe that there's a major step change to take, and that technology's right, and the timing is right – that's when you're going to see us push, and that's when you're going to see us maintain that commitment to playing without boundaries, with backward compatibility.
Jez: VR did just sort of explode out of nowhere in the middle of this console generation, and I suppose seeing new hardware so early is a response to that. On the topic of VR, do you have plans for how VR will work on the Scorpio? Will it be compatible with HTC Vive and Oculus Rift for example?
Dave: I can tell you that unequivocally that we will deliver a high-fidelity VR experience on Project Scorpio. We have a year and a bit to talk about the exact details of that – but that's our commitment. Not just the true 4K gaming part, but also the high-fidelity VR. We're seeing a lot of great stuff on Windows 10 right now in the VR space. We've brought Minecraft to Gear VR, coming to Oculus this summer. We love the idea of enabling AR, VR, MR across our ecosystem overall.
Jez: On the topic of Sea of Thieves, I've spent a long time looking for something to replace World of Warcraft's sense of scale, venturing out into the unknown with friends, and so on. To what extent will Sea of Thieves facilitate that? What is the real nature of Sea of Thieves?
Dave: Spending time with Rare their discussions have always been around, "we want this immersive, expansive world." It's big. It's huge. But the gameplay mechanic there is all about being able to connect with other users to form these pirate crews. It's a persistent world that evolves over time as part of that. I think what's cool is; you can start to connect the dots between some of those Xbox Live features and innovations we talked about today…
Jez: I already said to someone on Twitter we need to make a Club for Sea of Thieves. Haha.
Dave: Bang on. Think about the power that'll give you in terms of customizing. What are the playstyles? What are the shared interests? You get to manage that as the community leader of that Club. Even stuff like Looking for Group, being able to put that ad out there. "Hey, we want to do this raid in Destiny, or in Sea of Thieves," moving forward. Those things all connect nicely on a game like Sea of Thieves that's so social. I love it. What you saw on stage is what exactly we've experience when we've played it as a team when we're over there. It's a special game.
Jez: Oh, Sea of Thieves will have raids? I did see that Kraken come up out of the water…
Dave: Yeah. I don't know if that's the official term for them but it's that concept of shared, cooperative objectives.
State of Decay 2 is going to be another great social experience. You saw the flare fire up there in the trailer? The idea there is that you'll be able to find other players out in the world – that was the hint towards that.
We'd like to extend our massive thanks to Dave McCarthy for talking to us!
Microsoft's Xbox conference was and assertive and fiery show of their new aggressive posture. Revealing the Xbox Scorpio so early will ensure Microsoft has a solid line-up of titles that utilize the beastly hardware specs, in addition to new VR experiences that'll take the fight to Sony's affordable PlayStation VR solution.
Microsoft's E3 2016 might've been the most pro-consumer conference we've seen in years – making the commitment to bringing your games not only cross-generationally, but also to Windows 10 with the Xbox Play Anywhere program. It'll be interesting to see whether Microsoft's competitors follow suit.
More E3 2016 Coverage!
Check out some of the links below for more of our E3 coverage, or by heading over to our dedicated E3 2016 page!
Here are all the Xbox Play Anywhere titles available for Xbox One and Windows 10
Jez Corden is a Senior Editor for Windows Central, focusing primarily on all things Xbox and gaming. Jez is known for breaking exclusive news and analysis as relates to the Microsoft ecosystem while being powered by caffeine. Follow on Twitter @JezCorden and listen to his Xbox Two podcast, all about, you guessed it, Xbox!
Posted via the Windows Central App with the honor 5x,my Toshiba satellite running windows 10 and lumina 640 I wonder if the vr will come with it or cost an extra 400$

Oh yea reverse signature Posted via the Windows Central App for Android

Well yeah, but it was also longer than your entire comment ...

Sigs are going to disappear this week.

Thank god! I'm actually not opposed to something like Reddit's fair system, but having signatures as part of the message body adds visual clutter, and because it's part of the message you can't fix it with styles.

Nooooo Posted from Pornhub

What needs to disappear is the up/down vote tools. Posted from Pornhub

That one made laugh. Good post

Or limit the signatures to 5-6 words @Daniel_Rubino Posted via Microsoft Halo Phone

You realise yours has 9 words, right? Even then, because it's part of the message body and now cannot be separated (at least for existing comments), there's no way they can style the signature differently (smaller/lighter font, different colour, etc). So even with a word limit it's going to be visually distracting. Edit: And of course now you edit your signature down so my comment is wrong D:

I guess at least it will work with HTC Vive and Oculus Rift, so there is no real pressure for them to make their own VR hardware. What I'm concerned with is how "high-fidelity" its VR capabilities is. Sent from Turing Machine

6teraflops is right in line with the newest GTX 1070, CPU wise is gnna be on par with the i6700 or greater Posted via the Windows Central App for Android

That's awesome to know if that's the case. Which means next gen console would be almost on par on high-end PC which is great. That leads me to another concern is the estimated price range. Gaming Consoles are generally cheaper than high-end PC, its one of the factor why its still relevant despite how flexible PC gaming is. This next Xbox should be more expensive than first launch of Xbox One, or even better not way more expensive than what Neo might be, which is all speculative at the moment. We just have to wait and see, hopefully that MS will play their cards right. Sent from Turing Machine

With Shannon Loftis saying different things, we're getting mixed reports on whether their will be Scorpio exclusive games. I certainly hope not.

It seems they don't want just to throw clear statements for now. I probably expect that there will be some Scorpio exclusive games, but many would have backwards compatibility, that's a safer probability. At the end, it's up to the developers if they develop games that can dynamically adapt between Scorpio and existing Xbox One consoles, this common on PC gaming world where same games adapt on different hardware specs. As long as the future games that work on scorpio is still playable at 60fps with *almost Full-HD, that should be fine. Games running on Scorpio would just have better graphics and higher resolution though, plus the capability of VR that is non-existent on current Xbox One consoles. Sent from Turing Machine

There'll be some sort of 'optimised for scorpio' type thing no doubt, but ALL the reports, interviews (like the one above) and details from MS I've seen all state that there will be no scorpio-ONLY games.

Following up, there will be no scorpio-only games, confirmed with MS.

Aye I saw that after the interview, I've asked PR for further clarification.

Scorpion Wins FATALITY!!!!

Lol! It would be funny to have a future ads of Project Scorpio with Scorpion doing fatality. Sent from Turing Machine

This got me to thinking if they will still use AMD for their GPU, and if it is then maybe this likely be a GPU based on Polaris architecture. It's really timely to have next gen console with new GPU architectures both from Nvidia and AMD.

"Jez: Also, will the new Xbox One S controller with Bluetooth work with Windows 10 Mobile? Dave: That's something that developers have to write to at a game level. " In other words: NO ;) And I think Microsoft knows that putting out Project Scorpio is risky. He clearly didn't answer the question but I think they know. And they know that Sony will use the information to crush both the XBoneS AND even possibly whatever Project Scorpio ends up being named, even if only in the price war. But I don't think they're concerned. I see Microsoft trying more to actually put an end to traditional console gaming than anything else.
With the idea of "upgradeable consoles" together with the unified Windows 10 store and that "Play Anywhere" idea, it's clear that Microsoft is trying to pretty much "reinvent" the gaming PC. Will they be able to do it? We'll see.

People who are only going to select the hardware refresh by teraflops or "raw power" probably already went with PS4 this generation anyway. Xbox is making a hardware refresh for Xbox fans. They really don't have much to lose by announcing the next step for the fans. It might even hamper any hardware announcements that Sony may have, if they can't match it. It also helps depreciate the value of the current gen consoles for Sony and MS. They've turned the page in this console generation and it's probably a wise decision.

What MS is doing is basically eliminating the Xbox in part, although Sony could technically be a competitior, its a competitor to the Sony store. MS's future Xbox consoles (if you want to call it that) will be made by Dell, Lenovo, HP, etc. Why? Because Win10 is the Xbox, or is consuming the Xbox. Of course, nothing stopping MS from making new hardware, but the majority of new MS consoles will be made by Dell, Lenovo, HP, etc. MS's main competition on the PC front is the other storefronts i.e. Steam, Orgins, Adobe, Epic, Autodesk, etc. As far as Xbox, its gone or changed into Windows/Windows UWP Store. They don't really care if you buy the next Xbox, they just want you to buy from the store, they would rather you bought from your Windows machine as they don't lose money on it like they do Xbox machines.

And none of that stuff matters to those of us who wanted a console for something other than gaming.

It'll still do non-gaming stuff like Netflix, Hulu, Amazon Video, YouTube, 4K Blu Rays, and local media. Or is this about the Kinect that very few people use?

Thinking of buying an xbox one s but without games is a pain
Will wait till it get bundled with fh3 or sea of thieves or both together

Whatever happened to the rumored TV box/stick?

I'll remember this E3 as the one where Microsoft, seemingly completely oblivious to the irony of it all, repeatedly mentioned how they want us to "enjoy xbox on all platforms", and then mentioned every platform but Windows Phone. I think they've finally lost me. I can't support a company that repeatedly stabs its biggest fans in the back. Bringing Xbox to iOS and Android while not bringing it to Windows Phone (hello, Minecraft), is a deal-breaker for me. After how they abandoned Kinect and Windows Phone, and how they shorted the Xbox One console cycle, I just don't respect their leadership anymore. It's a bit liberating, actually. So I guess I can thank them for that.

Windows phone is at the very bottom of Satya Nadella's list of priorities, if at all.

It's all about the Benjamins. Windows phone simply doesn't have it. I don't know why people actually think these big companies care about them, every company is out there to make money. I believe in keeping my options open, though I admit I was a huge Microsoft fanboy a couple of years back, Microsoft could've done no wrong on my part.

Jez, great interview my friend. :)

Real nice interview, and thank heavens you got chance to ask some useful questions. Damn though, these guys love to talk about anything but the answer. He ducked a couple of questions, but I imagine that they are not easy to pin down. Be eager to hear their thoughts on 60fps though, because I have my doubts. I'm concerned that they have done a Molineux, and over promised on the "uncompromised 4k gaming" bit. Surface Xbox, I'm in!

What about asking the question: "Will it ever again be possible to move an XBox across a country boarder without screwing up language, store, OneGuide and online gaming"? (Was possible on Gen 1 and 360 but MS crippled the XBONE badly, for us that do travel for work, and all moving accross boarders in Europe etc)

Yes, available right now in preview. Language is no longer locked by region.

They better make it in black or it's DOA for me, no way I'm compromising my HT set up with a white anything, or grey or silver. It's black black or black.

Lol wii's about the only thing I have only because I was an early adopter & by the time they went with a black unit it was to late in wii's lifecycle
Windows Central Newsletter
Get the best of Windows Central in in your inbox, every day!
Thank you for signing up to Windows Central. You will receive a verification email shortly.
There was a problem. Please refresh the page and try again.