Here's what you missed at the Xbox E3 2016 press conference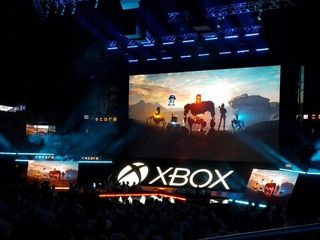 Earlier today Microsoft held its Xbox E3 2016 media briefing, providing an insight into the next year of Xbox releases. As expected, this year's press conference was a big one for the company, with some new game reveals, the announcement of two consoles and a range of other accessories. While this year's pre-show leaks were plentiful, Microsoft still kept a couple of surprises under the radar for Xbox fans.
Project Scorpio
Maybe the biggest announcement of the conference was the unveiling of Microsoft's Project Scorpio - an upcoming console and hardware upgrade for the Xbox One. While few details were provided about the device, the console is scheduled to ship in 2017 offering a performance upgrade to 6 teraflops.
Xbox One S
Microsoft also announced the second iteration of the Xbox One, in the form of the Xbox One S. The thinner console is 40% smaller than its original counterpart, with HDR gaming and 4K video output.
Watch the new Xbox One S sizzler video and get your wallet ready
Xbox One S 2TB Launch Edition $399 pre-order now live at the Microsoft Store
Xbox One S with 2TB drive can now be pre-ordered from Amazon for $399, ships August 31
Game Debuts
The media briefing also birthed four game announcements, although none come as a massive surprise. A common theme for today's conference was a lack of Xbox One exclusives, as Microsoft's console continues to converge with Windows 10 on the PC.
Dead Rising 4 is official, with jingle bells and zombies
Forza Horizon 3 goes Down Under on Xbox One and Windows 10
State of Decay 2 goes back to Trumbull on Windows 10 and Xbox One
Gwent from The Witcher 3 is coming in September as a standalone game
Game Trailers
As always the conference was packed to the brim with trailers for upcoming games - many releasing in 2016. The conference also hosted many gameplay videos for Xbox One console exclusives ReCore, Sea of Thieves and Scalebound. Major third-party publishers such as Bandai Namco Entertainment and Square Enix also took to the stage to demo their upcoming titles.
Sea of Thieves trailer shows gameplay footage for Xbox One, Windows 10 game
ReCore coming to Xbox One and Windows 10 on September 13
Scalebound demo provides a look at its cooperative gameplay
Halo Wars 2 open beta launches on Xbox One and here is the trailer
Gears of War 4 coming to Xbox One and Windows 10 with cross-buy and cross-play
Crackdown 3 confirmed for Windows 10 as well as Xbox One, pushed until 2017
Final Fantasy XV demo showcases its action-packed battles
Limbo creator Playdead's next game, Inside, to be released on Xbox One on June 29
Lots of new ID@Xbox and Xbox Game Preview titles revealed at E3 2016
Xbox Live
Microsoft's Mike Ybarra stepped up to announce upcoming Xbox Live social features, designed to help find players over Xbox Live. There was also a focus on the 'Play Anywhere' feature, unlocking access to the Windows 10 and Xbox One versions of select titles alongside a purchase of the game on either platform.
Xbox Live to add Clubs, Looking for Group, Arena and more in future updates
Here are all the Xbox Play Anywhere games with Xbox One and Windows 10 cross-buy support
Tying up loose ends
And finally, the Xbox One controller got its fair share of love this time around, with a new Gears of War themed Elite controller. The Xbox controller 'Design Lab' was also released, allowing gamers to create and purchase their own custom controllers on the official Xbox website.
Gears of War 4 Xbox Elite Wireless Controller announced at #XboxE3, pre-order now for $200
Design your own controller with the Xbox Design Lab
And while that concludes Microsoft's offering at their E3 2016 media briefing, the company still plans to make some smaller announcements over the coming week. What did you think of this year's Xbox E3 showcase? Make sure to tell us in the comments!
Windows Central Newsletter
Get the best of Windows Central in your inbox, every day!
Matt Brown was formerly a Windows Central's Senior Editor, Xbox & PC, at Future. Following over seven years of professional consumer technology and gaming coverage, he's focused on the world of Microsoft's gaming efforts. You can follow him on Twitter @mattjbrown.
I love all the game stuff, obviously, but I'm sad that there was no news other than games. The grand concept of the XBO as a complete entertainment system are gone. I hope I'm wrong (or maybe they have nothing left to offer in that area), but the fact that there was no news about apps, media partnerships, OS updates, TV, etc, leaves me saddened. PS - I miss you Kinect hand gestures

E3 is a gaming conference. So on a gaming conference, MS should talk about games, right? :D Posted with the Windows Central app for Windows 10 on HP 250 G1 notebook. It is a scary old monster, I think :D

I didn't miss anything i was part of the fanfest and I can't wait for the Scorpio, dead rising 4, forza horizon 3, Tekken, new character for killer instinct

I like how they are pushing this Xbox/windows 10 gaming experience, they are still working on consoles but PC Windows 10 gets the love too. Finally people can't complain, finally I can get good games on Windows without being limited by using Steam (which I won't ever use), hopefully the library on Windows Store grows and grows faster than people can imagine, I don't care about games not being on mobile, I just want Steam to stop being the preferred platform by some stupid publishers and get on its knees and get killed like flies.

Wait wait wait, did you just use the word's "limited" and "Steam" in the same sentence? Steam has the largest library of any modern console, and has the most current exclusives of any console. And Steam runs on three operating systems, in fact you could argue 4 if you consider SteamOS separate of regular ole' Linux. Besides that, look at the top 10 games viewed on Twitch and let me know how many are PC only, or at least are PC and console. To say you wont use Steam becuase it's limited tells me you would be suprised to find what Steam actually has to offer. With that being said, I am excited to see Xbox exclusives hopefully come to PC!!! But never forget.... "GLORIOUS PC MASTER RACE!!!! May your frame rates be high and you temperatures low!!!" ;D

Valve deserves Steam to be killed, because they didn't made Half Life 3 :D Or any other game in the last decade or so... So wouldn't it be better, if they'll start making games again instead of just selling others? :D Posted with the Windows Central app for Windows 10 on HP 250 G1 notebook. It is a scary old monster, I think :D

Wait, no XBox streaming stick/unit?? :( The rest is all good but I've been waiting for a cheap MS streaming devices to dot around my house to replace WDTV's.

Yeah I was keen to see what they'd done there too, the folks who 1st leaked it must've had the wrong info :-/

Guessing they dont want to poison the iot well

no mentioning of a new red dead redemption yet ?

All I wanted was a streaming stick or solid Echo competitor. Didn't happen.

I missed all the great new Kinect stuff, where's that coverage?

Was a great show! Can't wait for 2017!

I'm gonna take a wild guess here and say, there were probably no mention of Kinect games because they're busy working on VR games.. But it's sad to just give up on a device like Kinect... Especially since they have never actually tapped into it's true potential yet.

6 years later and we're still hearing about Kinect's "potential." ROFL.

Once one appreciates how HoloLens works... One starts to realise that what MS learnt from Kinect, played a BIG part in its creation. Will HoloLens (& similar MR clones) become a big part of the Xbox story eventually? If so, they never really gave up on realising the potential of Kinect (albeit indirectly).

Surprised there was not a slew of bc games announced. I realise they pale into insignificance against the new stuff, but only Tekken was mentioned.

It was a mediocre E3 from MS this year. Apart from a few highlights cross play, cross buy, Scorpio, Horizon 3.
Why do they insist on showing Minecraft at E3? It takes the pace out of the show. And talking of taking the pace out, that Final Fantasy segment was so embarrassing. Sony didn't do anything mind-bogglingly amazing. They just came out and showed exclusive after exclusive. And then great surprises in between. Simple. It's just that Microsoft makes it look difficult. Luckily I have the PS4 too. At the same time, I think in light of what's going on with Scorpio, I think they held back on the games they're working on. It felt like they're setting up pieces for the next E3.