Tekken Tag Tournament 2 free for Xbox Live Gold members, Tekken 7 due in early 2017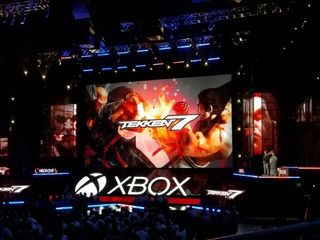 Microsoft announced at its E3 2016 press event that Xbox Live Gold members can download Tekken Tag Tournament 2 for the Xbox 360 for free via its Xbox One backward compatibility feature.
Also, Tekken 7, the next game in the long-running fighting game series, is due in early 2017.
The game will remain free to download for the next week for Xbox Live Gold members. As far as Tekken 7 goes, publisher Namco Bandai says that it will feature a cinematic story mode that will blends seamlessly with the game's combat.
Stay tuned as we wlll have more from Microsoft's E3 2016 press event.
Been trying since I saw it in the LiveBlog. Still showing as $19.99 in the US.

Same here. Where's the price drop MS? Posted with Windows Central for Windows 10

Just came up free went to the game on Xbox one, clicked show price and it said free downloading now

I am also downloading on my xbox 360. Happy

Me too I checked limbo bc they said it would be free so I could compare limbo is saying it's free but ttt2 is still saying $19.99 US

Same here. Where's the price drop MS?

Still waiting in France Posted via the Windows Central App for Android

Just confirmed the buy (free) here in Belgium and I have Limbo for free aswell now

Love Tekken. My favorite fighting franchise after Smash Bros.

When the demo started, I thought they were bringing Street Fighter back to Xbox! Oh well, Tekken is good too along with the free TT game. With all of these goodies announced, I'm glad I purchased a large external drive already.

Why is akuma in the video image? Posted via the Windows Central App for Android

If you didnt know. Akuma is in tekken 7 . He's in it due to Kazumi asking a favor of him incase of her death, which did happen in the Tekken storyline. So Akuma is in to kill off Heihachi

Finally free. But stuck on 0% installing. Cant stop it or delete it. Xbox one is so frustrating.

i dont see it free in canada. odd.

Yeah I just see 'bundle only"

The offer is based on region. I tried to redeem it here in South Africa, and it tells me not available in my region...

Same here .MS better fix .Paying for Xbox Live the same as everyone else and Tekken Tag 2 had been released years ago.
Windows Central Newsletter
Get the best of Windows Central in in your inbox, every day!
Thank you for signing up to Windows Central. You will receive a verification email shortly.
There was a problem. Please refresh the page and try again.