Introducing the Windows Central Laptop Buyer's Guide
Buying a laptop is never easy, because you have so many great choices to choose from these days. What processor do you need? Do you want a two-in-one? Need pen support? We're here to help you sort through all the options.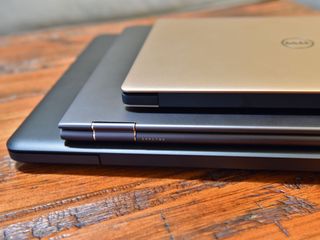 If you are in the market for a new laptop, your job got a lot harder during the last few years. Gone are the days when they were all "just" laptops. Instead, you need to contend with new categories like two-in-ones and convertibles or weigh the pros and cons of having a touch screen or pen support. What about quad-core CPUs versus dual-core ones, or laptops with dedicated graphics support? Do you want light and thin, or do you need something heavier but more powerful?
When someone asks "What is the best laptop?" there are a dozen answers depending on what they want or need.
Here at Windows Central, we are in a unique position to walk you through this exciting endeavor. During the last few years, we have been steadily building our coverage of mobile PCs, laptops, tablets and more. That was for our benefit (experience and practice) as much as yours. We spend hundreds of hours with these devices, running benchmarks, testing usability, getting feedback from you, and most importantly putting it all into perspective by comparing them to other similar devices. (It's a running joke around there that I have a new favorite laptop for every day of the week).
Today, we're taking the next step with the Windows Central Laptop Buyer's Guide.
It is a one-stop curated collection of all our current and ongoing reviews of laptops. That includes consumer laptops, gaming machines, a few business-friendly work PCs, and devices that support inking for artists and notetakers.
With this guide, you can sort by our Choice Awards — the crème de la crème — or by manufacturer, style, price range, features, profile, or specific uses, such as gaming or VR.
Technology never stops, however, so none of these "best" devices may remain that way for long. As updated versions of hardware come out, we'll reevaluate and adjust our recommendations. When a new laptop hits the market, we'll review it and give you the greater context of where it fits in and who should buy it.
Right now, the trifecta in best, non-Microsoft devices lies with Dell, HP and Lenovo, but Acer, Asus, or any other company could be the dark horse that changes everything. Then there is Razer, which is in a class of its own for ultra-premium gaming hardware.
This guide is a result of the hard work of Windows Central's team, including Richard Devine, Cale Hunt, Mark Guim, Zac Bowden, Rich Edmonds, Derek Kessler and many other people behind the scenes who dedicated a lot of time to this project. I also have no fewer than five laptops on my couch alone, so I'll be continuing my methodical breakdown and analysis of the highest profile and new laptops and convertibles available. (Someone must do it!)
Get started here with our Laptop Buyer's Guide!
Finally, for those of you who care about other Windows hardware, such as forthcoming mixed reality headsets, gaming accessories, and other PC categories, we'll eventually create those guides as well. Here at Windows Central, we cover everything that runs Windows 10, and we only give you the best!
— Daniel
Daniel Rubino is the Editor-in-chief of Windows Central, head reviewer, podcast co-host, and analyst. He has been here covering Microsoft since 2007 when this site was called WMExperts (and later Windows Phone Central). His interests include Windows, Microsoft Surface, laptops, next-gen computing, and for some reason, watches. Before all this tech stuff, he worked on a Ph.D. in linguistics and ran the projectors at movie theaters, which has done absolutely nothing for his career.
Thx for the all WC team,,, Waiting for new updates, the new laptops that shows in CES are all amazing and it's really hard to choose one because I will get only one laptop for the next 2-3 years,,, it's really difficult choice

I could have sworn that that's what the entire site already was?

You should talk to the people who call us Xbox Central and hate all the gaming coverage. Or talk to the people who are still stuck in 2014 who call us WPCentral still and want nothing but phone news. Or those who want more app stories and those who want less of those. It's a fun job! ;(

You cant make all the people happy all the time. But when someone is looking for a laptop, this is the review to have. Nice Job!

True, it's Xbox central. It's also windows phone central and it's also windows central. I don't care about Xbox so I just move to the phone section. Pretty easy I don't understand why people must hate. 😀

Just call it Microsoft Central and be done with it. =P

Missing a category is the sizes... there's nothing for the bigger than 15"... For me, there are two categories, less than 12" and more than 15". Anything between 12 and 15" is either too big to carry around like a tablet or too small to do serious work. Personnally I've got two laptops, A Lenovo Yoga 710 11" to use as carry around laptop/tablet and a huge 17" laptop with dual SSD/HHD and dedicated graphics for serious work. 15" is just too small a screen for serious work.

Those categories will be added once we have enough reviews to add to the guide. So far, I think we've reviewed just three 17" laptops all gaming ones. That's not enough to reach a conclusion about the best. This is an ongoing project so this guide will be updated, refreshed, improved, and expanded as we get more data points to use. Also, to be clear, the majority of devices/interest is in the 12-15" range and not below or above that, so it's more a 'start from the center and branch out' strategy.

Thanks, seems I'm outside the norm which I usually find I am in a lot of subjects :-)

17"s are fun, but also hilarious how huge they are. We'll be doing more of them soon. If you have any that pique your interest lemme know

Hey Daniel, let me take some of the load off your back. Just send one of those premium devices over my way and I'll do the "testing" for you. JK. Thumbs up to the entire WC team!!!

I'm up for testing the Predator x21 :-)

You should do a guide about laptop that support core feature of win10 like ink and hello. Other than surfaces there are very few and it is not easy to find em.

Interesting idea, something we can look into doing.

How about a tablet guide? In need of a more powerful Surface 3 with similar footprint and weight.

Check out this guide which should be helpful.

If it has less than 4GB of RAM, it's not worth buying. Even the new HP Stream 11 has 4GB, and it's only $200.

Why you didn't mention the graphic cards model on low-budget laptops review? It'll good to know the multimedia power of a laptop even though its low-budget

Missing a category is ​fanless or noise level. For a lot of people one of the major reasons to buy a Mac...

I was just looking thru the guide after seeing the announcement.
I think this is very well laid out. Gotta say it's more than helpful for the new notebook shopper such as myself.
Thank you Windows Central!
I'll be checking the guide for review and recommendation updates.

Great work! It gives me a clear sense of the effort and especially time that went into a feature like this. I, for one, will be using it when next I am asked about what I would recommend. While it is not a "select to narrow results"-kind-of-list, it certainly is better than having nothing to help you on your way. Many apreciations and thank yous from my side. It is content and services like these that continuously convinces me that Windows Central is the best, unbaised place for tech news. I wish more news channels were like this.
Windows Central Newsletter
Thank you for signing up to Windows Central. You will receive a verification email shortly.
There was a problem. Please refresh the page and try again.