It's time to crown the winner of our Best Beard Showdown!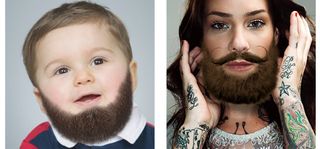 We teamed up with Apptly this month to put your creativity with their new app Beardify to the test in our first ever Best Beards Showdown. There were tons of hilarious entries. You guys put beards on everything from babies to hippos and posted them on Twitter and Instagram. Our judges have combed through the entries and picked out their three favorites. The winners are below, so let's see who won!
[Note: You'll need to open the website if you are using our app to see the Instagram embeds! Sorry!]
In no particular order, the winners of our Best Beard Showdown are:
Congratulations winners, we'll be in touch soon to get your prizes squared away! Thanks to everyone that participated! We hope you had as much fun entering as we did looking through all your entries. Didn't win this time? There is always another contest right around the corner.
Congrats for the winner! can you please tell us what did you choose theis entries? thanks!

I think Oldify is the best one outta all those apps, it works so well and looks so realistic.

Beardify cracks me up, especially the animations it includes. The beards look great. A fun app to have.

Congrats to the winners, it was fun. Can't wait for the next contest!

Yes! Thanks guys for picking my picture! Looking forward to hearing from you! @barryweston on the twitter as well if you need to reach me there!

Hey Barry! I'll be emailing you sometime Thursday. Thanks for commenting, that makes it easier for me. ;)

No problem! Thanks again.

The woman still looks attractive even with that full, luscious and luxurious looking beard! :)

Haha, something for you... :) http://i.huffpost.com/gen/1821180/images/o-CONCHITA-WURST-facebook.jpg

Yes! My Beyonce pic is a winner! Thanks for picking it! @JohnGarbes on the ole twitter.

Thank you very much for picking my pic! It means so much to me. This is awesome!
Windows Central Newsletter
Thank you for signing up to Windows Central. You will receive a verification email shortly.
There was a problem. Please refresh the page and try again.